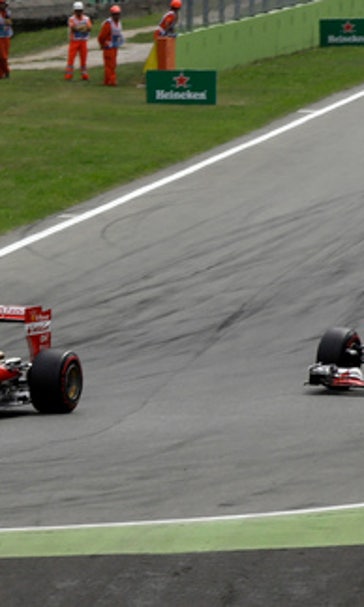 Vettel promises brighter Ferrari future after Monza podium
BY foxsports • September 4, 2016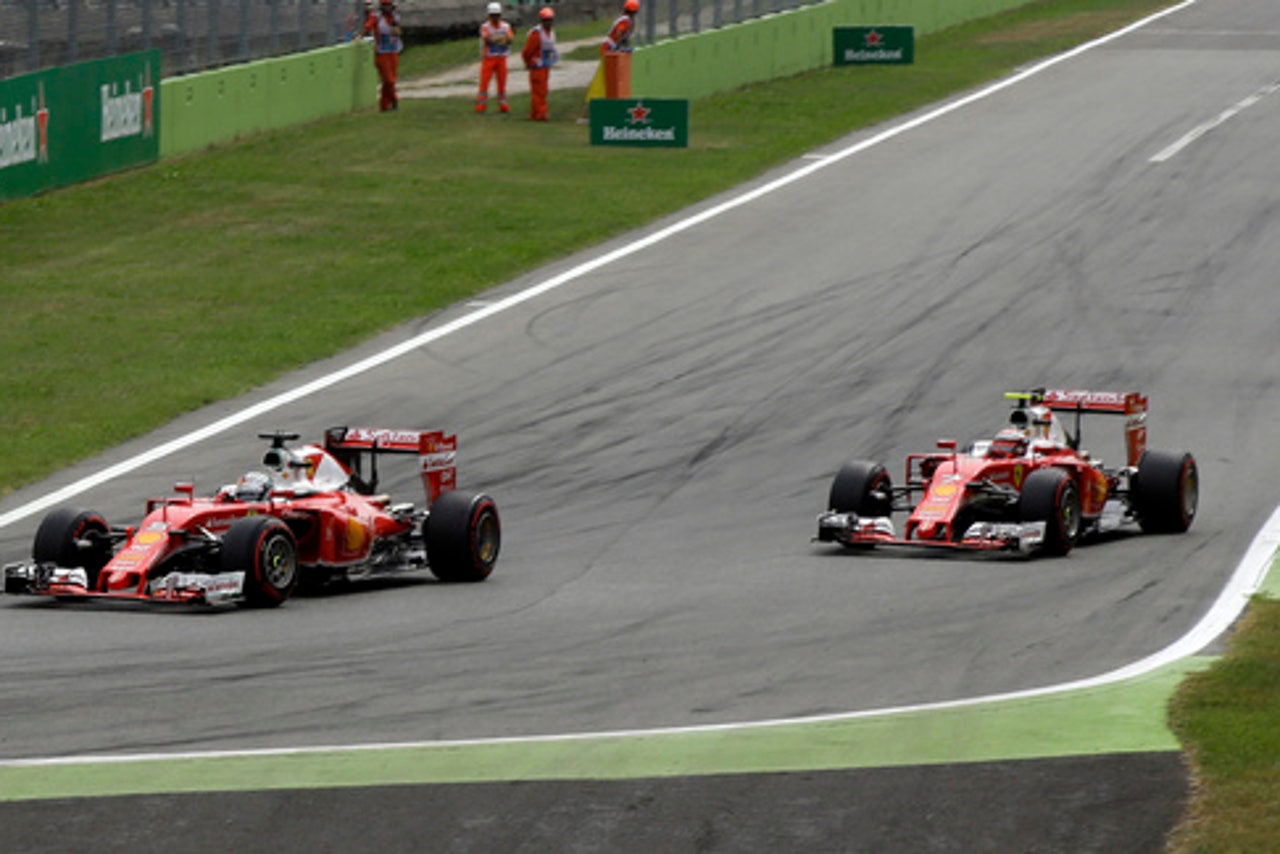 MONZA, Italy (AP) Sebastian Vettel has promised better things to come for Ferrari after finishing on the podium at the Italian team's home race in Monza for the second successive year.
Vettel, who was second with Ferrari last year, finished third behind the Mercedes duo of Nico Rosberg and Lewis Hamilton. Teammate Kimi Raikkonen was fourth.
''Our mission doesn't stop here,'' Vettel said. ''It's only the beginning. We want to win. That's what we really want. That's what the people deserve as well ... The fans deserve nothing else than the top spot and I think we can give it to them in the next couple of years.''
Matters looked promising for the two Ferraris at the beginning as they took advantage of Hamilton's disastrous start to move into second and third, with Vettel briefly threatening to pass Rosberg too on the approach to the first corner, much to the fans' delight.
However, after dropping to sixth, Hamilton recovered to charge back up the field and Mercedes' single pit-stop strategy proved better than Ferrari's two-stop plan.
''It was clear after our second stop he (Hamilton) would be ahead of us, the problem was that he was too far ahead of us. We weren't quick enough to catch up,'' Vettel said. ''Nevertheless I think it's been a a great day. We've had a really good start, got a bit stuck. Maybe I should have gone to the left, I wasn't sure what Lewis was going to do.
''I had another crack into turn four but I wasn't close enough. After that I think we had good pace but they're obviously a bit quicker than us and in the end the result was fairly clear. Still I think it was a mega day for Ferrari.''
Rosberg's winning margin over Hamilton was 15 seconds, with Vettel 20 seconds behind and Raikkonen 27 seconds back.
''I don't know if it's fantastic for the fans, in the sense that there should have been a bigger race between Ferrari and us this weekend and hopefully in the future there will be,'' Hamilton said on the podium.
The fans were nevertheless delighted with Vettel ending Ferrari's run of four grand prix races without a top-three finish and there were loud cheers from the red-clad fans when the four-time world champion stepped out onto Monza's iconic podium.
Ferrari fans are among the most passionate on the F1 calendar and Vettel said that gives him extra motivation.
''I think we extracted our best race, it's been a while since that's been the case,'' the German driver said. ''It speaks for the team. I think we did a good job this weekend, everyone has been really focused. I hear that coming to Monza it's a sort of extra burden, extra pressure, I think it's much the opposite for everyone in the team.
''Of course you want to do well, it's family in the end ... and I think everyone knows when I'm saying you want to do well in front of your family. So of course there's a bit of tension but I think that lifted us up this weekend.''
It has now been six years since Ferarri last won on its home circuit, when Fernando Alonso secured victory in 2010, but the team president, Sergio Marchionne, saw positive signs for the future.
''The team was ready to win here, but the two Mercedes had an impeccable race, apart from the start,'' Marchionne said. ''Our drivers had an amazing start but Rosberg didn't give up.
''Let our guys work, they know what our aim is, they are in a more certain position than the start of the season and I feel better. Now we have to finish the season well.''
---