NASCAR Xfinity Series
NASCAR Xfinity Series
Rick Hendrick rises from tobacco farmer to Hall of Famer
Published
Jan. 20, 2017 11:59 p.m. ET

CHARLOTTE, N.C. (AP) Rick Hendrick, owner of the most successful organization in NASCAR, grew up on a Virginia tobacco farm knowing that wasn't the life he wanted.
He took chance after chance chasing a NASCAR career, came close to folding his team more than once, but always found a way to persevere. It earned him a spot in the NASCAR Hall of Fame on Friday night.
Hendrick Motorsports has a NASCAR-leading 15 national titles - 11 in the top series with Jimmie Johnson, Jeff Gordon and Terry Labonte.
''I didn't know what I wanted to do in life, but I knew what I didn't want to do, and that was be a tobacco farmer,'' Hendrick said. ''But I wouldn't take anything for the time that I spent with my mom and dad. They taught me something that really has been the pillar of my life, and that is you need to take care of other people if you want people to take care of you.
''You need to take care of your neighbors, and you need to do for others, and then good things will happen to you.''
He was introduced by Johnson and Gordon, both future Hall of Famers themselves, and inducted by his wife, Linda.
''He's the most loyal man that I know - he'll take the shirt right off his back for you,'' Gordon said. ''His accomplishments are endless, and his character is unrivaled. Some know him as a champion. Some know him as a winner. Most of us simply know him as Mr. H - and now that H takes on a new meaning: Mr. Hall of Famer.''
Also inducted Friday night was Mark Martin, car owners Richard Childress and Raymond Parks, and former NASCAR champion Benny Parsons. Martin is considered the greatest driver to never win a championship.
Martin was a runner-up five times for the Cup title, and won 40 races - 17th on the all-time list. In NASCAR's second-tier series, Martin won 49 times, which was a record for 14 years.
He was introduced by 2003 champion and former teammate Matt Kenseth, who considers Martin his mentor, and he was introduced by former car owner Jack Roush. Martin was the first driver hired when Roush formed Roush Racing in 1988.
Martin reflected on a time in 1984 when he had no ride, no access to the NASCAR garage, and he stood outside the fence knowing he could beat the drivers inside the garage.
''Sometimes you just need a second chance,'' Martin said.
It came from Roush, who was also starting in NASCAR, and Martin was emotional during most of his speech as he noted he was ''just a kid from Arkansas who just wanted to win races and drive cars.''
With a nod to the late Dale Earnhardt, a tearful Childress thanked his former driver for helping build an organization that led to Childress' induction.
Childress began his career as a driver and formed his own race team in 1972. He officially gave up driving in 1981 to focus on Richard Childress Racing, and Earnhardt won six of his record-tying seven titles driving Childress cars. Earnhardt won 67 races for Childress, who has 11 total NASCAR titles as a car owner.
''I wouldn't be standing here tonight without him. He was a great friend and a huge loss to all of us and to our sport,'' he said. ''I knew Dale for over 25 years. We spent 18 seasons together racing. I have so many great memories - winning our first championship, winning the Daytona 500, Indy, and many more. He's a champion to all of his fans, his friends and his family.''
Childress was introduced by his grandsons Austin and Ty Dillon, and his wife, Judy, joined the young drivers to induct him.
''I do not believe my grandfather will ever stop pursuing his passion,'' Ty Dillon said. ''He will continue to live his life, fighting to keep this ground which we stand on tonight the best in the world. He will always keep going to the track because that is what he loves to do.''
Parsons was introduced by 2012 champion Brad Keselowski, a fellow Michigan native who grew up respecting Parsons' career.
''He's from Detroit, and he came from being a Michigan taxi driver to a NASCAR champion,'' Keselowski said. ''Think about that. That seems like the script from a Hollywood movie. But that is exactly what Benny Parsons accomplished in 1973.
''The people of Michigan love their champions, and as I can attest and Benny can attest, he was a champion that made everyone in the state very proud.''
Parsons was officially inducted by Hall of Famer Dale Jarrett, and it was accepted by his widow, Terri. Parsons died in 2007 from complications from lung cancer at 65.
He won the 1973 NASCAR championship and the 1975 Daytona 500 was among his 21 career victories. Parsons also had a successful career as a NASCAR commentator after his retirement from driving.
Parks, one of the first team owners in NASCAR, was an Atlanta businessman who first entered NASCAR with drivers Lloyd Seay and Roy Hall. Paired with mechanic Red Vogt, his teams dominated in the 1940s and 1950s.
His career as a car owner was interrupted when Parks served in World War II, and he fought in the Battle of the Bulge. When he returned from the war, he was lured into NASCAR by founder Bill France Sr. and his teams won the first NASCAR title in 1948 and again in 1949.
Parks was presented by 2014 NASCAR champion Kevin Harvick, inducted by Kyle Petty and it was accepted by his granddaughter.
---
---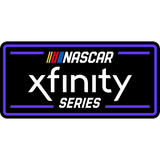 Get more from NASCAR Xfinity Series
Follow your favorites to get information about games, news and more
---