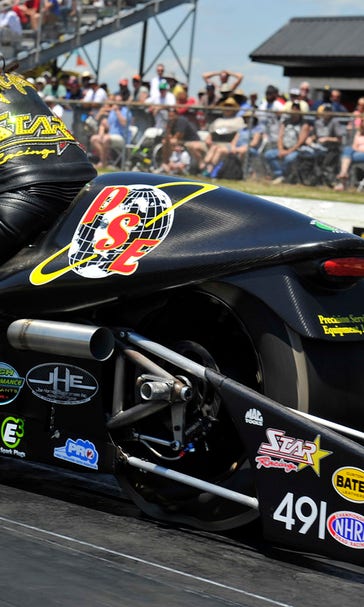 NHRA's Angelle Sampey gets her first No. 1 qualifying since 2008
May 15, 2016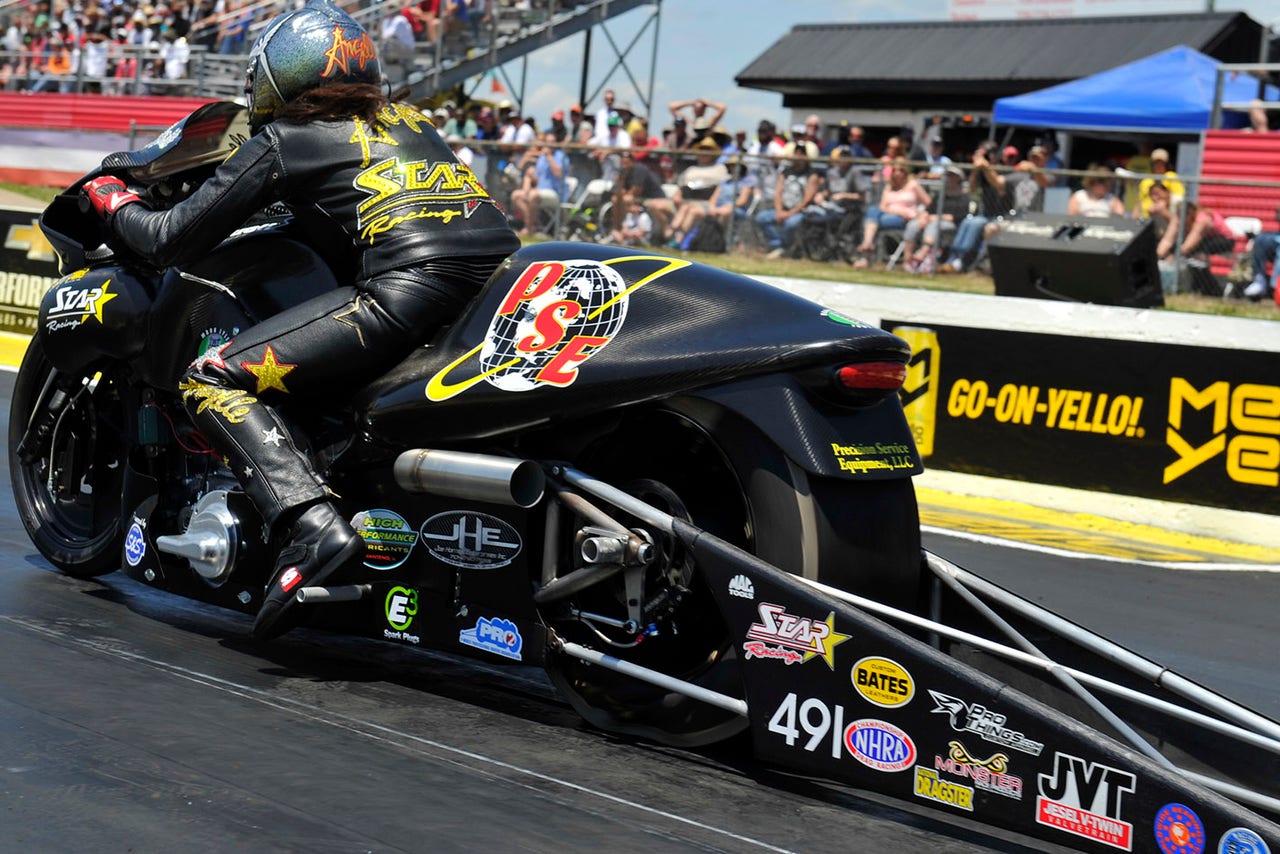 Angelle Sampey knew what she wanted as she turned off the Atlanta Dragway racing surface Saturday afternoon. The three-time champion wanted something that didn't even exist in 2008, the last time she led a qualified field of Pro Stock Motorcycle field.
"When I turned off the racetrack, I started yelling at the guy holding it, 'Hey that's my hat! Give me that [No. 1 qualifier] hat!'" Sampey explained, with a smile and a look of relief. "I keep saying it's been so long, and we've only been back for a little less than two years, but this feels like the first No. 1 qualifier ever, not the first one since 2008. I'm very excited."
Sampey joined Doug Kalitta [Top Fuel], Jack Beckman [Funny Car] and Greg Anderson [Pro Stock] atop the qualifying leaderboard headed into Sunday's final eliminations for the NHRA Summit Southern Nationals outside of Atlanta, Ga.
Sampey, who retired from active competition only to be coaxed into returning by longtime friend, team owner and tuner George Bryce, has found the road back to relevance in the class to be one filled with potholes, detours and lots of curves.
"I needed this bad," Sampey admitted. "I was telling these two guys yesterday that when you pull up to the starting line, and you feel defeated, you feel like nothing is going your way, why can't I get this? It plays such a role in your performance on the next round and that was happening to me last year, especially when the bike wouldn't go straight and I just couldn't get right it seemed like.
"Now the bike is awesome. I can't even tell you unless you've actually been a racer. I can't tell you what that does for you. It is so important to win. You have to have it. You could have the fastest motorcycle out here and you could be the best driver in the world, but if you go up there thinking you can't do it, you're not going to do it. So I needed it."
Top Fuel racer Kalitta clearly brought his Houston momentum into the seventh stop on the 24 race NHRA Mello Yello Drag Racing Series as he drove his Mac Tools dragster to his second No. 1 qualifying performance at Atlanta Dragway.
Kalitta's Friday night 3.731 elapsed time at 328.70 was unbeatable on Saturday and will start final eliminations as the driver to beat as he faces Terry Haddock in round one.
"We're looking good," said Kalitta, who provisionally holds the Top Fuel point lead. "I think it's supposed to cool off a little more for tomorrow, but we were getting down a pretty hot racetrack today, so hopefully we've got it dialed in for tomorrow. We're feeling pretty good about it. We'll be digging tomorrow."
Beckman, who has two Atlanta victories to his credit, remained No. 1 on strength of Friday's 3.939-second run at 326.32 mph. This is his first top qualifier at Atlanta Dragway. Beckman will face Jim Campbell to open Sunday's 11 a.m. eliminations.
"I'm happy where we are, qualifying No. 1," said Beckman. "It's nice for a little bit of prestige, you get some bonus points that go with it, and it's maybe even nicer because you get a more favorable matchup first round. The whole idea behind that is to play it smart and strategic and win four rounds on Sunday. I think I'll sleep well tonight and come in tomorrow embracing the fact that we'll be the favorite."
The KB Racing Pro Stock domination was well in effect at sponsor Summit Racing Equipment's event. For the seventh race this season, a member of the three-car team qualified No. 1 and led all four qualifying sessions.
Anderson, the team's flagship driver, maintained his torrid pace of 6.610 seconds at 210.14 mph to lead a KB Racing one-two-three punch during the final day of qualifying. The four-time Atlanta winner has four No. 1 qualifiers this season and has raced to three victories in the first six races of the year. This is his seventh top qualifier at Atlanta Dragway and the 84th of his career.
"We've had a lot of magic at this racetrack, and it makes it even more special to have Summit Racing Equipment on the billboard out there," Anderson said. "We've had four really good qualifying runs, and I feel a little bit fortunate because it appears we have our No. 3 car, Bo Butner's car, faster than both Jason (Line)'s and mine. Bottom line is we have three great cars over there at Ken Black Racing. We're going to have a great chance tomorrow."
Coverage of final eliminations begin on FS1 Sunday at 4:30 p.m. ET.
***
Bobby Bennett is the Publisher/Editor of CompetitionPlus.com, a leading independent online drag racing magazine, since 1999. For the latest in dragster news worldwide, visit www.competitionplus.com or follow on Twitter @competitionplus
---