NHRA Pro Mod racer Smith still searching for answers after crash
May 8, 2016

Rickie Smith takes pride in knowing most everything about his 5.7-second, 250-mile per hour Pro Modified car.
However, what caused it to make a sharp right and into the retaining wall during the J&A Services Pro Modified final at the O'Reilly NHRA Spring Nationals outside of Houston, remains a mystery he's unsure he'll ever solve.
"I really cannot determine why it did what it did," Smith admitted. "The tires appeared to be under control and the shocks, according to the computer, appeared to be under control. I shifted it into second gear, and it pulled the motor down as it should have.
"Then it turned within a tenth of a second just like it hit water or something. Then it went dead right. I wish I had an answer, but I have racked my brain trying to figure it out, but nothing equals up."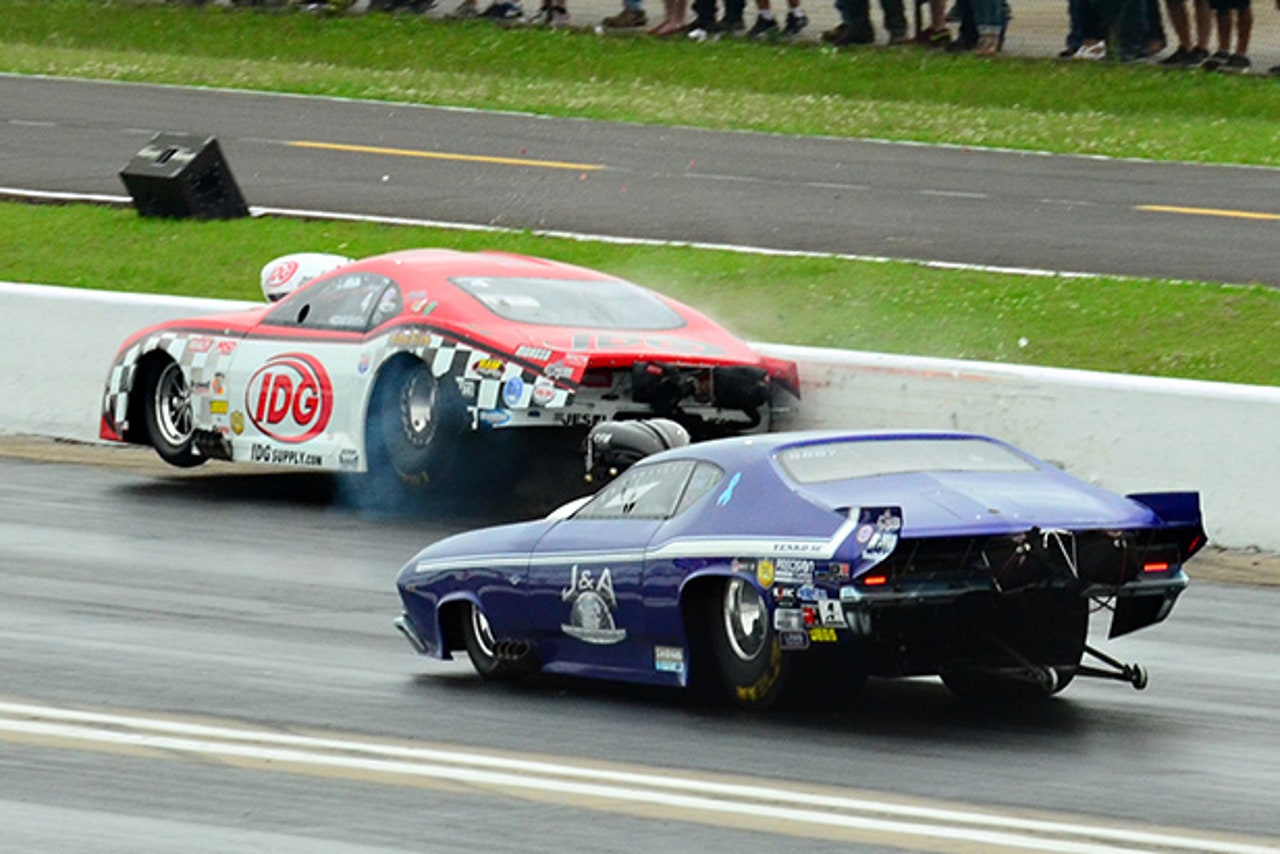 Smith said he doesn't think he hit water, and if he did, the outspoken 10-timer drag racing champion would have no reservations about saying it.
"We had to wait a little while before the final, and it had been misting rain all day," Smith recalled. "The NHRA drug down one side and back up mine [with the tire rotator].
"Nobody's to blame here, what happened just happened."
Last weekend was a tough one for the NHRA Pro Modified as three cars, including Smith, crashed during the second stop of the 10-race series. On Friday, former Pro Stock racer Jonathan Gray was uninjured when his Camaro impacted the wall due to an exploding left rear slick. Later in the day, Sidnei Frigo lost control of his car, which then went airborne, struck the retaining wall and barrel-rolled in the grass. Frigo suffered a broken arm.
"It was not a good weekend for our class," admitted Smith. "I sometimes think when you get so close to sea level, you just get a lot of moisture. You just never know about these things."
Smith regretfully admits the previous run was probably trying to tell him something. He did run low elapsed time for the weekend but knew the situation wasn't ideal.
"I got to about eighth-mile, and I was definitely having trouble," Smith explained. "With these cars having so much power and so little downforce, once you lose them, there's no recovering. It's a tough deal.
"I think the NHRA was doing all they could in this situation; it was just a bad circumstance of weather. There was 130-grains of water in the air. When you are that close to the sea level, that water table can go up and down. You just never know what it is going to do."
***
Bobby Bennett is the Publisher/Editor of CompetitionPlus.com, a leading independent online drag racing magazine, since 1999. For the latest in dragster news worldwide, visit www.competitionplus.com or follow on Twitter @competitionplus
---