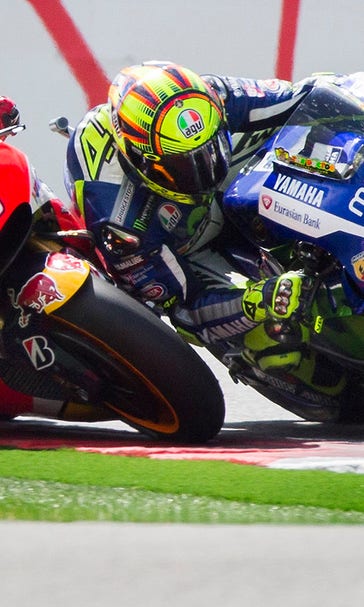 MotoGP: Yamaha boss reminds his riders that Marquez will take risks
July 9, 2015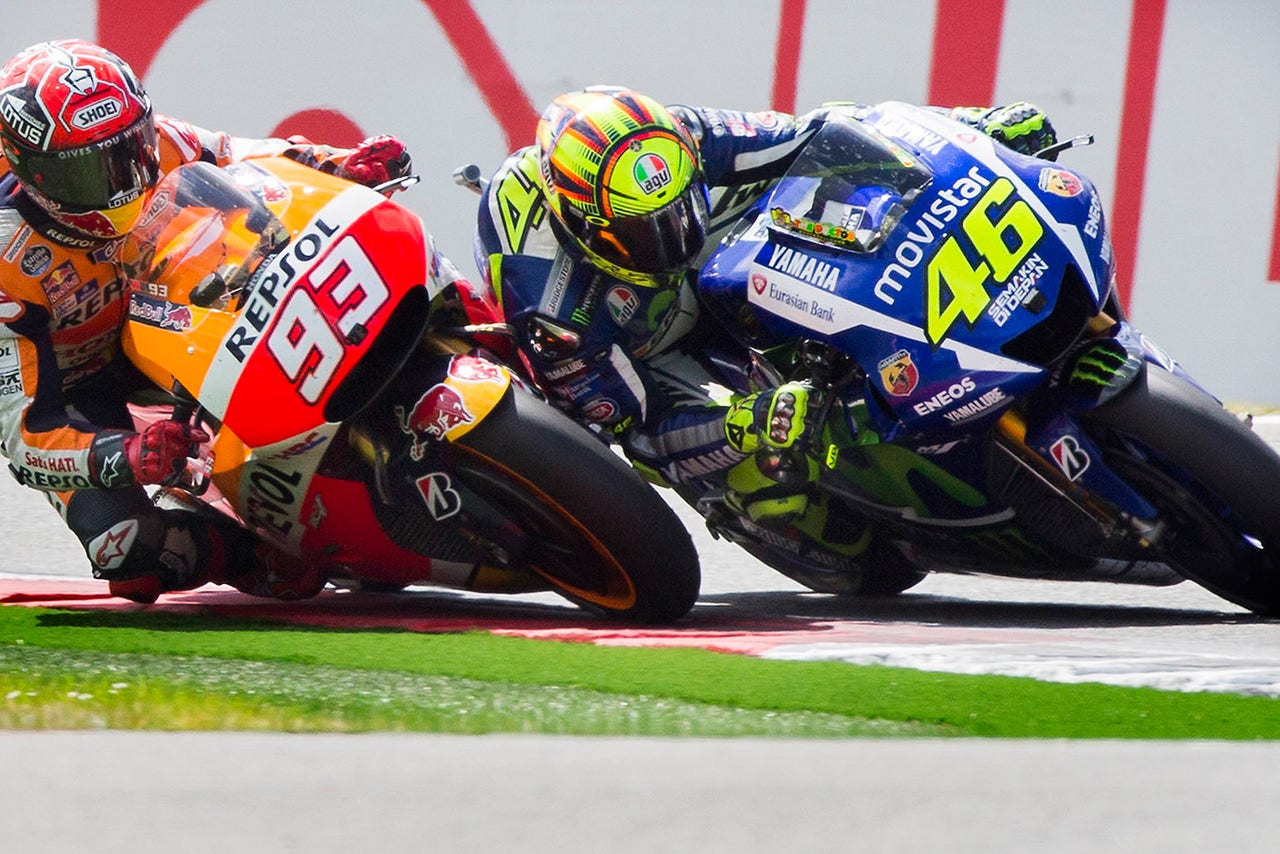 Valentino Rossi and Jorge Lorenzo are set to stage an intense all-Yamaha showdown for the 2015 MotoGP World Championship.
But Yamaha MotoGP boss Lin Jarvis has raised concerns that the "unquestioning self-belief" of Honda rival Marc Marquez will disturb the title fight.
With just one victory from eight races, Marquez's dreams of a third consecutive title are shattered, but he still wants to salvage his season with race wins.
But Jarvis feels that Marquez's uncompromising style may influence the head-to-head title showdown between Rossi and Lorenzo.
Rossi and Lorenzo hold a massive points advantage over Marquez as the season reaches the halfway point at Sunday's German Grand Prix.
Yamaha's concerns were heightened with the dramatic conclusion to last week's Dutch TT with Rossi forced to cut across the final chicane gravel trap to claim a dramatic win after being bumped by Marquez.
Race Direction confirmed Rossi's win saying that he was always in ahead in the final corner and was forced to cut the course after being tagged by Marquez.
But an upset Marquez brazenly declared that "he felt he won the race" and that he didn't expect Rossi would "cut the corner."
It is Marquez's unshakeable self-belief that he did a "perfect race" and was a winner at Assen that worries Yamaha.  They have no issue if Marquez wins races, but nervously hope that he does not put Rossi or Lorenzo at risk in the process.
"Marc's championship is over so it looks like he is risking a lot for a race win," Jarvis said.
"Clearly he didn't win Assen, he should listen to race direction on that one.
"And we have seen on several occasions this year Marc's very aggressive riding style sometimes puts other riders in a difficult situation.
"In the Assen press conference with Marc being 100 percent totally convinced he was in the right when clearly he was not then that unquestionable belief can be dangerous.
"It is very important to have respect for fellow competitors so I'm concerned about that.
"Marc can take risks by himself if he wants but I just hope he does not disturb the championship contest (between Rossi and Lorenzo)."
After eight races the Yamaha teammates have seven wins (Rossi three, Lorenzo four) to Marquez' one.
Rossi leads the points and is a massive 74 points clear of Marquez, virtually equivalent to three race wins at 25 points each
In turn, Lorenzo is second, just 10 behind Rossi but with a huge advantage of 64 points over Marquez.
It is illogical to conceive the circumstances in which both Rossi and Lorenzo would throw away the championship. And Marquez would need a repeat of his 10 race-winning streak of 2014 to have a chance at the title.
Rossi is bidding for a record eighth MotoGP championship while Lorenzo is aiming for his third.
Click HERE for more MotoGP news and features.
---