NASCAR Xfinity Series
NASCAR Xfinity Series
Montoya wins Champion of Champions
Published
Jan. 21, 2017 8:19 p.m. ET

MIAMI (AP) Juan Pablo Montoya took his wife's advice and it paid off.
Montoya had passed on previous invitations to participate in the annual Race of Champions, but when his wife, Connie Freydell-Montoya, suggested he take part in this year's event, he agreed.
''It's unbelievable, today I am actually regretting that I haven't done this before,'' Montoya said.
Montoya won the Champion of Champions against some of the best drivers in the world in a head-to-head format in the 28th annual event held on U.S. soil for the first time at Marlins Park.
''It's beginner's luck,'' said Montoya, a two-time Indy 500 winner.
Montoya won his final seven races including both in the final against Tom Kristensen, who has five second-place finishes to his credit in 15 appearances.
''I've known this guy since he came from doing Formula 3000,'' Kristensen said. ''Already then I knew he would have an exceptional career. I knew there was something special about this man. He was very good and you have seen it in his career.''
Some of the world's greatest drivers from Formula 1, NASCAR, IndyCar, Le Mans, Rallycross, and Touring Cars competed in head-to-head competition in identical cars.
Kurt and Kyle Busch, Helio Castroneves, Tony Kanaan, Sebastian Vettel, David Coulthard, Travis Pastrana, Alexander Rossi, Ryan Hunter-Reay, Jenson Button, Felipa Massa, and Pascal Wehrlein were among the 16 drivers who participated in the event, which consisted of four groups of four with the top two moving on to the quarterfinals.
''To race so many legends and so many guys who I look up to is an honor,'' Pastrana said.
The pavement for the 1,778-foot track was laid earlier in the week and will be removed after the three-day event, which concludes with team competition on Sunday, in time for the Marlins' grounds crew to lay new grass and be ready for the Marlins' home opener on April 11.
''It was very good, nice temperature and fantastic,'' Kristensen said. ''It was the first time so of course the turnout could have been bigger, but it's very nice-the architecture of the stadium and layout feels good.''
The track withstood an accident early when Wehrlein and Massa collided without injury while driving the Polaris Slingshot SLR. Wehrlein lost control on the final turn crossing into Massa's lane on the last straightaway clipping the back of Massa's car and flipping over the TECPRO barrier on turn one before landing against the concrete wall.
Both drivers were able to walk away seemingly unharmed.
''We are both OK so that is the most important thing,'' Wehrlein said. ''I'm not really sure what happened.''
Pastrana turned in an impressive performance winning all three of his races in group competition beating Castroneves, Rossi, and Vettel, the defending Champion of Champions.
''Honestly I thought I had the most stacked bracket, but then I looked at it and all of these brackets are stacked,'' Pastrana said. ''It's amazing. So just to be here is such an honor to me. To win one heat is amazing, but to get to win all three and to knock out the defending ROC champion to get into the next round was pretty cool.''
Pastrana credited his success to his versatility with driving different vehicles, including being an 11-time motocross gold medal winner at the X Games and a four-time Rally America champion.
''For most of these guys they race all year, but for me I don't race all year so for me it means a lot to come out there and have a chance to run against these guys,'' Pastrana said. ''I take my racing very seriously and we've won four U.S. championships, but most of my fans are like, `Oh yeah a gentleman driver, yeah, haha. If I had that sponsorship or whatever,' but no man, this is what I do. So for me to come out here means more than for some of the other guys.''
Pastrana's day ended in the quarterfinals when he was knocked out by Montoya.
Sunday's action includes drivers teaming up, including NASCAR brothers Kurt and Kyle Busch, for the Nations Cup and an America vs. The World finale.
---
---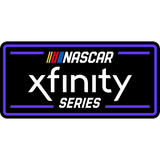 Get more from NASCAR Xfinity Series
Follow your favorites to get information about games, news and more
---