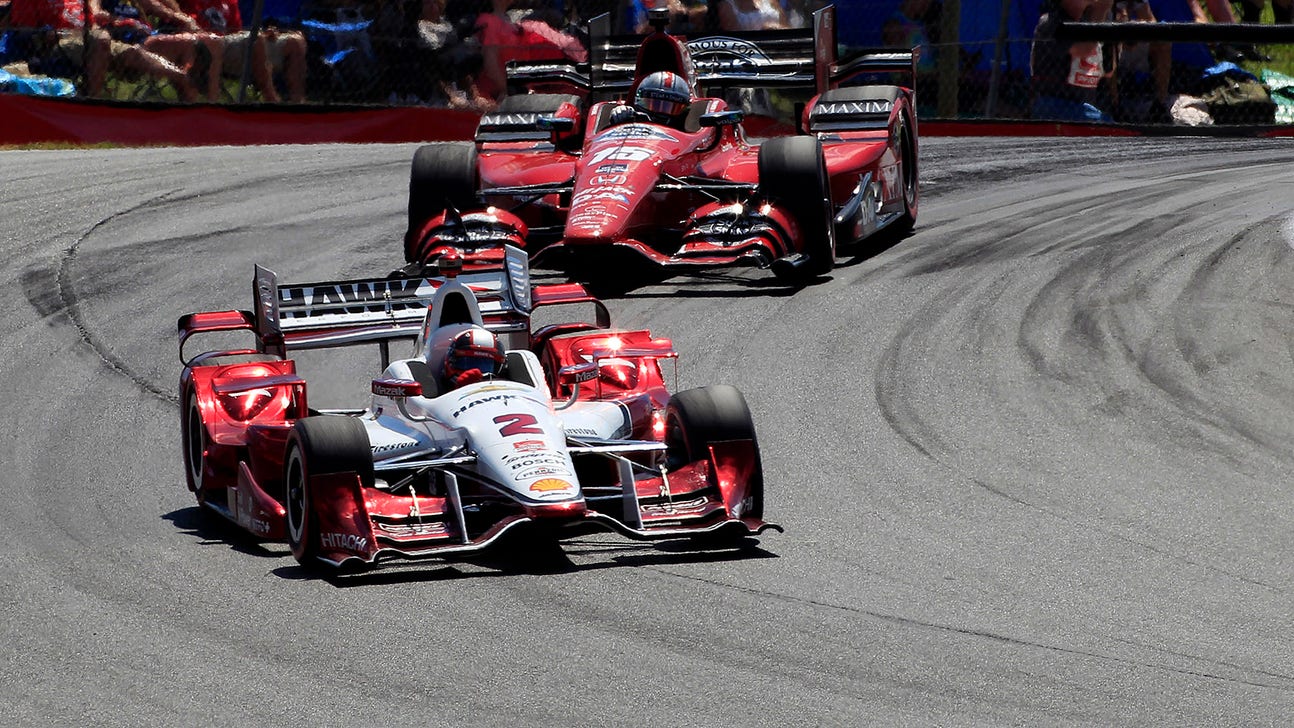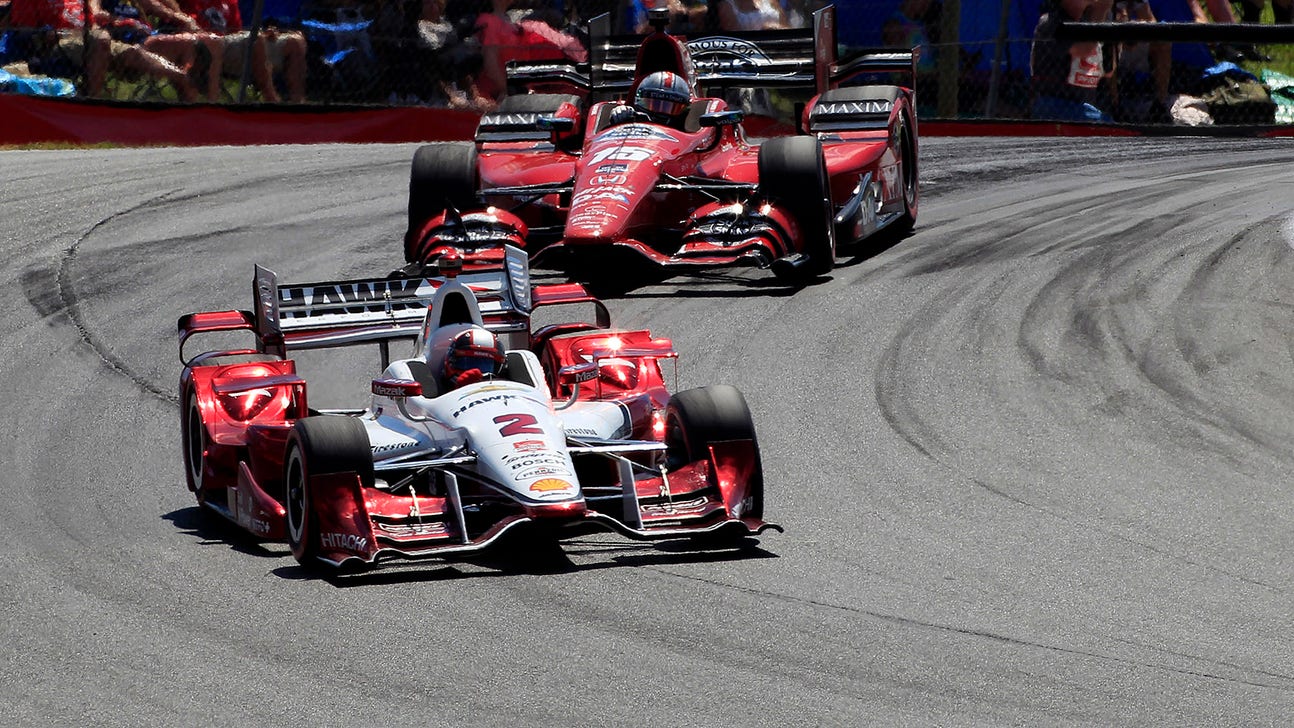 Montoya vs. Rahal title fight heads to critical race at Pocono
Published
Aug. 20, 2015 10:19 a.m. ET

LONG POND, Pennsylvania -- Juan Pablo Montoya is clinging to a nine-point lead over Graham Rahal as the Verizon IndyCar Series heads to Pocono Raceway for Sunday's ABC Supply 500. The 1999 CART Series champion and two-time Indianapolis 500 winner doesn't plan on doing anything differently than he has done all season as he has led the Verizon IndyCar Series standings since the first race.
Graham Rahal doesn't plan on changing his strategy, either, and that is going to keep the pressure on Montoya for this year's title.
It's down to two races to go for the championship but there are enough points left for three races. The season's final race - the Go Pro Indy Grand Prix of Sonoma on Aug. 30 - will pay double points.
Montoya leads eight drivers that are within 100 points of the top rung in the standings. He leads Rahal by nine, Scott Dixon by 34, Helio Castroneves by 58 and Will Power by 59. The top five drivers are within striking distance but it would take some high mathematical odds for the next three drivers to have a realistic chance. Of that group, Sebastien Bourdais is 86 points out, Marco Andretti 87 and Josef Newgarden 95.
Three of the top five drivers in the championship - Montoya, Castroneves and Power - all drive for Team Penske. The fourth driver on that squad, Simon Pagenaud, is 10th in the standings.
Montoya is the defending winner at Pocono, yet when he won last year's race it was held over the Independence Day weekend.
"We won at Pocono last year, and we should run pretty good going to the next races as well," Montoya said. "We tested in Sonoma last week, did some laps there and learned some stuff. I think we're in good shape. You can't really know what's going to happen. We've done a really good job all year, like everybody else, had ups and downs, and we'll see what it brings."
Montoya won the CART series title at a rookie in 1999, won the Indianapolis 500 in his first attempt in 2000 and has won two Indy 500s in his only three attempts. As for Rahal, he became the youngest driver ever to win an IndyCar Series race when the 19-year-old drove to victory in the 2008 Honda Grand Prix of St. Petersburg.
Seven long years later, Rahal scored his second career win at this year's wild MAVTV 500 at Auto Club Speedway in Fontana, California on June 27. Three races later, Rahal had career victory No. 3 on his home track at the Mid-Ohio Sports Car Course.
Rahal is preparing for what he calls the two biggest races of his career beginning with Pocono on Sunday.
"It's right there, and we're close, and we feel like we're close," Rahal said of the 2015 IndyCar championship. "We feel like we're capable. I think everybody on the Rahal Letterman Lanigan team is ready to capitalize on it. Certainly we're riding a bit of a wave here lately. Things have definitely gone right. I think the guys are doing a tremendous job for us, and we're excited by that. I'm looking forward to it. Pocono hasn't been the best for us in the past, but with that being said, I think really that we're in a great spot looking forward, and I think we're definitely capable of having a great race this weekend, and I definitely feel confident going into Sonoma. I'm looking forward to the next couple.
"For me I think it's go after it. People are going to probably be surprised by that response, but whether you finish fourth, fifth, third, second - it's just a number. Ultimately the most important thing is to be the champion. I'm pretty close to that, so in my position, I'm not going to change our mindset that we had at Iowa, Mid‑Ohio or anything else. As I've told my guys all along, just keep doing the job you're doing and we're going to be fine. It's going to take care of itself. I'm looking forward to the challenges ahead of us this weekend."
Montoya's victory at Pocono last year was his first since returning to Indy car competition. He left this form of racing after the 2000 season to compete in Formula One. He left Formula One midway through the 2006 season for a career in NASCAR Sprint Cup, winning two races in the stock car series.
But as Montoya got older, he wanted to win again and when Team Penske offered him a chance to return to IndyCar, Montoya grabbed it and never looked back. His season-opening victory in the Firestone Grand Prix of St. Petersburg and his win in the 99th Indianapolis 500 on May 24 gives the driver from Colombia three wins since his return.
Back-to-back wins at Pocono would also solidify his chances to win another series championship. Montoya has won two of the last four 500-mile races stretching back to 2014.
"I don't think there's anything magic," Montoya said. "I think I'm really good at setting up the car on the ovals. I do a really good job at understanding what the car needs to be good, and I think that makes a big difference. If we can find what I want out of the car, then we're definitely going to be strong, and if we don't, then we'll be OK. But I think that's one of the key things why I'm good on the ovals is understanding what the car needs and what I want out of the car.
"At Pocono the three turns are just different. The first corner is a banked corner where you get a lot of understeer, and then in Turn 3 you've got a lot of oversteer. It's just figuring out what kind of balance you have in all the corners. Since they closed the pods on the back of the car, they created a lot more drag, so it's going to be tough to know which one is going to be the right downforce, and I'm sure you can miss it low or you can miss it too high. You don't want to be conservative and be in the way."
Montoya is a tough critic and believes he is simply having a "good" season – not "great." He has been in contention to win races and if the "Sage Karam caution" hadn't come out at the precise time it did in the previous race at Mid-Ohio on Aug. 2, Montoya had the fuel strategy that would have allowed him to win the race.
"I think the beginning of the year was great, we opened the season with a win and I thought beating Will was huge," Montoya said. "Having a good car on a street course showed the hard work we put in in the offseason, but we felt that was the weakest link was the street courses and that's where we put most of our focus and it paid off. We had good cars every street course. I think our weakest link is the road courses, but last year we run good most places, not great but good.
"This year at Mid‑Ohio we had a really good car. We figured it out. In qualifying we just had too much understeer. I think we'll be fine. Honestly I do feel we're going to be OK."
The highlight of Montoya's season was his second Indy 500 victory in a dramatic duel with Power and Dixon over the final 15 laps of the race. Montoya had to fight his way from the back of the field after Simona di Silvestro ran into the back of Montoya's Chevrolet as the field was getting ready for a restart on Lap 7. The contact damaged a rear wheel flap – part of the Chevrolet aero kit behind the rear wheel. Team Penske replaced the rear wing assembly during a pit stop and that dropped 30th of the cars that were still in the race from the field of 33. Later in the race, he went back in the pack again when he ran over an air hose during a pit stop.
Montoya overcame both instances to give team owner Roger Penske a record 16th Indianapolis 500 victory.
"Especially being here at Team Penske, the Indy 500 is the pinnacle of what we do with Roger Penske," Montoya said. "That's why we're here. So to be able to go there and get it done is pretty special."
That's what Montoya needs to do for the championship – get something done that he started in the season-opening race back in March.
**
Be sure to catch Bruce Martin's Honda IndyCar Report on RACEDAY on FOX Sports Radio every Sunday from 6-8 a.m. ET.
---