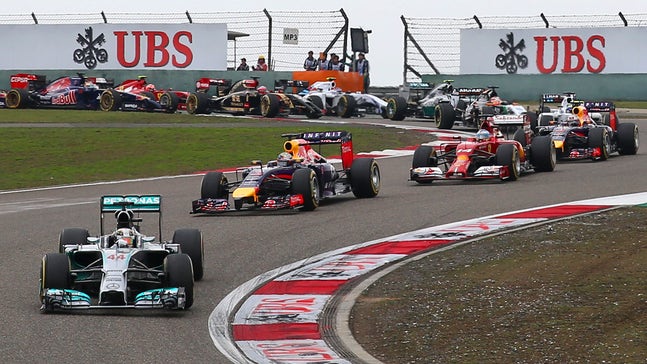 Mercedes' rivals eager to close gap in Barcelona
Published
May. 7, 2014 5:57 a.m. ET

BARCELONA, Spain (AP) Mercedes' rivals hope a busy three weeks of tinkering on their slower cars and the move to European tracks will be enough to at least threaten Lewis Hamilton's and Nico Rosberg's stranglehold on Formula One.
The Mercedes pair head into Sunday's Spanish Grand Prix after sweeping the first four races in impressive style, with the most compelling driving coming between the teammates while the pack puttered away in the distance.
The switch to V6 turbo hybrid engines has dislodged Red Bull as F1's dominant team after four seasons, and Mercedes was also dealing far better than the rest with the new powertrain and other rule changes.
Hamilton has led a Mercedes one-two finish with Rosberg in the last three races after the German won the season opener. The silver-and-teal duo have also taken all four pole positions, and set the fastest lap at each grand prix.
''We are now four races into the 2014 season and hold a strong position in both championships,'' Mercedes team executive director Toto Wolff said. ''However, the first European round of the year always provides a prime opportunity for teams to arrive with improvements to their cars. Of course, we are no different to any other team in that respect and our aim must be to increase the advantage we enjoyed at the last race in China.''
Neither Hamilton nor Rosberg has yet to win at the Circuit de Catalunya, although they did take the top two positions in qualifying here last year.
Rosberg, who has a four-point lead over Hamilton in the championship, said that after years of racing and preseason tests at Barcelona ''there is probably no other track in the world'' that he knows better.
''I also have some good memories of race weekends in Barcelona,'' Rosberg said. ''Last year (...) I started from pole position so I'm looking forward to going back there again, and maybe repeating that particular feat. Each team will have been pushing hard during the break to find some extra performance from new parts. So it will certainly be an interesting weekend.''
Red Bull will be counting on making strides after a dismal start to Sebastian Vettel's title defense.
Vettel has yet to finish better than third place, and has twice been ordered by his team to let new teammate Daniel Ricciardo pass him for higher finishes in the last two races.
Vettel said a lot would depend on doing well in Saturday's qualifying because the track design offers few chances to challenge front-runners.
The Montmelo circuit features one long straightaway before the first corner, which is considered the best for overtaking. It is also known to be tough on tires.
Paul Hembery, the director of tire provider Pirelli, said that despite the track's abrasive surface and high temperatures they expected teams to need only three pit stops instead of four as they have made in the past.
Ferrari's Fernando Alonso proved last season that wise tire management and smooth pit stops can be enough to compensate for a lack of overall speed.
Alonso enters the race in a distant third place, with 41 points to Rosberg's 79 and Hamilton's 75, but after managing to finally reach the podium at Shanghai in Ferrari's first race under new team principal Marco Mattiacci.
The two-time former world champion has a strong record in front of his home fans, with wins here both last year and in 2006 to give him seven career podium finishes at the Spanish GP.
His victory one year ago was Ferrari's last as a team. With Alonso and teammate Kimi Raikkonen far behind the pacesetters, the Italian team will need a near perfect weekend to break its poor run.
''With Fernando we've seen an extraordinary level of performance, scavenging every possible point at every possible opportunity,'' Ferrari technical director James Allison said. ''We are learning how to get performance out of this new set of regulations, and hopefully to make this car more competitive. The key to a successful season is to keep improving your car at every race.''
---