Le Mans win would give Corvette triple crown endurance sweep
Published
Jun. 17, 2016 3:45 p.m. ET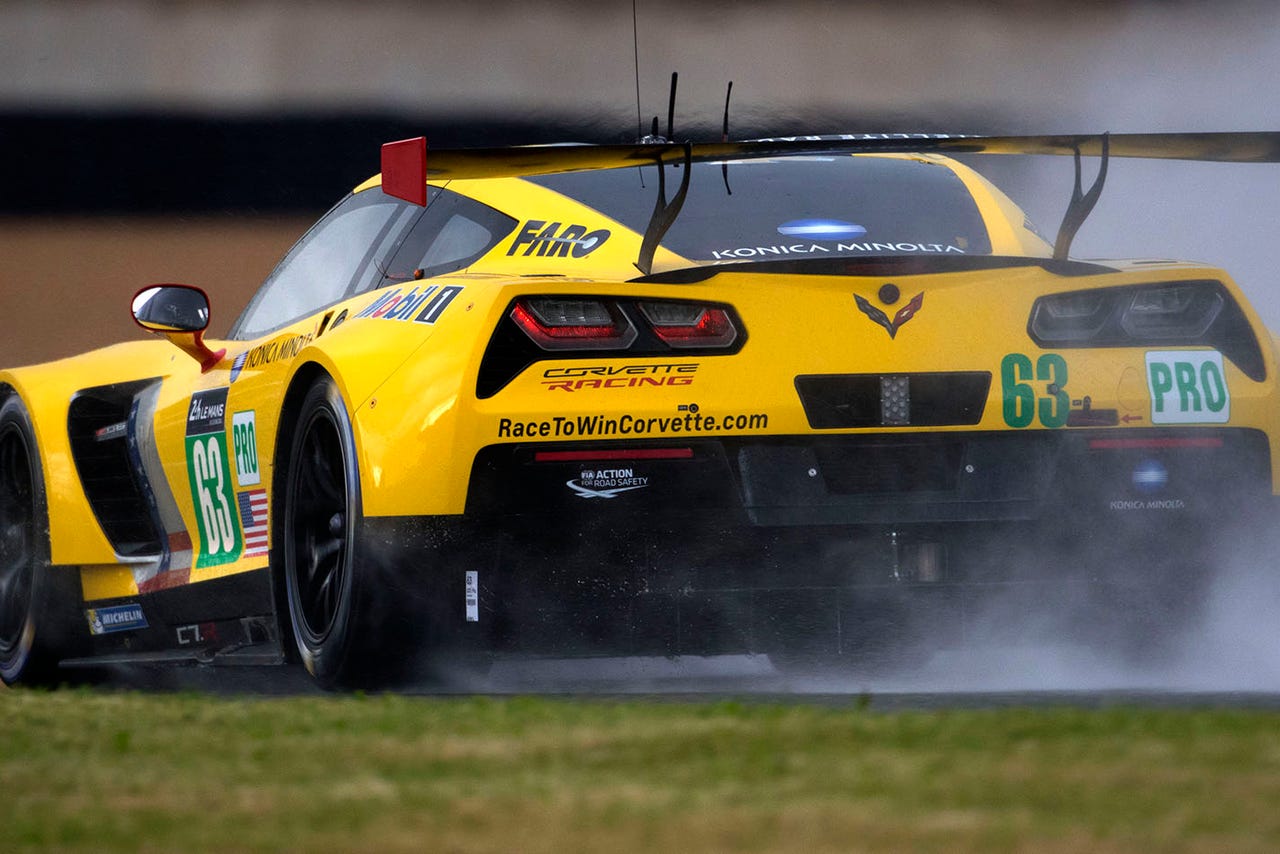 Corvette Racing is in line to capture international sports car racing's endurance race "Triple Crown" at the 24 Hours of Le Mans this weekend, where a win by either of the team's Corvette C7.R GTE-Pro class cars would also be the 100th major sports car race victory for the factory Pratt & Miller squad.
Sweeping all three of sports car racing's recognized major endurance races in 2016 – the Rolex 24 At Daytona, 12 Hours of Sebring and the 24 Hours of Le Mans – would complete a two-year cycle of victories for Corvette Racing in those races dating back to Daytona in 2015.
The streak includes wins this year and last at Daytona and Sebring and a 2015 Le Mans victory by the No. 64 Corvette C7.R team of Oliver Gavin, Tommy Milner and Jordan Taylor.
"I would say it would be an amazing achievement for the whole team," Gavin told Sportscar365. "This is something that you hope and dream about being able to do, two years of just locking up all of the major endurance races.
"It would be quite spectacular because these races are so hard to win, just so, so hard to win."
Last year's winning No. 64 team and drivers return to defend their Le Mans victory and join their teammates, Jan Magnussen, Antonio Garcia and Ricky Taylor, in the No. 63 Corvette.
Gavin and Milner led their team to this year's Daytona and Sebring wins while Magnussen and Garcia co-drove to the 2015 victories in the same races.
At Le Mans, Corvette Racing has won half of its races since debuting at Circuit de la Sarthe in 2000.
A victory by either Corvette C7.R this weekend would be the ninth for Corvette in its 17th consecutive appearance in the race.
As sweet as the multiple milestones and records may be, however, the team's focus at Le Mans each year always remains first and foremost on simply winning the race, according to program manager Doug Fehan.
"If it happens, and it completes the sweep, that's great, but I can tell you no one is focused on this race thinking about making it the third of three," Fehan told Sportscar365. "We look at Le Mans as a standalone.
"Obviously, if we are in a good position at the end of this event and we come away victorious, it will complete the sweep for the second-year-in-a-row.
"I don't know if anybody has done that in modern history, but that is not first and foremost on our minds. It would be frosting on the cake."
The No. 63 team is extra motivated to compete at Le Mans after an accident last year in Thursday qualifying forced them to miss the race.
With their entry sidelined last year, the No. 63 drivers, team and crew rallied to support their No. 64 teammates as the sole C7.R carrying the Corvette flag.
"Once the race started the thought of just having one car went out the window," Milner said.
"For the team especially, it was cool. To have the whole team – the 63 guys and the 64 guys – helping with just the one car, helping with pit stops, helping with everything, it was pretty cool.
"The engineers even came on in the nighttime in relief of our normal guys so they could get some sleep."
Milner first won with Corvette at Le Mans in 2011 while his co-driver, Jordan Taylor, won for the first time last year at Circuit de la Sarthe.
The 2015 win was Gavin's fifth and most recent Le Mans victory, all with Corvette, to go along with his first win in 2002 and three-straight victories from 2004 to 2006.
"The only time I started thinking about the fact that we were doing it solo last year was in the final hour when I was in the car," Gavin said.
"The rain was coming, the pressure was building and I was terrified to make a mistake.
"I was elated to come across the line and it was pretty emotional as well. Any 24-hour race is emotional, but to be able to get the win the way we did it was very special."
Ricky Taylor, Jordan Taylor's older brother by two years, is making his Corvette Racing debut in the No. 63 car in pursuit of his first Le Mans victory.
Magnussen has four career wins at Le Mans, three-in-a-row from 2004 to 2006, and the most recent victory in 2009, all with Corvette.
Two of Garcia's three victories at Le Mans, 2009 and 2011, have been with Corvette.
Garcia paced the GTE-Pro class two weeks ago in the Le Mans Test but stiff competition from an expanded field awaits in this weekend's race, as well as a last-minute Balance of Performance adjustment to the GTE-Pro class.
"In the big picture, we have more entries in GTE-Pro than we have had, we have more manufacturers than we have had, and that's a good thing," Fehan said.
"At the end of the day, I like to say we are all in the same boat, we just have a little different oar. More competitors move the sport forward, and if the sport moves forward, that makes it better for everybody.
"Le Mans is the most important event in which we run during the course of the year. It is the cornerstone of what we do, it's the reason we exist, and that is something that is not lost on anyone."
---