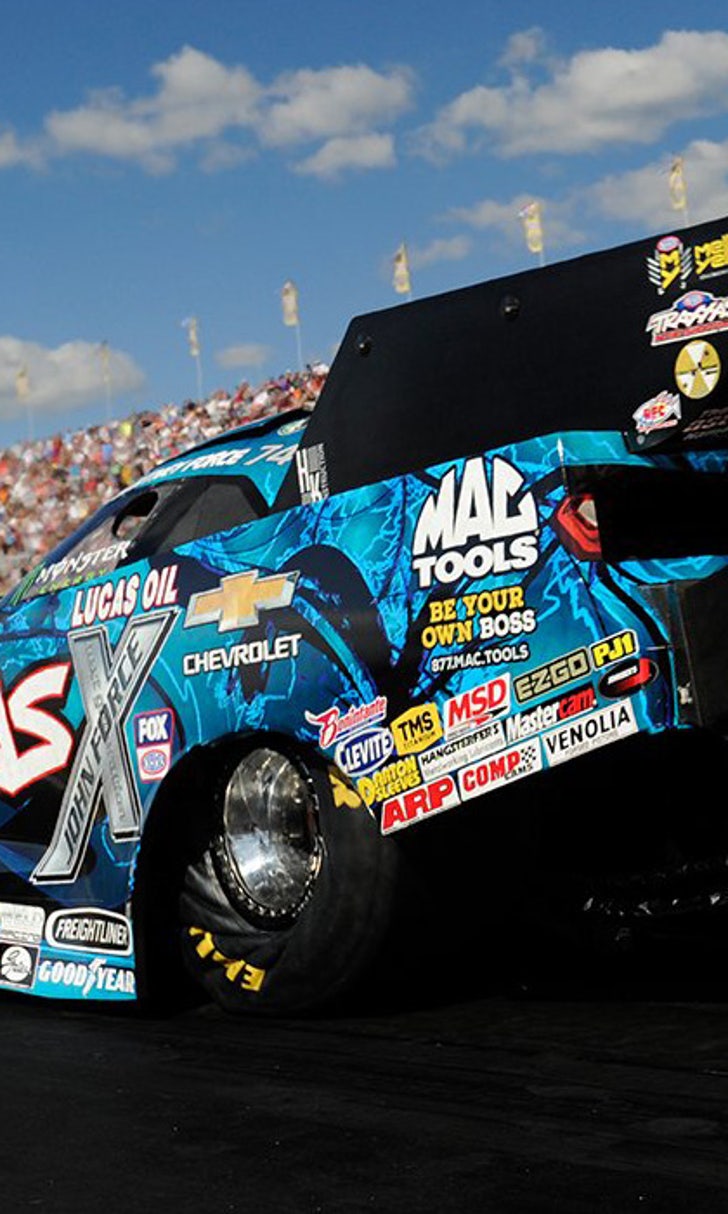 Courtney Force wins her sponsor's $100,000 grand prize
BY foxsports • September 4, 2016
Courtney Force raced to a $100,000 payday securing the win in the Traxxas Funny Car Shootout at Lucas Oil Raceway.
Force won in an all-John Force Racing final round, beating teammate Robert Hight. She ran a 4.018 elapsed time at only 266.64 mph as Hight lifted early and coasted to a runner-up finish.
"This is huge for our Traxxas team," Force said. "I grew up watching my dad race in the Big Bud Shootout and these big races since I was born. I watched him for many years hold up those big trophies. It's pretty surreal to be the one up here now."
Force, the youngest of the three Force Racing girls, was in the final of the special race within a race at the GM Performance NHRA U.S. Nationals for the first time.
"I felt like I was cursed in this thing for the last five years, and couldn't get out of the first round," Force said. "It was a bummer because this was my title sponsor's event. I've always wanted to do well and probably have been trying too hard."
Force ran a 3.912 to take out Alexis DeJoria in the first round and a 3.926 to get by event No. 1 qualifier Matt Hagan.
Force credited her calm demeanor for Sunday's event to her crew making qualifying a non-issue with the fourth-quickest run of the event on Saturday evening.
"I just tried to go to the line, calm and relaxed, after getting a good run in last night," Force explained. "We qualified fourth, so my team was able to give me a clear mind to think about this race only. That's a huge thing when you are coming into a race like this."
Earlier in the event, No. 1 seed Ron Capps plowed into the catch net when his parachute failed after a 324-mph win over 16-time champion John Force. He was uninjured, but his car was damaged enough it could not continue in the Traxxas Shootout giving Hight a single into the final round. The Napa Auto Parts team has brought out a back-up car for Monday's final eliminations.
Saturday's Top Fuel portion of the Traxxas Shootout was dominated by Don Schumacher Racing with all of its dragsters reaching the semi-finals, thus ensuring a team final. Having the John Force Racing team battle for the grand prize was pleasant music to her ears.
"For us to go out there and do that today, it's unfortunate what happened to Capps because who knows what could have happened with him in here," Force said. "I am so glad he was okay. I hate to see that happen to any driver, whether they are on your team or not.
"To be in an all-John Force Racing final, and knock out the DSR cars is huge for our guys back at the shop. I am really proud to be a part of it."
***
Bobby Bennett is the Publisher/Editor of CompetitionPlus.com, a leading independent online drag racing magazine, since 1999. For the latest in dragster news worldwide, visit www.competitionplus.com or follow on Twitter @competitionplus
---