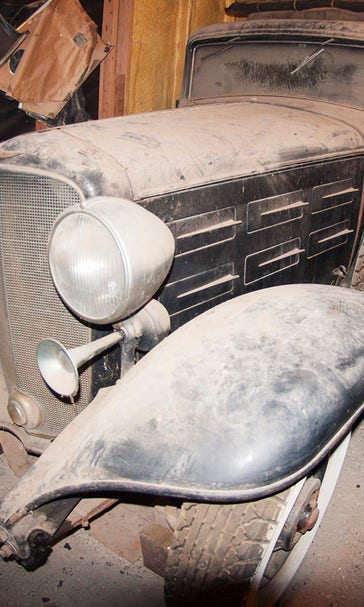 'Barn-find' collection set for Motostalgia auction at Indy
April 20, 2015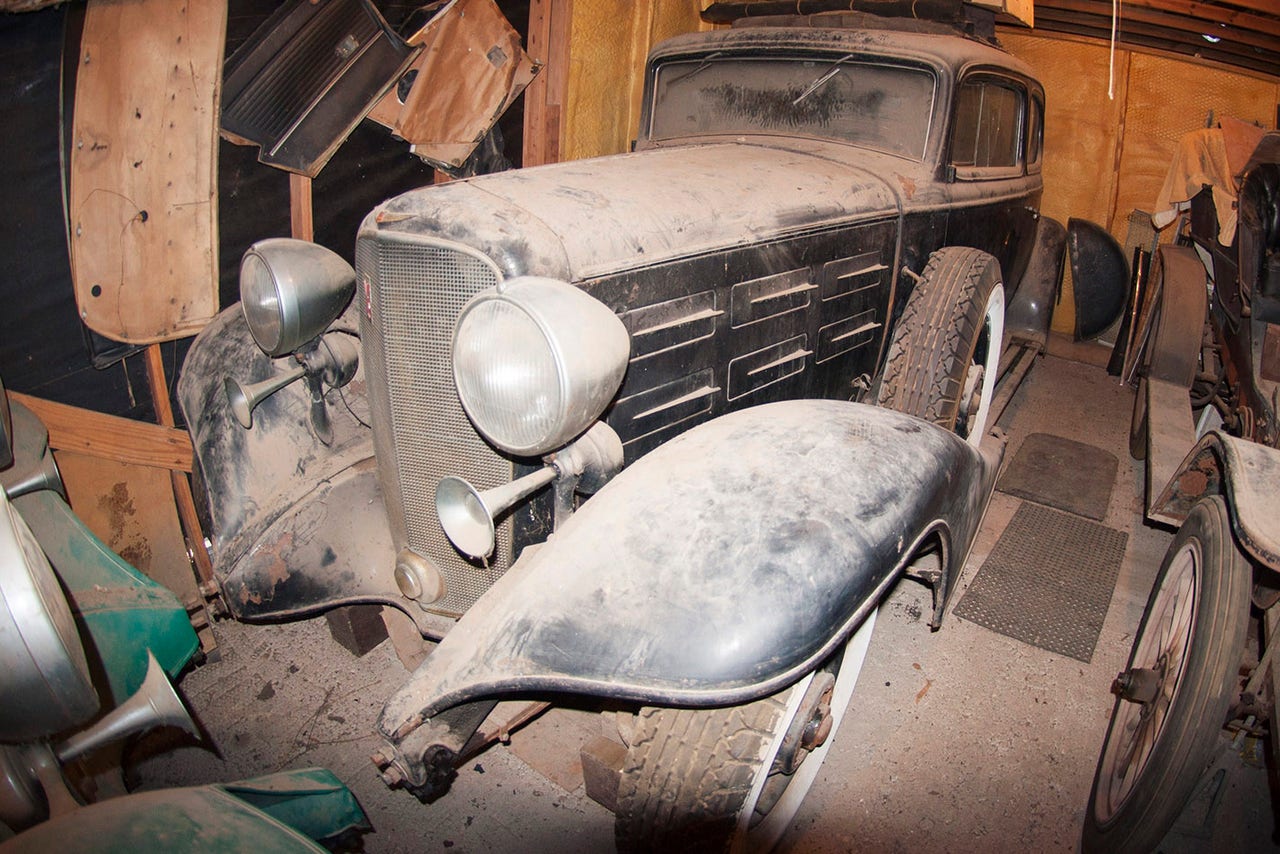 A classic "barn find" story covering 40 years of good intentions will be rolled out in all its dusty glory when the Motostalgia Auction Company presents the Barn Find Collection of Texas during the Brickyard Collector Car Auction on June 12 at the Indianapolis Motor Speedway.
The collector-car auction, held during the SVRA Vintage Racing Invitational, will present an array of about 100 vehicles for bidding, among them European and American sports cars, vintage race cars and classics.
But the six derelict vehicles recently pulled from four decades of storage are getting the attention from restorers and preservationists. Bring them back alive or else keep them encased in their musty patinas?
So-called barn finds have become hot commodities in the collector-car world with many auctions presenting valuable but dirt-encrusted automobiles just as they came from often neglectful storage.
The Motostalgia barn finds – three special Cadillacs, a rare electric car, an early antique and a vintage travel trailer – come from a single Texas collection held by a man identified by the auction house only as "Jack."
"It's almost like opening a time machine for a gearhead, and finding a collection of vintage automobiles, put away and stored for over 40 years waiting to be rediscovered," Motoslagia said in a news release. "It is the thing that a car lover's dreams are filled with, and this one has come true."
The star of the collection is a one-of-a-kind 1932 Cadillac V12 Convertible Victoria, considered to be a prototype for a lineup of V16 Victorias.
"Under the direction of Harley Earl, Vice President of Design for General Motors, a standard production Town Coupe body was delivered to the Fleetwood styling studios and the work was undertaken to convert it into an open, five-passenger Convertible Victoria," according to Motostalgia. "Assigned body No. 1 for this style, it was installed on the chassis of a V12 Cadillac and shown to a number of executives and the general agreement was, 'a beautiful car' after which it was approved for production.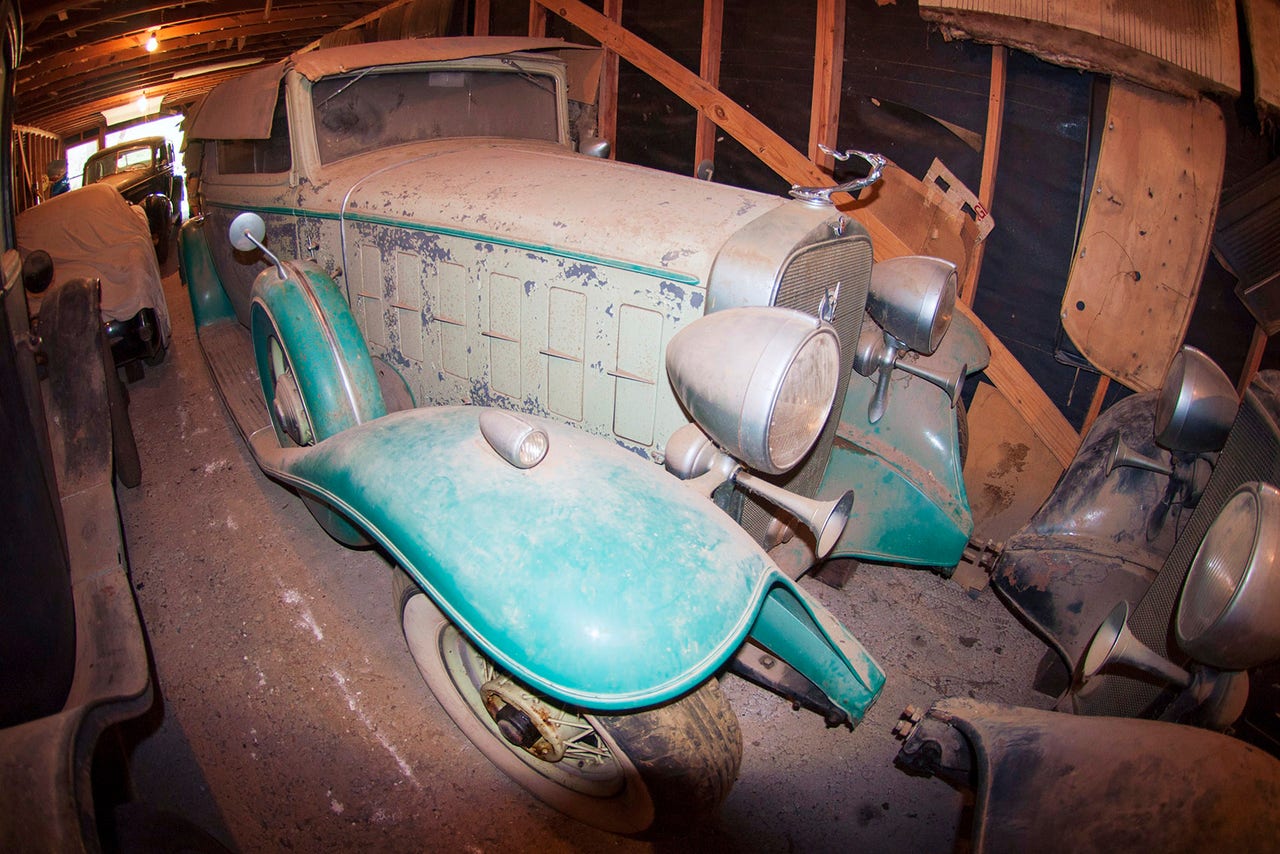 The 1932 Cadillac V12 Convertible Victoria is a one-of-a-kind prototype.
"However, in 1932 as the height of the depression had its grips on America, orders for luxury cars, such as Cadillac V16s and V12s were very limited. After the body style's availability was announced, only one production 1932 V16 chassis was graced with the Convertible Victoria body, followed by only two more for the 1933 model year.
"This car remains the only V12 chassis to be fitted with this body."
Jack, who lives in the hill country outside Austin, reportedly learned that the Cadillac was being driven from California to Michigan in the late 1930s by a GM executive and his family when it broke down en route.
The executive purchased a new car and left the Victoria behind with a car dealer, who later sold it to a collector who had it cosmetically restored in the 1960s. The current owner bought the car in the 1970s.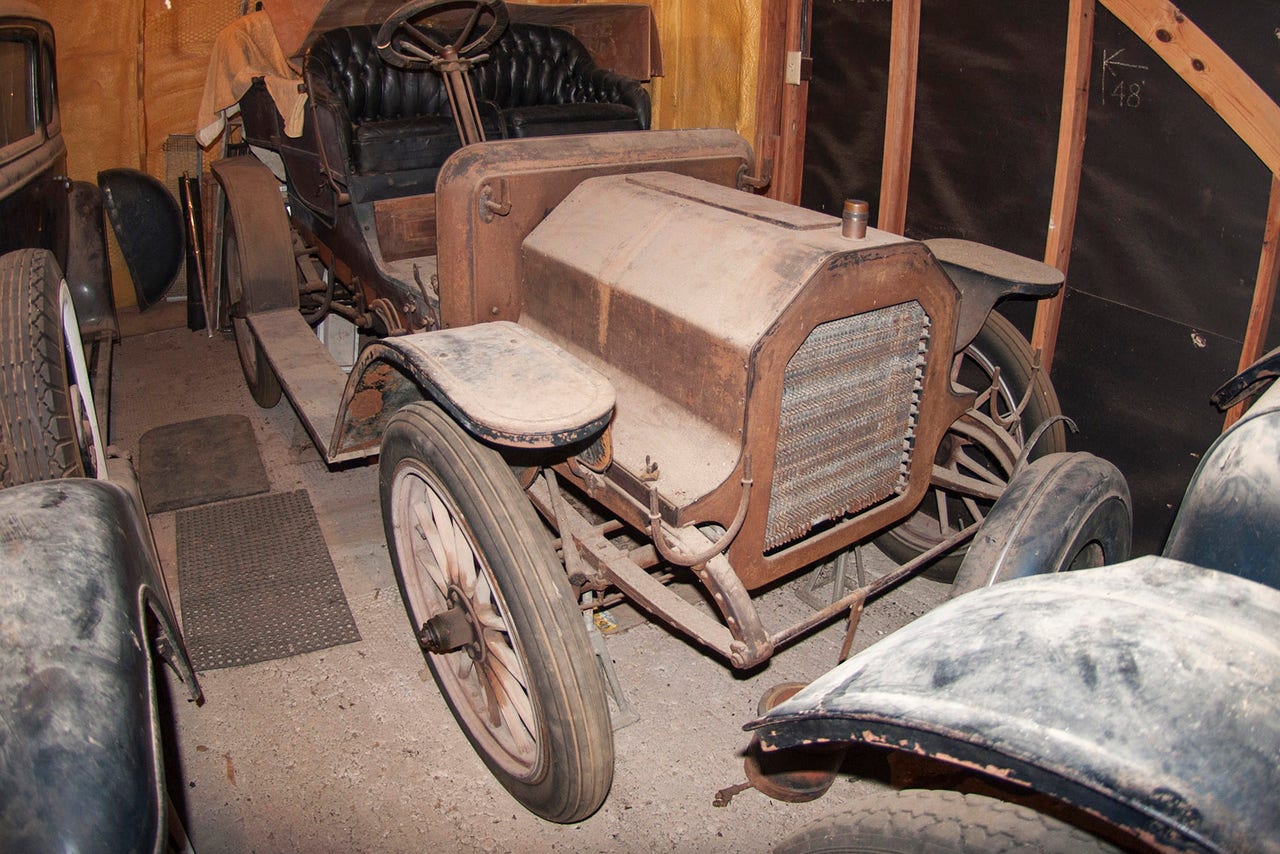 The 1908 REO roadster is a desirable antique.
The two other Cadillacs also are special models, a 1938 Cadillac Series 90 V16 Fleetwood Limousine purportedly owned originally by Philip Knight Wrigley, heir to the Wrigley chewing gum fortune, and a 1933 Cadillac V12 Town Coupe, which Motostalgia said, "Like the other cars in the collection, it was running when parked over 40 years ago, waiting for 'Jack' to get around to fixing it up."
The oldest car of the group, a 1908 Reo Model Roadster with detachable tonneau, and a very rare 1923 Milburn Electric Model 27L were purchased by Jack from a local attorney just before he and his wife moved from Wisconsin to Texas. The cars were trailered to Texas and, along with the Cadillacs, were put into storage in a wooden structure on his property with the intention of restoring them. And there they all remained until just recently.
The travel trailer, a 1937 Kozy Coach, actually played a brief role in the move by the couple to Texas, according to Motostalgia's description. "When the move to Texas was made, the Kozy Coach was used, for just one night, in which Jack and his wife slept in it."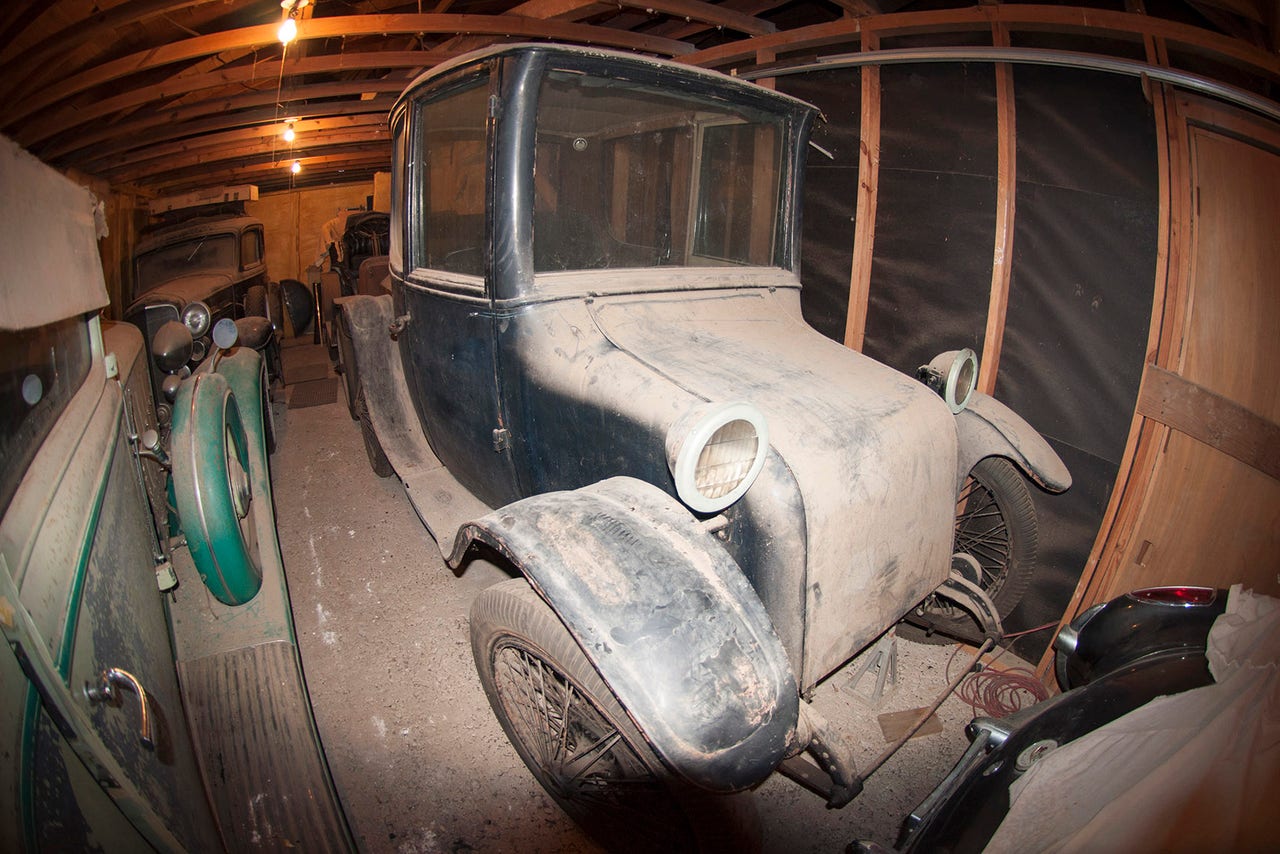 The ghostly remains of the rare Milburn electric car.
Photos show how the ensuing decades of languishing in storage left the cars and trailer relatively intact. Jack is getting up in years and realizes that the time to fix up the vehicles has long past.
"These cars have been hiding long enough, time to let someone who can bring them back to life own them," Jack told Motostalgia. "Part of the reason I moved to Texas was for my health, I stayed around for 40 plus more years down here, always hoping to get these cars on the road."
For more information about the barn-find collection and other cars at Motostalgia's sale, see Brickyard Collector Car Auction.
Article originally on ClassicCars.com.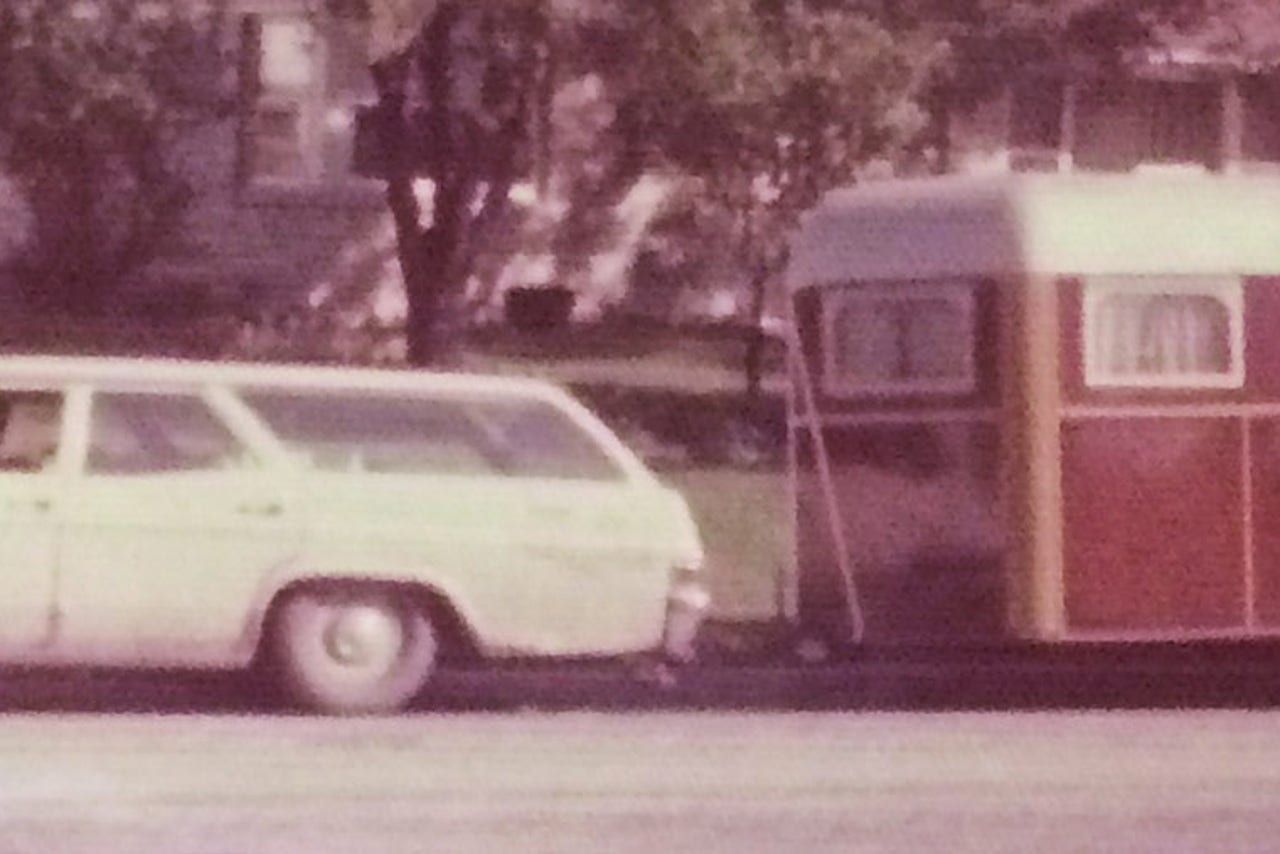 The Kozy Coach on the road for Texas back in the 1970s.
---