One start after sounding lost, Max Scherzer found his way into the record book again
May 12, 2016

Last Friday, after allowing four home runs in an 8-6 loss to the Cubs, Max Scherzer sounded almost lost.
Yes, the wind had been blowing out at Wrigley Field. But hardly anyone would have guessed that in his next start, Scherzer would tie the major-league record with 20 strikeouts.
At one point after his mess at Wrigley, Scherzer told reporters, "It's almost like (the Cubs) had a better understanding of me than me." At another point, he said, "I don't have an answer for you . . . Sometimes, you've got to let the sun come up before you can fully figure out what's actually going on."
The sun came up on Saturday, as it always does. Maybe 90 minutes before the 3:05 p.m. CT start, Scherzer and pitching coach Mike Maddux descended from the visitors' clubhouse at Wrigley to a small video room off a dank corridor that leads to the dugout. They watched video, talked about the next step, talked about what had gone wrong.
Scherzer wasn't lost. Not at all.
"It was really just normal stuff," he told MLB Network late Wednesday night after his historic performance in a 3-2 victory over the Tigers at Nationals Park.
"I really didn't try to over-analyze what happened in Chicago and beat myself up. I know that can happen at times when you don't have success. But you just have to believe in what you can do.
"I know I needed to make a few tweaks —€" that was it, just a few tweaks. It wasn't this major overhaul. I felt comfortable with my mechanics, to be able to go out there in this next start against the Tigers and compete and pitch at my best. Sometimes, that's what you have to do to get through a slump, to keep it simple, not make it complex."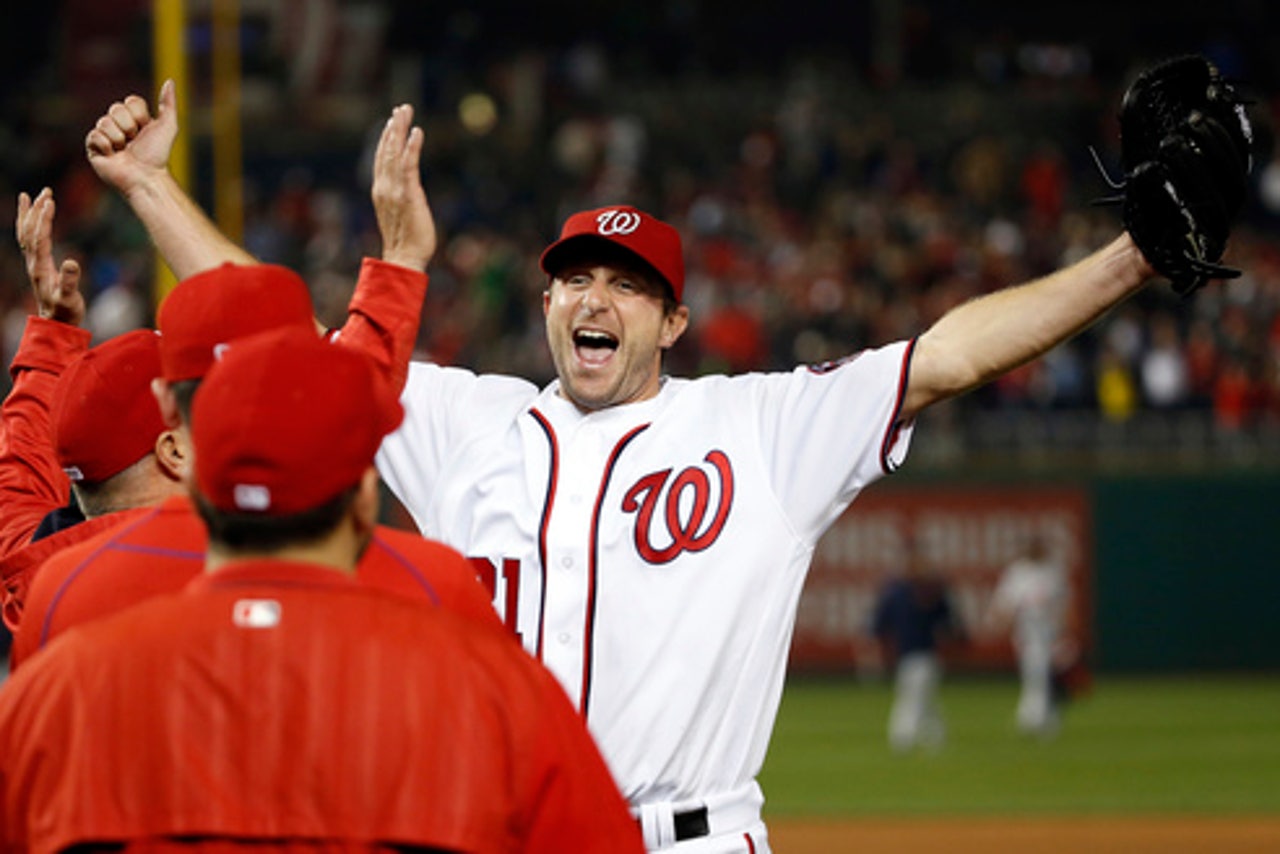 Scherzer, 31, was not about to forget who he was, even though his home-run rate after seven starts was the seventh-highest in the majors and his ERA was 4.60.
This is a pitcher who signed a $210 million free-agent contract less than 16 months ago. A pitcher who threw not one but two no-hitters last season. A pitcher who said —€" even after Wednesday night's performance — that his favorite career moment came in relief during Game 4 of the 2013 AL Division Series, when he escaped a none-out, bases-loaded jam to help the Tigers force a decisive Game 5 against the Athletics, which Justin Verlander won, 3-0.
"It just came down to executing pitches," Nationals pitching coach Mike Maddux said in a telephone interview Wednesday night. "We watched some video, said, 'This is what we're trying to do. What are we doing?'
"Sometimes you get caught up in (pitch) selection and you let selection override execution. As we long as we execute with our arsenal, it's going to work."
Which is exactly what happened against the Tigers, following a constructive bullpen session Sunday at Wrigley.
Scherzer was remarkably sharp, particularly with his fastball. While striking out 20 and walking none, he became the first pitcher in major-league history to throw 96 strikes —€" 96! — in fewer than 125 pitches, according to the Washington Post. His final pitch count was 119.
Things got dicey in the ninth inning, when J.D. Martinez led off by going deep on the first pitch, a mediocre slider, to pull the Tigers within one run. With none out, Scherzer still had to face the middle of the order -- Miguel Cabrera, Victor Martinez and Justin Upton.
"The equivalent," Scherzer said, "of staring down the barrel of a gun."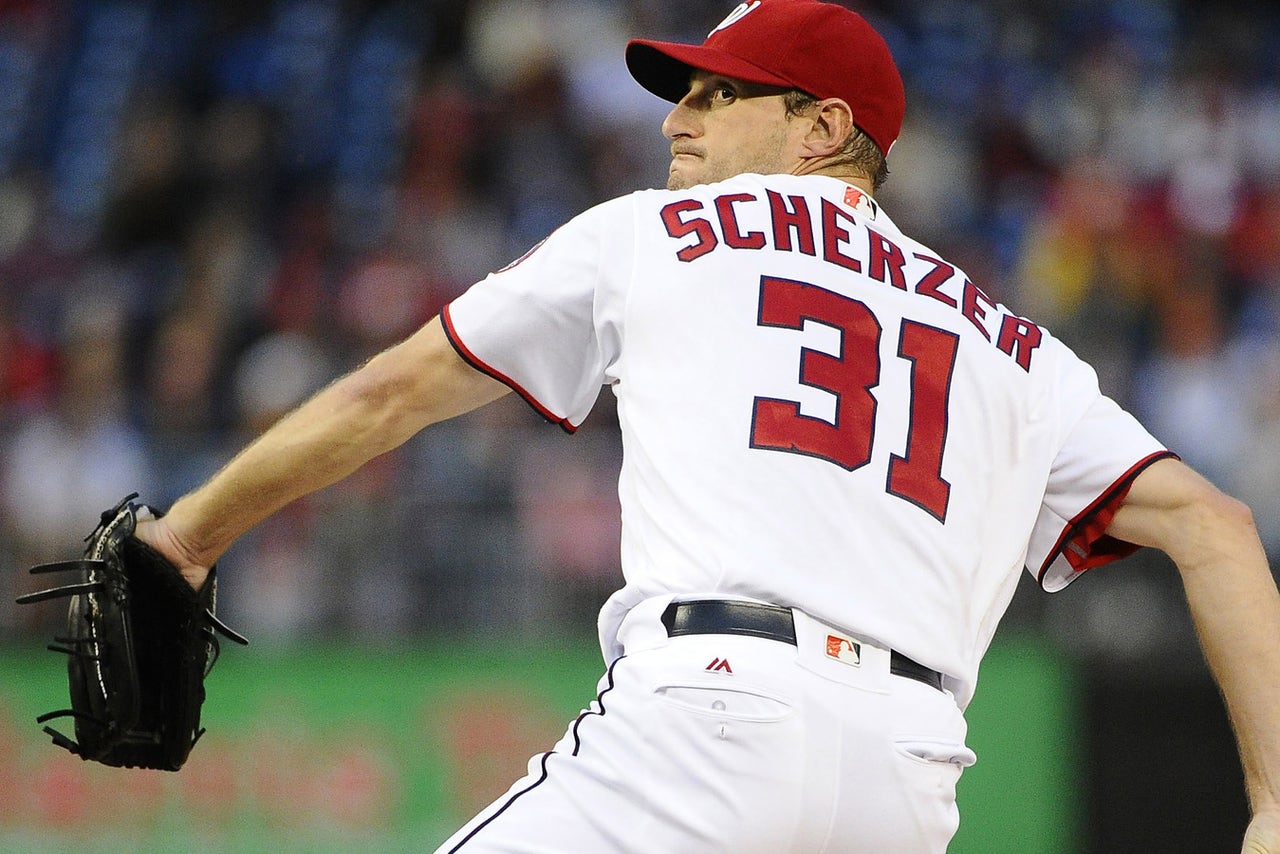 Nationals manager Dusty Baker, too, was in a bind, but he stuck with Scherzer, who also had allowed a third-inning homer by Jose Iglesias, rather than turn to closer Jonathan Papelbon, who was warming in the bullpen.
"At the end of it, it's history or win the ballgame," Maddux said. "It put Dusty in a tough spot. But I was like, 'Hey man, he might be the best we have right now.'"
Good thought.
Scherzer struck out Cabrera swinging on a 97-mph fastball. Martinez followed with a single to bring the potential go-ahead run to the plate. But Scherzer got Upton swinging on an 85-mph slider, giving Scherzer a chance to break the record by striking out James McCann, whom he already had whiffed three times.
It didn't happen -- McCann grounded into a game-ending forceout on the second pitch. But Scherzer was still beaming as he spoke to MLB Network about an hour after the game. Not only did he tie a record shared by only three others -- Randy Johnson, Kerry Wood and Roger Clemens, who did it twice -- but he also had done it against his former team.
"Tonight was an emotional night," Scherzer said. "Catching up with the guys, saying hi to everybody, brings back so many memories of great times together.
"When you face your friends, you always want to get 'em out. You just want to bring it. I knew they wanted to bring it. They were all talking about how they all wanted bombs against me. I get it. That's what they want to do. That's how they compete.
"I just wanted to compete right back at 'em. That's what makes the big leagues so much fun, that I get this opportunity."
He seized that opportunity, one start after sounding lost, one start after allowing four home runs.
He's Max Scherzer, OK?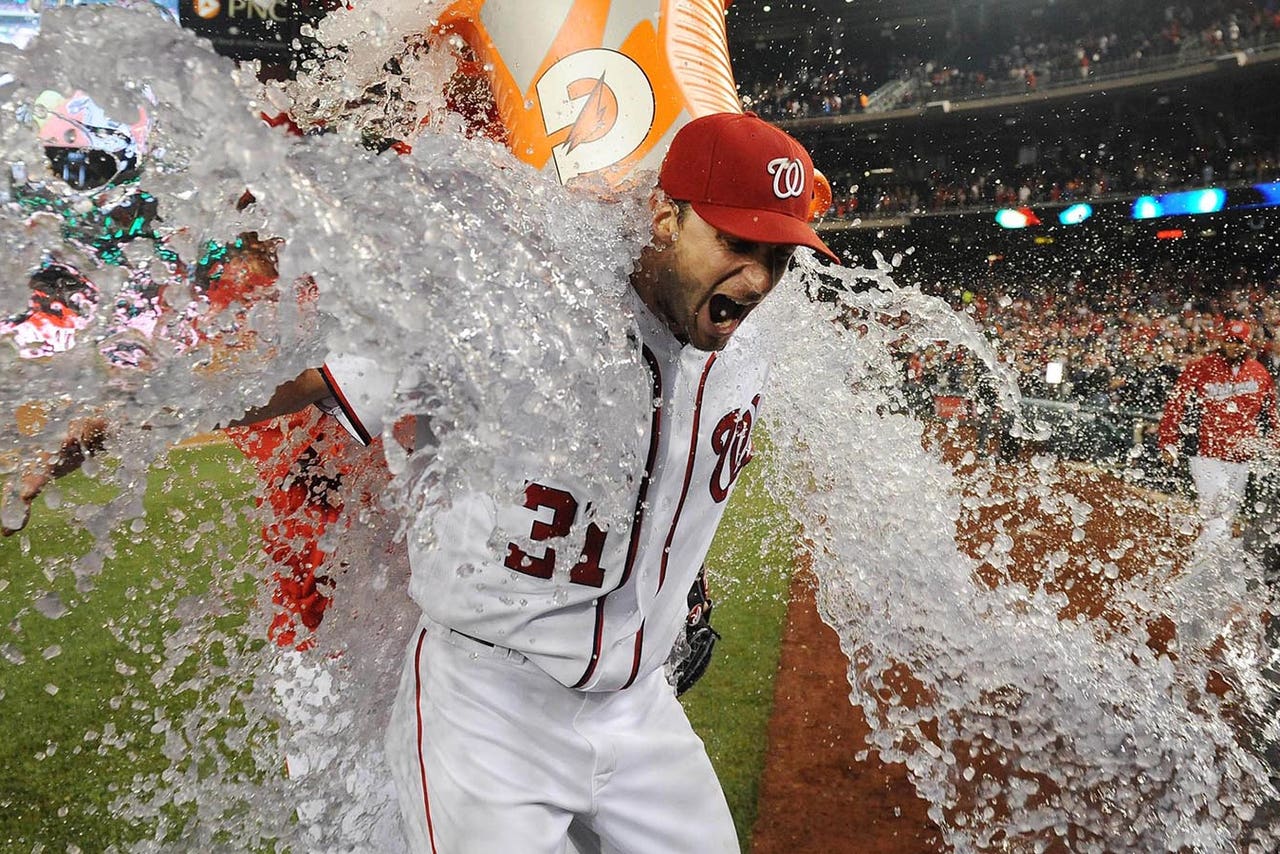 ---
---