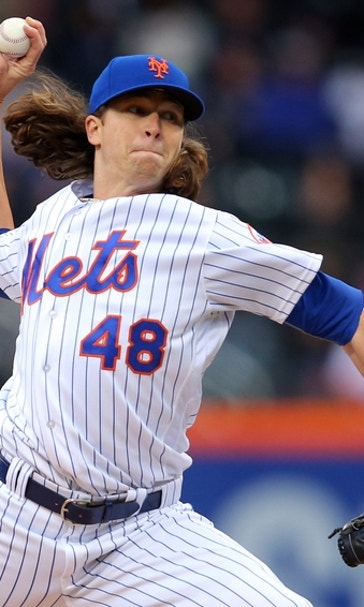 New York Mets: No Extension Talks with Pitchers Until Spring Training?
December 27, 2016

Fansided, Jason Evans/FanSided via Call to the Pen
The New York Mets have a lot of work left to do this offseason. One thing they won't do right away is talk contract extensions with their young starting pitchers.
The New York Mets were able to keep Neil Walker for next season when he accepted the qualifying offer and re-signed Yoenis Cespedes to the only over-$100 million contract given out this season. They still have a glut in the outfield and could use some additional help in the bullpen with some guys who are free agents, plus a probable suspension coming to closer Jeurys Familia after his domestic violence incident.
The Mets are built through their starting pitching and those kids' arms are going to start getting more expensive. Jacob deGrom is arbitration eligible for the first time. Matt Harvey and Zack Wheeler are already in arbitration. Noah Syndergaard and Steven Matz are under team control through 2021 and haven't hit arbitration yet. The Mets won't be talking extensions with any of their pitchers until at least Spring Training, though.
"We're not thinking about it now, it really hasn't been our focus," Alderson told The News. "It's probably not something that is going to happen before we head to spring training."

"I am not going to say we would do or we are not going to do it," Alderson said of looking to lock up one of their young arms long term during the season, "but heading into spring training, it's not likely going to happen."
Wheeler hasn't pitched in two years so there's no reason to lock him up. Harvey is coming off thoracic outlet surgery, plus is a Scott Boras client and his players rarely ever sign extensions. They could talk to Syndergaard and Matz, but both are coming off bone spur issues.
DeGrom could be the interesting candidate for an extension, if he shows he is healthy. He would be 32 when he hit free agency, so he may be willing to take a deal before that. Teams aren't giving big money to older guys anymore so maybe he tries to cash in a little earlier.
More from Call to the Pen
Pitching is becoming more and more expensive. If Harvey rebounds and the Mets don't think they can afford him, he could be a trade chip to help re-stock the system in the next year or two.
The Mets have other things to do before the season starts, but they are taking right approach in terms of contract extensions for their pitchers. See if they are healthy.
---
---