Gary Sánchez
Gary Sánchez
Gary Sanchez to have shoulder surgery, be ready by opener
Updated
Mar. 4, 2020 11:03 a.m. ET
CARLSBAD, Calif. (AP) — Months before the start of spring training, the New York Yankees' injury list is lengthening.
Catcher Gary Sanchez had surgery on his left shoulder Thursday, which could slow him during spring training but is not likely to keep him out of the lineup on opening day.
"His shoulder has bothered him off and on since '17," Yankees general manager Brian Cashman said Wednesday. "He's been treated conservatively with it. He had an injection towards the end of '17. He had two in '18. He just resumed workouts and still felt a little bit lingering from it."
Cashman made the announcement at the general managers' meetings, hours after the Yankees finalized an $8 million, one-year contract with CC Sabathia. The 38-year-old left-hander said 2019 will be his final season.
New York announced last month that Didi Gregorius will miss much of next season after Tommy John surgery to repair a torn ligament in the shortstop's right elbow.
An All-Star in 2017 who slumped badly this year, Sanchez felt continued shoulder pain while working out last week at the Yankees' minor league complex in Tampa, Florida, with strength and conditioning coach Matt Krause.
"He said things are going well, but my shoulder is still cranky. It's still lingering in there," Cashman said. "So it's just enough complaints, too many over the course of a year-and-half now."
Head team physician Dr. Christopher Ahmad performed a debridement at New York-Presbyterian Hospital to remove loose debris from Sanchez's non-throwing shoulder. The recovery is expected to be about three months.
Sanchez, 25, hit .299 with 20 homers and 42 RBIs two years ago, when he impressed during a call-up in the season's final two months, and he was an All-Star in 2017 who hit .278 with 33 homers and 90 RBIs in 122 games. But he slumped to a .186 with 18 homers and 53 RBIs in 89 games this year, when he was limited by a groin injury, and his defense was poor for the second straight year.
"It may very well have been something that affected him performance-wise. I can't rule that out," Cashman said.
Sabathia went 9-7 with a 3.65 ERA in 29 starts this year. He met with Cashman in the Yankees clubhouse the day after New York's season ended.
"He said, 'Cash I want to play again. I will play somewhere else if I have to. But I don't want to play anywhere else. I'm a Yankee. I want to end as a Yankee. Next year is my last year, but I am going to play and I'm hoping it's here.'"
A six-time All-Star and the 2007 AL Cy Young Award winner, Sabathia is 246-153 in 18 major league seasons with a 3.70 ERA and 2,986 strikeouts, including 129-80 in a decade with the Yankees. He took a $2 million paycut.
"It's certainly not simple negotiating with someone you have a great deal of respect for and you're dealing with lesser dollars," Cashman said. "Those are not easy conversations to have."
---
---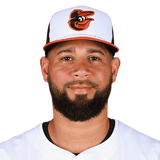 Get more from Gary Sánchez
Follow your favorites to get information about games, news and more
---