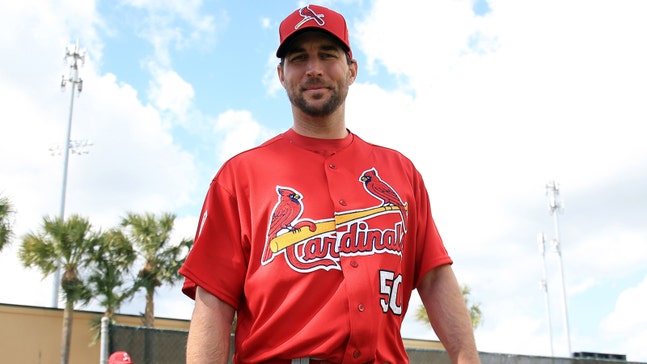 Adam Wainwright raising money for Flint, Michigan, with celeb bracket challenge
Updated
Mar. 4, 2020 12:50 p.m. EST

Adam Wainwright has found a way to turn America's love for March Madness brackets into a bigger purpose.
The St. Louis Cardinals pitcher launched a celebrity bracket challenge this week to raise money and awareness for the Flint, Michigan, water crisis.
The list of athletes participating in Wainwright's NCAA men's basketball bracket pool includes Washington Nationals ace Max Scherzer, Mets third baseman David Wright, Hall of Fame pitcher John Smoltz, Baltimore Ravens running back Justin Forsett and free-agent linebacker James Laurinaitis, among others.
The bracket challenge is open to the public and can be found on Wainwright's official Big League Impact website. It's free to enter, but donations are accepted. According to the St. Louis Post-Dispatch, there is a prize for winning that "includes a visit to one of the finer golf courses in the country."
Wainwright and his wife have led a number of humanitarian efforts to provide clean water and shelter for those in need through his charity Big League Impact. In the past, Wainwright has taken part in clean water missions internationally, including in Haiti and Honduras. But now the big leaguer has turned his attention to Flint, Michigan, where the drinking water was contaminated with lead and has become toxic.
One hundred percent of the net donations from Wainwright's bracket challenge will go directly to effective relief in Flint.
---
---