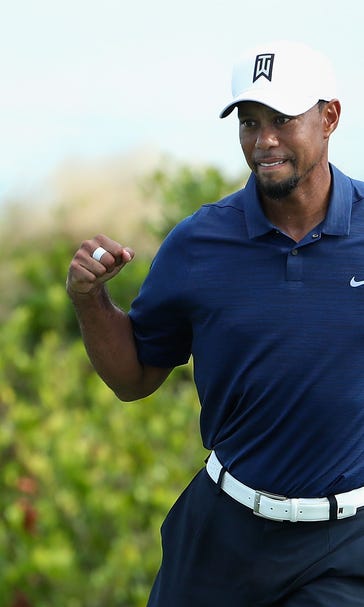 Tiger Woods and Donald Trump hit the links, and it's glorious (Photo)
BY Fansided and Joshua Sadlock/Fansided • January 14, 2017
Is Tiger Woods back? Oh, heck yes he is.
I like this new Tiger Woods, the fun Tiger Woods. Less than a day ago, he introduced the world to "Mac Daddy Santa." Today, he introduced the President-elect of the United States, Donald J. Trump to the Mac. Woods and Trump played some golf in Florida, and the photo op was everything you've dreamed it would be and more.
Woods left the white goatee, Trump rocked the red "Make America Great Again" hat, and the third in their party is probably in the running for an obscure cabinet position. Trump throws in a thumbs up for good measure. Can you just imagine the locker room talk this threesome got into?
There is quite honestly only so much awesome that can be contained in one photograph.
Just look at it. Do you even golf, bro?
Props to Tiger for leaving the goatee, which had to have thrown the PEOTUS for a loop. Always grab the upper hand when golfing with the 45th President of the U.S.A. by significantly altering your appearance. Power moves only by Eldrick.
Make no mistake, Tiger Woods is back, and 2017 will be his year. He is finishing up 2016 on a high note despite being ranked 650th in the world. So what if he made six double bogeys at the Hero World Golf Challenge. Tiger Woods is the supreme Mac Daddy, coming for his rightful place next year.
All jokes aside, let's hope that Tiger Woods comes back to play well on the PGA Tour. He genuinely seems to be in a good place with his own personal happiness, family, and outlook on life. It's nice to see him having fun and showing a looser, more carefree side as he makes his latest attempt at a comeback.
More from FanSided
This article originally appeared on
---
---