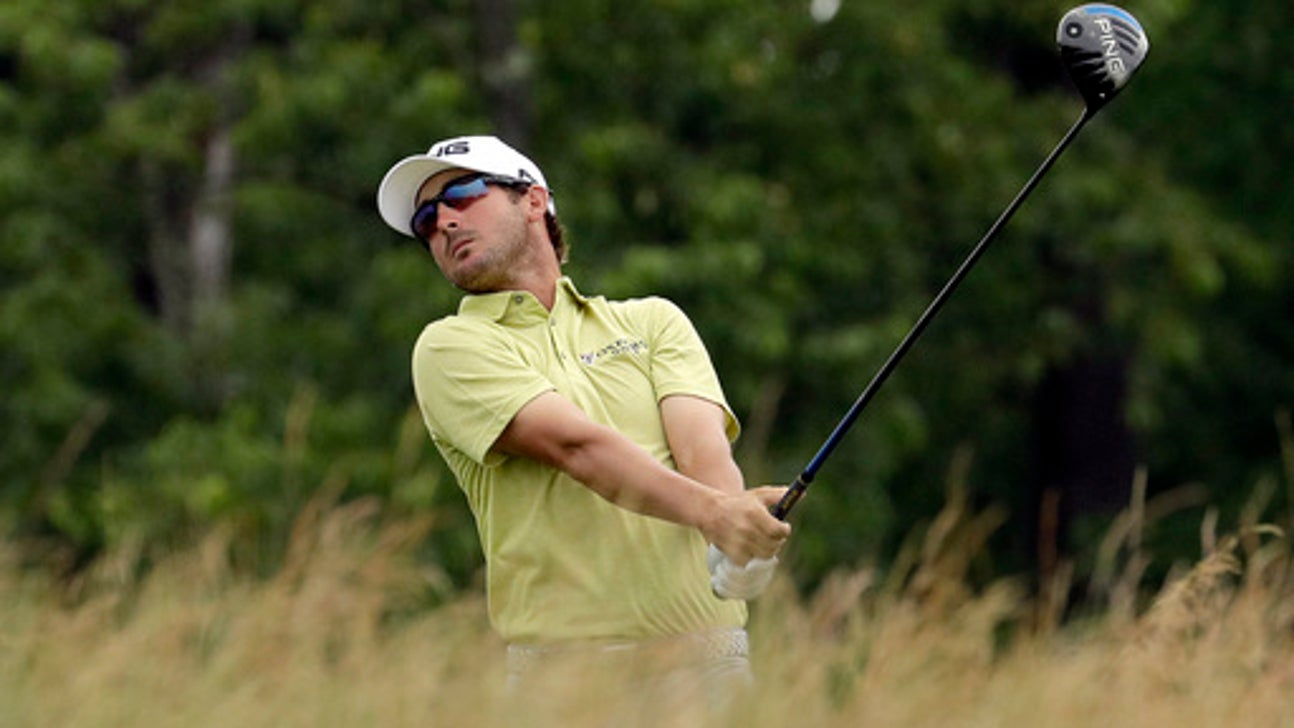 The Latest: Hot starters Landry and DeChambeau cool off
Published
Jun. 16, 2016 4:54 p.m. ET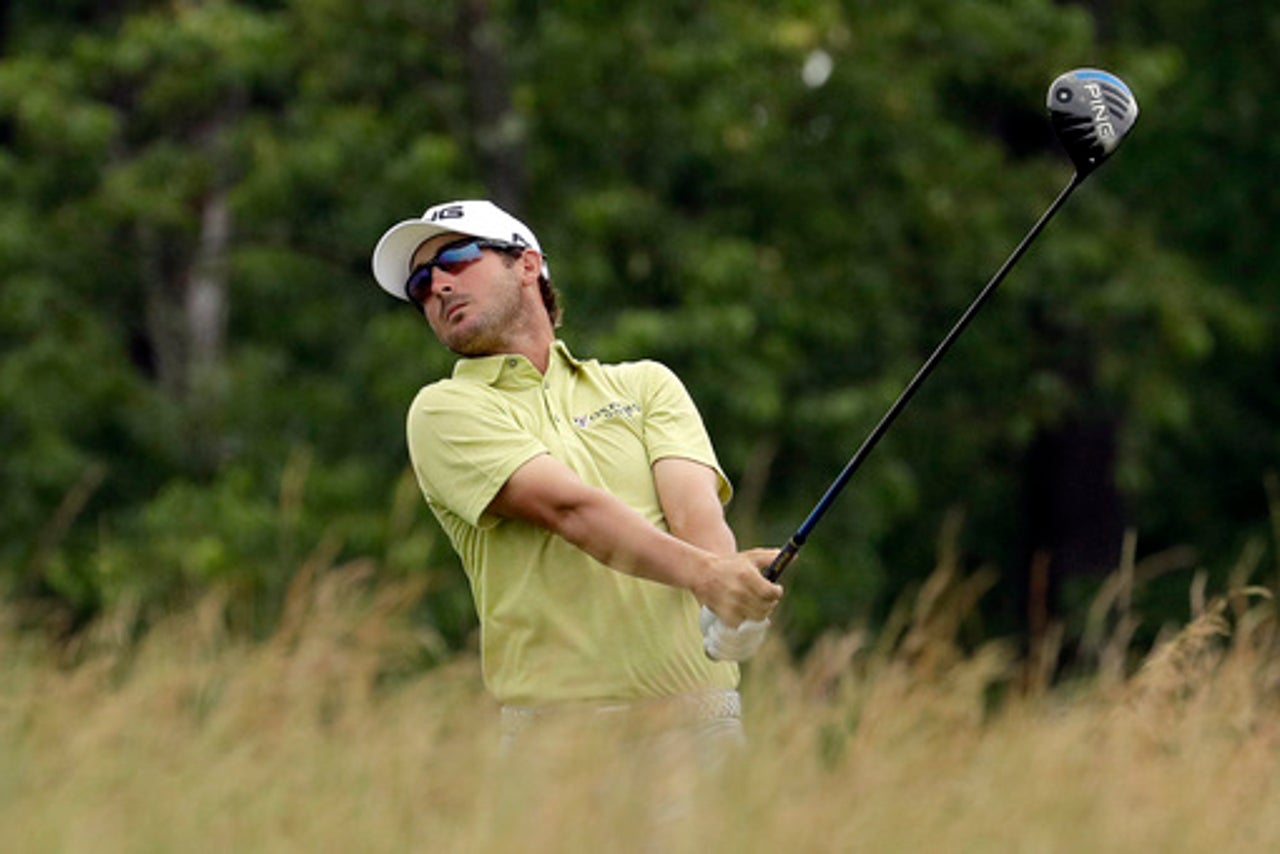 OAKMONT, Pa. (AP) The latest from the U.S. Open golf championship (all times local):
3:45 p.m.
Andrew Landry started off hot but cooled down in a hurry after returning from the second rain delay of Round 1. The U.S. Open rookie, rated No. 624 in the world, reached 5 under after three birdies in a row before following up a pair of missed short putts for birdies with back-to-back bogeys. He still held the lead at 3 under, though, teeing off on his final hole of the day.
Bryson DeChambeau, out on Tour after a stellar amateur career, went as low as 3 under before he, too, got reeled in by punishing Oakmont. DeChambeau made consecutive double bogeys and slipped to 1 under.
Taking his spot in the hunt was Bubba Watson and Danny Lee, both a stroke behind Landry at 2 under.
---
2:35 p.m.
The off-again, on-again first round of the U.S. Open is ... on again, with little-known Andrew Landry pulling away from the pack. Ranked No. 624 in the world and playing in his first national championship, the 28-year-old Texan was at 5 under after three straight birdies and missing a 7-foot birdie putt at No. 7.
At least those golfers struggling to find a rhythm got a break after the second delay. This time, they were given enough time to get back to the practice range. More than a few complained after they were sent back out on the course immediately after the first delay, which spanned 1 hour, 19 minutes. The second delay lasted 2 hours, 26 minutes.
Bubba Watson was part of the four-player pack pursuing Landry at 2 under.
---
1:25 p.m.
The only suspense at the U.S. Open during another rain delay is whether it will cool off unheralded Andrew Landry. A few other players, meanwhile, will need to cool down after rough patches on Oakmont's treacherous greens.
In a mid-round interview, the 28-year-old Texan was asked if he could match or better Johnny Miller's record-low round of 63 in a major.
''Gosh, that would be pretty awesome,'' he said. ''I've got four tough holes coming up, it will be hard to make a couple of birdies but you never know.''
Landry, ranked No. 624 in the world, leads the U.S. Open at 5 under after making three straight birdies and will have a 7-foot putt on No. 7 for a fourth when play resumes.
Jordan Spieth, meanwhile, could use the delay to cool down. He was frustrated after a near-perfect approach shot on the 17th hole - his eighth hole of the day - rolled all the way across the green and trickled down into a bunker.
''You've GOT to be kidding me! How is that in the bunker!'' he yelled.
---
12:08
Bad weather appears to be the only thing that can slow Andrew Landry, the U.S. Open rookie who zoomed out to 5 under and claimed the lead in Round 1. The second suspension of play because of fast-moving storms - some with lightning bursts - sent players and fans scrambling for cover.
Landry, ranked No. 624 in the world, was playing No. 5 on his second nine of the day when the weather alert horn sounded.
---
11:50 a.m.
Andrew Landry is having a U.S. Open debut to remember.
The 28-year-old Texan returned from the 1 hour, 19-minute rain delay by making a 30-foot birdie putt on No. 3. It was his fourth birdie of the round against no bogeys, and Landry at 4 under had opened a two-shot lead.
Landry is a rookie on the PGA Tour after getting his card through the Web.com Tour last year. He is coming off his best finish of the year, a tie for 41st in the FedEx St. Jude Classic last week. That helps explain why he is No. 624 in the world ranking.
According to the PGA Tour, Landry once shot 58 on his home course, a nine-hole track called ''Pea Patch'' in Groves, Texas. The course played 6,300 yards and has since closed down.
---
11:23 a.m.
Play resumed at the U.S. Open after an hour, 19-minute rain delay that produced a few awkward moments.
When the wave of storms swept across Oakmont, golfers were taken off the course to the nearest shelter, which for some of them meant going to the media center.
Lee Westwood and Martin Kaymer headed to media dining to watch Euro 2016.
But it led to one peculiar policy. Media are not allowed in the locker room during rain delays. As a reporter was having a casual conversation with Marc Leishman, a USGA official politely cut off the conversation because the media center was considered the locker room.
''Mate, we're fine, just having a chat,'' Leishman said, but to no avail.
Russell Knox was happy to have shelter. Walking into the door, a security guard stopped him and asked for his credentials.
''I'm a player,'' Knox said.
---
10:15 a.m.
A second wave of rainstorms swept across Oakmont Country Club early in Round 1, forcing a suspension of play. Surprise leader Andrew Landry, a Web.com Tour player ranked No. 624 in the world, was among the few golfers to take advantage of the softer conditions. He was at 3 under, leading four others at 2 under.
---
9:48 a.m.
Andrew Landry was shining early at Oakmont, even if the sun wasn't.
Ranked No. 624 in the world and playing in his first U.S. Open after surviving local qualifying in Memphis, Landry led four other golfers at 2 under after an impressive 33 on his first nine. While overnight rains softened Oakmont's fairways, and overcast skies kept them that way, the inch of rain did little to slow down the treacherous greens.
Also at 2-under in the early going were Kevin Streelman, Danny Lee and Lee Westwood.
---
7:55 a.m.
More than an inch of rain that fell overnight washed away a little of the trepidation at Oakmont.
The U.S. Open began on a course that was softer than it has been all week as players feared no one would break par by the end of the week. Aron Price of Australia was in the first group and rolled in a 15-foot birdie putt on the opening hole.
More telling was Denny McCarthy. His approach on No. 1 stopped short of the green. That's rare because the fairway is downhill to a super slick green that runs away from the player.
Jordan Spieth and Rory McIlroy were among those playing in the morning.
More thunderstorms were in the forecast for the afternoon.
---