PGA Tour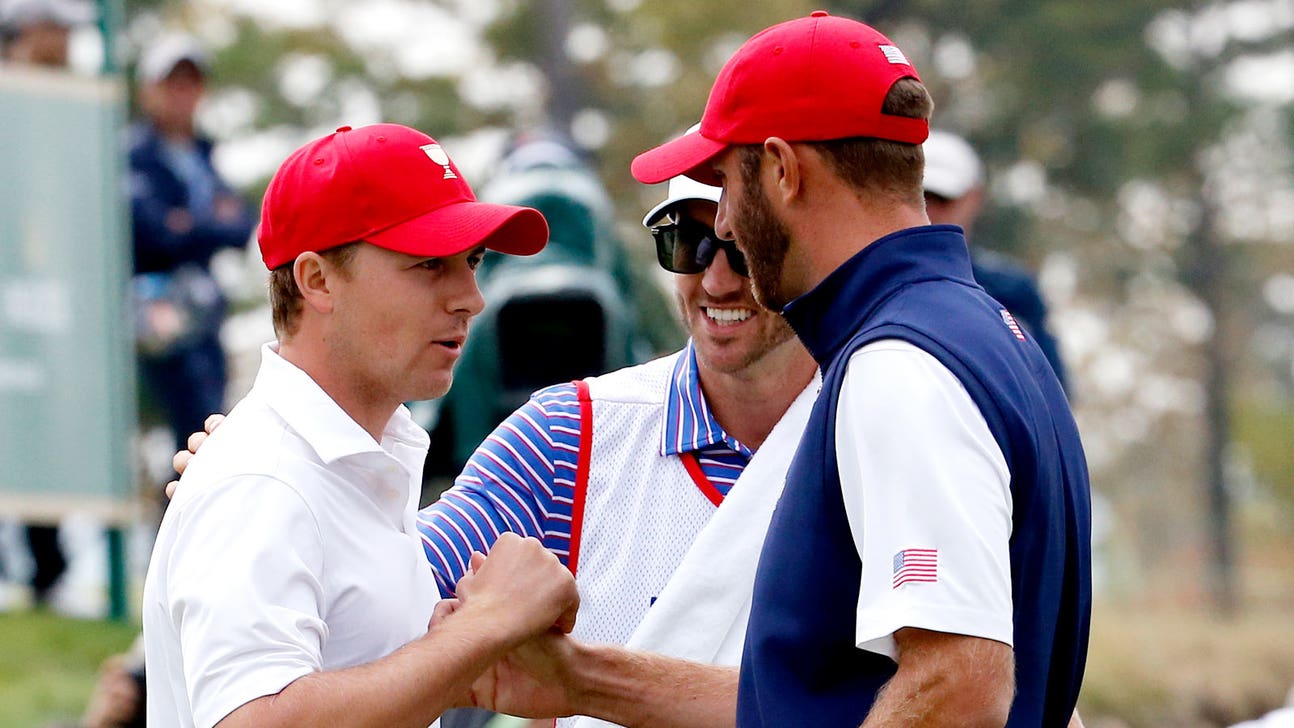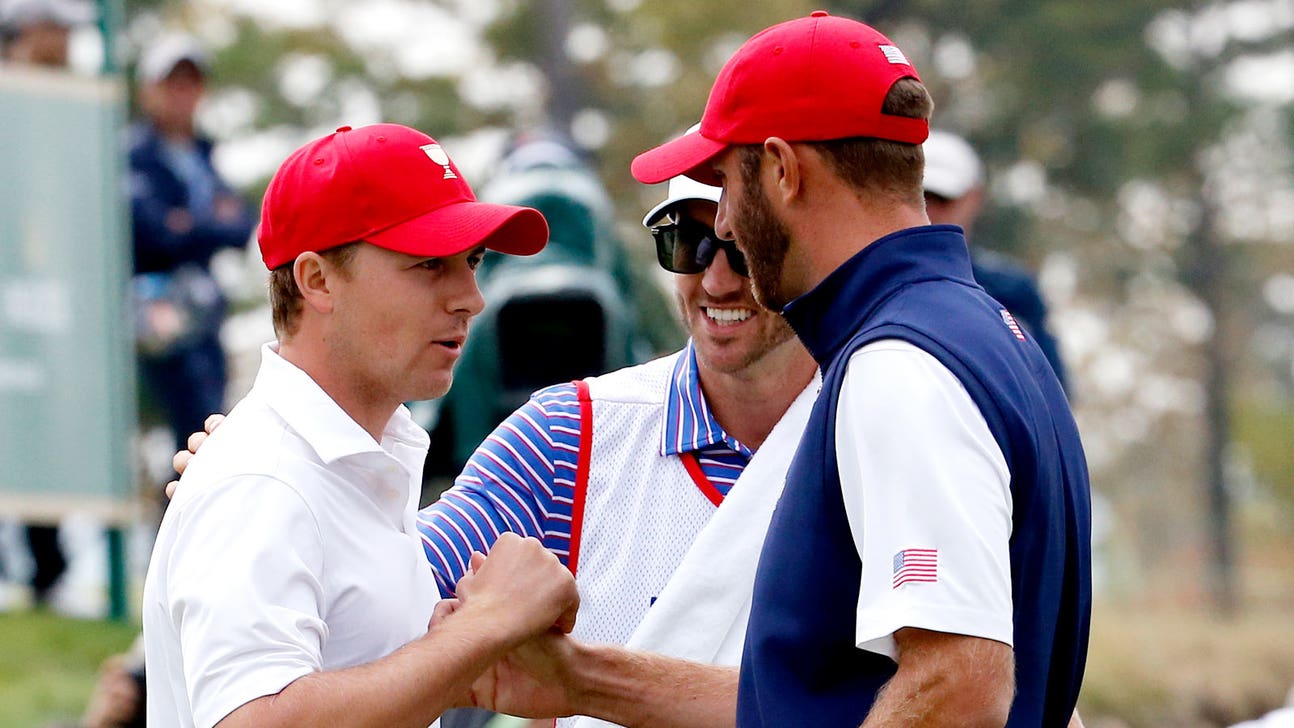 PGA Tour
Spieth helps Americans rally to keep slim lead in Presidents Cup
Published
Oct. 10, 2015 12:51 a.m. ET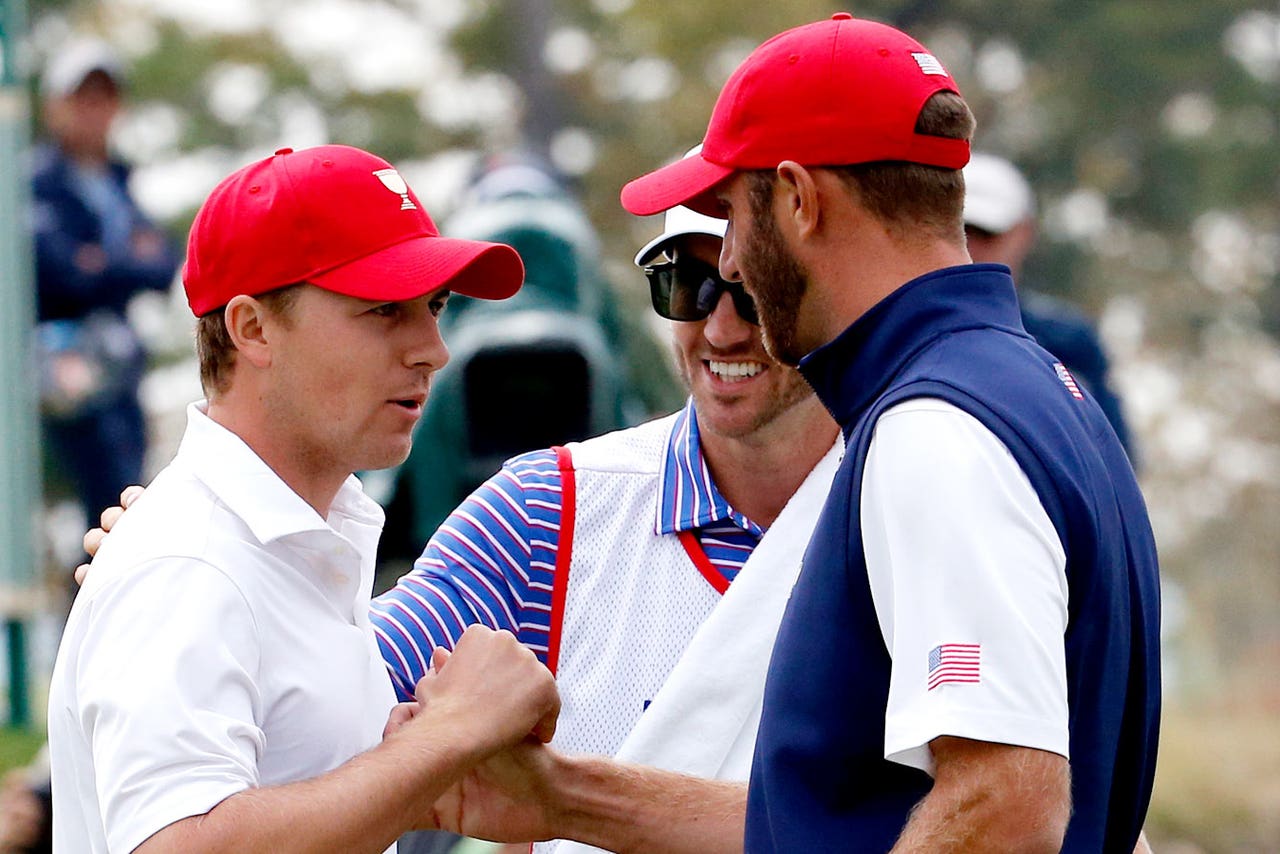 INCHEON, South Korea — Whether it was the South African juggernaut of Branden Grace and Louis Oosthuizen, the inspired play of Bae Sang-moon in front of his home crowd or a format change that reduced the number of matches, the Presidents Cup is truly up for grabs for the first time in 10 years.
That's all the International team ever wanted.
And it's what this event sorely needed.
Grace delivered two big shots in the gathering darkness, and the South African duo went 4-0 in team matches. Bae and Hideki Matsuyama teamed for nine birdies in 11 holes for the biggest rout of the week. And the International team played the Americans to a draw in a double session Saturday to stay just one point behind.
Considering how lopsided the Presidents Cup has been, it felt like a lead.
"We need to win this," Oosthuizen said. "This is huge for us. We believe we can do it."
The Americans had a 9-8 lead. They also have Jordan Spieth, the No. 1 player in the world. He made two clutch putts in morning foursomes to cap off the biggest comeback at the Jack Nicklaus Golf Club Korea, and he made eight birdies in 14 holes in a fourballs victory in the afternoon.
Not since the matches were tied going into Sunday in 2005 has the Presidents Cup featured a final day of drama.
"This is what we all came here for -- for it to be exciting tomorrow," International captain Nick Price said. "I'm going to ask my team to go and play golf tomorrow. Each and every one of them has to play golf, and play to the very best of their ability. That's all we can do."
The South Africans have certainly done their part, with Grace producing two critical shots.
Grace and Oosthuizen were all square with Bubba Watson and J.B. Holmes, and it was clear their fourballs match would set the tone for the final round. Grace chipped in for birdie from left of the 16th green, raising his arm before the ball reached the cup and sharing a bear hug with his childhood friend.
The darkness was getting so thick that Grace had no idea Oosthuizen's second shot into the par-5 18th hole had gone into the water. Grace could barely see the green from 263 yards away with a chilly wind in his face. No matter. He smashed his 3-wood, watched it disappear into the gloaming and had no idea what happened until he heard a burst of cheers coming from the grandstands.
The ball narrowly cleared the bunker and settled on the edge of the green.
"I don't know where it finished or how it got to where it did," Grace said. "Just remarkable to pull a shot off like that."
Watson and Holmes both missed the green, and when neither chipped in for eagle, Grace rolled his putt close enough to be conceded the birdie and a crucial win.
"No moment is too big for him," Oosthuizen said.
The only other team to go 4-0 in the Presidents Cup was Tiger Woods and Steve Stricker in 2009. The South Africans knew they were playing well, and they suggested to Price on Thursday after their opening match to split them up so they could help lift other teammates. Price stuck with them, and it paid off.
"He just said, `There's no chance we're splitting you.' He's the captain, and he got that right," Oosthuizen said.
Phil Mickelson and Zach Johnson rested in the morning and came out firing in the afternoon, winning the first hole with a Mickelson birdie and never giving it up in a 3-and-2 win over Adam Scott and Anirban Lahiri.
The Americans opened with a 4-1 lead Thursday and have been outplayed -- but not my much -- ever since.
"To me, it kind of feels like we're losing just because of what's gone on the last two days," Zach Johnson said. "But our first day was substantial. So yeah, you knew it was going to be tight going into Sunday regardless of what happened."
Spieth salvaged the morning session by making a pair of 7-foot putts on the final two holes and turned a small deficit into a big win with Dustin Johnson. He was just as big in the afternoon with Patrick Reed, not going with three straight birdies to from 1 down to 2 up, but with a bunker shot on No. 12. Spieth was so certain he was going to hole out that he asked caddie Michael Greller to get the ball out of the hole for him before he hit the shot.
"But not loud enough that Jason could hear," Spieth said.
He was referring to Jason Day, his chief rival for the year, who lost twice to Spieth on Saturday with Charl Schwartzel as his partner.
Spieth and Day figured to be the marquee match in the final round, only it didn't work out that way. The pairings are announced one side at a time, and U.S. captain Jay Haas put Spieth in a singles game with Marc Leishman.
There were groans in the room when it was clear the Presidents Cup would not have a Spieth-Day match. Haas cared only about putting Spieth in the No. 9 slot, which tends to be the deciding match when it's close.
This Presidents Cup doesn't need that kind of pairing to be compelling. Finally.
---
---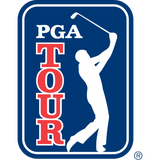 Get more from PGA Tour
Follow your favorites to get information about games, news and more
---