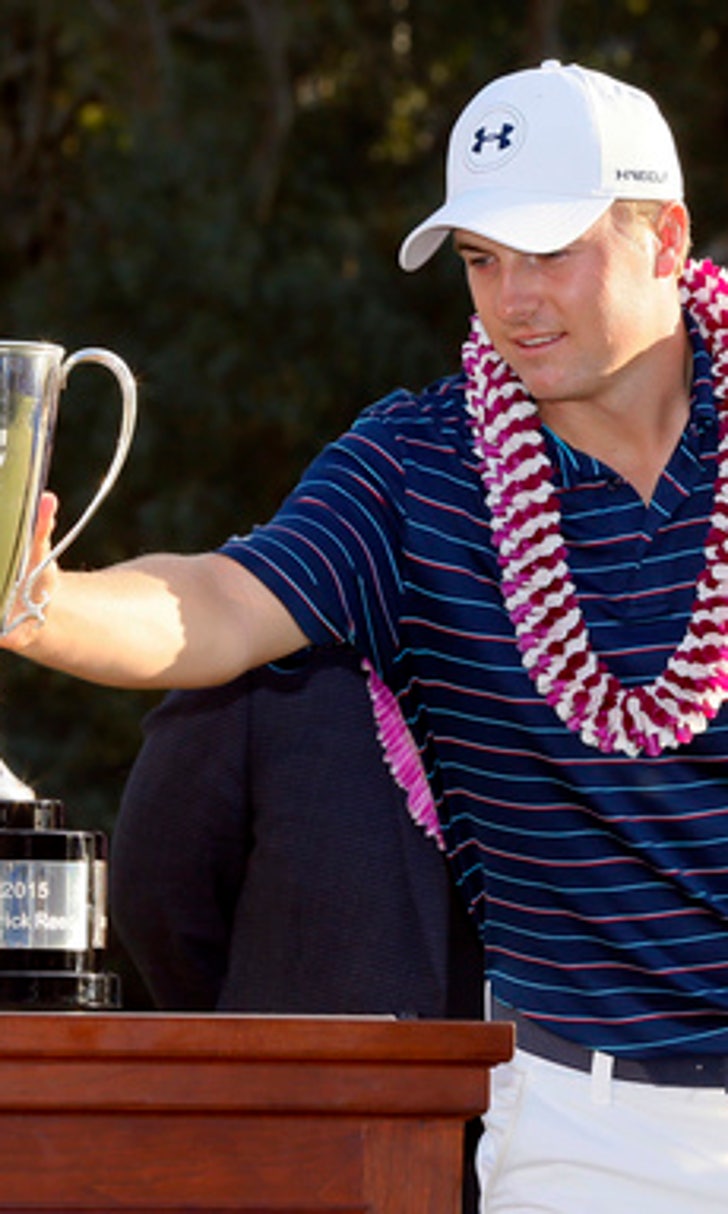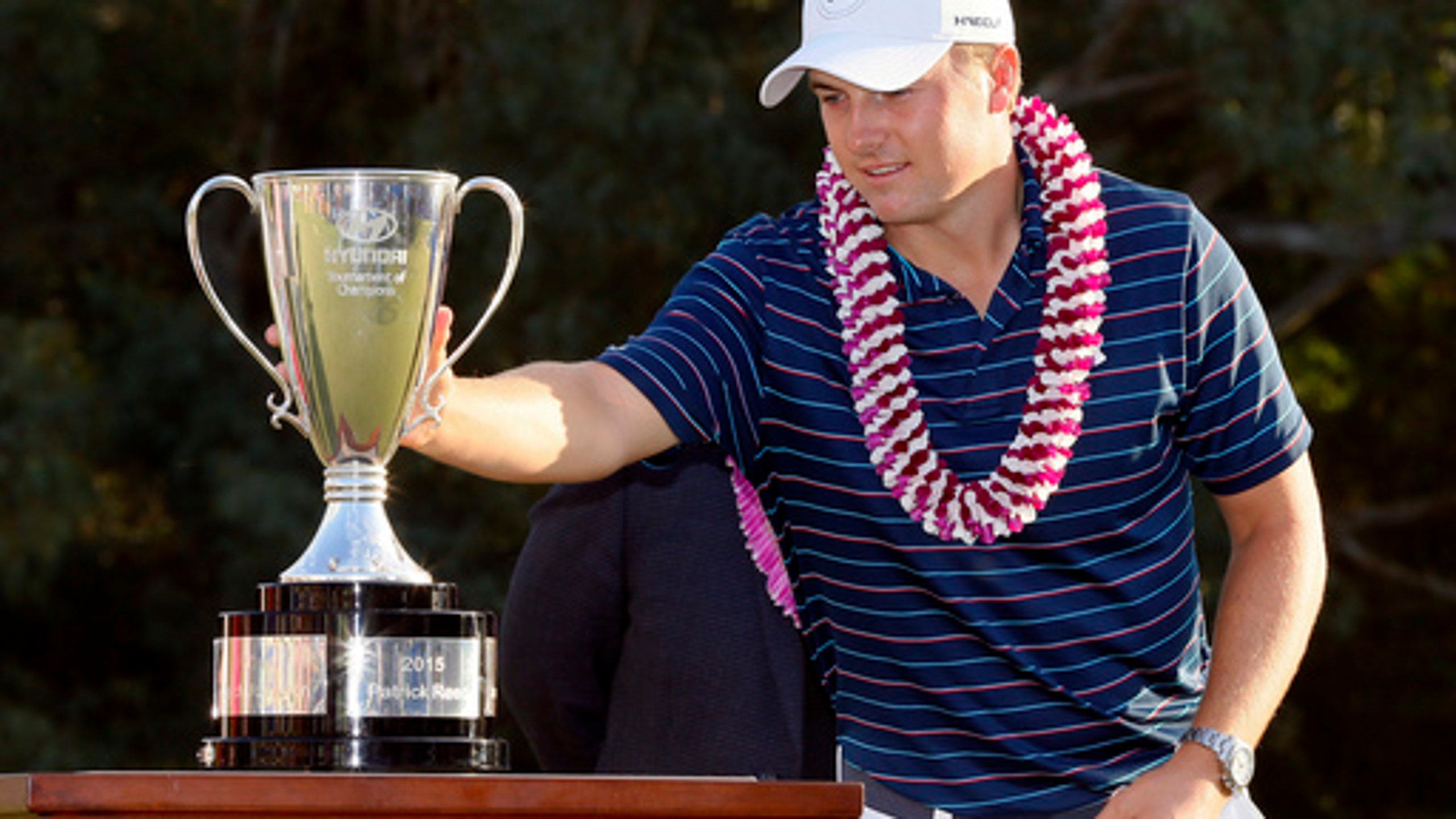 Spieth beats winners-only field, and now faces Rory McIlroy
BY foxsports • January 12, 2016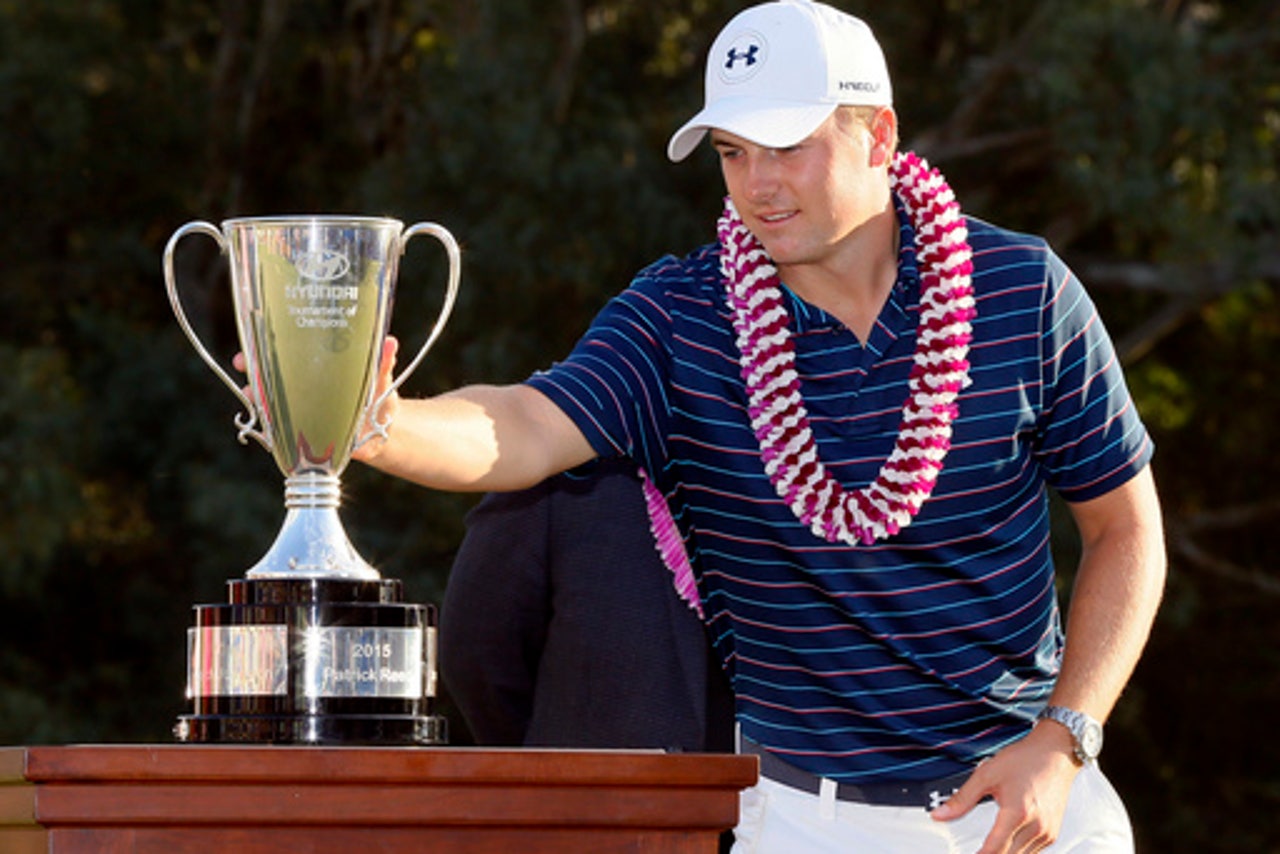 HONOLULU (AP) Fresh off an eight-shot victory, Jordan Spieth gets one week of rest before stepping back into spotlight. He leaves this weekend for the Abu Dhabi HSBC Golf Championship and his first meeting of the year with Rory McIlroy.
''I didn't know he was playing. I'll probably withdraw now,'' Spieth jokingly said Tuesday during a conference call for the Valspar Championship.
McIlroy was in Spieth's position a year ago - No. 1 in the world (by a greater margin), a multiple major champion, a great start to the year. What he never saw coming was an ankle injury while playing soccer that kept him out for two months and kept him from defending titles in the British Open and Bridgestone Invitational. He ended the year with a victory in the DP World Tour Championship to win the Race to Dubai.
The ankle injury slowed what could have been an interesting year between Spieth and McIlroy. Three weeks after Spieth won the Masters, McIlroy answered with victories in the Cadillac Match Play and Wells Fargo Championship. Spieth won the U.S. Open. And then McIlroy put on soccer shoes.
''In a season that he considered lost, he still came back and ended up winning the Race to Dubai, the final event. It proves what a player he is,'' Spieth said. ''I'm sure there's very few people working harder than he is to make this season his best season yet, which is scary. Hopefully, I can help prevent that to an extent.''
Spieth is playing Abu Dhabi for the first time before going to the Singapore Open. He returns for the AT&T Pebble Beach National Pro-Am and the Northern Trust Open at Riviera before heading to Florida for the World Golf Championship at Doral and his title defense at the Valspar Championship.
That playoff win at the Valspar Championship seems like a long time ago considering all Spieth has done. He mentioned Tuesday that it was his first professional victory when he had to make a big putt on the final hole, in this case a 30-foot birdie on the third extra hole.
That remains true. He won the Masters by four shots and the U.S. Open with a two-putt birdie. He won the John Deere Classic when Tom Gillis hit into the water in a playoff. He won the Tour Championship by five shots. And he won at Kapalua by eight shots.
---
CADDIE RACE: Jordan Spieth wasn't the only one at Kapalua who turned in a remarkable performance.
Mark Urbanek, the caddie for James Hahn, remembers hearing about the time in 2002 that Steve Williams won a bet with Tiger Woods and swing coach Butch Harmon that he could run the back nine of the Plantation Course in under 30 minutes.
Williams won handily, going from the back of every tee and front of every green in 19 minutes, 28 seconds.
Urbanek decided to give it a try. He started even with the first tee and ran through the tunnel and up a path to reach the 10th tee, and then touched the back of every tee and a part of every green. He finished in 20 minutes, 15 seconds. If the starting line had been the 10th tee, he would have finished in 19 minutes event.
What inspires such a challenge?
''I got into running a couple of years ago,'' Urbanek said. ''I love the mental challenge. I hate running more than the next guy, but when you hit that wall and your brain is telling you, `What are you doing?' I enjoy continuing through that.''
---
SPRAGUE'S MOVE: The president of the PGA of America also has a day job, and for Derek Sprague, that job is changing.
Sprague, who had been at Malone Golf Club in upstate New York for the 27 years as general manager and director of golf, has been hired as managing director of Liberty National Golf Club. In a peculiar twist, he will be employed by the PGA Tour as an expanded relationship between Liberty National and the tour.
Here's another way to look at it. Sprague will preside over the Ryder Cup this year as PGA president. He also will be working on the Presidents Cup, which will be played the following year at Liberty National.
The role between the tour and Liberty National came from a 25-year partnership in which the New Jersey golf club, which sits across from Manhattan and the Statue of Liberty, will host up to 10 tournaments. That includes a FedEx Cup playoff event in 2019.
---
GWAA AWARDS: Dottie Pepper's career didn't end when she stopped playing the LPGA Tour. The 17-time winner with two majors will receive the William D. Richardson Award from the Golf Writers Association of America for her outstanding contributions to the game.
The GWAA also voted Davis Love III for its ASAP Sports/Jim Murray Award for his cooperation with the press, and J.B. Holmes with its Ben Hogan Award for staying active in golf despite a physical ailment.
Pepper was an analyst for NBC Sports after she retired, served on the PGA of America board of directors for two years, went to ESPN and recently was signed by CBS Sports, where she will be the first female to be part of the CBS team at the Masters. Along the way, she been a strong promoter of junior golf.
Holmes had two operations in 2011 after being diagnosed with brain defects in his cerebellum. One surgery was to remove part of his skull. He has won twice since and played on the Presidents Cup team last year.
''It's a great feeling to be recognized for overcoming adversity,'' he said. ''I am also proud to be affiliated with the great Ben Hogan, whose legacy is one that I admired.''
They will be honored at the GWAA's annual awards dinner April 6 in Augusta, Georgia.
---
IRISH MENTORING: The death of Christy O'Connor Jr. allowed Padraig Harrington to reflect on how much O'Connor and other veterans meant to young Irish players. Harrington turned pro in 1995 and played a few years with O'Connor. He also was close with Des Smyth and Eamonn Darcy.
''We would have had dinner every night of the week - a group of Irish guys - and practice rounds,'' he said. ''They were a big influence. The year I came out, there were six or eight rookies, and these were the elder statesmen. They looked after us and put us right. If you stepped out of line, you were told.''
Harrington said he often referred to Smyth as ''Dad'' because if there was an issue, he would be the one to sort it all out.
The social aspect to golf is important, especially for young Europeans coming to America. Harrington said he felt lucky have the Irish connection.
''It was a big bunch of us at the time, nearly 12 of us at dinner every night,'' he said. ''Socially, it was brilliant. A big part of having the elder guys is we weren't going to get too cocky around them. Des was `Dad.' Christy and Eamonn were like a double act. They were fantastic.''
---
STAT OF THE WEEK: Dustin Johnson last week became the 20th player to surpass $30 million in career earnings on the PGA Tour. Only two of those 20 players, Vijay Singh and Davis Love III, are eligible for the Champions Tour.
---
FINAL WORD: ''Improving as an individual player is first and foremost. Also, I'd really, really, really like to get a Ryder Cup win this year.'' - Jordan Spieth.
---
---