Quick work: Landry makes putt for 66, sets target at US Open
Published
Jun. 17, 2016 1:48 p.m. ET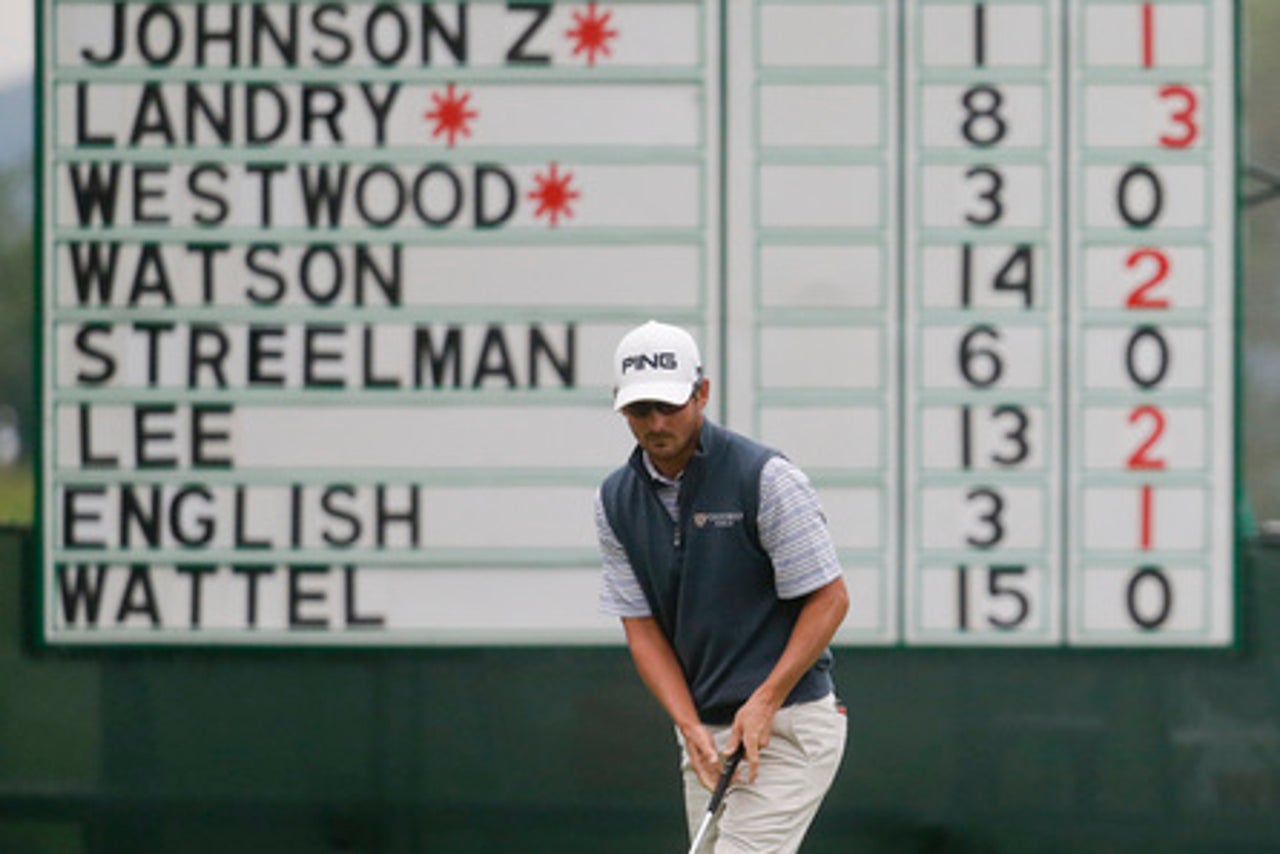 OAKMONT, Pa. (AP) Andrew Landry needed only one shot Friday morning to set an Oakmont record at the U.S Open.
Landry rolled in a 10-foot birdie putt on the ninth hole to finish his rain-delayed first round at 4-under 66, giving him a one-stroke lead over Lee Westwood among the first half of the field that finally finished nearly 24 hours after it started.
In the 10 majors at Oakmont in stroke play, Landry set a record for the lowest round. The previous record was 67 by Ben Hogan in the 1953 U.S. Open and Tom Watson in the 1978 PGA Championship. This is Landry's first U.S. Open.
''History is history,'' Landry said. ''I'm just playing golf.''
Still to be determined was whether Landry's score would stand up. Moments after he finished, Jason Day, Dustin Johnson, Phil Mickelson and the other half of the field were just getting started on a course tamed by nearly 3 inches of rain.
Landry had a short day - one putt.
Day, Mickelson and the others faced as many as 36 holes, a long walk on soggy ground, though in favorable conditions for a U.S. Open.
Westwood finished with two birdies for a 67, his lowest start in a U.S. Open and only the third time in 17 appearances he has opened with a round under par.
''It was good, one of the best starts I've ever had,'' Westwood said. ''I felt confident out there and hit a lot of good shots. I was shaping it both ways, which you need to do in U.S. Opens to get at a lot of the flags.''
Even with all the rain, only seven players from the early starters managed to break par. The average score was 75.22.
Shane Lowry of Ireland finished up a 32 on the back nine and started with a 68. Two-time Masters champion Bubba Watson, Danny Lee, Kevin Streelman and Scottie Scheffler were at 69. Scheffler, who just finished his sophomore year at Texas, was among nine players who finished Thursday.
Oakmont still had plenty of bite for the best players.
Defending champion Jordan Spieth three-putted the par-5 fourth for a bogey and made only one birdie in his round of 72.
''I didn't shoot myself out of it,'' Spieth said. ''I'm not really sure how my score stands right now, but I know that at the end of the day, the USGA is going to try to have even par win the golf tournament, and I know that I can shoot 2 under in the remaining 54 holes no matter how the course plays. I know I'm capable of it. I'm in it.''
The road back is much longer for Masters champion Danny Willett, Rory McIlroy and Rickie Fowler. They played in the same group and were a combined 18-over par. Willett had a 75, Fowler a 76 and McIlroy made bogey on five of his last six holes for a 77. McIlroy matched his highest U.S. Open score.
The surprise was Landry, a 28-year-old who had to go through 18 holes of local qualifying and 36 holes of sectional qualifying to get into his first U.S. Open.
''I told myself so many times over the years in my life that if I get into the U.S. Open ... I'll be able to make it. I'll be able to do fine,'' Landry said. ''I think the U.S. Open just suits my game so well that I'm just able to manage these things.''
This was a new experience, except for Friday.
Because the rain flooded parking lots, spectators were not allowed into the course until 8 a.m. That means Landry made his final putt for a 66 in front of no fans, which is odd for a U.S. Open, but not for Landry.
''It's called mini-tours,'' he said with a smile.
Landry came out to Oakmont at 6:30 a.m. and said he hit about 50 putts, all with the right-to-left break, to get ready for his one shot. Even though it's Friday and he won't play again until Saturday morning, he realizes there's a long way to go. He didn't sound overly nervous about trying to keep this good play going.
''I going to do some laundry and take a nap,'' Landry said.
.
---