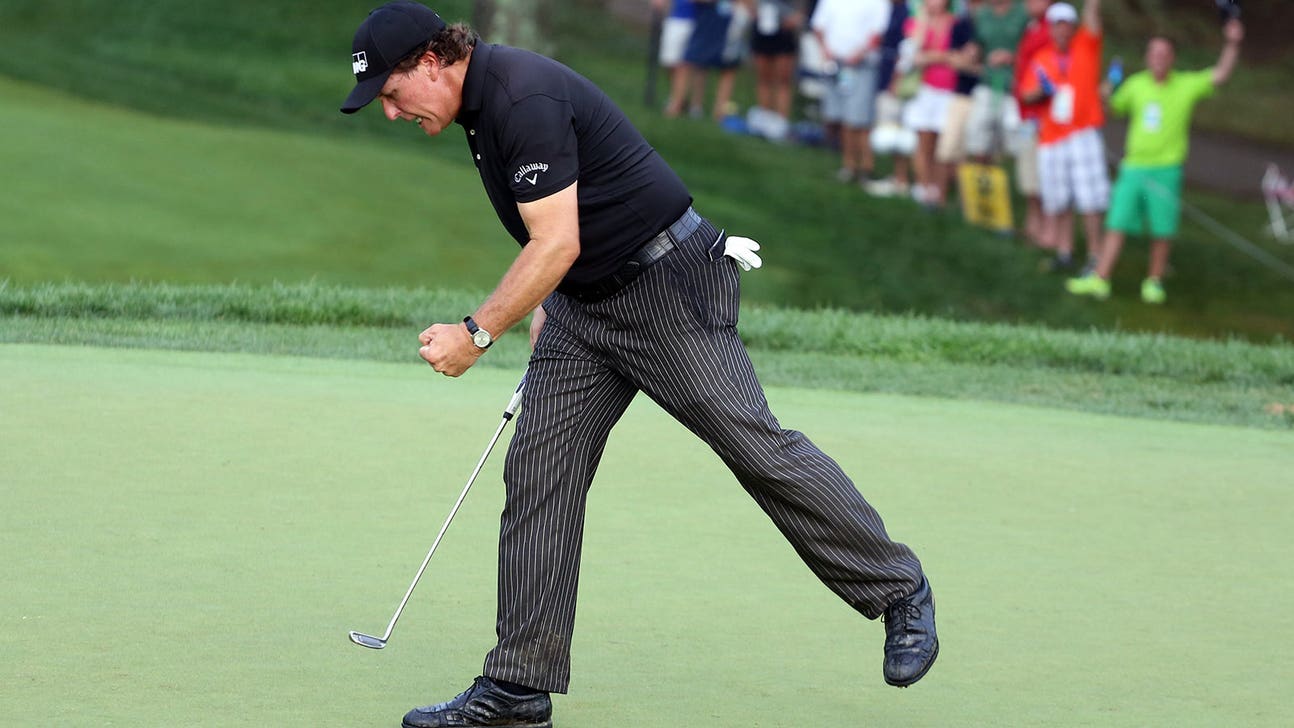 Mickelson ready to get back to work after close loss at Valhalla
Published
Aug. 10, 2014 9:28 p.m. ET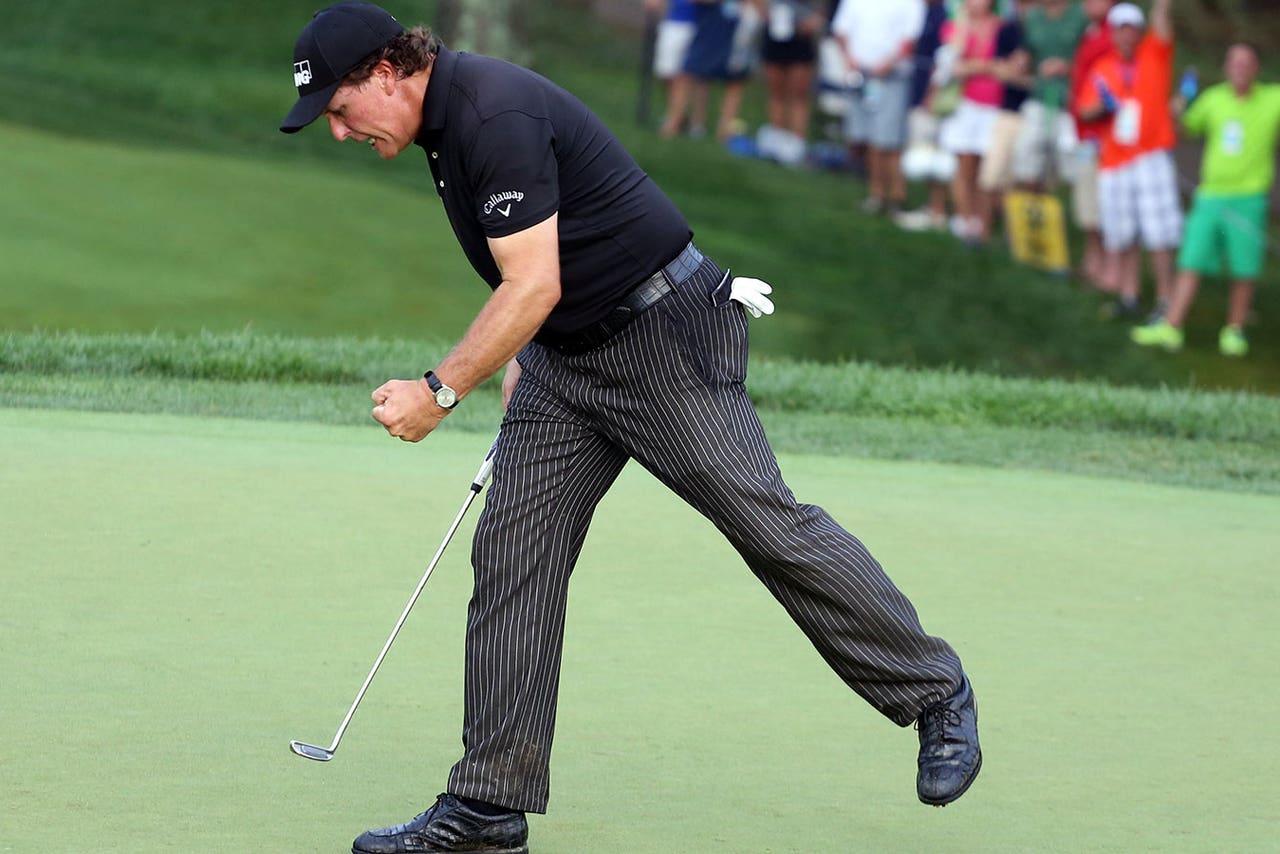 Phil Mickelson hardly sounded like a guy who nearly won his sixth major championship.
He was a bit put off by the way it finished.
More important, he wasn't about to let a strong showing at the PGA Championship brighten the way he felt about this year.
There's a lot of work ahead.
''I've got some regrouping to do these next three or four months,'' Mickelson said Sunday night, standing in the darkness of Valhalla after losing to Rory McIlroy by a single shot. ''I have some glaring areas in my game that I have to work on.''
He was part of a riveting four-man duel in the rain-delayed final round, but a costly bogey at the 16th denied Mickelson a chance to break his longest winless stretch since 2003. Lefty closed with a 5-under-par 66 for a 15-under 269 total, not quite good to deny to deny McIlroy his second straight major title.
For Mickelson, it was an encouraging performance after a largely disappointing season. He hasn't won since the 2013 British Open, and he wasn't a factor in the first three majors this year.
Now, it's time for the 44-year-old to get to work.
''I feel like if I'm able to continue to be strong and healthy and sharp in these areas of my game, I should have four or five good years,'' Mickelson said. ''These next three or four months will be critical for me making sure that I address the issues and that I'm ready to go in 2015.''
What are his most pressing concerns?
Mickelson had a lengthy list.
''Short irons were terrible this year as a whole. It's usually a strength, and I've got to get that back,'' he said. Then Mickelson mentioned his driving, especially missing the fairway at the 16th and 17th holes. ''Those two tee shots hurt. Those are things I've got to address. I've got to. I don't mind being wild, but when you've got to get in the fairway, you've got to be able to do it.''
The finish was downright bizarre. A nearly two-hour suspension set up a race to the finish, and the last two groups -- Mickelson and Fowler, followed by McIlroy and Bernd Wiesberger -- arrived at the 18th tee one after the other, barely able to see the green 538 yards away.
After Mickelson and Fowler hit their shots, the PGA of America told the final group to hit as well, essentially turning the final hole of a major championship into a foursome.
Mickelson's caddie, Jim Mackay, was heard grumbling to the officials as they asked the next-to-last pairing to step aside so the last one could hit. Then, after Mickelson and Fowler struck their second shots, McIlroy and Wiesberger hit as well. With all four at least near the green, Mickelson and Fowler played out.
Lefty nearly chipped in for eagle off the front of the green, which could have forced a playoff. But a birdie left him lacking by a shot when McIlroy blasted out of a bunker, two-putted for par and signed for 268.
Mickelson got in a bit of a shot at the PGA of America, mentioning that the organization only runs one tournament a year. But he acknowledged that the strange ending didn't really affect the outcome.
''That's not what we normally do,'' he said. ''But it's not a big deal either way. At least that way, we had a chance to finish.''
For Mickelson, any chance of adding to his three Masters titles, last year's British Open and the 2005 PGA Championship essentially ended at the 16th hole, where he drove into the rough, left his second shot short of a bunker and nearly chipped in, the ball catching the right lip of the cup before skidding 10 feet past. He missed the putt to save par, dropping out of the lead he shared with McIlroy.
When McIlroy rolled in a birdie at the 17th, the lead grew to two strokes heading to the final hole.
''It was a fun day for me to get in the mix and a fun day for me to make some birdies and move up early so that I had a good chance on the back nine,'' Mickelson said. ''Had I been able to finish those last five, six holes strong, I could have totally flipped the way I look at this year.''
Maybe his ninth runner-up finish in a major will turn out to be blessing.
''Regardless of how I played this week, I know that I've got to address some things,'' Mickelson said. ''These next four to five years, I really want to make them special.''
Mickelson extended his American record by qualifying for his 10th consecutive Ryder Cup team. The PGA was the final qualifying event for nine Americans to make the team that will face Europe late next month in Scotland. Mickelson jumped from 10th to fifth.
---