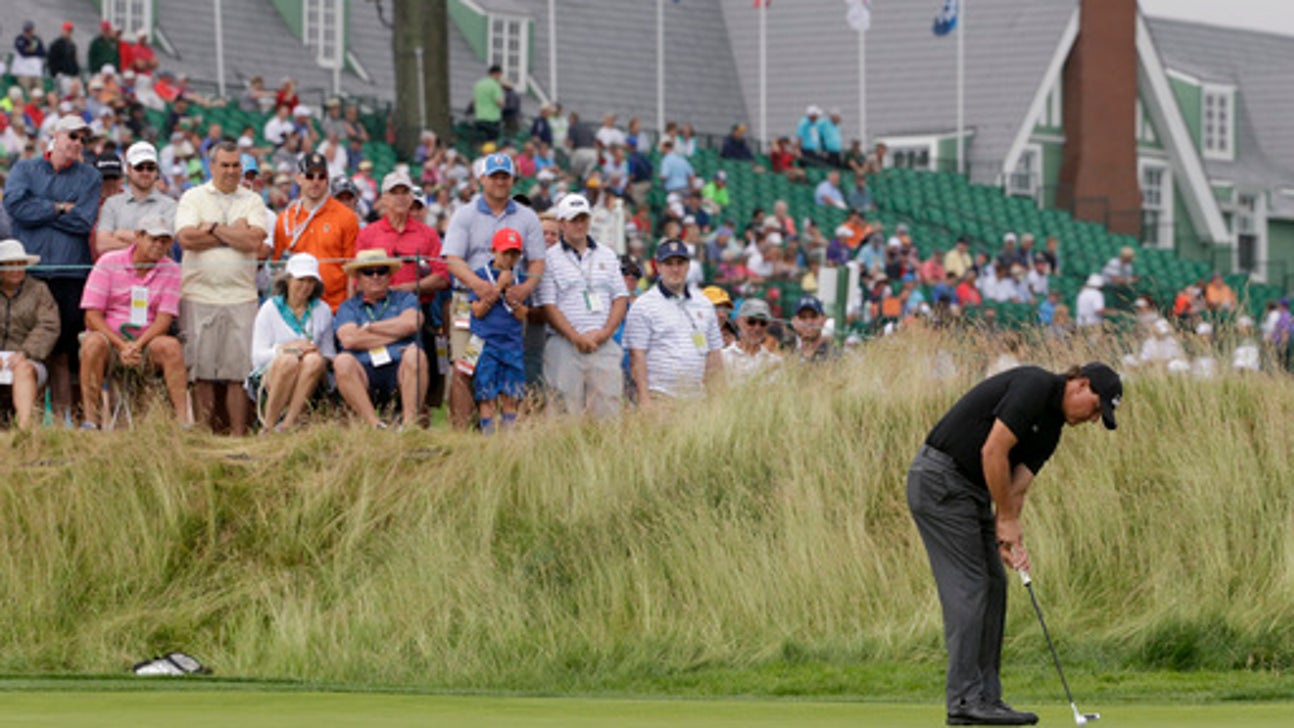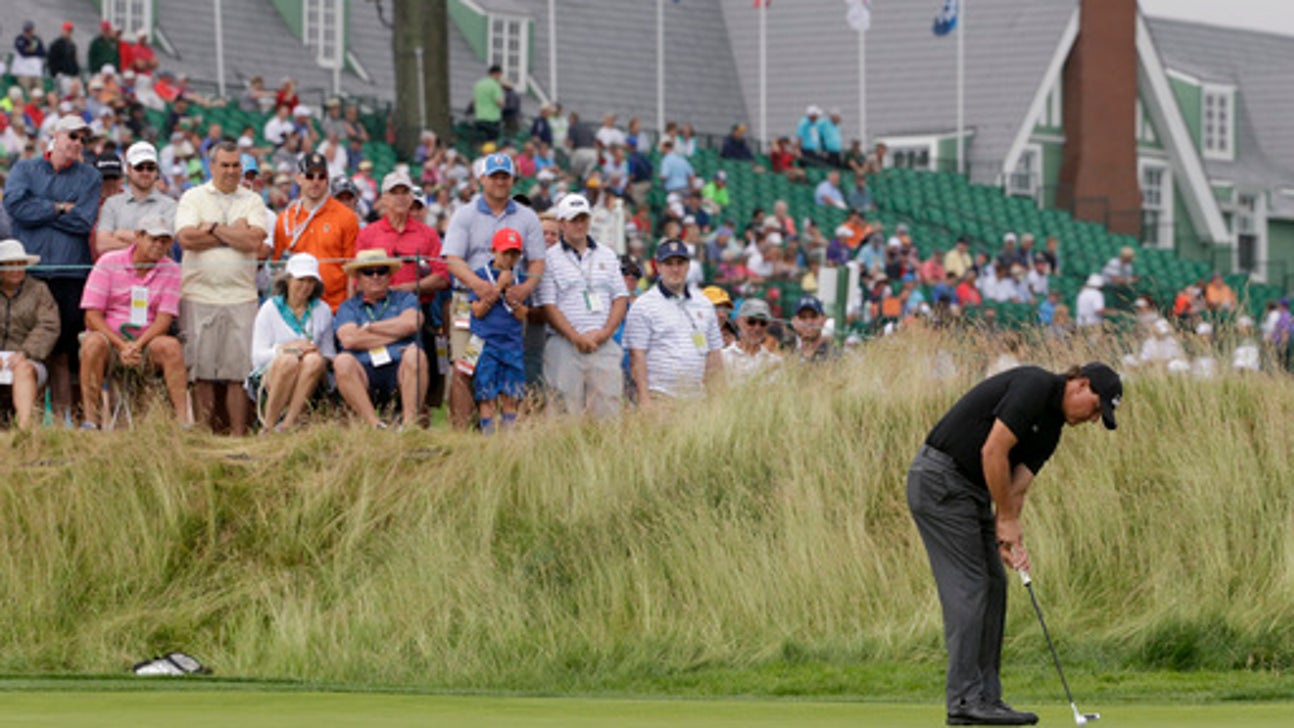 Landry looks to hold on as first-round leader
Published
Jun. 17, 2016 4:25 p.m. ET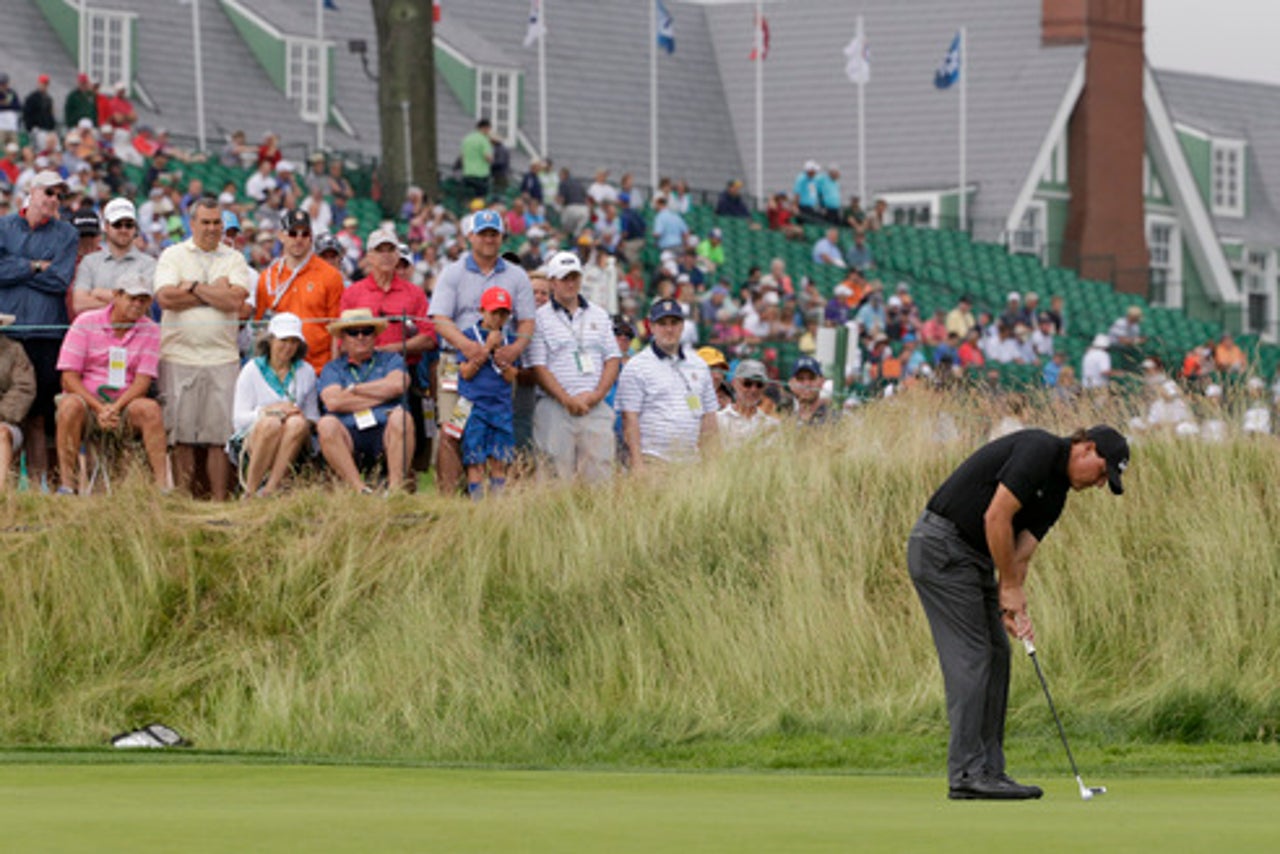 OAKMONT, Pa. (AP) The latest from the U.S. Open golf championship (all times local):
2:15 p.m.
It looks like little known Andrew Landry is going to hold on to his first-round lead in the U.S. Open.
Landry, the 624th-ranked player in the world, hit only one shot on Friday, but it was a good one. He rolled in his 10-foot birdie putt on the final green to get to 4 under par, then let the world's best players take their shots at him.
Dustin Johnson and Lee Westwood came closest, both with opening 67s. Westwood finished his rain-delayed round Friday morning, while Johnson was forced to wait until Friday to begin his tournament.
A few threesomes remain on the course, and it will be only minutes before they are joined by the first wave of players teeing off in the second round.
Thunderstorms that drenched the course Thursday wreaked havoc with play, and some players are expected to play nearly 36 holes to try and make up ground. There is no chance the second round will be finished during the day, with more play Saturday before there is a cut.
USGA officials say they hope to be caught up by Sunday, assuming the forecast of dry and hot conditions for the weekend holds.
---
1:35 p.m.
Dustin Johnson stood stunned on the final green of the U.S. Open last year at Chambers Bay, trying to comprehend how he three-putted to allow Jordan Spieth to escape with the championship.
If he can continue playing like he has so far Friday he should be in contention to finally win the first major of his career.
Teeing off a day later than scheduled, Johnson played near flawless golf from tee to green, inching his way up the leaderboard. Through 15 holes he was at 3 under par, just a shot off the lead of Andrew Landry.
Johnson used his length off the tee to his advantage, stumbling only with a three-putt on the par-5 fourth hole, where he had 30 feet for eagle.
Johnson appeared ready to win last year's Open after hitting his second shot within 15 feet on the final hole. But his putt slipped by the hole, and he missed the one coming back for a heartbreaking loss.
---
12:55 p.m.
Lefty is giving fans something to cheer about as he chases the only major championship he has never won.
Phil Mickelson didn't tee off until midmorning Friday, but his front nine gave his fans some hope that he can break his U.S. Open curse and finally capture the Open title.
Mickelson, who has been runner-up six times in the Open, bogeyed his first hole but quickly settled down and made the turn in 1-under par. He began the back nine just three shots off the early pace, much to the delight of fans at Oakmont Country Club.
Mickelson has been mired in a slump, with no wins since capturing the British Open three years ago. He's had an especially troubled year after being caught up in an insider trading scandal where he was forced to pay back more than $1 million in ill-gotten stock market gains.
The 46-year-old Mickelson isn't just chasing a personal Grand Slam. He could become the oldest Open winner, a record set in 1990 by Hale Irwin at the age of 45.
----
11:40
A couple of former U.S. Open champions are trying to make early runs up the leaderboard at rain-soaked Oakmont Country Club.
Ernie Els, who didn't get to hit a shot on Thursday, was 2-under through eight holes and just two off the lead set by Andrew Landry. Els, who won his first major championship in the 1994 Open at Oakmont, also won the tournament in 1997.
Jim Furyk was also under par in the early going, playing in the same group with Els. Furyk won the Open in 2003 for his only major championship title.
Both players had a lot more golf in front of them on Friday. After finishing their first rounds they were in a wave of players scheduled to go off again in the second round beginning at 2:30 p.m.
----
10:45 a.m.
Oakmont was supposed to be a brutal test of golf in the U.S. Open. That's holding true despite a day of downpours that softened the slick and undulating greens for the best players in the world.
While little known Andrew Landry was able to cap off a 4-under 66 Friday morning and six other players finished under par, there were a lot more struggling with a golf course that has a reputation for not easily giving up good scores.
Rory McIlroy had a big, fat 77 in his opening round, while Rickie Fowler shot 76. Defending champion Jordan Spieth couldn't break par either, shooting a 72.
With the rain-delayed first round still underway, Oakmont was playing to an average score of 74.4 despite greens that weren't nearly as treacherous as they were before the storms hit.
----
Defending champion Jordan Spieth is in the clubhouse after finishing off an opening round 2-over 72 in the U.S. Open.
Spieth completed his marathon round more than 24 hours after it started, getting up-and-down on his final hole for a par that left him six shots off the pace set by leader Andrew Landry.
Spieth, who won last year at Chambers Bay in Washington state, tossed a club in frustration at one point Thursday when an approach shot spun back into a bunker. He was in better spirits Friday morning, though he finished a stroke behind playing partners Zach Johnson and Bryson DeChambeau.
Dustin Johnson, who lost to Spieth last year when he three-putted the final hole, didn't begin play in the rain-delayed tournament until Friday morning. He was even par through three holes.
Phil Mickelson also finally got his Open underway and promptly bogeyed his first hole. Mickelson, a six-time Open runner-up, would complete a career Grand Slam with an Open title.
---
9:15 a.m.
Rory McIlroy's quest for a second U.S. Open title is off to a bumpy start. So is Masters champion Danny Willett's bid to follow up on his triumph at Augusta.
McIlroy, the world's third-ranked player, posted a score of 7-over 77 during his opening round at Oakmont. The 2011 U.S. Open champion's tour of Oakmont included eight bogeys, including five over his final seven holes.
Willett, who surged past Jordan Spieth at the Masters to capture his first major, had issues of his own. He hit only 8 of 14 fairways and 12 of 18 greens while shooting 5-over 75. The third golfer in their threesome, Rickie Fowler, shot 6-over 76. All three were well back of leader Andrew Landry at 4 under.
Lee Westwood, still searching for his first major championship, birdied his final two holes to get to 3-under 67.
McIlroy and company will have a chance to reset for the rest of the day on Friday, as a backlog at soggy Oakmont means they likely won't hit the course again until Saturday.
---
8:15 a.m.
A relative unknown is atop the leaderboard at the soggy U.S. Open at Oakmont.
Andrew Landry, the 624th ranked player in the world, rolled in a 10-foot putt for birdie on Friday morning to finish off a round of 4-under 66. That's the lowest opening round score in the first round of a major at Oakmont, bettering the 67s put up by Ben Hogan in the 1953 U.S. Open and Tom Watson in the 1978 PGA Championship.
Landry, a PGA Tour rookie, says it has taken a while to get comfortable but he feels his game is starting to come around. He earned a spot in the U.S. Open by getting through sectional qualifying. The 28-year-old Texan says he plans to nap and do some laundry while 78 players start their first rounds after they were delayed by rain on Thursday.
Play was halted three times by storms on Thursday before eventually being suspended. When golfers returned to the course at 7:30 a.m., the USGA kept the gates close to spectators until 8 a.m. to allow the course to drain.
---