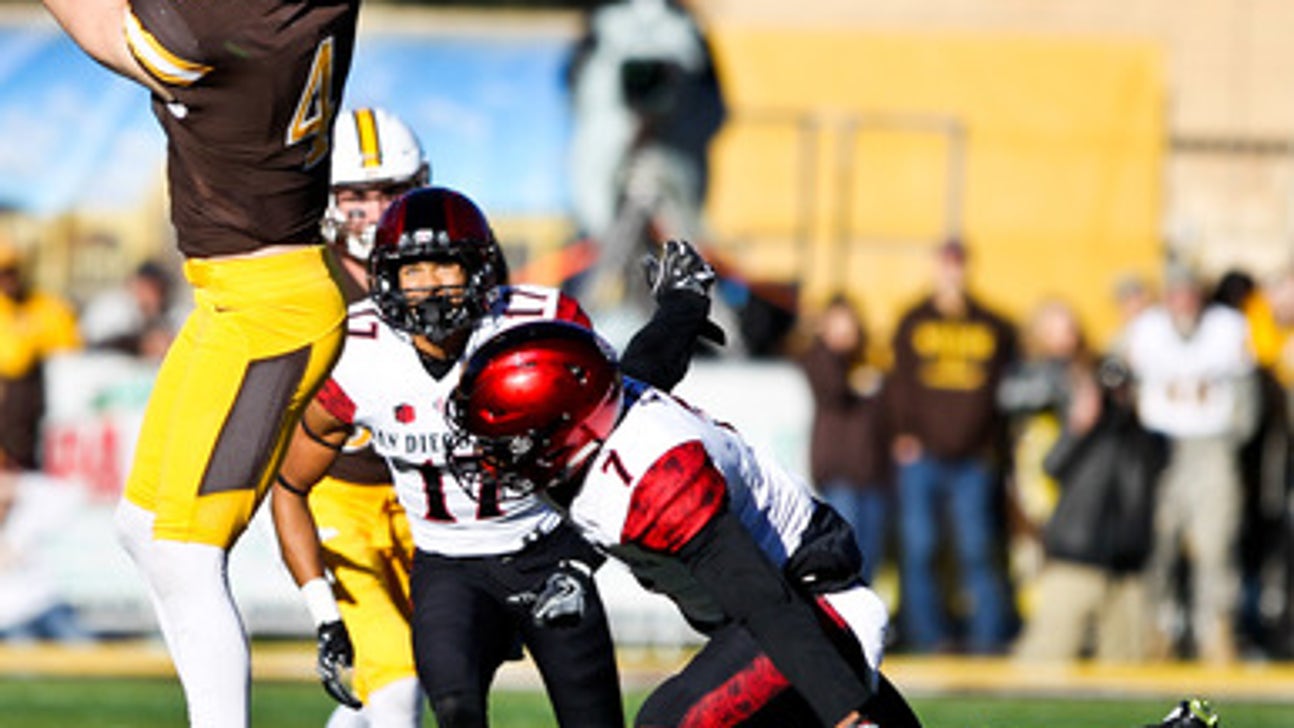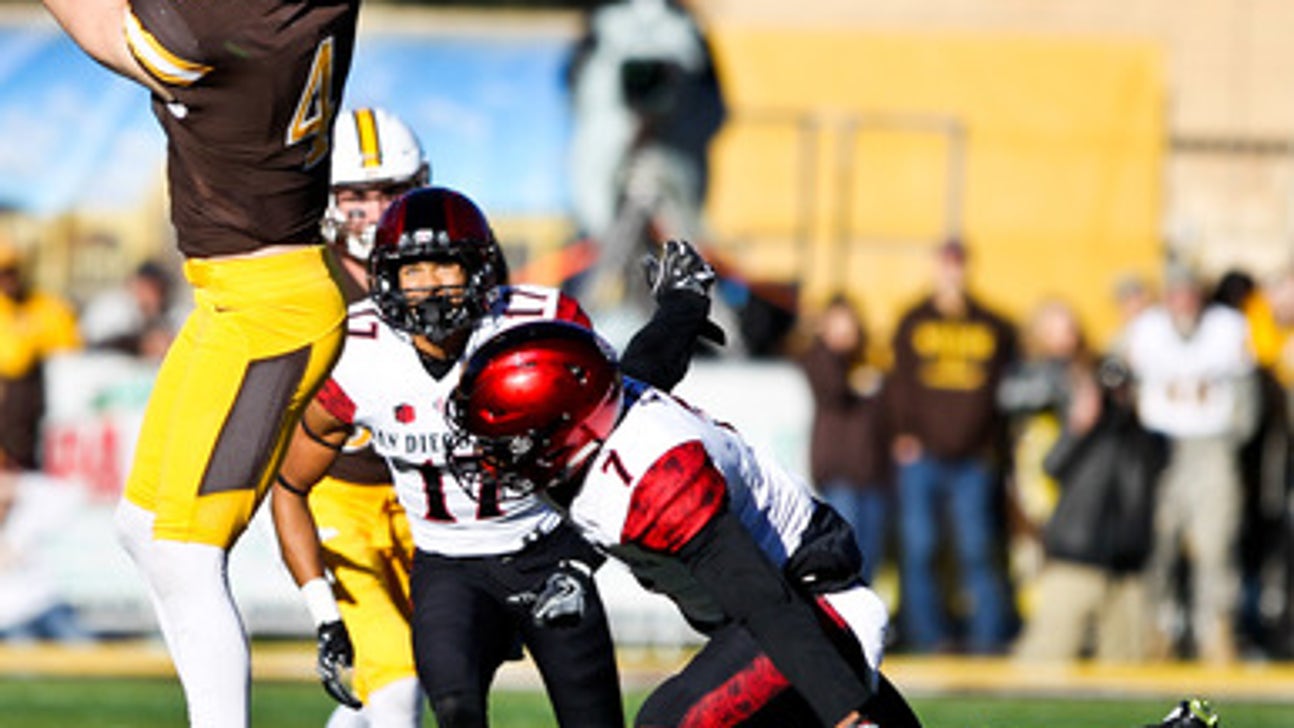 Wyoming beats No. 24 San Diego State 34-33
Published
Nov. 19, 2016 10:08 p.m. ET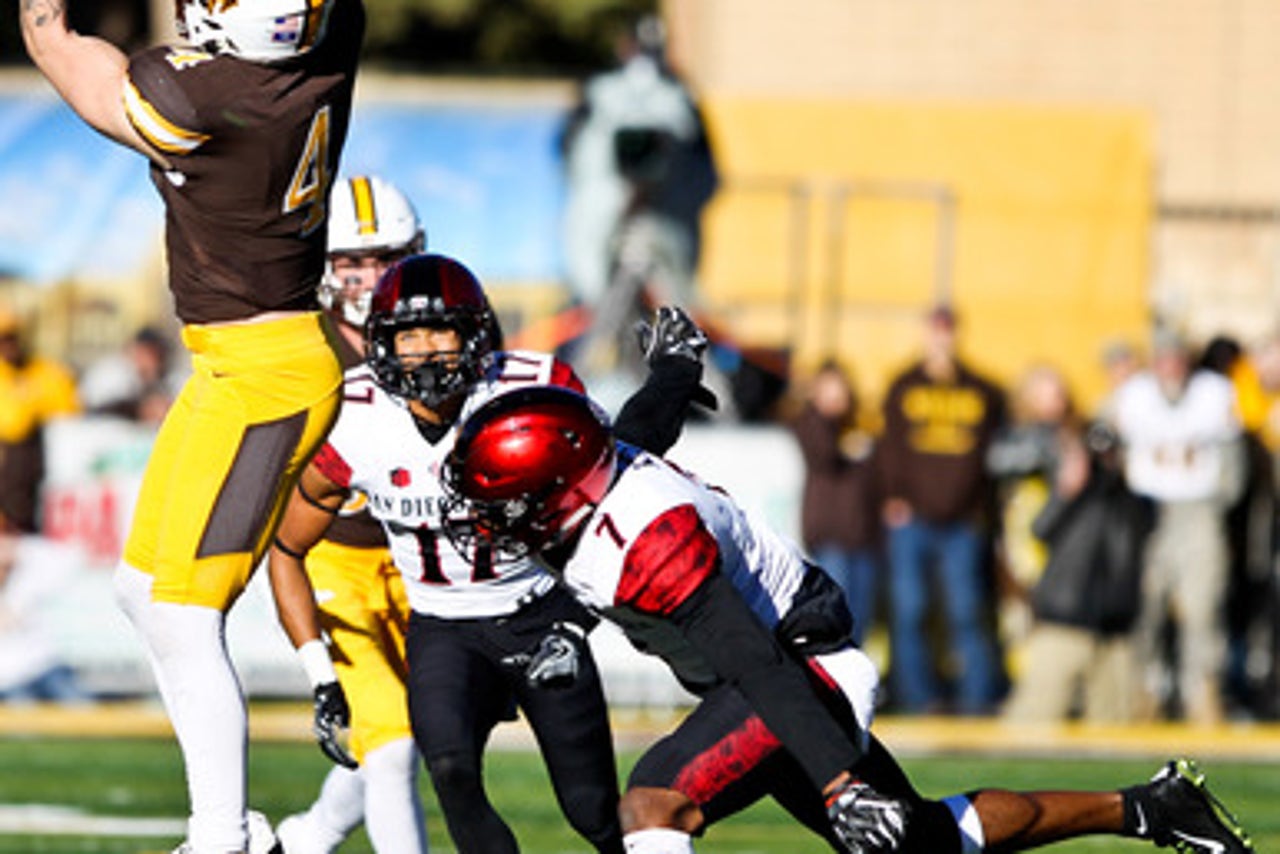 LARAMIE, Wyo. (AP) Josh Allen threw for two touchdowns, including a 29-yard score to C.J. Johnson with 1:07 left in the game, and Wyoming stopped a 2-point conversion attempt by San Diego State with no time on the clock to upset the No. 24 Aztecs 34-33 on Saturday.
Allen completed 16 of 31 passes for 282 yards and also rushed for 56 yards. Brian Hill added 131 yards on 31 carries and two TDs for the Cowboys (8-3, 6-1 Mountain West).
Johnson finished with five catches for 85 yards.
It was Wyoming's second win this season over a Top 25 team. Wyoming beat then-No. 13 Boise State three weeks ago.
San Diego State (9-2, 6-1) was led by Christian Chapman, who completed 15 of 26 passes for 211 yards and two TDs. Chapman's last TD pass was a 23-yard desperation heave that Quest Truxton caught on the rebound with no time left.
Aztecs coach Rocky Long elected to go for the win and Chapman's 2-point conversion pass attempt was knocked away by defensive back Antonio Hull.
Rashaad Penny and Juwan Washington both returned kickoffs for touchdowns for the Aztecs. Penny's was 93 yards, and Washington's 92 yards.
Donnel Pumphrey, who entered the game as the nation's leading rusher, was held to 76 yards on 17 carries. Still, Pumphrey surpassed Hall of Famer Tony Dorsett for third place on the NCAA career rushing list and now has 6,127 yards. He trails Ron Dayne, who amassed 6,397 yards at Wisconsin, and Ricky Williams, who gained 6,279 yards at Texas.
THE TAKEWAY
San Diego State: The Aztecs have not won a game in the last 39 years when ranked. Since 1977, San Diego State is 0-4 in games played when the Aztecs are in the Top 25.
Wyoming: The upstart Cowboys, who were 2-10 last year, remain tied for the conference's Mountain Division title with a shot at getting to the conference championship game on Dec. 6. If the Cowboys win their last game, they will face San Diego State for the conference championship.
UP NEXT
San Diego State: The Aztecs return home for their final regular-season game, hosting Colorado State next Saturday.
Wyoming: The Cowboys close out the regular season on the road at New Mexico next Saturday night.
---
For more college football: http://collegefootball.ap.org and https://twitter.com/AP-Top25
---