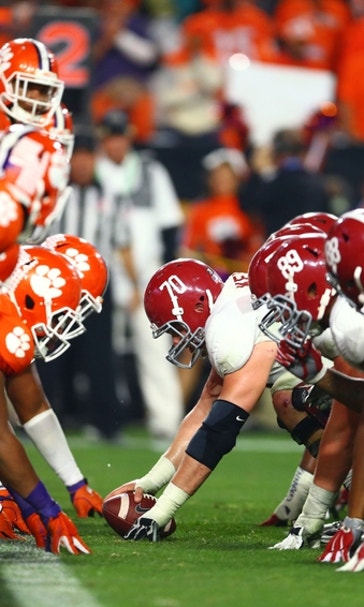 Why Alabama and Clemson should be poised for a rematch
December 30, 2016

Fansided, Shannon Sickmon/FanSided via Rubbing the Rock
We are going to see the Alabama Crimson Tide and Clemson Tigers in a national title showdown again. Here is why.
For those of you that received 14 inches of snow last January and your cable went out, or if for some twisted reason you don't watch college football, Alabama and Clemson played each other in Arizona last year for the national title. It was a heck of a game by anyone's standards. Clemson managed to give the 'Tide one of the most challenging games of the season. Nick Saban might even have been nervous at some point. Alabama eked out a win by sheer cussedness, because Clemson was in that game to the very last seconds.
The fact is that we are going to see an Alabama/Clemson rematch this year. Here is why.
First, Ohio State really doesn't have the chops to take down Clemson. Ohio State has the brilliant receiver Curtis Samuel, but Clemson has a whole legion of equally brilliant defenders looking to take him down. And you can bet that Brent Venables will have been drilling his team on doing just that. In addition, the Buckeyes don't have any other receiver that has caught more than 30 passes. Ohio State has a phenomenal secondary, but the Buckeyes' O-line aren't big playmakers. Indeed, Meyer's squad ranks 90th in long plays. in short, Clemson has more strength on both sides of the ball, which is why we will see them overcome the Buckeyes.
Again, I do not want to disparage the accomplishments of the Washington Huskies. They have been this season's favorite Cinderella story. But comparing the Washington front line against the Crimson Tide's is almost laughable. This game is a mismatch from start to finish.
In the Pac-12, Washington's offensive line looks great; but compared to Alabama they look like Verne Troyer picking a fight with Chuck Norris. The Tide has a ridiculous wealth of talent. Washington QB Jake Browning also has issues when faced with quality defenses, and Alabama's defensive line is the human equivalent of a steamroller crossed with a Sherman tank. Browning is a great QB, but he failed to complete 50% of his throws against either USC or Colorado, neither of which has half the firepower of Saban's squad. The Alabama defense allowed a paltry 3.9 yards per play. In addition to that, the Tide has scored a whopping 14 non-offensive touchdowns,  the highest in the country. So yeah, Washington is going to be mighty unhappy after Saturday.
I am not impugning Chris Petersen and the great season that Washington had; a 12-1 season is amazing, even if it was in the Pac-12. I am not implying that Urban Meyer and his Buckeyes don't have a talented roster. I think that the top four teams are the best four teams, but the two best teams in the country are Alabama and Clemson, period. I can predict with some confidence that we will see a rematch between the Tigers and the Tide this year, although hopefully with a different result.
More from Rubbing the Rock
This article originally appeared on
---
---