American Athletic
American Athletic
Top 25 Capsules
Published
Oct. 15, 2017 4:16 a.m. ET

TUSCALOOSA, Ala. (AP) Damien Harris opened with a 75-yard touchdown run and No. 1 Alabama rode a fast start to a 41-9 victory over Arkansas on Saturday night.
The Crimson Tide (7-0, 4-0 Southeastern Conference) had raced to a 17-0 start by midway through the first quarter before the Razorbacks (2-4, 0-3) managed to slow down the onslaught for a while.
Harris ran for 125 yards and two touchdowns on just nine carries. His run on the game's first offensive play matched his career long set last week at Texas A&M, putting the Tide in front just 15 seconds into the game.
That game with the Aggies was Alabama's closest of the season, prompting coach Nick Saban to challenge his team to listen to him instead of the ''rat poison'' of media hype.
The result was a second straight lopsided SEC loss for Arkansas and embattled coach Bret Bielema.
No. 4 GEORGIA 53, MISSOURI 28
ATHENS, Ga. (AP) - Sony Michel ran for two touchdowns as No. 4 Georgia found its running game after a slow start and took control with 26 unanswered points to beat Missouri.
Georgia (7-0, 4-0 Southeastern Conference) recovered from an early scare by gaining 696 total yards, including 370 on the ground. Missouri (1-5, 0-4) suffered its fifth straight loss as it faded following a 21-all tie in the second quarter.
Georgia's Mecole Hardman scored on a 35-yard run in the first quarter and a 59-yard catch from Jake Fromm in the fourth quarter.
Missouri showed the big-play potential in its passing game on Emanuel Hall's two 63-yard touchdown catches in the first half. Drew Lock also threw a 4-yard scoring pass to tight end Albert Okwuegbunam.
Lock threw for 253 yards with four touchdowns and one interception.
ARIZONA STATE 13, No. 5 WASHINGTON 7
TEMPE, Ariz. (AP) - Manny Wilkins completed 29 of 41 passes for 245 yards, Arizona State's defense smothered Washington most of the game and the Sun Devils stunned the Huskies.
It was the highest-ranked team the Sun Devils (3-3, 2-1 Pac-12) have beaten since they defeated then-No. 1 Nebraska on Sept. 21, 1996.
Washington (6-1, 3-1 Pac-12) lost at Arizona State for the seventh straight time and hasn't won in Tempe since 2001.
The Huskies were the fourth top-10 team to lose this weekend, joining No. 2 Clemson, No. 8 Washington State and No. 10 Auburn.
Washington entered the night averaging 43 points per game but struggled all night against the Sun Devils.
Huskies freshman Van Soderberg missed field goals of 27 and 21 yards, the first one wide left, the second off the right upright.
No. 6 TCU 26, KANSAS STATE 6
MANHATTAN, Kan. (AP) - Kenny Hill threw for 297 yards and ran for a touchdown, TCU's defense shut down Kansas State's ailing offense and the sixth-ranked Horned Frogs remained unbeaten with a weather-delayed victory over the Wildcats.
Sewo Olonilua added two short touchdown runs for the Horned Frogs (6-0, 3-0 Big 12), whose gritty defense held the Wildcats (3-3, 1-2) without points both times they ventured into the red zone.
Kansas State was forced to play without quarterback Jesse Ertz, who was hurt in last week's double-overtime loss at Texas. Sophomore backup Alex Delton got his first start and was 11 of 29 for 146 yards, struggling to run coach Bill Snyder's complex offense against the Big 12's best defense.
The Wildcats' ground-based attack managed just 70 yards on 29 carries.
No. 7 WISCONSIN 17, PURDUE 9
MADISON, Wis. (AP) - Jonathan Taylor ran for 219 yards on 30 carries, including a 67-yard touchdown, and No. 7 Wisconsin relied on its stifling defense to overcome a three-turnover afternoon and beat Purdue.
Alex Hornibrook was 13 of 18 for 199 yards and a score but threw two interceptions for the Badgers, who held on to beat another division foe and take a commanding lead in the Big Ten West.
Defense saved the game for Wisconsin (6-0, 3-0).
Purdue (3-3, 1-2) drove from its 39 to the Wisconsin 10 before linebacker Leon Jacobs stepped in front of a sideline pass to Jackson Winthrop, staying inbounds for an interception with 8:14 left in the game.
The Badgers' punishing ground game ran out the clock from there with a 16-play, 77-yard drive.
No. 9 OHIO STATE 56, NEBRASKA 14
LINCOLN, Neb. (AP) - J.T. Barrett passed for five touchdowns and ran for two others, and ninth-ranked Ohio State scored on its first eight possessions on its way to victory over Nebraska.
The Buckeyes (6-1, 4-0 Big Ten) continued their dominant surge since their loss to Oklahoma last month, tying their school record with a fourth straight game of scoring 50-plus points, and now get a week off before their East Division showdown with third-ranked Penn State.
They rolled up 633 total yards and had 41 first downs while scoring the most points by a Nebraska conference opponent in Lincoln and most overall since Minnesota won 61-7 in 1945 when the Huskers were in the Big Six.
Barrett was 27 of 33 for a season-high 325 yards and rushed 10 times for 48 yards before giving way to backup Dwayne Haskins on the second series of the fourth quarter.
LSU 27, No. 10 AUBURN 23
BATON ROUGE, La. (AP) - D.J. Chark returned a punt 75 yards for a touchdown, Connor Culp kicked clutch field goals of 42 and 36 yards inside the final three minutes, and LSU rallied from a 20-point, first-half deficit to beat Auburn.
LSU's defense improved dramatically in the second half, not allowing a point. That enabled LSU (5-2, 2-1 Southeastern Conference) to win with special teams play.
Russell Gage made a diving 14-yard touchdown reception and had a 70-yard run that set up another TD for LSU.
Kerryon Johnson rushed for 156 yards and a short TD for Auburn (5-2, 3-1), which had won four in a row.
No. 11 MIAMI 25, GEORGIA TECH 24
MIAMI GARDENS, Fla. (AP) - Darrell Langham made another miracle happen, a 28-yard catch on a tipped fourth-down ball keeping desperate Miami's drive alive and setting up Michael Badgley's 24-yard field goal with 4 seconds left as the 11th-ranked Hurricanes somehow rallied to stun Georgia Tech.
Langham - who had the winning catch to beat Florida State in the final seconds last week - pulled off a similar grab to get Miami to the Georgia Tech 15, and Badgley's chip-shot came four snaps later as the Hurricanes (5-0, 3-0 Atlantic Coast Conference) stretched their longest winning streak in more than a decade to 10 games.
Travis Homer rushed for 170 yards and had two scores - one rushing, one receiving for Miami, which escaped when Georgia Tech's five-lateral attempt at a kickoff return was stopped as time expired.
Lamont Simmons ran a botched onside kick back 42 yards for a touchdown and J.J. Green scored twice for Georgia Tech (3-2, 2-1).
No. 12 OKLAHOMA 29, TEXAS 24
DALLAS (AP) - Baker Mayfield threw 59 yards to Mark Andrews for the go-ahead touchdown in the fourth quarter after Oklahoma had blown a 20-point lead, and the 12th-ranked Sooners held on to beat Texas.
Mayfield's second TD throw of more than 50 yards came 68 seconds after freshman quarterback Sam Ehlinger ran 8 yards to give the Longhorns their first lead after trailing 20-0 in the second quarter.
The win kept the College Football Playoff hopes alive for the Sooners (5-1, 2-1 Big 12) a week after a stunning home loss to Iowa State when they were ranked third with a nation-leading 14-game winning streak.
Lincoln Riley, the youngest FBS head coach at 34, topped Tom Herman in the first Texas-OU matchup since 1947 with both coaches leading their teams for the first time.
Ehlinger, the second straight freshman to start against Oklahoma for Texas (3-3, 2-1), had to be replaced by last year's starter, Shane Buechele, on the drive after the Sooners went back in front.
No. 13 SOUTHERN CALIFORNIA 28, UTAH 27
LOS ANGELES (AP) - Sam Darnold led Southern California on three long scoring drives in the second half, and the Trojans stopped a 2-point conversion attempt by Utah with 42 seconds to play.
USC (6-1, 4-1 Pac-12) trailed 21-7 at the half before scoring touchdowns on drives of 98, 88 and 98 yards in the second half.
Utah answered with a final drive, going 75 yards before quarterback Troy Williams scored from the 2-yard line. Utah (4-2, 1-2) went for the win, but Williams could not find an open receiver, scrambled and was stopped a yard shy of the end zone.
Darnold overcame a tough first half to complete 27 of 50 passes for 358 yards and three touchdowns. The Trojans finished with 532 total yards.
No. 14 OKLAHOMA STATE 59, BAYLOR 16
STILLWATER, Okla. (AP) - Mason Rudolph passed for 459 yards and three touchdowns and ran for another score to help No. 14 Oklahoma State beat Baylor.
Rudolph guided an offense that gained a school-record 747 yards. The senior got his first career win in four tries against the Bears.
Oklahoma State's James Washington caught six passes for 235 yards and a touchdown, and he ran for a 2-yard score. It was the second-best yardage total of his career. Marcell Ateman caught four passes for 119 yards and a touchdown, and Justice Hill ran for 117 yards and a score for the Cowboys (5-1, 2-1 Big 12).
The Cowboys grabbed control with a 28-point second quarter that made it 35-10 at halftime.
Terence Williams ran for 95 yards for Baylor (0-6, 0-3). Denzel Mims, one of the most productive receivers in the nation so far this season, was held to 20 yards on two catches.
No. 17 MICHIGAN 27, INDIANA 20, OT
BLOOMINGTON, Ind. (AP) - Karan Higdon ran 25 yards for a touchdown on the first play of overtime and Tyree Kinnel intercepted a fourth-down pass in the end zone on the final play, helping the Wolverines hold off Indiana.
Higdon finished with 200 yards and three touchdowns on 25 carries, providing most of the offense for Michigan (5-1, 1-1 Big Ten) on another day when the Wolverines struggled to sustain drives. His 59-yard touchdown run with 10:25 remaining in the fourth quarter put Michigan up 20-10.
A 53-yard punt return by Indiana's J-Shun Harris to the Michigan 20 set up an 8-yard touchdown pass from Peyton Ramsey to Whop Philyor with 3:27 left that cut the lead to three. Griffin Oakes tied it for Indiana (3-3, 0-3) with a 46-yard field goal as time expired.
Indiana's losing streak to Michigan is now 22 games, but the last two times the Wolverines have come to Bloomington it has gone to overtime. The Hoosiers have one victory (1987) against Michigan since 1967.
No. 18 SOUTH FLORIDA 33, CINCINNATI 3
TAMPA, Fla. (AP) - Quinton Flowers eclipsed 3,000 yards career rushing and scored one touchdown Saturday night to help No. 18 South Florida extend the nation's longest winning streak to 11 games with a 33-3 victory over Cincinnati.
The dual-threat quarterback also set up a TD with a long completion to Temi Alaka and linebacker Auggie Sanchez scored on a 65-yard interception on the final play of the first half for the Bulls (6-0, 3-0 American Athletic Conference), who've matched the best start in school history.
USF also began 6-0 in 2007, climbing to a No. 2 ranking in The Associated Press Poll before plummeting out of the national spotlight with three consecutive losses.
The Bulls scored at least 30 points in a game for the 23rd consecutive game, tying the longest such stretch in college football since 1936.
Cincinnati (2-5, 0-3), blown out by a Florida team ranked in the Top 25 for the second straight week, has lost seven straight AAC games dating to last season.
BOISE STATE 31, No. 19 SAN DIEGO STATE 14
SAN DIEGO (AP) - Alexander Mattison ran for 128 yards and a touchdown and Boise State's defense kept star running back Rashaad Penny in check.
Penny was limited to 53 yards and a touchdown on 21 carries. It was his first game under 100 yards rushing this season for the Aztecs (6-1, 2-1 Mountain West).
Avery Williams returned a punt 53 yards for Boise State's first touchdown, and less than two minutes later, Kekaula Kaniho returned a fumble by SDSU quarterback Christian Chapman 34 yards for a 14-0 lead in the first quarter.
It was the start of an overwhelming performance for Boise State (4-2, 2-0) on defense. The Broncos had 12 tackles for a loss, including four sacks, and San Diego State didn't cross the 50-yard line until the middle of the second quarter.
Brett Rypien threw a 3-yard touchdown pass to tight end Jake Roh to put the Broncos up 21-0 in the second quarter. Rypien completed 11 of 19 passes for 72 yards.
No. 20 N.C. STATE 35, PITTSBURGH 17
PITTSBURGH (AP) - Nyheim Hines ran for an 83-yard touchdown and returned a punt 92 yards for another score on his way to 249 total yards, helping North Carolina State to its sixth straight victory.
Jaylen Samuels added a pair of fourth-quarter touchdown runs for the Wolfpack (6-1, 4-0), who matched their best Atlantic Coast Conference start since 2002 by relying on Hines early and Samuels late.
Ryan Finley completed 14 of 25 passes for 198 yards and a 3-yard touchdown to Jakobi Meyers late in the third quarter to put N.C. State ahead to stay. Finley extended his streak of consecutive passes without an interception to 313, the second-longest in ACC history.
Ben DiNucci threw for 170 yards and a touchdown for Pitt (2-5, 0-3) before being replaced in the third quarter by freshman Kenny Pickett. Pickett completed 5 of 13 for 61 yards and ran for 18 yards in the first extended action of his career before DiNucci returned in the final minutes.
No. 21 MICHIGAN STATE 30, MINNESOTA 27
MINNEAPOLIS (AP) - L.J. Scott returned from an injury to rush for a career-high 194 yards and two touchdowns , helping Michigan State to the road win after the start of the game was delayed 34 minutes by lightning strikes.
Madre London pitched in 74 yards rushing and a score, Matt Coghlin made three field goals and the Spartans (5-1, 3-0 Big Ten) maintained their momentum from their victory over Michigan.
Demry Croft relieved a struggling Conor Rhoda at quarterback for the Gophers (3-3, 0-3) in the middle of the second quarter and connected with Tyler Johnson for three touchdown passes in the fourth. The late surge wasn't enough to overcome the bruising, pulling and trapping Spartans blockers who wore down an injury-depleted Gophers defense.
No. 22 UCF 63, EAST CAROLINA 21
ORLANDO, Fla. (AP) - McKenzie Milton threw two touchdown passes and ran for a score, and No. 22 UCF also got touchdowns on defense and special teams in a rout of East Carolina.
UCF moved to 5-0 for the first time in the program's Division I era and remained tied with 18th-ranked South Florida for the American Athletic Conference East lead at 3-0. The Pirates (1-6, 1-3) have lost three straight.
Milton and Knights came in with the highest scoring offense in the nation (47.5 points per game) and dominated the worst scoring defense (47.8 points) in FBS this season. UCF totaled 600 yards of offense, exceeding 500 yards for the third straight game, its longest such streak since 1998.
No. 23 STANFORD 49, OREGON 7
STANFORD, Calif. (AP) - Bryce Love needed less than five minutes to reach the 100-yard rushing mark for the ninth consecutive game as he used another big run to fuel Stanford's victory.
Love's 67-yard touchdown run just 4:23 in was his second touchdown of the game, and the nation's leading rusher finished with 147 yards on 17 carries to help the Cardinal (5-2, 4-1 Pac-12) win their fourth straight game. Love has 1,387 yards through seven games despite carrying just once in the second half this week as he spent time in the injury tent with an undisclosed ailment.
Keller Chryst threw two of his three touchdown passes to JJ Arcega-Whiteside, and Brandon Simmons returned a blocked punt by Curtis Robinson for another touchdown as Stanford overpowered the Ducks (4-3, 1-3).
Royce Freeman ran for 143 yards for Oregon, but the Ducks had no passing game behind Braxton Burmeister and lost for the third time in four games. Oregon had its lowest-scoring game since getting shut out by UCLA on Nov. 24, 2007.
WEST VIRGINIA 46, No. 24 TEXAS TECH 35
MORGANTOWN, W.Va. (AP) - Will Grier threw four of his five touchdown passes in the second half and West Virginia overcame an 18-point deficit to get the win.
West Virginia (4-2, 2-1) beat a ranked opponent for the first time in 10 tries.
Nic Shimonek threw four first-half TD passes for Texas Tech, but the Red Raiders (4-2, 1-2) got little going after halftime and made plenty of mistakes to enable the Mountaineers to mount their comeback.
Ka'Raun White had fourth-quarter TD catches of 32 and 17 yards to give the Mountaineers their first lead, and Grier capped the scoring with an 11-yard pass to Sills with 3:23 left.
Grier completed 32 of 41 passes for 352 yards. Shimonek went 24 of 39 for 323 yards.
MEMPHIS 30, No. 25 NAVY 27
MEMPHIS, Tenn. (AP) - Riley Ferguson threw three touchdown passes, and Memphis took advantage of five turnovers by No. 25 Navy to hand the Midshipmen their first loss.
Navy quarterback Zach Abey ran for 146 yards for Navy (5-1, 3-1 American Athletic Conference), but the Tigers held the nation's leading running game 100 yards under its 416-yard average. He surpassed 1,000 yards rushing this season with a 28-yard run late in the fourth quarter, but was responsible for all five turnovers.
Memphis (5-1, 2-1) beat a Top-25 opponent for the third straight time, including two this season.
Ferguson passed for 279 yards and Anthony Miller had 10 receptions for 90 yards and two TDs.
---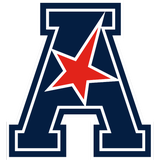 Get more from American Athletic
Follow your favorites to get information about games, news and more
---