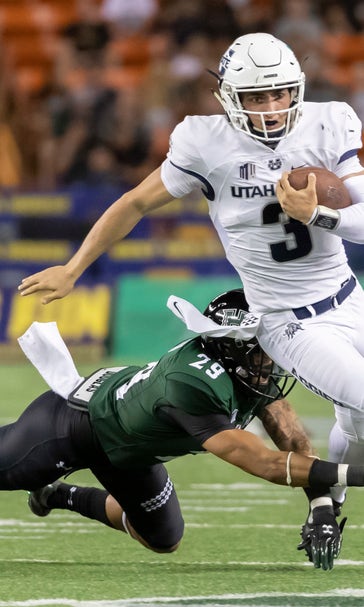 Thompson, Bright lead No. 18 Utah State past Hawaii 56-17
November 4, 2018
HONOLULU (AP) — Utah State extended its winning streak Saturday, while Hawaii tried to keep its season from slipping away.
Darwin Thompson and Gerold Bright each ran for three touchdowns as No. 18 Utah State won its eighth straight game, 56-17 over Hawaii on Saturday night.
The Aggies (8-1, 5-0 Mountain West) amassed 601 yards of total offense, including 426 rushing, and had a pair of 28-point quarters to pull away from the Rainbow Warriors (6-5, 3-3).
"We've started well lately," Utah State coach Matt Wells said. "I thought we were prepared right and our guys had the right emotion, the right energy and we came out and executed right out of the gate."
Thompson rushed 13 times for a career-best 141 yards and scored on a pair of 1-yard runs, as well as a 26-yard sprint. Bright carried a career-high 16 times for 121 yards and found the end zone on runs of 18, 47 and 9 yards.
"I just think our guys up front, our O-line and our tight ends did a nice job and obviously any time you have long runs like we did there's some good blocking down the field and I saw a few by the receivers, but our running backs, both Gerold Bright and Darwin Thompson both ran behind their pads, they got their legs up, they're tough to bring down and they're a load," Wells said.
Jordan Love threw a 16-yard touchdown pass to Ron'quavion Tarver and ran in a 1-yard score on the final play of the first quarter.
Cole McDonald threw a pair of touchdown passes for Hawaii, which finished with 390 yards of total offense and a season-low in points scored.
"Against a team like this, we needed to start fast," Rainbow Warriors coach Nick Rolovich said. "We all gotta do our part and I don't think any facet of this team did its part to beat a good football team."
The Aggies rushed for 400 or more yards for the first time since the 2016 season, when they recorded 428 rushing yards in a win over Weber State.
Utah State built a 28-3 halftime lead.
It has now matched its 8-1 record to start the 1963 season. Utah State was playing its first game as a nationally ranked team since 2012, when it went 11-2 to set a school record for wins and ended the season ranked 16th.
"I think we're in a good spot. I mean, we're going to have to take each week one at a time — and I understand that's coaches' talk — but to come over here and win in Hawaii against a good Hawaii team, it's a hard win," Wells said.
The Aggies have won their last five meetings against Hawaii and lead the all-time series 10-6, including a 5-4 record in Honolulu.
THE TAKEAWAY
Utah State: Despite the lopsided score, the Aggies were dealt a blow when Love, a sophomore quarterback, sustained an undisclosed injury in the second quarter. Love kept the ball on a run play and was upended at the Hawaii 6-yard line after a short gain. Although he landed firmly on his back, Love finished the series, but was replaced by freshman Henry Colombi on Utah State's next series. Love, who has thrown for 2,185 yards and 19 touchdowns on the season, did not return to the game.
"He'll be fine. I think he'll be good next week," Wells said of Love.
Hawaii: Since a 6-1 start to the season, the Rainbow Warriors have lost their last four games. It was their 10th consecutive loss against a nationally ranked opponent. They are now 10-43 all-time against ranked opponents, including 9-26 at home.
Hawaii averaged 42 points and 495.8 yards per contest through its first seven games this season, but is managing just 20.5 points and 361.5 yards of total offense during its current losing streak.
"We're not playing like a very good football team right now," Rolovich said. "I don't think any side of the ball should feel good about themselves, I don't think any coach should feel good about themselves, starting with myself. Utah State is a very good football team, but I just wish we had put up a little bit of a better fight."
POLL IMPLICATIONS
With losses by six teams ranked above them — including No. 14 Penn State, No. 15 Texas, No. 16 Utah and No. 17 Houston — the Aggies will likely climb a few spots in the next poll.
PILING IT ON
Utah State entered the game ranked third nationally in scoring offense, averaging 49.4 points per game. Saturday was the seventh time it eclipsed the 40-point mark this season, the fifth time it went over 50 points in a game and the fourth time it scored 60 or more points.
DISQUALIFIED
Aside from Love's injury, about the only other thing that didn't go the Aggies' way was Deante Fortenberry's ejection about three minutes into the game. Fortenberry, a senior cornerback, was penalized for targeting on a Hawaii pass play and was disqualified for the rest of the contest.
UP NEXT
Utah State: Home against San Jose State on Saturday, and then close the regular season with road games at Colorado State and at Boise State.
Hawaii: After 11 games in as many weeks, the Rainbow Warriors have their bye next week. They host UNLV on Nov. 17.
---
---