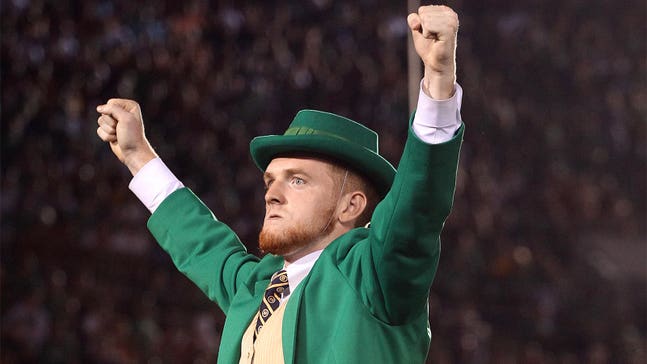 The luck of the Irish has been particularly potent on Halloween
Published
Oct. 28, 2015 3:43 p.m. EDT

Notre Dame travels to Philadelphia this weekend to take on Temple on Halloween, a date that has historically been scary for opponents of the Fighting Irish. 
Not only is Notre Dame undefeated on Oct. 31, it is also the date on which the Fighting Irish have played their most games and have a perfect record.  
Notre Dame will take a 15-0 mark to the City of Brotherly Love, where they have won two of those Halloween contests (in 1964 and '70, both against Navy). 
There is reason for hope for the Owls, though. They will be only the second ranked team to face the Fighting Irish on Halloween, joining the 1953 Navy squad that was No. 20 and lost to coach Frank Leahy's Irish 38-7 in South Bend. Notre Dame was ranked No. 1 that day. 
The last time Notre Dame played on Halloween was 2009, when the Irish beat Washington State 40-14 in San Antonio. 
Notre Dame is also undefeated on two other dates on which the Irish have played at least 10 games. The program is 15-0-2 on Nov. 18 and 14-0-1 on Oct. 9. 
---
---