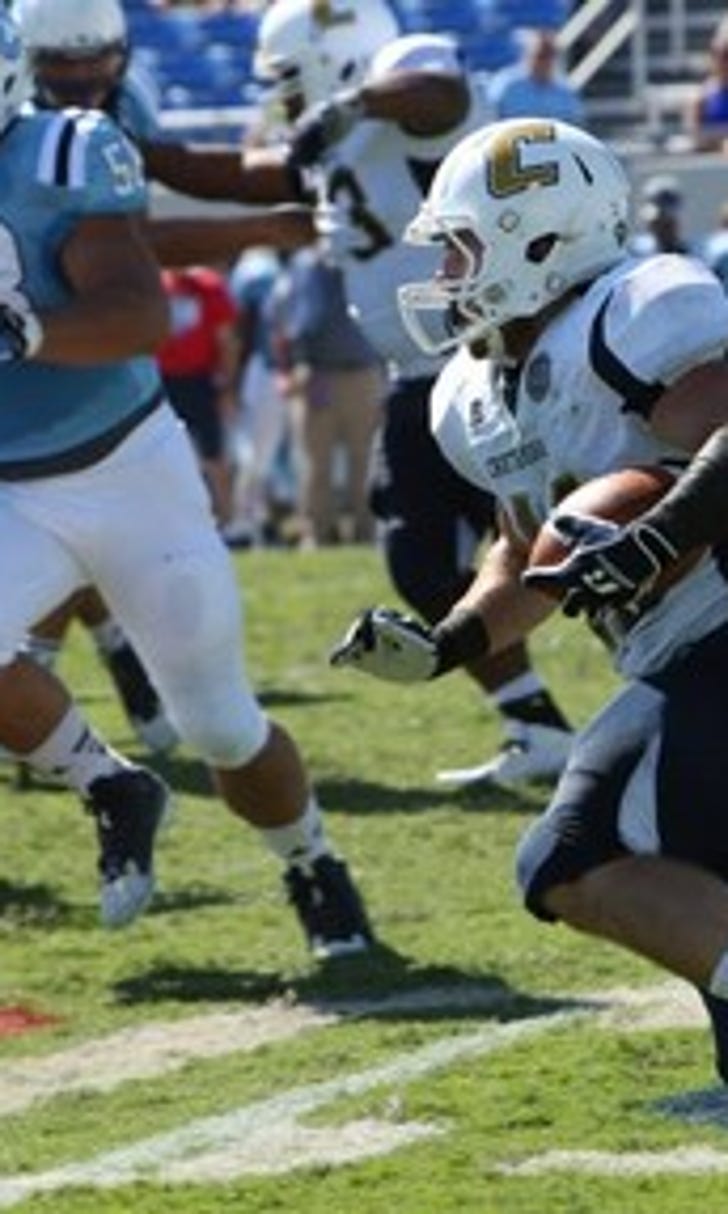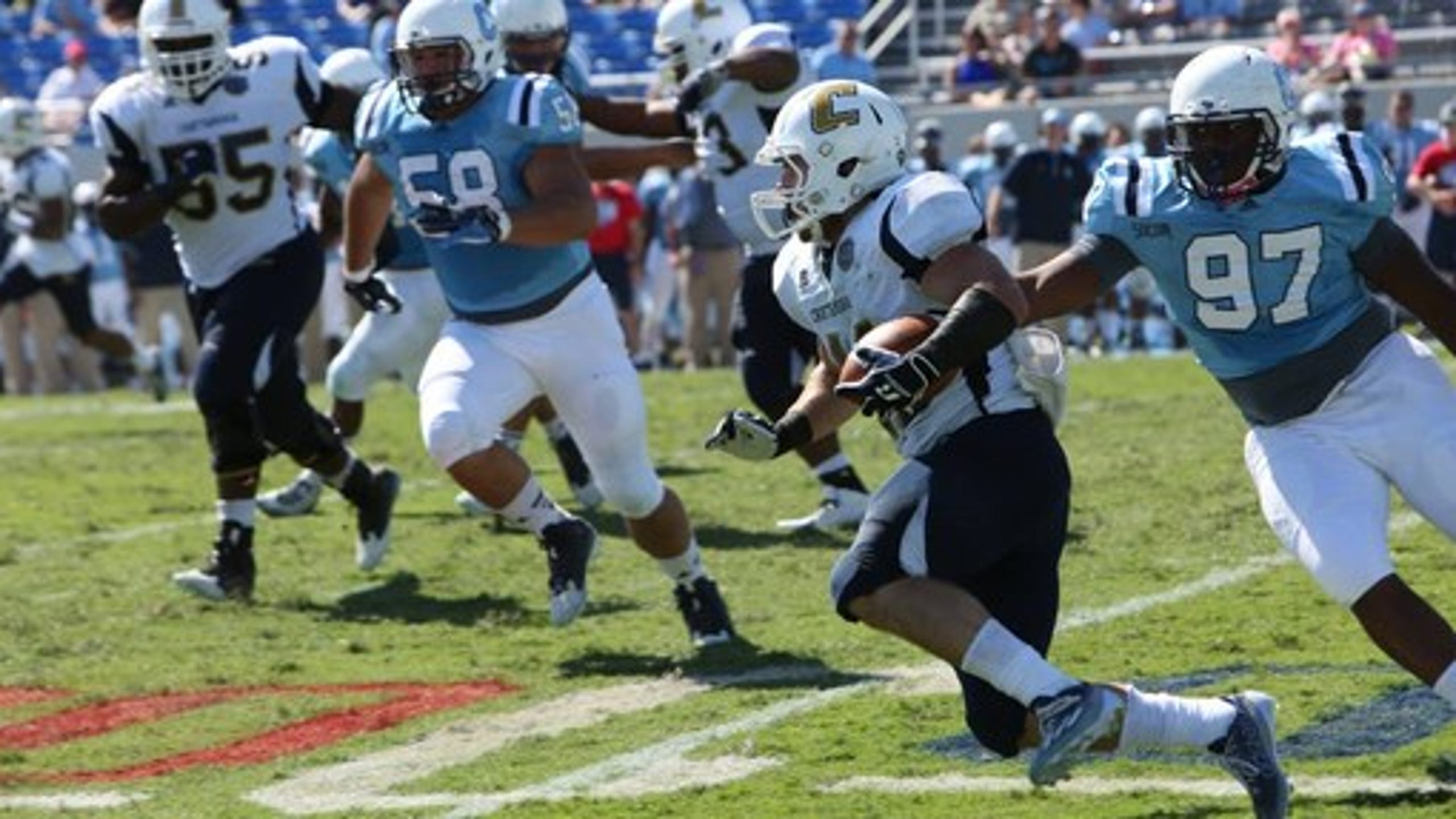 The Citadel, Chattanooga meet with league title likely on the line
BY foxsports • October 13, 2016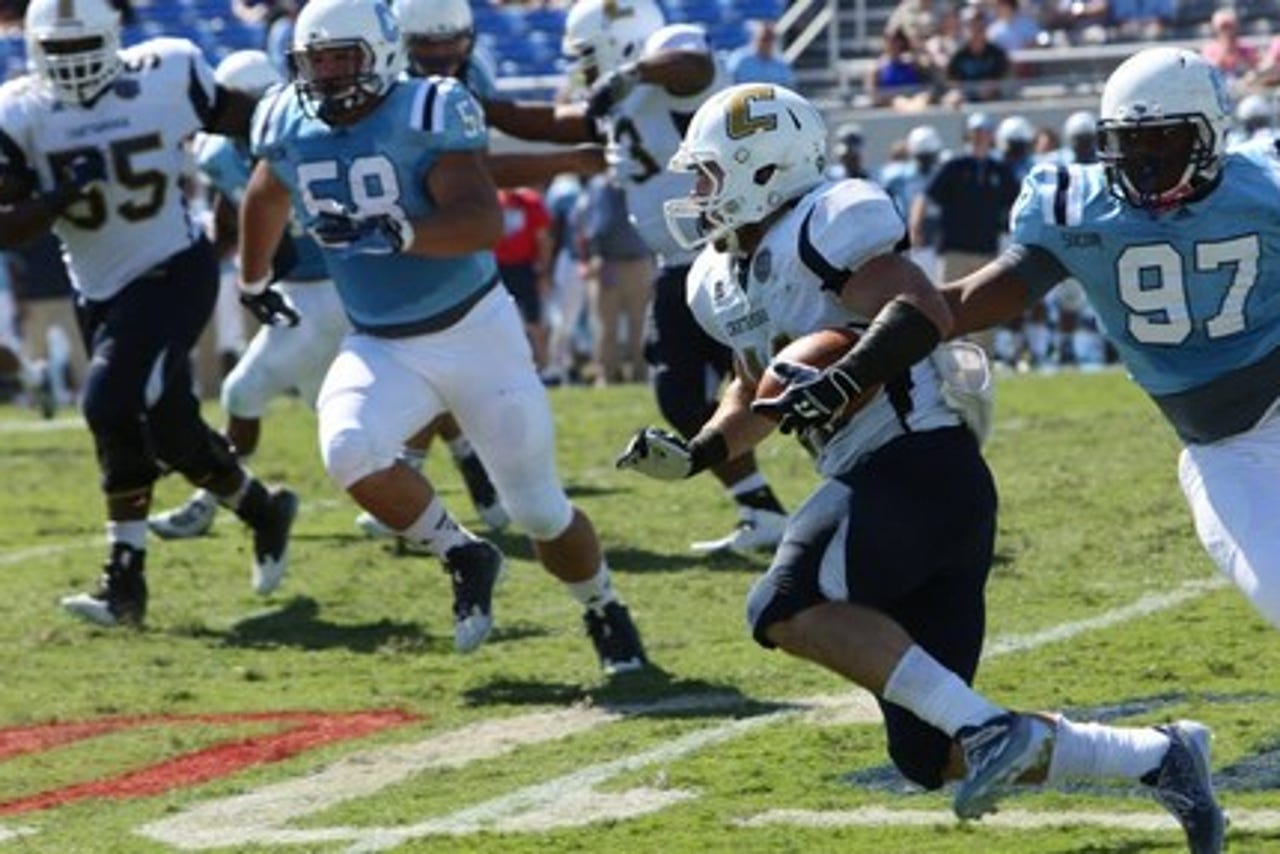 (STATS) - There's no Wi-Fi at the Look Up Lodge in Travelers Rest, South Carolina, but there's paintball, a bouldering wall and a giant swing that looks like it would comfortably hold three average teenagers or about half an offensive lineman from The Citadel.
All in all, it doesn't sound like a bad place to wait out a hurricane. Except for that pesky one shower per cabin that houses up to 16 people.
The Bulldogs probably feel like they've spent more time this season at the Christian retreat nestled in the foothills of the Blue Ridge Mountains than they have back home in Charleston. The Citadel (5-0, 3-0 Southern Conference) has taken the field at Johnson Hagood Stadium for a grand total of one game since Nov. 7, playing its final four contests on the road last season and four of five outside of the Lowcountry in 2016.
The latest trip wasn't planned. With Hurricane Matthew baring down on Charleston, the Bulldogs moved their game against Division II's North Greenville upstate - a typical three-hour trip that took the team buses nine with their fellow South Carolinians planning similar evacuations.
Enter the close, comfortable quarters at the Look Up Lodge.
"We definitely got to know each other better than we thought we did," linebacker Tevin Floyd said. "Being up there in the mountains, we took in some nature and kind of relaxed."
It's back home and back to reality this week, and there's little time to worry about getting a 4G signal or catching up on that Netflix queue. There's no gradual transition back to civilization for the eighth-ranked team in the STATS FCS Top 25, but rather a showdown between two of the nation's five remaining unbeaten teams that for a second straight season figures to decide the SoCon's champion.
Strutting into town is No. 5 Chattanooga (6-0, 4-0), which has the largest point differential in the FCS (plus-178) and has won the last four games in this series. The Mocs needed to beat The Citadel in their final conference game of 2015 to share a third straight league title and they did, scoring the game's first three touchdowns and holding on to win 31-23.
"We didn't come out as great as we should have," Floyd said. "I think we got too hyped and too caught up in the situation last year. I feel like if we can just relax, play the game like we do every other game, we'll be fine."
The Bulldogs got a taste then of what the rest of the FCS has found out this season: that Alejandro Bennifield (9.35 yards per attempt, 19 total TDs) has quite an arm. Then a backup sophomore quarterback, Bennifield caught a swing pass from Jacob Huesman on the game's first play, stopped and found Xavier Borishade deep for a 75-yard touchdown that was the quickest score in school history.
That one took seven seconds longer than Chattanooga's strike from a year earlier in Charleston. Huesman and C.J. Board hooked up for a 66-yard TD just 19 seconds in, and that set off the floodgates toward a 31-0 Mocs lead at the half.
"That sets us on our heels," first-year Citadel coach Brent Thompson said Wednesday on his weekly radio show. "You've got a really good football team that jumps out ahead of you right away while we're trying to nickel and dime it down the field on offense. I think if we can absorb that blow earlier this year and create a little bit of field position, it'll be a different football game for us."
The triple-option offense of The Citadel, built around the nation's most prolific rushing attack (388.8 yards per game), is hardly built to play from a multi-score deficit. Dominique Allen attempted a career-high 16 passes in last season's meeting trying to bring the Bulldogs back, completing eight - the same number he's been successful with on just 21 attempts this season.
Bennifield isn't counting on building another big lead, though, and he knows The Citadel would love nothing more than to limit the possessions of an offense that's averaging 41.8 points. The Bulldogs are second in the FCS in time of possession, holding the ball for nearly 35 minutes per game.
"Our execution has to be perfect this week," said Bennifield, who directs an offense that's 10th in time of possession at 34:09 per game. "A little mistake here or there we might not get the ball back with their offense holding the ball for so long. So we have to execute on offense and score to take care of our defense."
The Mocs' defense doesn't need much help. They're the No. 1 unit in the FCS, yielding nearly 30 yards fewer per game (225.7) than Wofford at No. 2. Chattanooga is fifth in yards per pass attempt (5.44), fourth in yards per rush (2.3) and easily first in scoring defense (12.2).
But it's the skill position combo of Bennifield and Derrick Craine - the senior tailback is averaging 7.2 yards per rush with eight TDs - that's arguably the biggest concern for Thompson.
"You put (Bennifield) in conjunction with Craine and they've got an All-American on the offensive line (Corey Levin), so they've got a lot of offensive weapons and they can put you in a lot of binds," Thompson said. "They know where you're a little bit weak and they'll hit you in your weak spot."
---