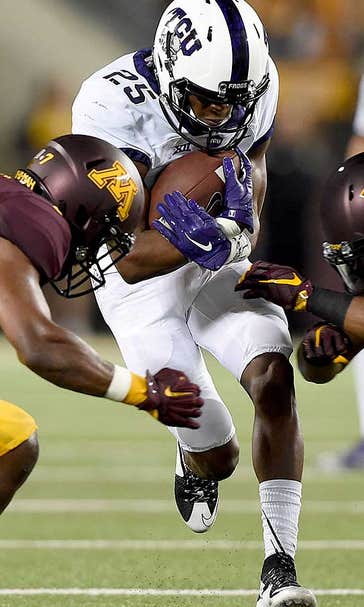 TCU might fall from No. 2 in new poll and Patterson could care less
BY foxsports • September 7, 2015
The No. 2 TCU Horned Frogs didn't blow the doors off a Minnesota team that was pretty good last season and is a popular pick this season to win its division in the Big Ten.
So is a 23-17 season-opening road win on a Thursday night in a hostile environment reason for the Horned Frogs to tumble from their preseason No. 2 ranking in the next AP top 25 poll?
Some apparently believe that will be the case, especially after No. 3 Alabama looked impressive in beating No. 20 Wisconsin on a neutral field Saturday night.
When the new poll is released, one person could care less where the Frogs sit. His name is Gary Patterson.
"Oh, no. I'm glad I'm 1-0," the longtime TCU coach said. "I only want to be ranked high at the end of the season. I don't care about this early stuff."
The Frogs are used to volatility in the rankings. They won't soon forget being dropped from No. 3 to No. 6 by the College Football Committee in its final ranking, which booted TCU out of playoff position.
TCU got off to a fast 10-0 start at Minnesota, but struggled to break away. Heisman Trophy candidate quarterback Trevone Boykin missed two wide-open receivers for would-be touchdowns, and then a late score by Minnesota shrunk the final margin.
"Lot of people wanted this to be an upset. Lot of people thought that because we were young, we couldn't play in this ballgame," Patterson said. "Going to somebody else's place — everything that needed to happen, there wasn't really anything on our side. So for us to come out with a win, I'll take it as a positive."
The Frogs' next two opponents shouldn't offer much resistance. TCU makes its 2015 home debut on Saturday against FCS opponent Stephen F. Austin, followed by a visit from SMU the next week to wrap up the non-conference portion of the schedule.
(h/t Star-Telegram)
---
---