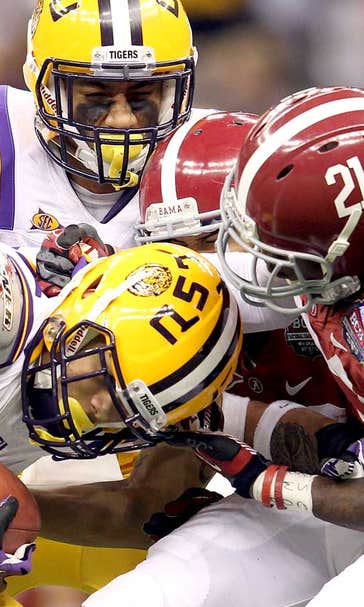 SEC Notebook: 'Clash of the Titans' in Tuscaloosa could determine SEC West winner
November 3, 2015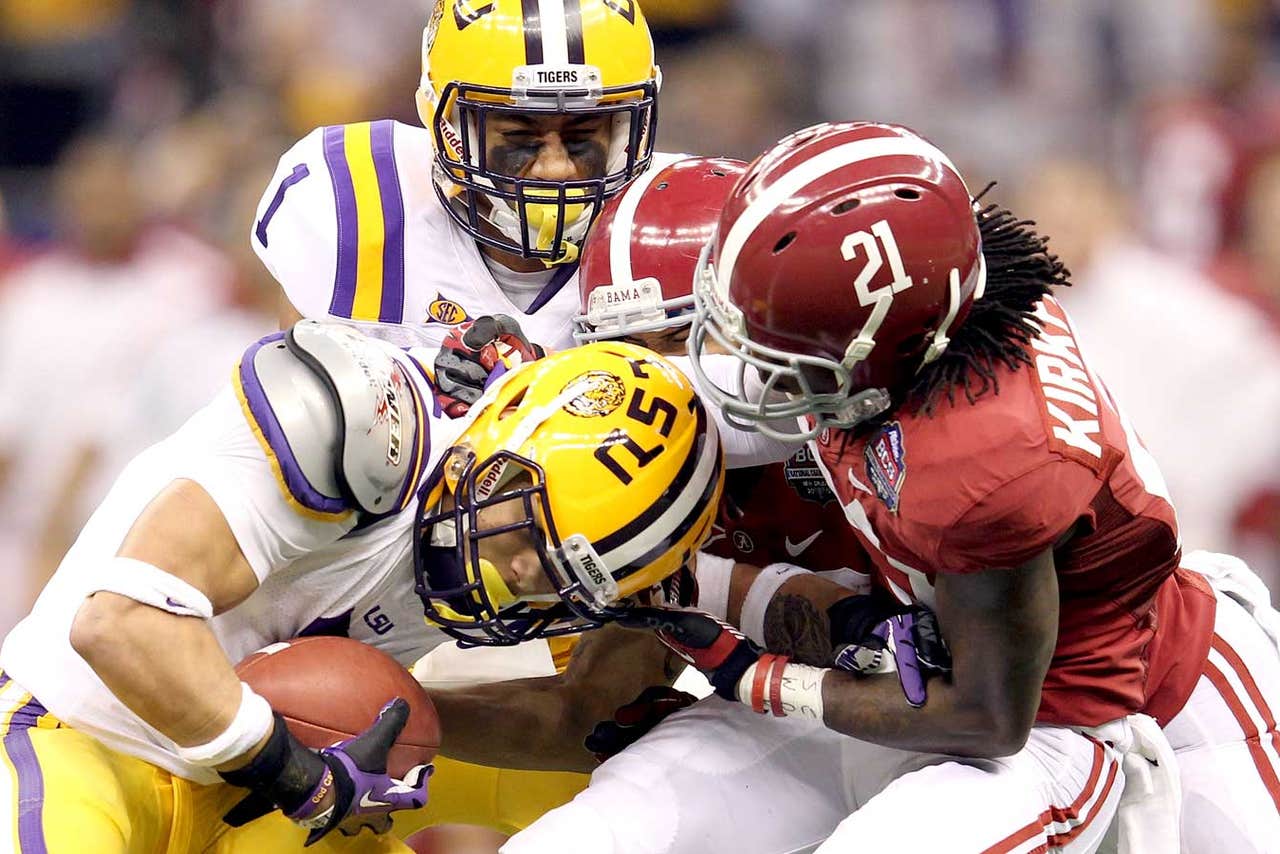 In case you were living under a rock, perhaps the most high-profile college football game of the season will take place this Saturday, as the No. 4 LSU Tigers travel to Tuscaloosa to take on their arch-nemesis, the No. 7-ranked Alabama Crimson Tide. 
The winner of this contest will have a very clear path at representing the SEC West Division in the conference title game. LSU (7-0 overall) sits atop the conference standings at 4-0. Closely following behind is Alabama (7-1) and Ole Miss (7-2), both with 4-1 records in SEC play. 
Should LSU win this game, it virtually would eliminate Alabama from conference-title contention. An Alabama victory would create a three-way tie for the conference lead -- with Ole Miss holding an advantage. However, the Rebels do have to play the Tigers on Nov. 21. 
In LSU's case, there are a few reasons as to why it could be successful against the Crimson Tide -- and ultimately become victorious. 
The focal point of Alabama's offense revolves around running back Derrick Henry. On the year, he's rushed for 1,044 yards and 14 touchdowns only 180 carries. Running at a 5.8 yards-per-carry clip, he accounts for more than 60 percent of Alabama's total rushing output. 
LSU has proven to be extremely stingy versus the run in 2015. The Tigers haven't allowed a running back to rush for more than 66 yards in a single game against their defense. Eastern Michigan tailback Darius Jackson holds the high mark in this category. In fact, Mississippi State's Brandon Holloway and Auburn's Roc Thomas hold the highest single-game rushing totals against LSU this year from SEC schools (37 yards). 
With the nation's sixth-ranked rush defense, LSU will surely key on Henry. If it can make Alabama one-dimensional, it could severely hinder the effectiveness of Crimson Tide signal-caller Jake Coker. 
This rivalry has been somewhat one-sided over the course of the past few years. Since Nick Saban took over as coach in Tuscaloosa, Alabama has won six of the nine meetings -- including the 21-0 blanking in the National Title Game in 2012. 
There isn't a single player on the current LSU roster that has played in a game where the Tigers came away victorious against the Crimson Tide. This drive to "end the streak" will surely act as a galvanizing force in this game -- especially considering the significance and what it means for a potential playoff berth. For the seniors, this will be their last chance at taking down the massive crimson elephant in the room that's plagued the LSU program since 2011.
The bitter taste of defeat is also something LSU will not want to stomach for an entire year. 
Lastly, LSU must fight fire with fire in this contest. Alabama possesses the No. 3 rush defense in the country -- allowing only 78.5 yards per game on the ground. Conversely, the Tigers are equipped with arguably the most dominating player in all of college football in Leonard Fournette. 
LSU's talented running back is averaging 193.1 yards a game rushing. While Alabama's defense is exceptional, it hasn't faced a threat as talented as Fournette this season.
Alabama's Saban echoed this sentiment during his Monday press conference: "Leonard Fournette is as dominant as any player in the country the way he plays."
Florida sews up SEC East with victory on Saturday
Did anyone anticipate the Gators running away with the SEC East prior to the season starting?
First-year Florida coach Jim McElwain's done an absolutely fantastic job in 2015 -- already matching the win total from a year ago. With a victory over Vanderbilt on Saturday, it will have clinched the SEC East Division crown -- and a date with an SEC West foe in Atlanta. 
Defensively, the team has been suffocating. A defensive line led by Jonathan Bullard and Alex McCalister gets after opposing quarterbacks with regularity. Linebackers Jarrad Davis and Antonio Morrison are as good a one-two punch at the position as there is in the SEC, and a secondary led by Vernon Hargreaves III is exceptionally talented. 
The success from this year will surely impact things going forward. The buzz surrounding "The Swamp" is palpable for the first time in years. An expected uptick in recruiting will only solidify this premise. This truly will set the scene for Florida's reemergence in not only the division, but the conference as well. 
MSU's Prescott's quietly putting together stellar season
When speaking about the potential Heisman Trophy front-runners in 2015, the names of Fournette, Trevone Boykin, Christian McCaffrey, and Corey Coleman instantly come to mind. 
One question does persist: Why not Mississippi State signal-caller Dak Prescott?
The senior out of Louisiana has thrown for 14 touchdowns and only one interception on the season, and has led MSU to a 6-2 overall record. Not only that, but he's also rushed for seven touchdowns and 371 yards on the season.
While the city of Starkville doesn't get a ton of national notoriety, it possesses a truly dynamic and effective quarterback. Prescott ultimately might become the most underrated player in his generation at the position -- and will undoubtedly be one of the best to come out of Mississippi State. 
---
---