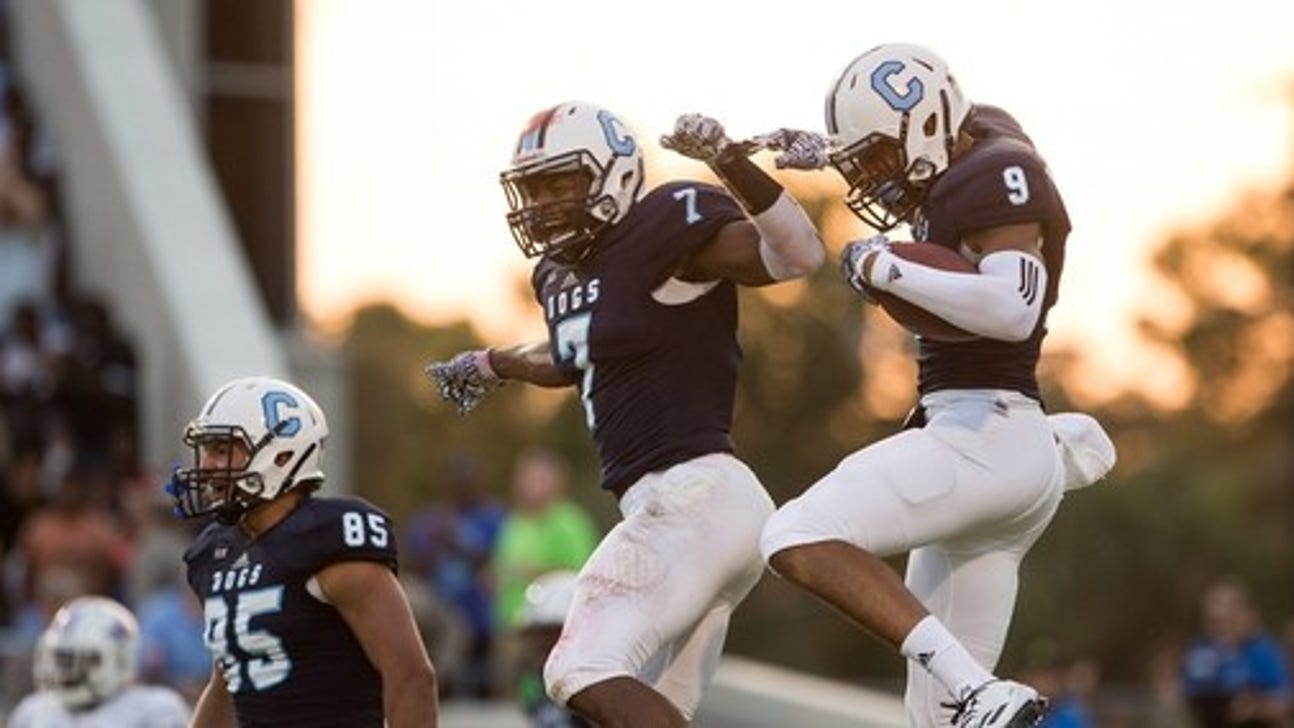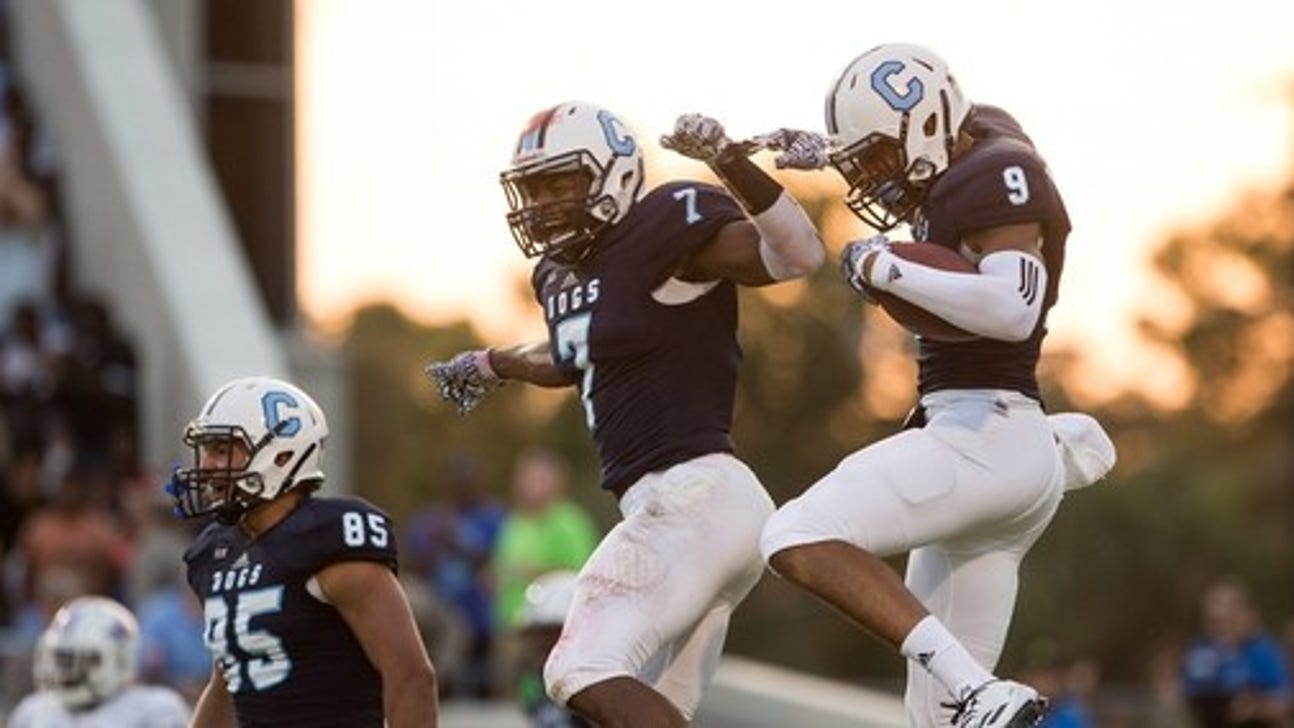 Richmond edges Albany in 3 OTs
Published
Oct. 9, 2016 1:20 a.m. ET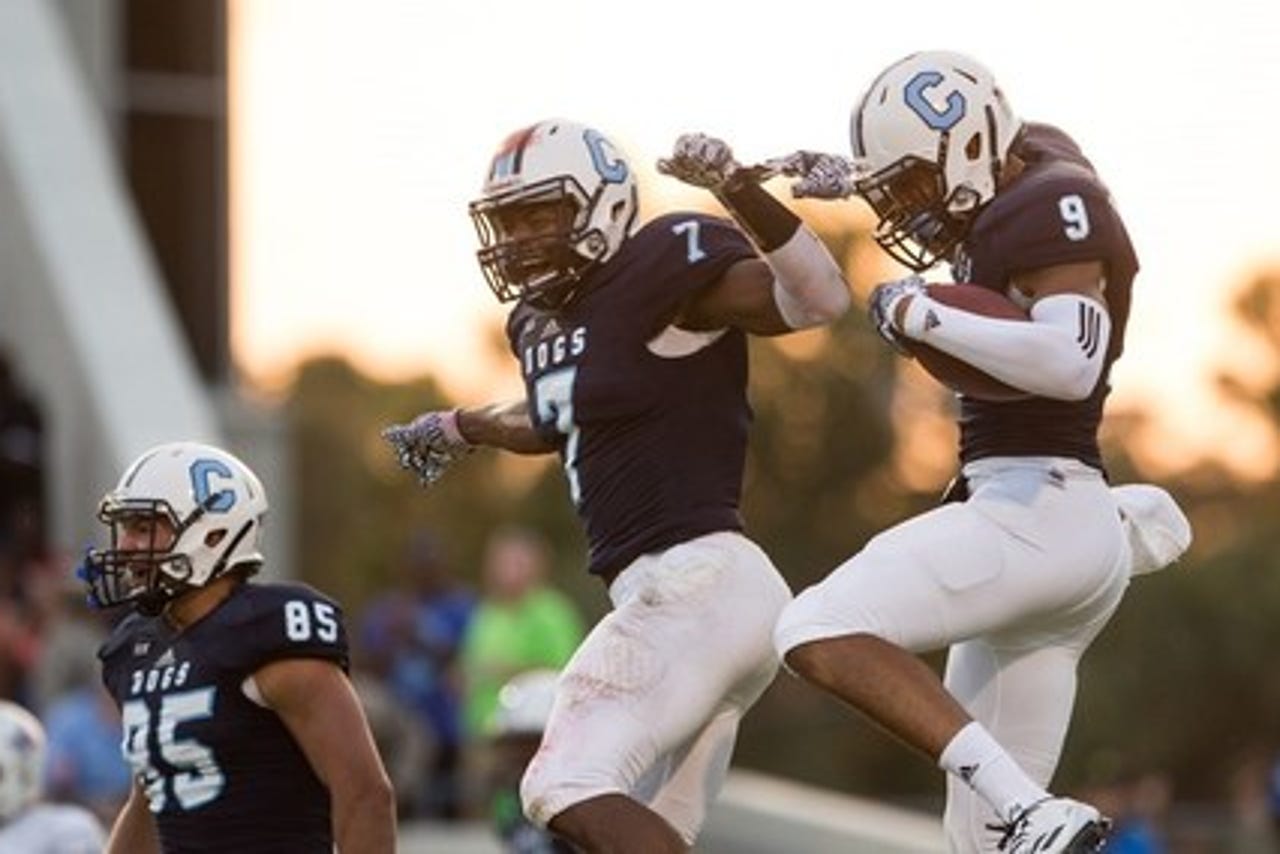 (STATS) - The deep CAA Football race is truly about survival, and that's what No. 6 Richmond did against No. 16 Albany on Saturday as the Spiders pulled out a 36-30 road win in three overtimes.
A loss would have left the Spiders (5-1, 2-1) in a deep hole, as James Madison, New Hampshire and Villanova are each off to a 3-0 start in conference play.
David Broadus' 4-yard touchdown run in the third OT was the difference for the Spiders, whose defense then held Albany on its possession.
The Great Danes (4-1, 1-1), playing their biggest CAA game since joining the 12-team conference in 2013, nearly won in regulation, but Ethan Stark was wide right on a 50-yard field goal attempt as time expired, which kept the score 20-20.
Richmond freshman Deontez Thompson carried the ball 20 times for 112 yards and three touchdowns. He gained 42 of the yards in the overtime periods.
"I'm extremely proud of this group, I can't say that enough," Richmond coach Danny Rocco said. "The resiliency and toughness that these young men put on display tonight was outstanding."
The Spiders shared the CAA title with James Madison and William & Mary last season and were this year's preseason favorite.
---=
STATS FCS TOP 25 SCHEDULE=
Saturday, Oct. 8=
No. 1 North Dakota State (5-0, 2-0 Missouri Valley) 27, Missouri State (3-2, 1-1) 3
King Frazier rushed for 126 yards and two touchdowns and the NDSU defense forced four turnovers. By controlling the clock for 33 minutes, 5 seconds, the Bison have led in time of possession in 35 of their last 36 games.
---=
No. 2 Sam Houston State (5-0, 4-0 Southland) 63, Incarnate Word (1-5, 1-3) 48
The top-scoring offense in the FCS held the ball for less than 19 minutes, but racked up 508 yards and nine touchdowns. Corey Avery needed only 17 carries to rush for 212 yards and four touchdowns, and Jeremiah Briscoe had four touchdown passes among his 14 completions.
---=
No. 3 Jacksonville State (4-1, 1-0 OVC) 40, Tennessee Tech (2-4, 2-2) 21
Jacksonville State stretched its Ohio Valley Conference winning streak to 18 as Josh Clemons rushed for 110 yards and three touchdowns. The Gamecocks had five takeaways, led by safety Delwyn Torbert with a fumble recovery and an interception.
---=
No. 4 Eastern Washington (5-1, 3-0 Big Sky) 49, Northern Colorado (3-2-1-1) 31
Eagles sophomore Gage Gubrud completed 33 of 39 passes for 435 yards and five second-half touchdowns, including four to Shaq Hill. Gubrud also had 79 of EWU's 224 rushing yards.
Hill caught seven passes for 153 yards. Teammate Cooper Kupp was held to five receptions for 59 yards.
---=
No. 5 Chattanooga (6-0, 4-0 Southern) 52, Mercer (2-3, 1-2) 31
The Mocs avenged a loss to Mercer last year - their only Southern Conference loss since the start of the 2014 season - as Alejandro Bennifield was 23 of 31 for 258 yards and four touchdowns.
---=
No. 7 James Madison (5-1, 3-0) 31, William & Mary (2-4, 0-3) 24
In a matchup of two of last year's CAA Football champions, JMU senior Khalid Abdullah carried the ball 25 times for 194 yards and three touchdowns.
With JMU nursing a 24-17 lead, cornerback Taylor Reynolds intercepted William & Mary quarterback Steve Cluley in the end zone with 1:22 to play. Abdullah, the FCS rushing leader, followed with a game-clinching, 74-yard touchdown run with 55 seconds remaining.
---=
No. 10 Montana (4-1) 67, Mississippi Valley State (0-6) 7
Montana's Brady Gustafson was 21 of 26 for 251 yards and four first-half touchdowns, and the Griz defense used five sacks and 11 tackles for loss to drop MVSU for negative-61 rushing yards. The visiting Delta Devils also self-destructed with five turnovers and 12 penalties.
---=
South Dakota (2-3, 1-1 Missouri Valley) 28, No. 11 Northern Iowa (2-3, 1-1) 25
South Dakota quarterback Chris Streveler accounted for 310 total yards and three touchdowns in the upset. He threw 75- and 29-yard touchdowns to Tacari Carpenter and rushed for a 69-yard score.
UNI quarterback Aaron Bailey also had three total touchdowns (two rushing, one passing), but was sacked five times. Austin Errthum missed a 34-yard field goal attempt that could have tied the game with less than five minutes remaining.
---=
No. 12 South Dakota State (3-2, 2-0 Missouri Valley) 45, Southern Illinois (2-3, 0-2) 39
The visiting Jackrabbits never trailed in the game as Taryn Christion was 32 of 51 for 466 yards and five touchdowns, bolstered by his favorite targets, wide receiver Jake Wieneke (six receptions, 164 yards, two touchdowns) and tight end Dallas Goedert (12 receptions, 108 yards, one touchdown).
---=
No. 13 Western Illinois (4-1, 1-1 Missouri Valley) 36, Indiana State (3-3, 1-2) 35
Nathan Kaufman's 41-yard field goal with 11:41 to play gave WIU a one-point lead that stood up. Lance Lenoir caught 11 passes for 204 yards and two of Sean McGuire's three touchdown passes.
---=
No. 14 Villanova (5-1, 3-0 CAA) 35, Rhode Island (1-5, 0-3) 0
Five different Villanova players scored touchdowns and the defense limited URI to 103 yards in the Wildcats' fifth straight win. Linebacker Austin Calitro had eight tackles, including a sack.
---=
No. 15 Youngstown State (4-1, 2-0 Missouri Valley) 20, No. 23 Illinois State (2-4, 0-3) 6
Youngstown State scored the game's final 17 points in the fourth quarter to earn its third straight win and hand Illinois State its fourth consecutive defeat.
The Penguins held the Redbirds to 250 yards and two field goals while quarterback Ricky Davis (97 yards) and running back Tevin McCaster (81 yards, touchdown) led a 276-yard ground game.
---=
No. 19 Eastern Illinois (4-2, 2-1 OVC) 35, Tennessee State (4-1, 1-1) 34
Running back Devin Church scored three touchdowns as EIU handed Tennessee State its first loss. Church's final score, a 4-yard pass from Mitch Kimble with nine minutes remaining, erased a 34-28 deficit.
---=
Southeastern Louisiana (2-3, 2-1 Southland) 31, No. 20 McNeese (3-3, 2-2) 24
McNeese was stunned in the Southland Conference when Justin Alo threw an 82-yard touchdown pass to Brandon Acker with eight seconds remaining.
The host Lions held McNeese quarterback James Tabary to 196 passing yards. He threw two touchdowns and one interception.
---=
No. 22 Harvard (4-0, 2-0 Ivy) 29, Cornell (3-1, 1-1) 13
Junior Semar Smith rushed for three touchdowns and Joe Viviano III passed for 229 yards, including a 3-yard touchdown to Anthony Firkser, to spark Harvard in a matchup of unbeaten Ivy League teams.
The Crimson intercepted Cornell's Dalton Banks three times, including Tanner Lee twice.
---=
No. 24 North Dakota (4-2, 3-0 Big Sky) 40, Sacramento State (1-5, 1-2) 7
North Dakota had three players reach 100 rushing yards in its fourth straight win: Brady Oliveira (111 yards, two touchdowns), Austin Gordon (102 yards) and Keaton Studsrud (100 yards, two touchdowns).
---=
Thursday, Oct. 6=
No. 9 The Citadel (5-0) 38, North Greenville (3-3) 14
The Bulldogs carried the ball 80 times for 559 yards, with Cam Jackson rushing for 107 yards and a touchdowns. Quarterback Dominique Allen and running back Reggie Williams accounted for two touchdowns each.
Brent Thompson became the first Citadel coach to win his first five career games.
---=
No. 18 North Carolina A&T (4-1, 2-0 MEAC) 35, Norfolk State (1-5, 0-3) 0
Tarik Cohen rushed for 200 yards, including a 62-yard touchdown, and set the MEAC all-time rushing record. The senior surpassed South Carolina State's William Ford (4,660 yards from 2006-09) while raising his career total to 4,702.
N.C. A&T posted its second shutout of the season, limiting Norfolk State to 137 yards.
---=
Idle=
No. 8 Charleston Southern (3-2), No. 17 Coastal Carolina (3-2), No. 21 Cal Poly (3-2, 1-1 Big Sky) and No. 25 Central Arkansas (4-1, 3-0 Southland)
---