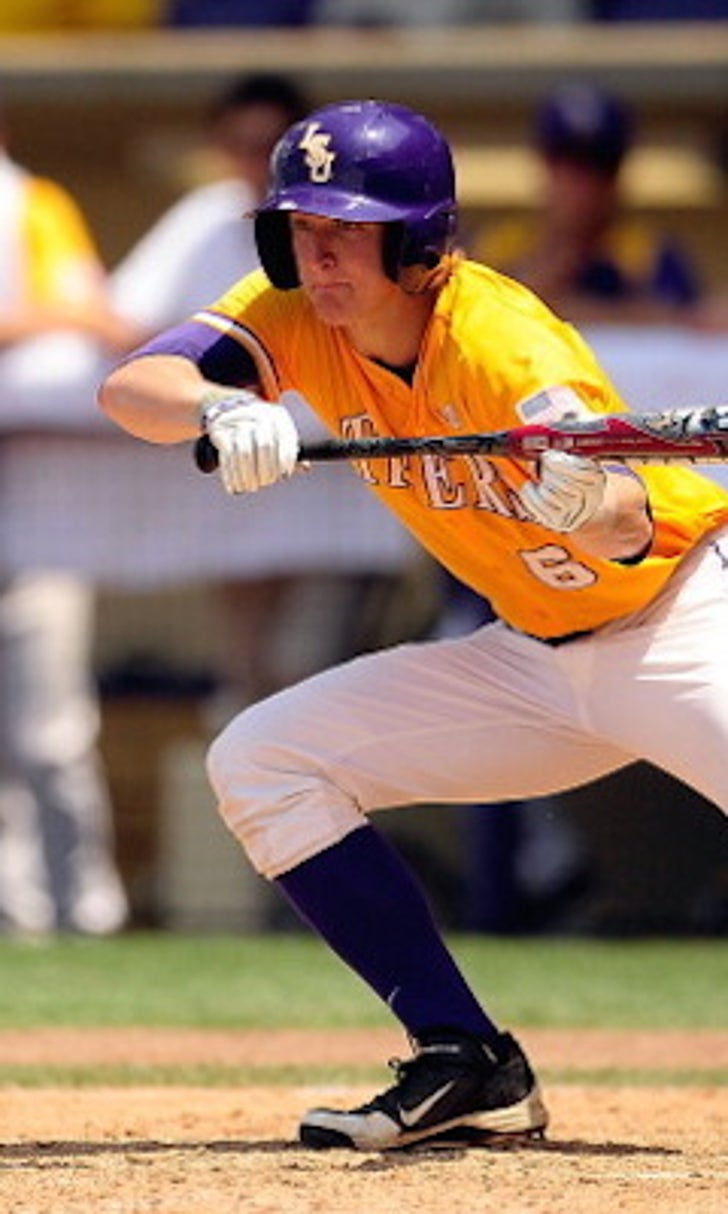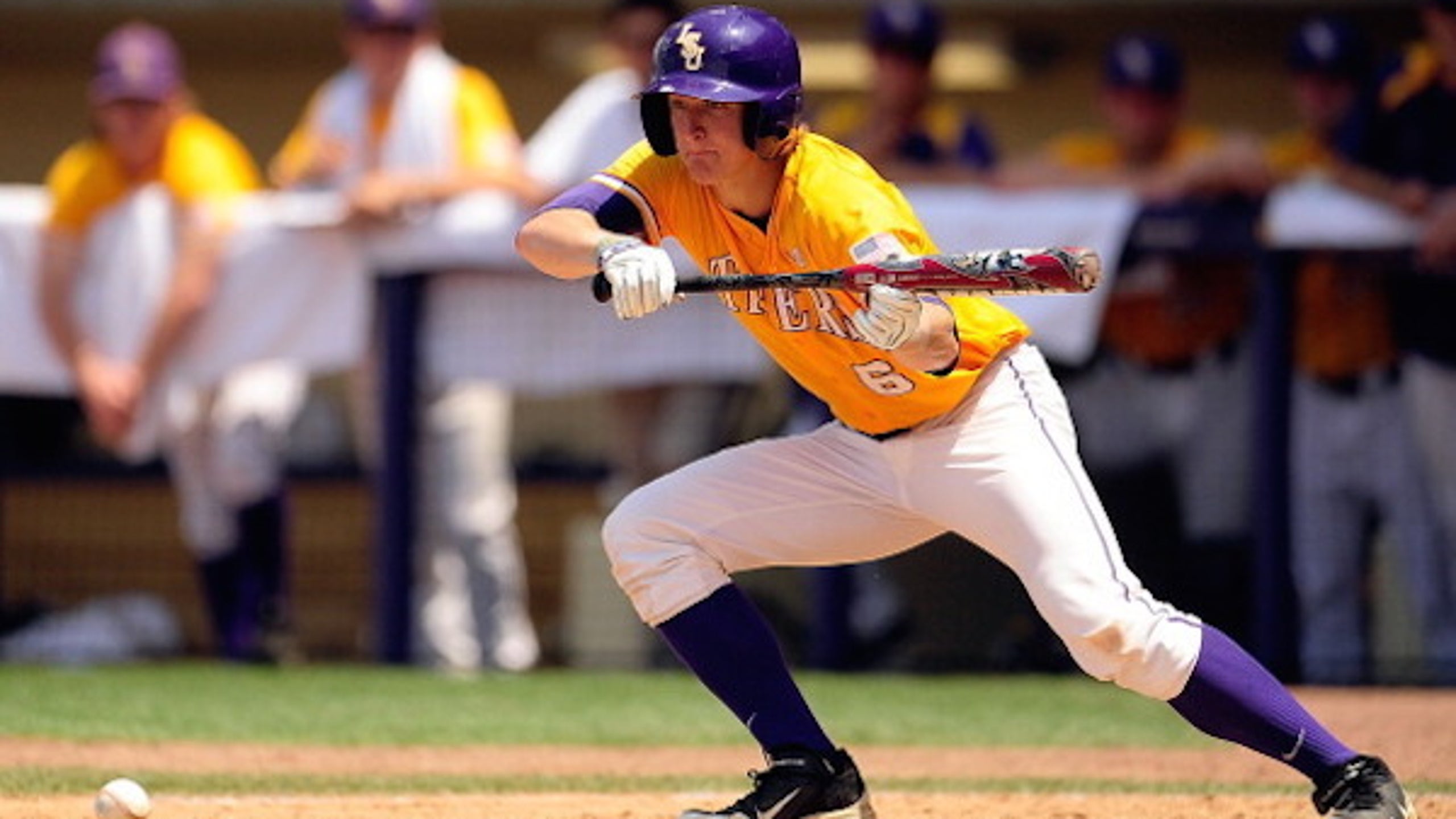 Potentially valuable hitters taken in rounds two through eight
BY foxsports • June 15, 2015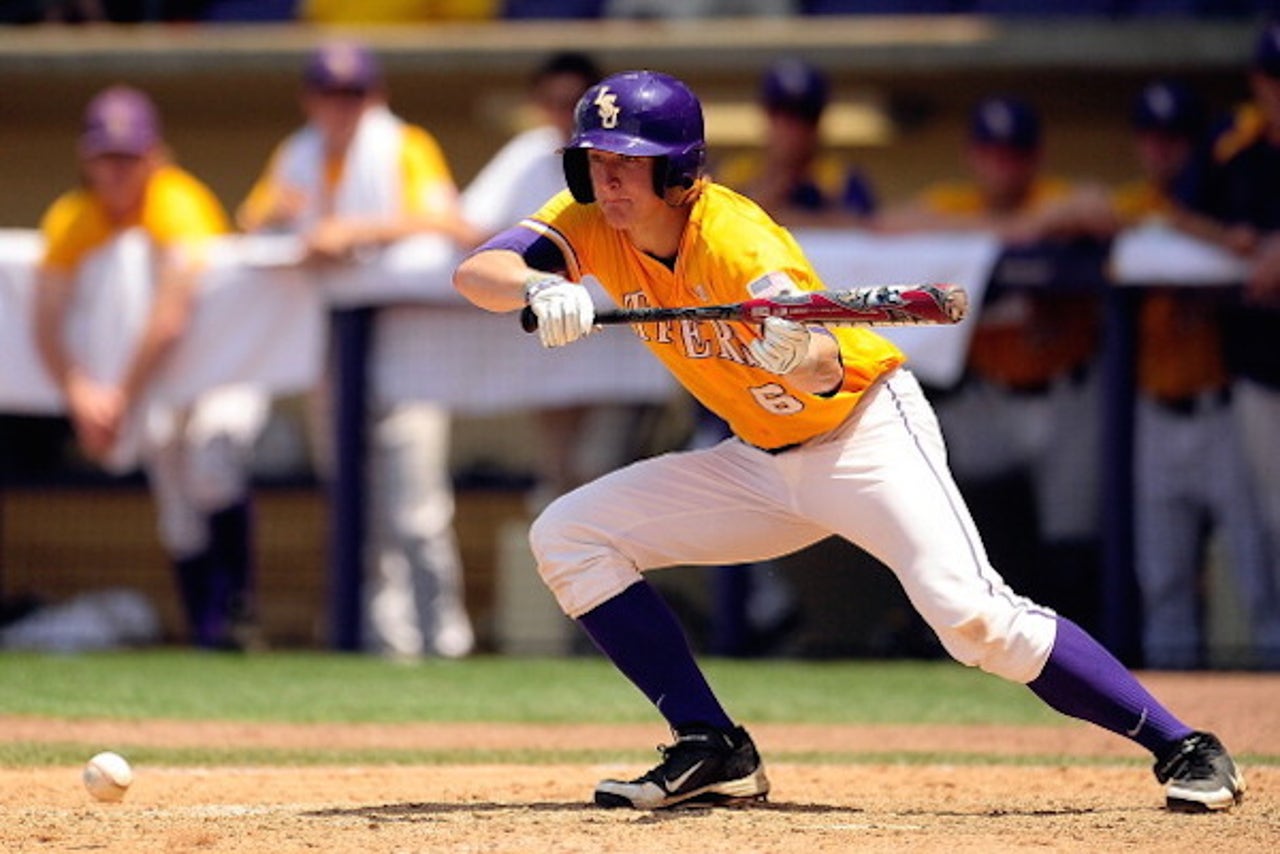 By Chris Mitchell
Last week, I walked through the KATOH projections for each of the college players taken in the first round of this year's amateur draft. The first round is obviously the most important one, as it produces the largest share of the game's productive players. Nonetheless, the proceeding rounds also generate their fair share of quality major leaguers. So, today, I'm going to take a look at some of the hitters selected in rounds two through eight who rated favorably according to my KATOH system.
David Thompson, 3B, New York Mets
Draft Round: 4th
KATOH Projection: 5.7 WAR
After mediocre freshman and sophomore seasons at Miami, David Thompson broke out in a big way in 2015. The third baseman smashed 19 homers and 18 doubles in 64 games on his way to a .333/.445/.658 showing in the ACC. Thompson's breakout likely had something to do with his finally being healthy. Originally a two-sport star at Miami, Thompson opted to give up on his football career following a litany of injuries. Between undergoing four surgeries, while also trying to play both baseball and football, it's easy to see why he only managed an .800 OPS as an underclassman. It's pretty rare for a player to run an ISO north of .300 while striking out in fewer than 10% of his trips to the plate, especially in the ACC, which happens to be one of the best college conferences in the country.
*****
Brendon Sanger, RF, Los Angeles Angels of Anaheim
Draft Round: 4th
KATOH Projection: 3.9 WAR
Outfielder Brandon Sanger spent his college days at Florida Atlantic University, which isn't exactly known as a baseball powerhouse. The best player to come out of FAU is likely Jeff Fiorentino, who now serves as the school's assistant coach. Nonetheless, FAU's conference — Conference USA — is one of the better ones in the nation at churning out big leaguers, and Sanger was one of the very best hitters in said conference. The slugging outfielder led his conference both in batting average and triples this year, on his way to a .370/.492/.583 performance. Although he hit just seven homers in his 61 games, his 24 non-homer extra base hits and 10% strikeout rate make him an intriguing bat.
*****
Ronnie Jebavy CF, San Francisco Giants
Draft Round: 5th
KATOH Projection: 1.7 WAR
Brandon Sanger lead the C-USA in batting average, but Ronnie Jebavy was a close second with his .359/.408/.531 performance. Jebavy doesn't hit for a ton of power, as evidenced by his sub-.200 ISO, but his 88 hits were tops in the C-USA. Jebavy is more than just a good hitter, but he also complements his offensive exploits with tremendous speed. His 24 steals were tops in his conference by a wide margin, and he's also turned some heads with his defense. His highlight reel catches have made SportsCenter's top 10 plays on multiple occasions. Here's a look at one of those plays.
*****
Ka'ai Tom, CF, Cleveland Indians
Draft Round: 5th
KATOH Projection: 1.5 WAR
I'm not really sure how to pronounce Ka'ai Tom's first name, but I am sure that he destroyed SEC pitching this year. The 5-foot-9 Hawaiian hit .375/.443/.528 at the University of Kentucky. His .375 average was second only to the one produced by Andrew Benintendi, who was drafted seventh overall. Tom posted a .153 ISO, which is to say he didn't hit for very much power. However, of the extra bases he did hit, many of them were doubles, which I found to be strong predictors of big-league success in my KATOH work. It's also encouraging that he swiped 15 bags in his 55 games.
*****
Scott Kingery, 2B, Philadelphia Phillies
Draft Round: 2nd
KATOH Projection: 1.4 WAR
Unlike the players listed above, Scott Kingery actually received a good amount of hype heading into the draft. Kiley McDaniel ranked him 32nd overall in his pre-draft rankings, but the University of Arizona second baseman wound up falling all the way to pick #48. Kingery hit a loud .392/.423/.561 in the Pac-12, and kicked in 11 steals to boot. He barely walks and doesn't hit for much power, but he still managed to be one of his conference's best hitters by turning in .392 average on the strength of a 7% strikeout rate. The fact that he's already moved off of shortstop doesn't bode particularly well for his defensive upside, but there's a lot to like about his contact-oriented offensive package.
*****
Brandon Lowe, 2B, Tampa Bay Rays
Draft Round: 4th
KATOH Projection: 1.3 WAR
There's nothing particularly sexy about Brandon Lowe. He's a non-shortstop infielder who comes from a non-elite conference and he doesn't stand out in any one area offensively. Yet, taken altogether, his skill set is a solid one. Lowe's power (.211 ISO) and plate discipline (38:33 walks to strikeouts) resulted in a .331/.436/.532 campaign at the University of Maryland, which earned him the fourth-highest OPS in the Big 10 Conference. Furthermore, his 11 steals imply some degree of athleticism.
*****
Donnie Dewees, OF, Chicago Cubs
Draft Round: 2nd
KATOH Projection: 1.2 WAR
Like Kingery, Dewees was also rumored to go in the later part of the first round, but ultimately fell to the second. Dewees faced weak competition in the Atlantic Sun Conference, but hit well enough to prove that he's ready for a bigger challenge. Dewees turned in a .422/.483/.749 batting line in his junior season at North Florida. Yes, you read that right. Unsurprisingly, his .422 average, 18 homers and 23 steals were all tops in his conference.
*****
Mitchell Tolman, 3B, Pittsburgh Pirates
Draft Round: 7th
KATOH Projection: 1.2 WAR
Yet another Pac-12 product, Mitchell Tolman lead the conference in OBP on the strength of his .325 batting average and 15% walk rate. There wasn't much power in his .325/.457/.468 batting line, but he did manage 20 doubles in his 62 games. If you're only going to hit for modest power, it's best to do it with lots of doubles in KATOH's eyes. That's exactly what Tolman did in his junior season at Oregon.
*****
Andrew Stevenson, CF, Washington Nationals
Draft Round: 2nd
KATOH Projection: 1.1 WAR
Empty .350 hitters are a rarity at any level, but Andrew Stevenson did his best impersonation of one with his .356/.407/.458 showing at LSU. Although he neither walked nor hit for much power, Stevenson still managed to be one of the top hitters in the SEC by way of his 10% strikeout rate and his plethora of singles. In addition to hitting for a high average, Stevenson also flashed good speed by swiping 26 bases — good for second in the SEC. He also flashed that speed when he made this play. In case you were wondering, he doubled off that runner on first.
*****
Jeff Hendrix, CF, New York Yankees
Draft Round: 4th
KATOH Projection: 1.0 WAR
KATOH has a thing for Pac-12 players. Jeff Hendrix represents yet another unheralded hitter from the conference who did encouraging things at the plate this year. The center fielder hit an impressive .339/.446/.534 at Oregon State with a handful of steals. There's no one skill that stands out here, but the overall package is a solid one.
---
One of the findings of my KATOH research was that players who stuck around for their senior seasons generally had worse outcomes than their junior counterparts. For this reason, none of this year's potential senior signs cracked my top ten. However, senior signs do, on occasion, go on to make an impact in the major leagues. For this reason, I decided I'd include the highest-ranked senior sign from the first eight rounds of the draft.
Garrett Stubbs C, Houston Astros
Draft Round: 8th
KATOH Projection: 0.7 WAR
The top senior sign also comes out of the Pac-12, in the person of Garret Stubbs, who spent all four years of his college career at USC. Stubbs hit progressively better over his college stay, posting OPSs of .508, .625, .692 and .869, respectively. However, even in his strong .346/.435/.434 senior campaign, Stubbs didn't hit for a lick of power — not particularly surprising given his 5-foot-10, 165 frame. In addition to hitting for a high average, Stubbs also swiped 20 bases in his 57 games, which is rather surprising coming from a catcher. It's unlikely that Stubbs will ever hit for power, but he could be a nice little player if he can stick behind the plate.
More from Fangraphs:
---