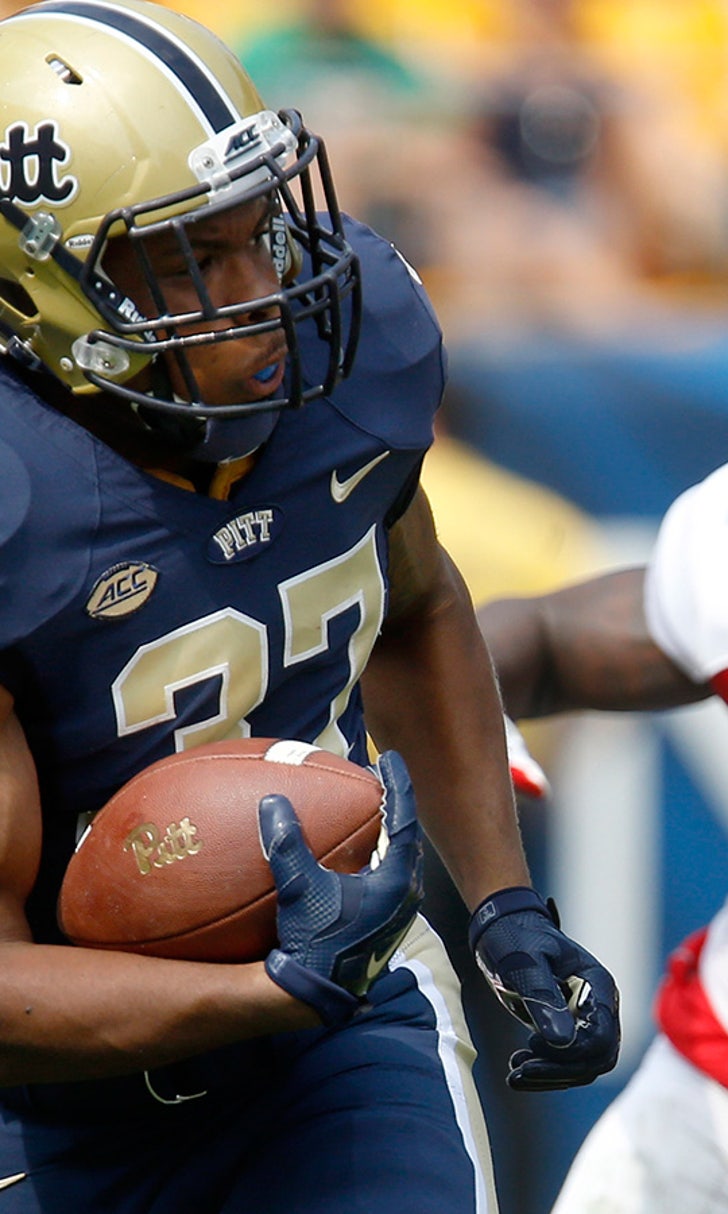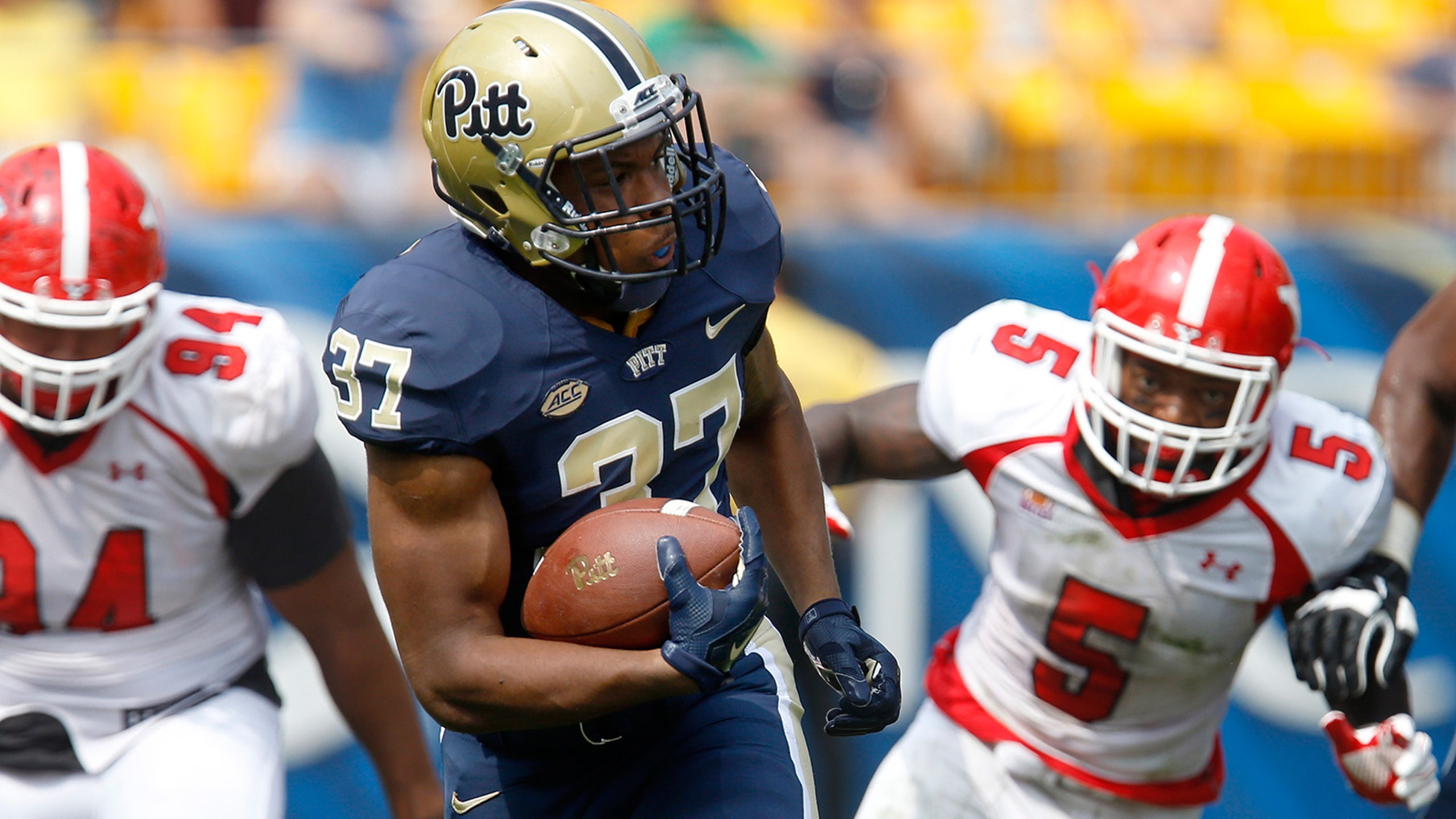 Pitt RB Ollison trying to seize the opportunity ... and the ball
BY foxsports • October 14, 2015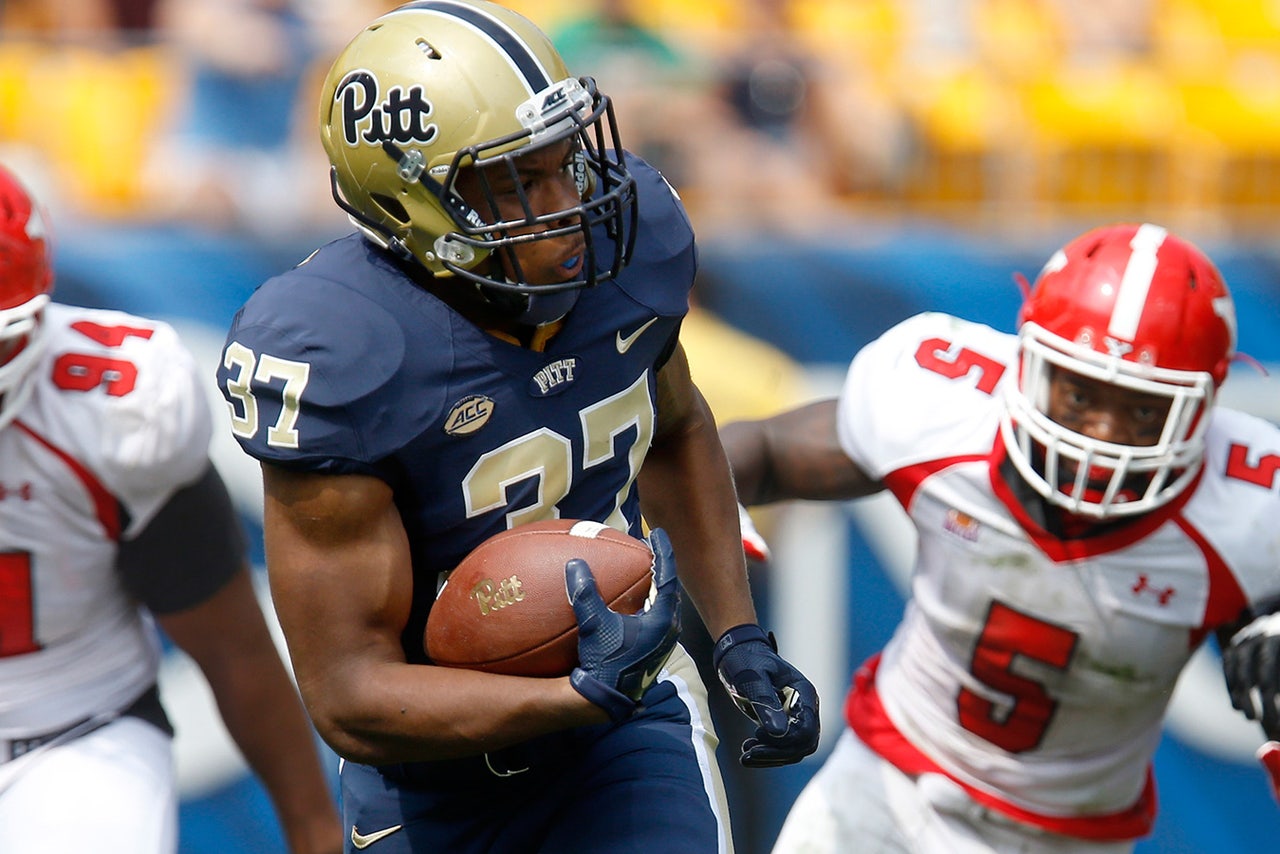 It's the calm before the storm.
Before each game Pitt running back Qadree Ollison takes a few minutes to himself to get focused. Then he takes the field and unleashes his 6-2, 230-pound frame on opposing defenses.
"I try to take a really deep breathe on game day and just try to relax myself," Ollison said. "I always tell myself, 'You know what to do. Now you just have to go out and do it.' I try to relax myself as much as possible."
Ollison's Zen-like approach was put to the test early. The redshirt freshman, who began fall camp third on the depth chart, was thrust into action when all-everything running back James Conner sustained a season-ending knee injury during the Panthers' season opener against Youngstown State.
In 2014, Conner was the ACC Player of the Year and an All-American after he rushed for 1,765 yards and 26 touchdowns. Big shoes to fill.
Instead of panicking, Ollison stayed calm and channeled his inner Tony Dorsett, rushing for 207 yards and a touchdown on 16 attempts to lead the Panthers to a 45-37 victory.
"This is a game where things happen. You wish they didn't happen, but injuries do happen so you just have to stay ready for that moment," Ollison said. "My number was called. I just tried to tell myself, 'Here we go. Here's your opportunity.'
"Then I just tried to seize the opportunity and make the best of it. And that's just what I'm trying to do week-in and week-out. I just want to take this great opportunity that I've been given and get better."
With his performance versus Youngstown State Ollison joined Dorsett, Conner and Curvin Richards as the only freshmen running backs in Pitt history to eclipse the 200-yard mark in a game.
"It's an honor," Ollison said. "I didn't know that stat, but it's an honor to be up there with greats like Tony Dorsett."
Right now, Ollison is up there with the top running backs in the ACC, as his 476 rushing yards and 95.2 yards per game both rank fourth in the conference.
While Ollison is in the midst of a bright season, it hasn't always been sunny in Pittsburgh. The running back rushed for 17 yards on four attempts in a 27-24 loss to Iowa and has had issues with ball security.
"He got surprised in that first game by getting all the reps he did and he really surprised me with his success because he didn't prepare for it or plan on it," Pitt's first-year coach Pat Narduzzi said. "I think sometimes it might be easier to come in as a backup then it is to have the pressure of being 'The Guy.'"
In last Saturday's 29-16 win over Virginia, Ollison gained 49 yards on 13 attempts and scored his fourth touchdown of the year to help the surging Panthers improve to 4-1 (2-0) and tie Duke for first place in the ACC Coastal Division.
However, Ollison committed a crucial fumble on a goal line situation late that could have been a tide-turner. That turnover partially explains why he has an "OR" next to his name on the depth chart heading into Pitt's contest at Georgia Tech (2-4, 0-3 ACC) Saturday.
"We've talked about it. We're just making the turnover drills we've been doing a little more realistic. (Running backs) Coach (Andre) Powell is going to carry a bat out to practice and if he does put the ball on the ground just hit him with it," Narduzzi joked. "I mean, what are you going to do? It probably reflects on the 'OR' next to his name.
"You know, who's going to hold on to it? You've got to secure the football, and after last year and the nightmare we had there (against Georgia Tech) it can't happen."
Ollison is aware of the issue, and has taken a mature approach in trying to resolve the manner.
"Right now I'm learning every week, every day in practice and every game," Ollison said. "This past game we had first down on the goal line and I tried to reach the ball across and I fumbled.
"I'm still young and I'm learning. You just have to grow up faster and just start getting better each day and each game."
One deep breath at a time.
---
---