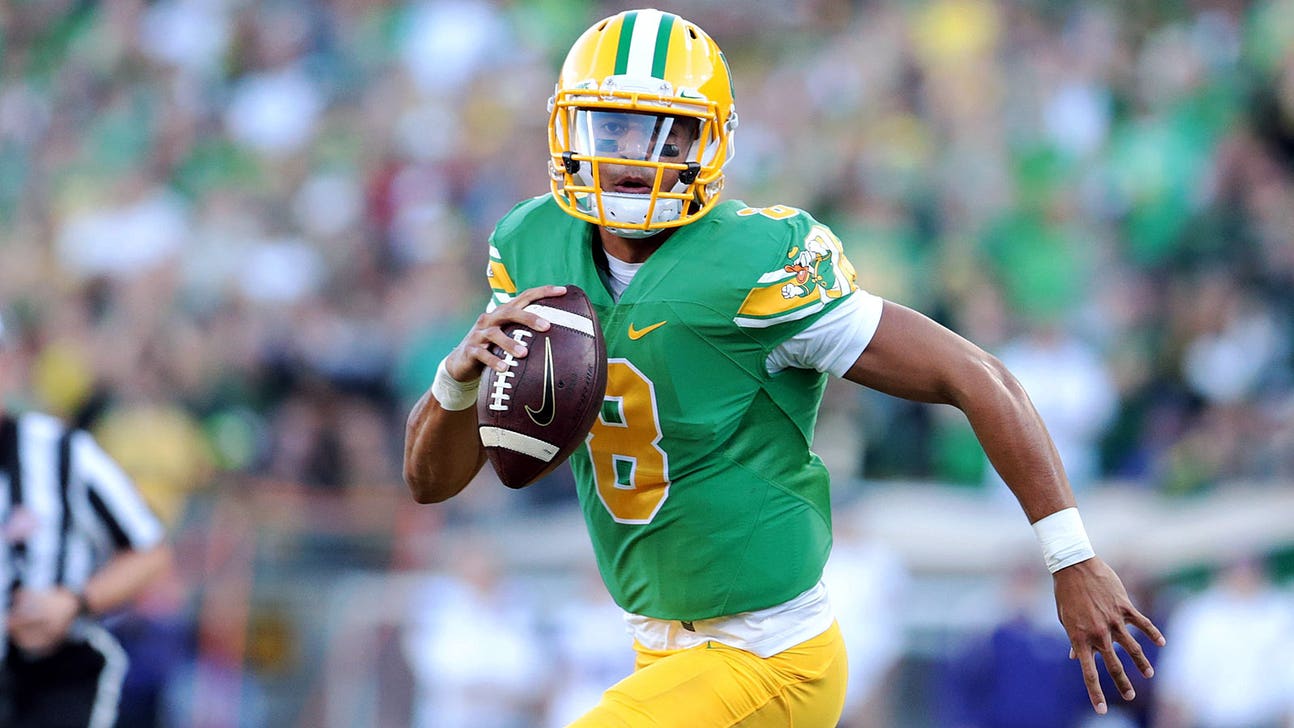 Oregon Ducks vs. California Golden Bears: TV coverage, live stream, preview
Published
Oct. 23, 2014 2:19 p.m. ET

Game information for Oregon vs. Cal in Week 9:
When: Friday, Oct. 24, 10:00 p.m. ET
Where: Santa Clara, Calif.
TV: FOX Sports 1
Live stream: You can stream the game live here.
Preview (from AP): Marcus Mariota hasn't given much thought to being part of the first college football game played at Levi's Stadium. It's probably because the Oregon quarterback plans to return to the $1.3 billion facility in another six weeks.
Mariota and the sixth-ranked Ducks (6-1, 3-1) are riding a modest two-game winning streak heading into Friday night's game against California (4-3, 2-3). They're in first place in the Pac-12 North and positioned to make a serious run at their first conference title since 2011.
Levi's Stadium, the new home of the San Francisco 49ers and site of the Super Bowl in 2016, will host the Pac-12 championship game on Dec. 5.
Mariota, the Heisman Trophy candidate who is on the verge of becoming Oregon's career passing leader, plans on being there.
"It'll be exciting," Mariota said. "My brother and my dad are huge Niner fans. It'll be fun for us. It's a different experience, it's an opportunity to experience an NFL stadium, a new one."
Levi's Stadium is about 40 miles south of Cal's Memorial Stadium. The game was moved to accommodate the weeknight parking, which would have created a traffic nightmare around the Golden Bears' campus.
Ironically, the 49ers were not allowed to have a weeknight home game this season because of traffic concerns around the facility.
"We're definitely excited to play there," Cal quarterback Jared Goff said. "We're treating it like any other game. As far as preparation and game week, it's going to be the same. But once we get there and get to see the field and the venue, it's going to be really cool."
The stadium holds 68,500, though the crowd for Friday's game might be significantly smaller. While Oregon's fan base tends to travel well, local interest in the game might be tempered by the San Francisco Giants hosting Game 3 of the World Series the same night.
Even the Bears have tried downplaying the significance of playing a home game away from Memorial Stadium.
"There's a little bit (of excitement) but not as much as you might think," Cal cornerback Cam Walker said. "We're trying not to think too much of it. But I think it's going to be cool."
Here are some things to watch when Cal hosts Oregon:
TWO OF THE PAC-12'S BEST: Mariota has received a ton of national recognition and attention, and rightfully so. He has thrown at least one touchdown in all 33 games he's played in for Oregon and needs just 45 yards passing to become the Ducks' career leader. Goff is no slouch, either. A sophomore, Goff has the fourth-best passer efficiency rating in the country and has thrown 42 career touchdowns in just 19 games.
BEARS RUNNING GAME GROUNDED: Cal has been held to 64 yards rushing or fewer in each of its previous three games, a big reason why the normally high-power offense has scored just 41 points over the past two weeks. It hasn't been due to a lack of trying. Over its last 82 carries, coach Sonny Dykes' team is averaging just 2.2 yards.
NO WEATHER WORRIES: Goff had a miserable experience the last time these two teams played, and it was only partially due to Cal's 55-16 loss. The game was played in stormy conditions, with wind and rain pummeling players throughout the day. A freshman at the time, Goff was pulled in the first half after completing just 3 of 7 passes for 11 yards. The weather outlook for Friday calls for a slim chance of rain but nothing like what happened in 2013.
CONTAINING THE DUCKS: If the Bears have any hopes of ending their five-game skid against the Ducks, they need to slow down Mariota and keep Oregon from stretching the field. That's easier said than done considering coach Mark Helfrich's team is averaging a conference-leading 10.4 yards per passing play while Cal ranks last in the Pac-12 in pass defense. "You can't just let them big-play you to death because they will," Dykes said.
---