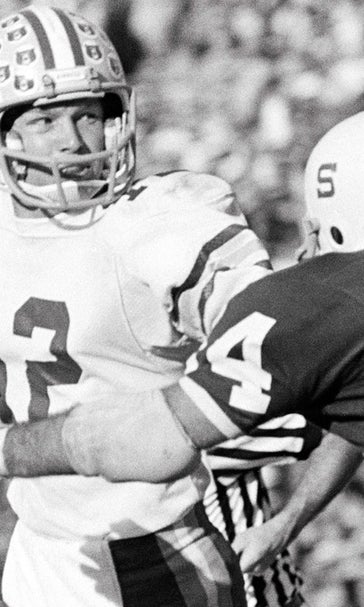 'Once in a generation': Film explores exemplary life of Cal legend Joe Roth
October 28, 2015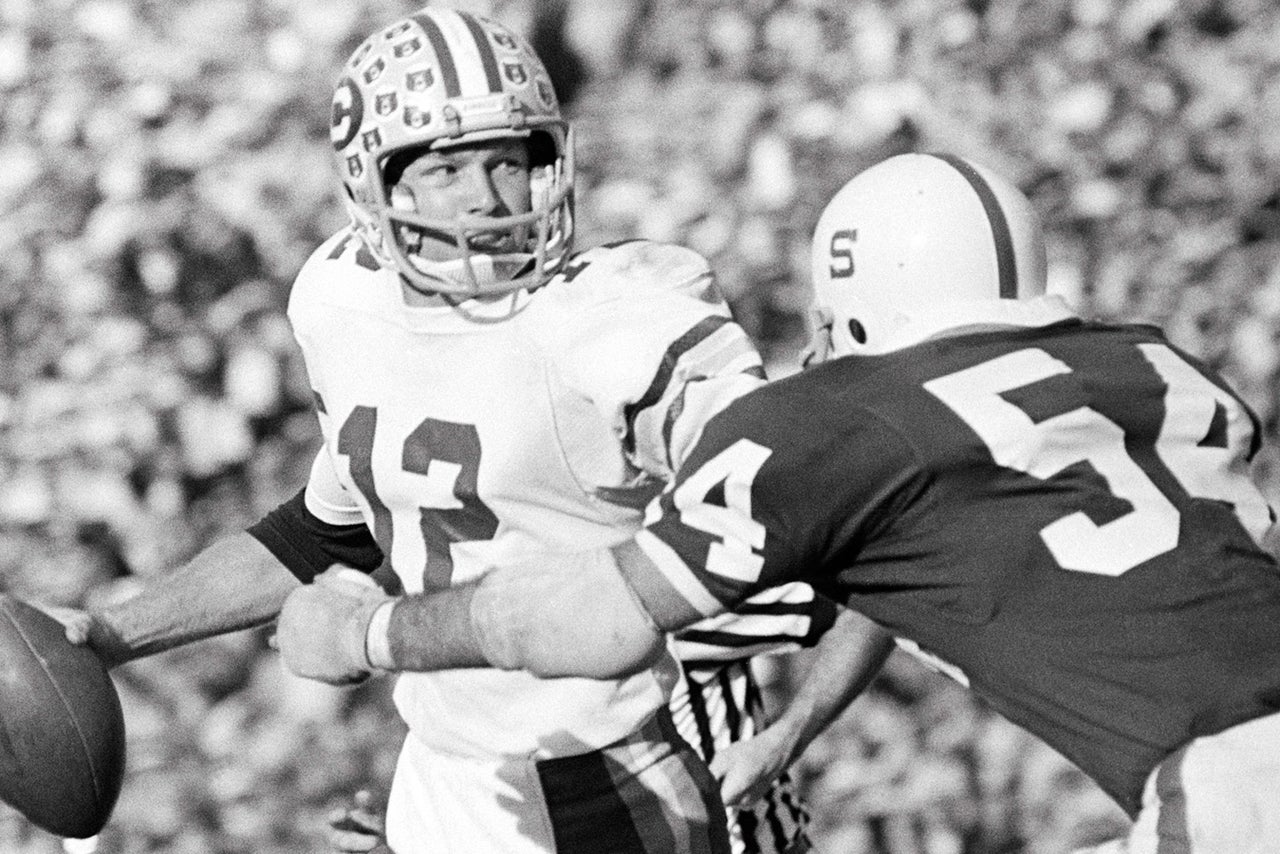 Joe Roth is one of the most compelling figures in Pac-12 history. A star QB at Cal in the mid '70s, Roth was a preseason All-American expected by many to lead the Golden Bears to their first Rose Bowl in almost two decades. He played his senior season while battling an aggressive strain of malignant melanoma. Months later, Roth was gone, at age 21.
His story is told in a powerful new documentary that debuted this week on the Pac-12 Network, called "Don't Quit: The Joe Roth Story." It took Cal grads Phil Schaaf and Bob Rider five years to make the film. Recently, I caught up with Schaaf to discuss, among other things, Roth, the quarterback's legacy and this project.
Q: What made you want to do a doc on Joe Roth?
Schaaf: The film is the brainchild of friend and co-director Bob Rider. A Cal alum, Bob was intrigued by the outline of Joe's story, but could not find much information about Joe's life, especially off the field. One crucial thing Bob discovered, however, was that Joe died from metastatic melanoma, the same disease which took the life of his younger sister, Kerry, in 2003. That discovery, in combination with the inspirational timelessness of Joe's humble character, galvanized the project around the goal to inform a new generation to Joe's example while raising awareness of melanoma, the predatory disease that takes the life of one American each hour.
We hope people see the film and try to be a bit like Joe Roth, i.e. nicer to their fellow man. More important, for individuals to be proactive about their skin's health. Melanoma is treatable and beatable, but the key is early detection through annual checkups with a dermatologist. As our friend, Dr. Susan Swetter of Stanford University's SUNSPORT program, says: "One millimeter makes a difference."
Q: What was the most surprising thing you learned while working on this project?
Schaaf: Two things: the first being that Joe really was as nice as everyone says. There are no skeletons in his closet. We spoke to 160 people that knew him over the course of his 21-year-and-266-day life, and there is not one story that speaks to a moment of moral failing or insensitivity to others. He was, in a world where no one can agree on anything, the rare person about whom we can all agree ... and for all the right reasons.
The second surprising thing is that he handed in a paper 10 days before he died. To be clear, Joe was not battling a case of the sniffles, or a severe case of the flu. He had cancer coursing through his entire body. In fact, two days after turning the paper in, he was [crippled] and could not walk. To think that he completed a school assignment while fighting to remain perpendicular goes beyond the boundaries of known vocabulary. Furthermore, in a day and age where the subject of student-athlete is complex and, at times, controversial, Joe's commitment to scholarship was like everything else about his life: exemplary.
Q: For people who never saw Joe Roth play, how would you describe the kind of player he was?
Schaaf: Simply put, he was great, a once-in-a-generation-type talent who had the attributes that every coach seeks in a QB: poise, decision-making, pocket presence, release, accuracy and the ability to do it in pressure-packed moments. In the film, [Dallas Cowboys] personnel legend Gil Brandt comments that Joe could have been the No. 1 overall pick in the 1977 draft and definitely would have been in the top five. Brandt also directed the ultimate compliment towards Joe, saying, "We'd love to put a star on your helmet."
A fun aspect of the production was that before an interview would begin, we would show the interviewee highlights of Joe. During those moments, the coaches' and former players' eyes were riveted by what they saw, especially with respect to his release, often comparing him to Dan Marino. In addition to the many Marino references, Vince Ferragamo said, "In today's NFL, Joe Roth mostly resembles Tom Brady." Tony Dungy and Al Saunders mentioned Peyton Manning, and everyone brought up Joe Montana's name because they shared similar physical attributes and also that rare quality of preternatural composure.
One important thing to note is that Joe played in a running back-oriented era, and schools did not throw the ball that often. Cal, however, had a progressive passing offense under Mike White and his OC, Roger Theder. The Bears threw it 30+ times a game and were the first team, in college or the pros, to feature the running back, e.g. Chuck Muncie, as receiver.
Q: What was your process like to work on this project, and what was the biggest challenge you faced getting it onto the screen?
Schaaf: Our first task was to get the Roth family's permission. Once they gave us their support, we reached out to those closest to Joe, such as his head coach Mike White and former teammates like Fred Besana and Bob Warner. We understood that Joe's story had been buried in the shadows of Strawberry Canyon and Cal's campus for a reason ... because his family/friends respected his privacy and protected it fiercely. Once Joe's inner circle got behind the project, people enthusiastically participated and, as the film shows, shared intensely emotional feelings about their late friend.
From a storytelling standpoint, it was a very straightforward process. We knew that Joe had written/directed the events of his life and through his wonderful family and friends, we were the lucky guys who got to publish it. Our editorial job, therefore, was very simple: Get out of the way.
An interesting anecdote involves his friend and former teammate Jack Clark, who now coaches Cal's internationally recognized rugby team. Clark told us the day we first spoke that Joe's story should be "told by those who knew him, especially those who played with him, because if you did not see how Joe went about his business, conducted his affairs and led by example, then you would never be able to understand the full context of his life." Clark then paused for a moment before whispering, "You could learn something from Joe just by watching him put his shoulder pads on."  
Being first-time filmmakers, our strategy was to participate in a few film festivals (where it won multiple awards), get some media exposure and then find the best partner for its broadcast premiere. The best fit, and ultimately the most interested party, was the Pac-12 Network. We are thrilled that "Don't Quit: The Joe Roth Story" is the first feature-length documentary to be broadcast on the network. In addition to the obvious conference connections, they truly appreciate the fact that Joe was a great player and even better human being.
Q: How would you describe Joe's legacy at Cal?
Schaaf: Joe is the only player in the history of Cal football to have his jersey retired. In addition, there is an annual Joe Roth Memorial Game that is played against either UCLA or USC, and the team votes on a Joe Roth Award winner, the most prestigious award any Cal football player can win.
A great story worth sharing is that the 2014 winner is Austin Clark and he attended Cal, in part, through a recommendation from Joe's old friend Tony Dungy. Austin grew up in Florida and played with Tony's son, Eric, at Plant High School. When Tony asked Austin where he wanted to go to college, he said "Cal," and Tony cold-called Cal on his behalf. Austin walked on as a freshman, earned a scholarship as a junior and won the Joe Roth Award in his last year of eligibility before being hired as a coach. When Austin saw the film and learned that Tony and Joe were friends, it made winning the award even more special. 
Bruce Feldman is a senior college football reporter and columnist for FOXSports.com and FS1. He is also a New York Times best-selling author. His new book, "The QB: The Making of Modern Quarterbacks," came out in October 2014. Follow him on Twitter @BruceFeldmanCFB and Facebook.
---
---