Ole Miss-LSU: Why Rebels can run table and win national championship
Published
Oct. 22, 2014 3:15 p.m. ET

It all starts up front.
After breaking down tape of the Ole Miss defense, there's absolutely no doubt the Rebels run rampant in the trenches like no other defense in the country. They play with a palpable perniciousness. Every. Single. Play.
The Rebs' defensive linemen are well-coached and the main reason Ole Miss' defense is ranked in the top 10 in both rush defense and QB pressures (defined as a sack, hurry or knockdown). They play with great leverage, they're violent with their hands (they don't get stuck on blocks), they're disciplined in run fits and on passing downs they work in harmony to orchestrate a beautiful disaster that envelops opposing passers.
My colleague Bruce Feldman highlighted Robert Nkemdiche in his Big Picture column last week, sharing a play and quote from D-line coach Chris Kiffin. From Feldman's piece:
Kiffin brings up a play from the Rebels' win over Alabama two weeks ago where Nkemdiche freight-trains a 300-plus-pound Crimson Tide guard on the way to the QB. "It's the most violent thing I've ever seen on a play," he said.
The play and Kiffin's quote are a microcosm of the violent symphony that is Ole Miss' defensive front and why the Rebels are legitimate national championship contenders.
Here's a closer look at what makes Ole Miss' defense so good as the No. 3 Rebels prepare to battle No. 24 LSU on Saturday night in Tiger Stadium.
LSU's slim chance vs. Ole Miss
First, a snapshot of the game.
The Rebs' defensive line is one of the most active in the nation, and it's due in large part to their depth -- they rotate 10 or more players along their defensive front so players stay fresh. This is where they separate themselves from some of the other best defensive lines in college football like those at Louisville, Washington, Ohio State and Clemson, among others. You know Ole Miss' depth is quality when a non-starter (true freshman DE Marquis Haynes) is leading the team with seven sacks.
Haynes, C.J. Johnson, Fadol Brown, Issac Gross, et al., will be unleashed against the Tigers this weekend. After getting thumped by Auburn and snagging a come-from-behind win against Florida, LSU finally played the type of ball we've become accustomed to seeing from them. They ran the ball relentlessly and played dominant defense on their way to a 41-3 walloping of Kentucky.
The Tigers ran the ball a whopping 51 times for 303 yards. Senior running back Terrence Magee led the way with 127 yards rushing on nine carries and 220 all-purpose yards, but QB Anthony Jennings threw the ball only 14 times -- completing only seven for 120 yards.
Common sense says they'll need to rely on the run to beat the Rebs, because no LSU QB has shown they can get the Tigers a win through the air. Tigers QBs have completed only a smidge over 50 percent of their 176 pass attempts -- Anthony Jennings: 49 percent, seven TDs, three INT; Brandon Harris: 55.6 percent, six and two -- and only 19 FBS teams have thrown the ball less.
LSU's offensive line, though, has flashed the ability to get push and open up running lanes. That's exactly what they'll need to do if they want to upset Ole Miss in Death Valley. Here's an example from LSU's last game that shows the big O-line's potential.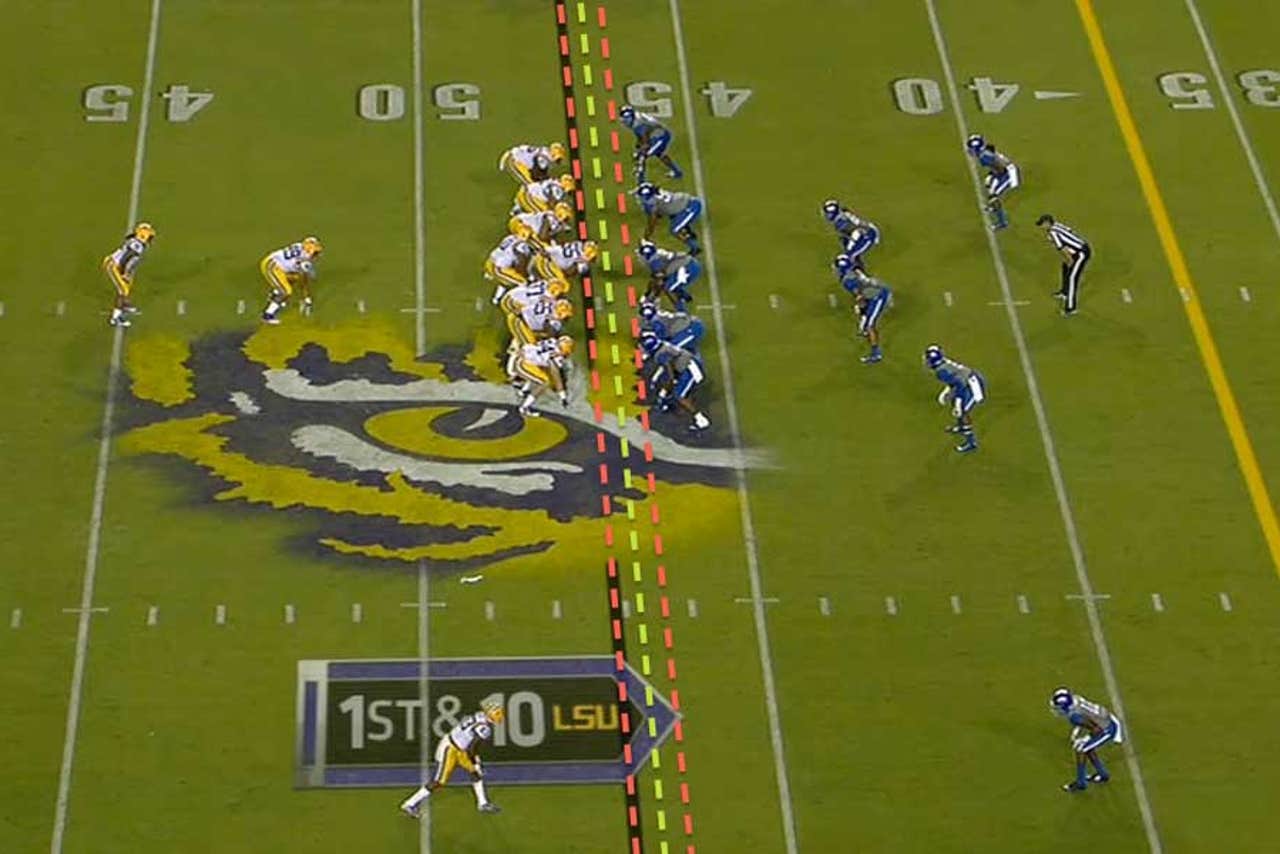 Take note of the original line of scrimmage and the amount of push the Tigers get after the snap. This play resulted in a 38-yard run.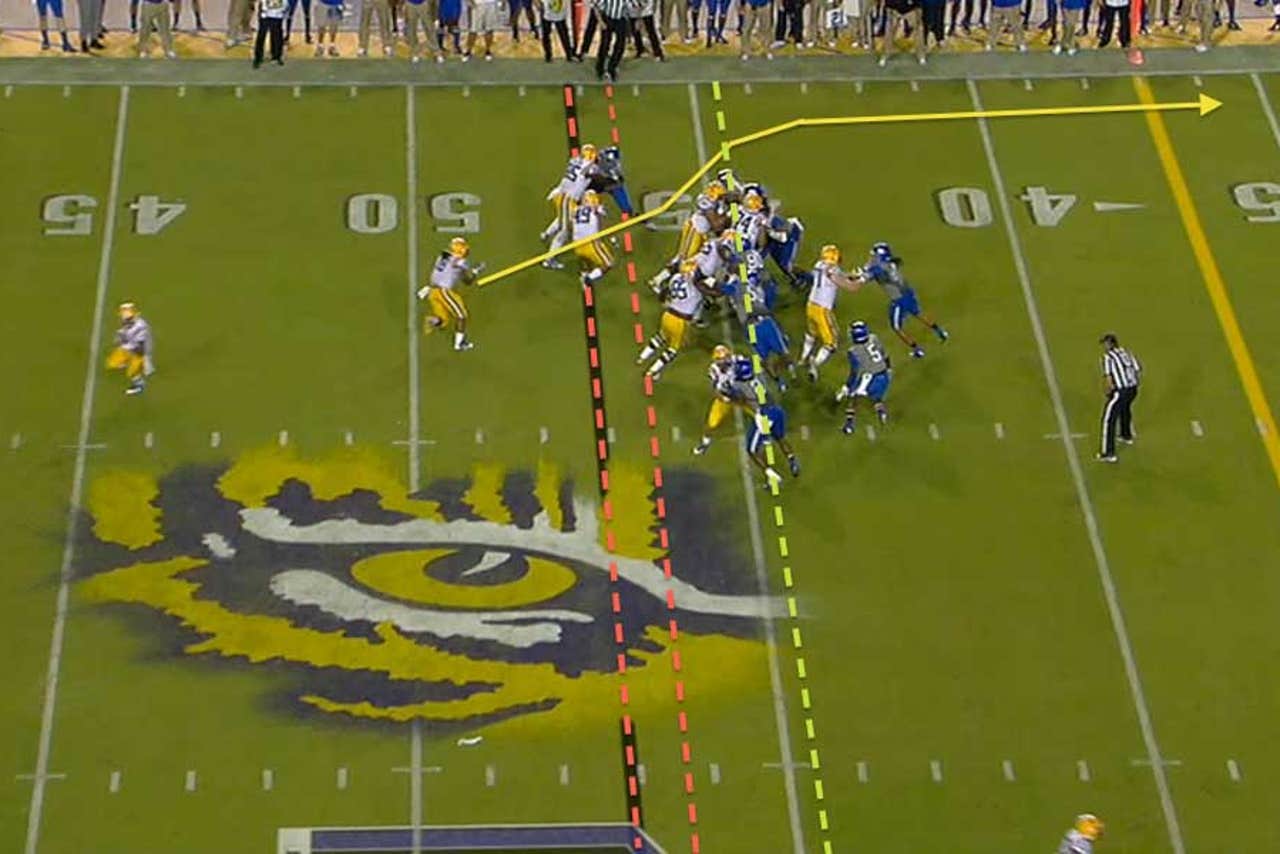 The Tigers must establish the run against the Rebels, because the last thing any team facing the Rebs' defense wants is to rely on an inefficient quarterback to get the win, as the Rebels are takeaway artists.
Ole Miss has forced a turnover in 30 straight games -- the second-longest streak in the FBS trailing only UL Monroe at 32. Ole Miss' All-America safety Cody Prewitt is always around the ball, including a 75-yard interception return for a touchdown against Texas A&M a couple of weeks ago, and senior cornerback Senquez Golson is reeling in passes from opposing QBs -- four picks in the last three games and seven on the season.
Now, let's look at how Ole Miss' dominant defensive line and savvy secondary have worked together this season to become one of the most impressive defenses in the nation.
The secondary is complex
Ole Miss defensive backs have a high football IQ and are able to run complex coverage schemes. A secondary that can confuse, cover effectively and make the quarterback hold the ball longer -- forcing him to look to his second and third options -- is the perfect complement to Ole Miss' already formidable pass rush.
Here is an example of a "box" scheme that you'll see in the NFL and at Ole Miss but not many other places in the collegiate ranks.
Box is a scheme that's used when a man-to-man coverage was called and the offense lines up in a bunch formation, which could cause defenders to get picked or rubbed. We see defenders getting picked and rubbed in college football often because a box principle isn't used. It's tough to run effectively, but Ole Miss rocks it out.
Here's how it looks: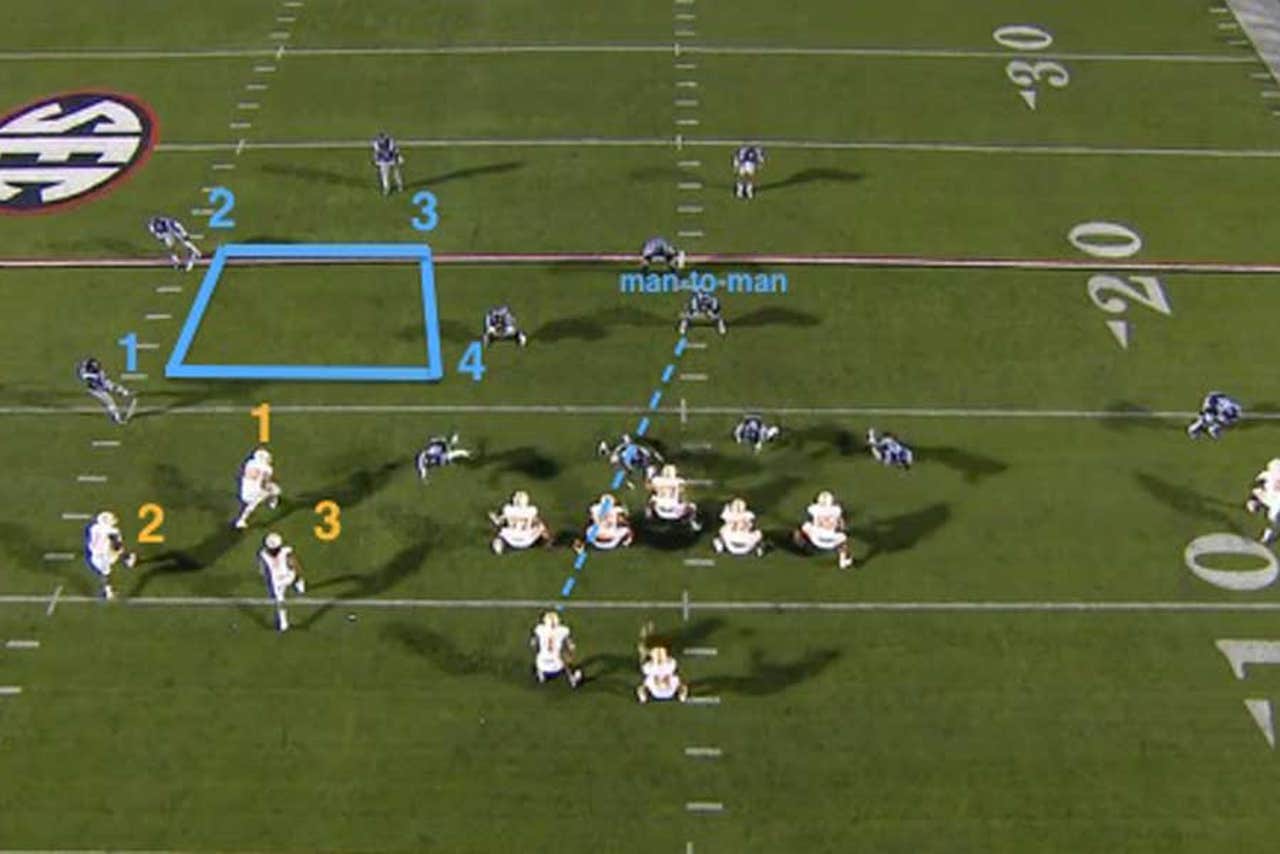 Notice there are three Tennessee receivers in a bunch (orange numbers) and four Ole Miss defenders -- a cornerback (1, takes first low/outside route), a safety (2, takes first high/outside route), another safety (3, takes first high/inside route) and a linebacker (4, takes first low/inside route) form the box.
In the next photo you can see the route progressions and the defenders starting to sort out their responsibility -- and note that nobody is getting picked or rubbed even though the receivers are crossing each other.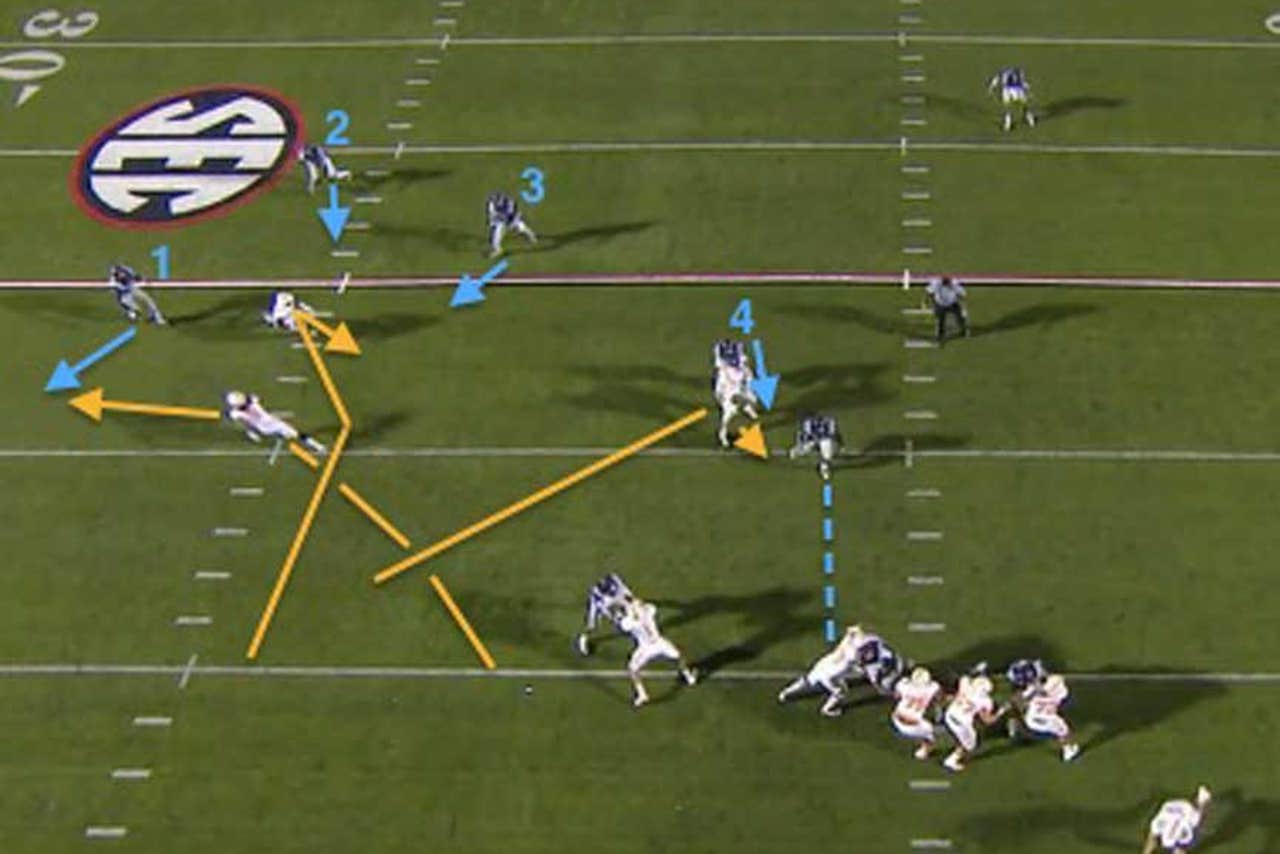 In the next photo, you'll see that each defender can drive to undercut their final matchup -- trying to get an interception -- while the extra defender (2) who didn't end up with any work is able to "free up" and play over the top to defend any potential double-moves.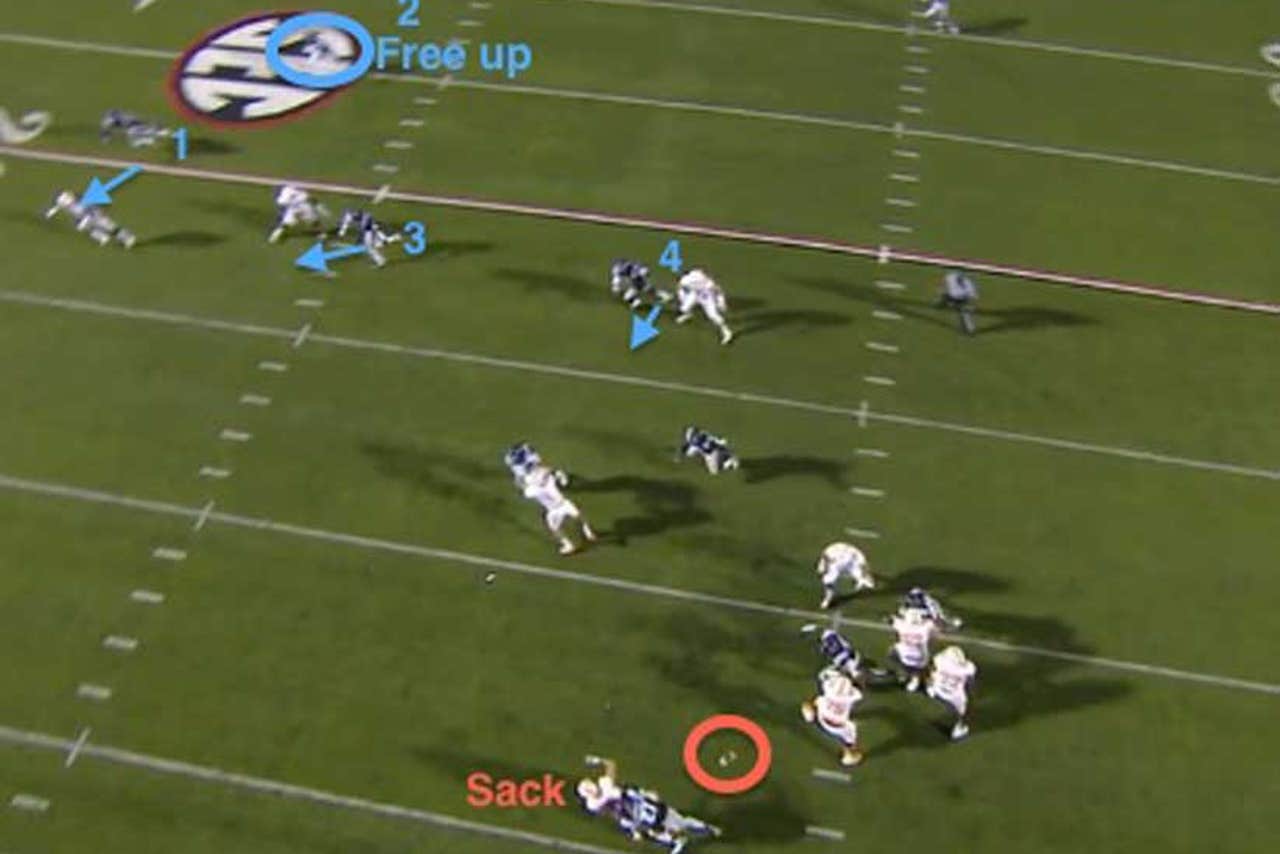 This type of aggressive and complex read for the quarterback forces him to hold the ball a split second too long. As a result he gets sacked and stripped from the backside, creating a turnover for the Rebels.
D-line allows Rebs to play simple zones
While Ole Miss has the necessary experience and ability in their secondary to run complex coverage schemes, the dominance of the Rebs' defensive front also allows them to play simple zone coverages too. In their last game, Ole Miss ran a heavy dose of good ol' fashioned Cover 3. It consists of three deep defenders and four underneath zone defenders while four defenders rush the quarterback.
Now, take a look at the next photo -- it shows what Ole Miss is able to do coverage-wise because their defensive line is so good.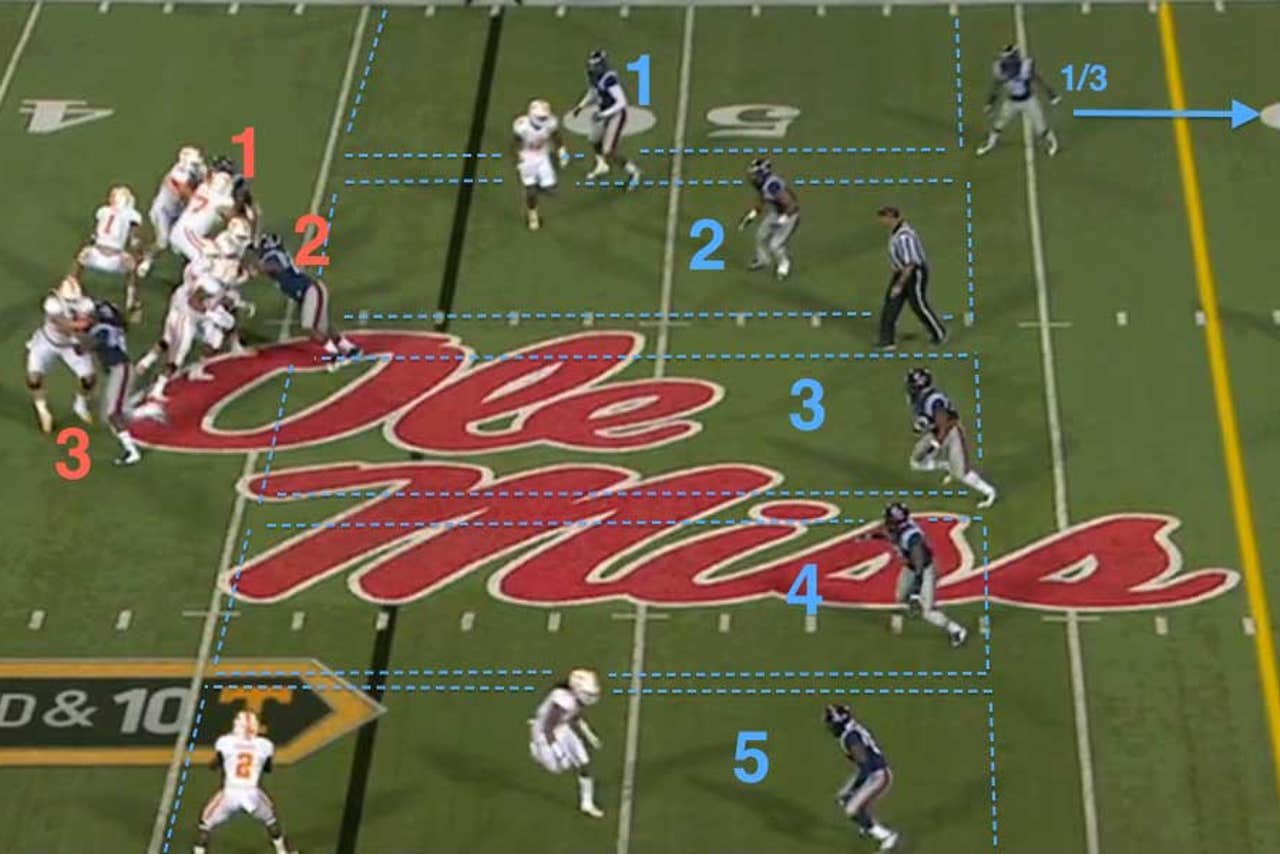 More than any team I've seen on tape, the Rebels are able to get pressure on the quarterback while rushing only three defenders. This means that Ole Miss can run Cover 3 while dropping a fifth defender into the underneath zone. Being that a football field is 53 and 1/3 yards wide, that means that each underneath zone defender has to move only five yards in either direction to cover his zone.
Keep in mind that Ole Miss' talented defensive line was able to get a sack on this play despite rushing only three defenders, while the offense had seven men to block them.
All of this has made Ole Miss' offense better by default, because QB Bo Wallace has finally learned he doesn't have to force throws to win games since it's the Rebels' defense that wins games. Wallace knows there's no shame in throwing a ball out of bounds, punting and living to fight another down because his defense will likely get the ball back with a three-and-out or takeaway.
We've seen this growth in Wallace in conjunction with Ole Miss' most important stretch of the season to date. After throwing six interceptions in the first four games of the season against mediocre opponents – Boise State, Vanderbilt, UL-Lafayette, Memphis – Wallace hasn't thrown a pick since Sept. 27 while Ole Miss beat Alabama, Texas A&M and Tennessee. The combination of a nasty defense and mistake-free Wallace has made Ole Miss lethal.
Now comes the next test. Ole Miss upset LSU in Oxford last season when the Tigers were ranked No. 6 in the nation. We'd be fools to think head coach Les Miles doesn't have revenge on his mind. LSU teams have lost only three night games in Death Valley under Miles, and he'll indubitably motivate his men to play their best game of the season this Saturday.
If the Tigers have any shot at an upset, they'll have to rely on their overgrown people-movers up front to go bonkers and create running lanes against the nation's best and deepest trench mob. That's a lot to ask, though, against this Ole Miss team. The Land Sharks are on the national title hunt.  
Coy Wire played college football at Stanford before a nine-year NFL career in Buffalo and Atlanta. He's currently a college football analyst for FOX Sports 1 and writes for FOXsports.com. Follow him on Twitter @CoyWire.
---