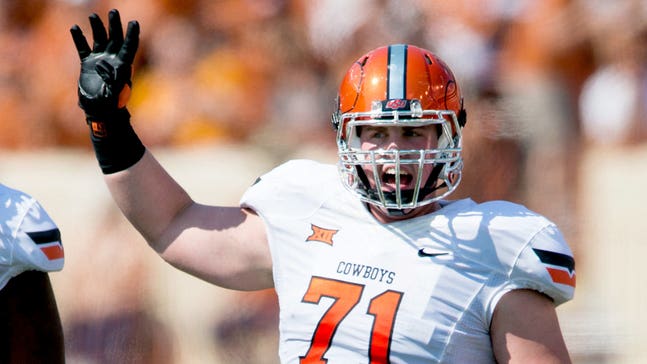 OK State copes with grief in midst of unbeaten season
Published
Nov. 4, 2015 5:39 p.m. ET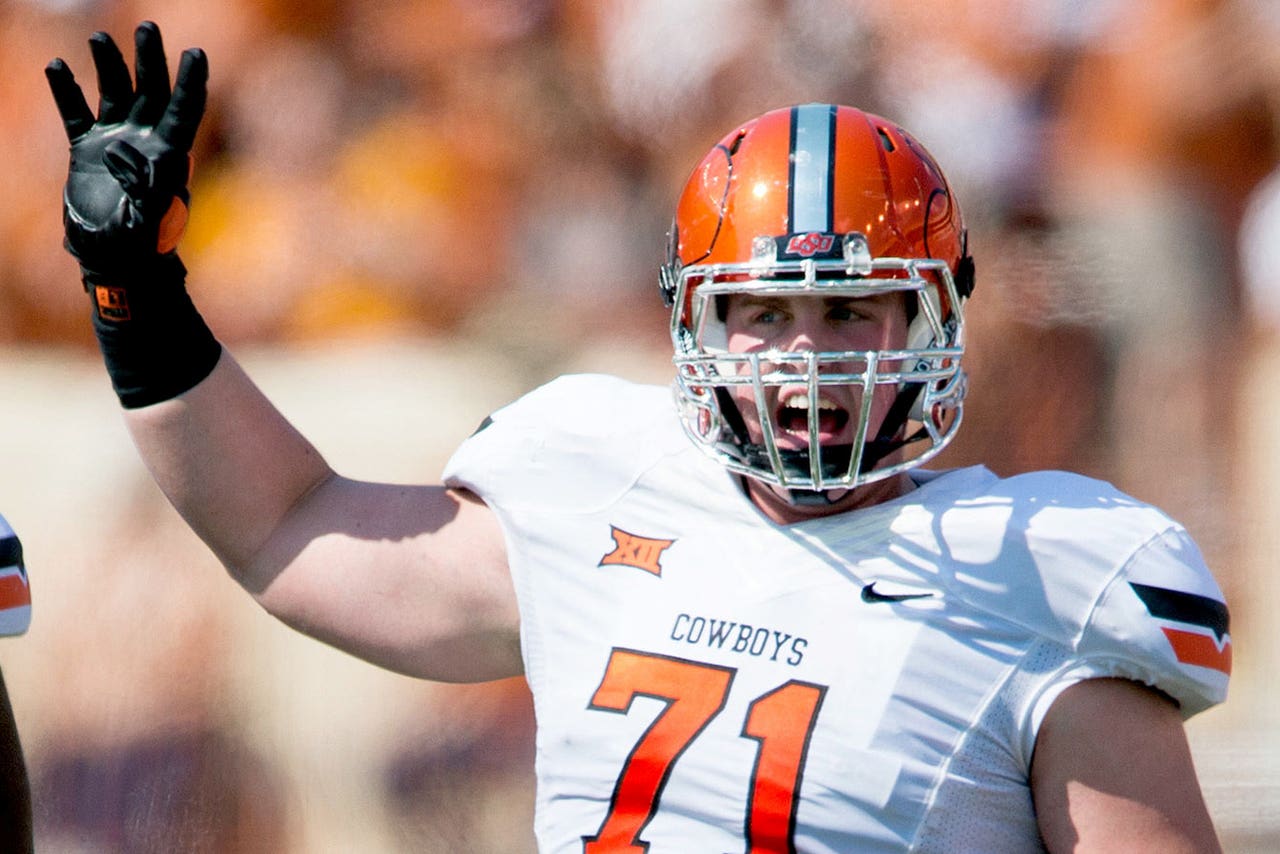 Oklahoma State starting center Brad Lundblade stood at that moment between the unwelcome realities of life and death.
The 20-year-old Lundblade stepped into the critical care wing at the OU Medical Center in Oklahoma City and instantly those chaotic morning hours of Oct. 24 uncontrollably flashed through his mind like a strobe light and surged through his veins like a torrent of ice water.
In this hospital unit some 70 miles from the Oklahoma State University campus — from the forever changed intersection of Hall of Fame Avenue and Main Street, where four people lost their lives because a young woman reportedly sped up, crashed her Hyundai Elantra through barricades and rammed it into a crowd of people gathered for the famed "Sea of Orange" homecoming parade — were three more adult victims, all in critical condition.
Because the group of Oklahoma State athletes who made this heartsick trip could not speak directly to the patients or shake their hands and wish them well, they were asked to visit with families.
"It's tough to see somebody in that situation, you don't really know what to say," said Lundblade, a sophomore from the close-knit community of Argyle in north Texas. "We just went to them and talked to them about the situation and told them that they were in our thoughts and prayers."
It wasn't lost on Lundblade that he could have been the one accepting the well-wishes. As the 6-foot-3, 300-pound lineman prepared for his pregame meal with teammates and coaches at the student union that morning, his father, Kirk, a former basketball player at SMU, and his mother, Diane, were planning to be among the thousands lined up and down the parade route.
"I thought they were at it because they had told me that they were going to go," Lundblade said. "Luckily, they ended up skipping it."
A late night at an Oklahoma State basketball event made them decide to miss the parade, but Lundblade didn't know for sure until his phone chimed with a return text message after the incident. Nearly every Cowboys player hurriedly texted parents and siblings after backup center Colby Hegwood had glimpsed at his phone between a team meeting and the team meal, saw the news and quickly alerted everyone.
"Everybody stopped thinking about football," Lundblade said. "All of a sudden the football game we had been preparing for all week didn't seem so important, and everybody starting calling their parents and making sure they were OK."
The game that day went on as investigators continued to unravel the crime scene. After Boone Pickens Stadium fell silent and players dropped to a knee and bowed their heads in prayer, the Cowboys toppled Kansas. A season brimming with Big 12 championship and national playoff hopes resumed under the most unnatural of circumstances.
Last week, Oklahoma State managed to climb out of an early hole at Texas Tech to remain unbeaten.
On Saturday, Lundblade and the No. 14 Cowboys will return to their home field for the first time since the tragic events of Oct. 24. Next up is No. 8 TCU, boasting an identical record to the Cowboys, 8-0 overall and 5-0 in the Big 12.
The loser can practically kiss a playoff spot and the conference title goodbye, and the Cowboys don't believe they've yet peaked.
"We don't think we have," Lundblade said, answering whether a Cowboys offense that scored 70 points last week at Texas Tech has yet to play its best. "We talk about that a lot. We're blessed to be 8-0, but we still feel like there's a lot more that we can do."
The home-game rituals will remain the same as they ever were. The team will sleep Friday night in the same local hotel. The Cowboys will bus to the student union for team meetings and the pregame meal. Later, fronted by coach Mike Gundy and the OSU Marching Band, they'll step out of the student union and begin what is normally a loud and raucous walk down Hester Street, through a throng of cheering, orange-clad fans until they reach the stadium.
This time, the moment Lundblade steps out the door of the student union and onto Hester Street, just as the day he stood inside that hospital last week, the events of Oct. 24 will come rushing back.
"Normally, the band leads us and they're playing music and there's the cheerleaders out there, there's thousands of people out there cheering for us as we walk into the stadium," Lundblade said. "So we did that as usual, but instead this time, the president of the university had asked the band not to play any music out of respect for the families who had lost loved ones. So as we left the union it was just a really weird feeling. We walked out and normally the band is blasting music and people are yelling and cheering and stuff like that. We walked out this time and there was no music. There definitely were still fans there, but nobody was really cheering. People were in a somber mood, and it was more of a quiet, somber walk."
Lundblade credited Gundy for his handling of the emotional aftermath, for keeping the team's focus on the task at hand, no matter how trivial it might sometimes seem in comparison. Lundblade said he thinks about that day and prays for the victims each night before drifting to sleep.
"I think as a team we kind of have that attitude now," he said. "This is something that's happened and it's given us a new meaning and purpose to the season, to go out there and play for everybody involved in this accident."  
---
---