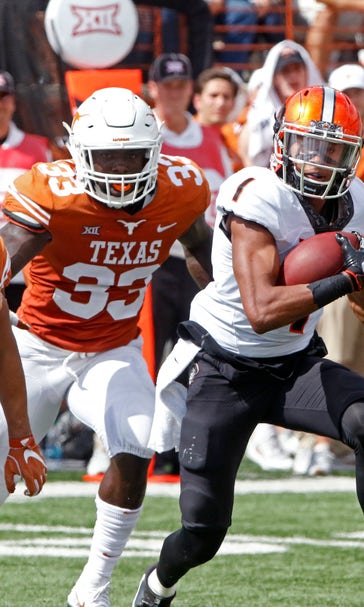 New redshirt policy makes it more tempting to transfer
September 24, 2018
A new NCAA policy that makes it easier to redshirt football players comes with an unintended consequence: Players can now choose to save their eligibility by leaving teams after participating in four games, with plans to transfer and use the saved year at a new school.
Several upperclassmen who would have been out of eligibility had they kept playing this season have already taken this route, including Oklahoma State receiver Jalen McCleskey, a senior with 167 career catches.
The new rule took effect this year and was universally praised by coaches. In the past, playing just one game could cost a player a full year of eligibility. Football players have five years to play four seasons and take one redshirt year.
Minnesota's P.J. Fleck called the change the "greatest rule the NCAA has ever put in in the last 20 years."
It is proving popular with players, who get more opportunities to play — and, as it turns out, a little more autonomy.
"I just hadn't really thought (about) that being a possibility until it happened," Baylor coach Matt Rhule said of the midseason departures.
McCleskey is the most prominent player to take advantage of the newly created opportunity. He had 15 catches for 155 yards and two touchdowns through Oklahoma State's first four games after having 73 receptions in 2016 and 50 in 2017.
"You lose a good player. But we live in a world where things like that happen now," Oklahoma State coach Mike Gundy said. "Transfer's becoming very popular, and what would keep a young man from doing that across the country at any given time? But if they come to you and say, 'I'm not getting the ball enough and I feel like I need to be somewhere that allows that to happen,' then you have to give them that opportunity."
If McCleskey graduates before next season, he would be immediately eligible at his new school.
McCleskey's situation isn't unique.
Auburn already has had five players transfer since the start of the season. The list includes wide receiver Nate Craig-Myers, a junior who will still have two years of eligibility left, and tight end Jalen Harris, another junior who could be in position to graduate transfer.
"There's a new day in college football with the rule and all that," Auburn coach Gus Malzahn said on his radio show.
More transfers could be coming in the coming days as just about every team in the country will have played four games by next week.
Arkansas wide receiver Jonathan Nance, a former junior college transfer who led the Razorbacks in catches last season, tweeted Monday he will transfer and use this as a redshirt season. Oregon coach Mario Cristobal said Ducks running back Taj Griffin, who is in his fourth season, left the team and plans to transfer.
There has been speculation Alabama backup quarterback Jalen Hurts might choose this path, putting himself in position to be a graduate transfer next year with two years of eligibility left.
The NCAA also has some new rules regarding transfers that take effect this year. Starting on Oct. 15, the NCAA will have a database that keeps track of players who notify their coaches of their intent to transfer. Schools will no longer be able to block a transfer nor dictate where a player can go, unless their conferences have specific rules permitting that.
Todd Berry, the executive director of the American Football Coaches Association, downplayed the impact this new redshirt policy has on the transfer market. Berry noted players leaving teams midseason is not new.
"There's no question that there might be a few seniors that have all of sudden said that this was going to be my last year based off eligibility, because I didn't redshirt at another point in time, and so I'm wanting to save that," said Berry, the former head coach at Army and Louisiana-Monroe. "I don't think that that's something we weren't aware of. We just thought that the numbers were going to be so slight in this happening that the total benefit far outweighs a few incidents like this."
Berry said the main benefit will be felt later this season, when injuries mount and coaches can fill those holes by playing underclassmen without worrying about burning redshirts.
Already coaches say they're noticing redshirt candidates feeling more invested because they're getting a chance to play rather than spending the entire season on the sidelines.
"It means the world to them," Texas Tech coach Kliff Kingsbury said. "You see them come back to practice with a different type of swagger, a different air of confidence, which will be huge moving into spring football and the rest of their careers, and still being able to keep that redshirt. So it's been real positive for our program."
---
---