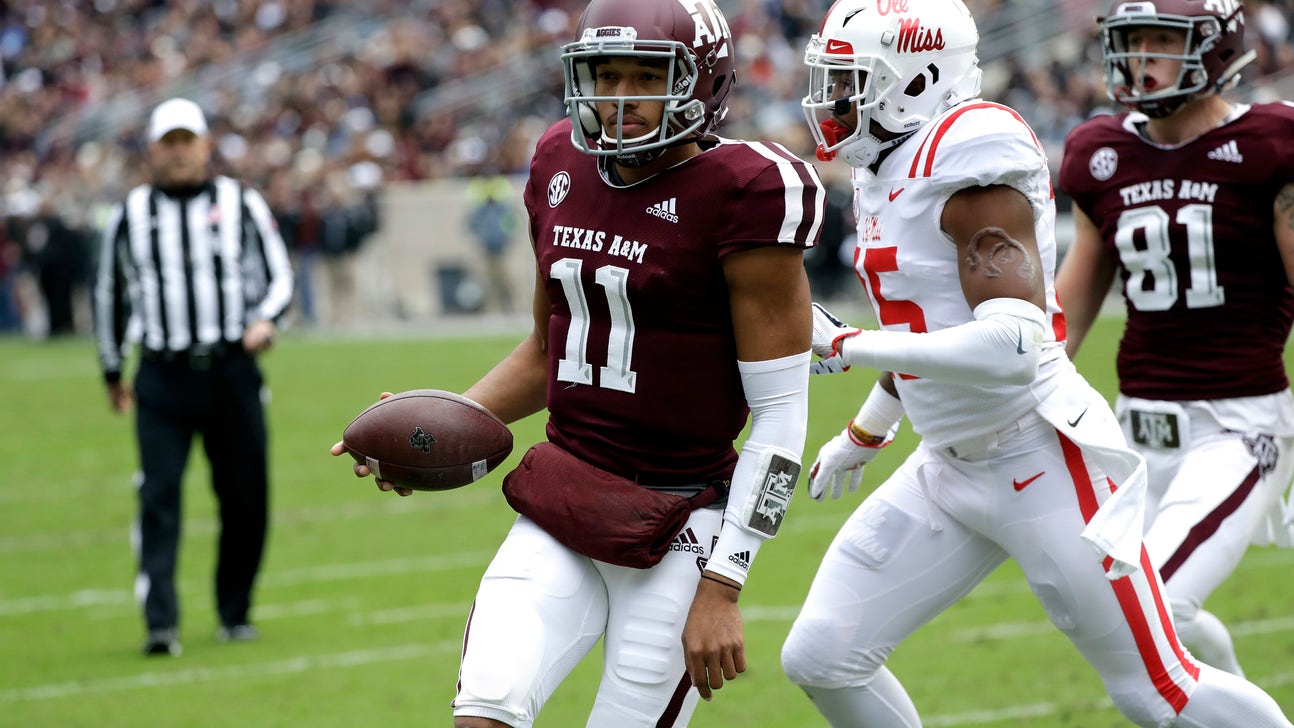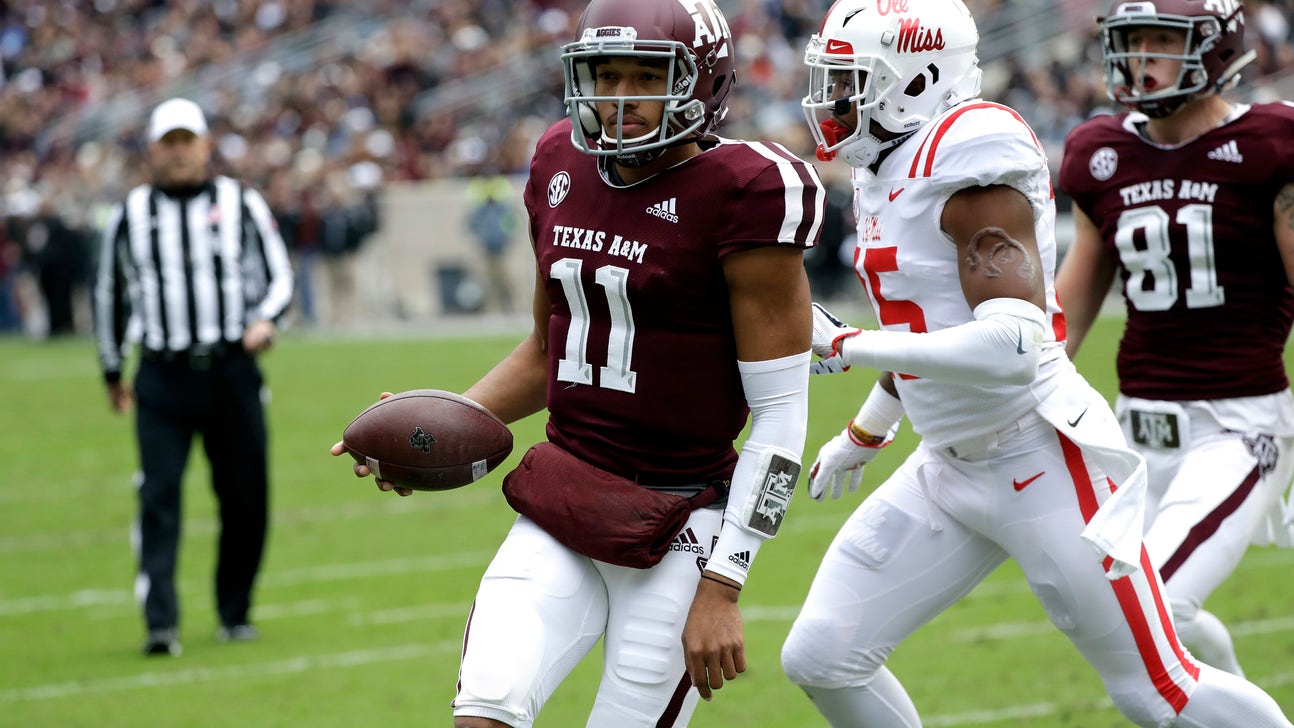 Mond accounts for 4 TDs as A&M gets 38-24 win over Ole Miss
Updated
Mar. 4, 2020 1:35 p.m. ET
COLLEGE STATION, Texas (AP) — After Kellen Mond turned the ball over on Texas A&M's first two drives of the second half on Saturday against Mississippi, coach Jimbo Fisher thought about making a quarterback change.
But after looking into Mond's eyes, something told him that he would bounce back. So, he stuck with him and the sophomore rebounded to lead the Aggies to four scoring drives after his errors to give Texas A&M a 38-24 win.
"When you're the quarterback you're going to have those moments of should I take him out? Should I not take him out? (But I) have faith in him," Fisher said. "He deserved the chance to go back in because I knew the look in his eye and the competitor he was."
"That's what great players do ... they're able to respond to that adversity," Fisher continued.
Mond threw TDs of 21, 10 and 5 yards and his touchdown run was a 1-yard scamper in the first quarter.
After being outscored 28-0 in the fourth quarter of consecutive losses to Auburn and Mississippi State, Texas A&M (6-4, 4-3 SEC) scored its first fourth-quarter points since Oct. 13 when Seth Smalls made it 24-21 with a 46-yard field goal early in the period.
"We've had some tough times for two weeks in a row so we had to get that done," Fisher said.
Luke Logan missed a 22-yard field goal with just more than seven minutes left. Fisher called a timeout just before the kick, which sailed wide right.
The Aggies pushed the lead to 10 points when Mond found Quartney Davis on a 5-yard touchdown pass with about five minutes left.
Ole Miss (5-5, 1-5) got within a touchdown when Logan made a 24-yard field goal with about two minutes remaining.
An onside kick was called by Ole Miss after that, but A&M recovered it and Williams ran 46 yards for a touchdown on the next play to put the game out of reach.
"They kept their poise and executed," Fisher said.
After their recent struggles in the fourth quarter, the Aggies knew they couldn't let up after they got the lead late on Saturday.
"That was really our main focus ... instead of just focusing on winning we wanted to dominate," Mond said.
Jordan Ta'amu threw for 373 yards and a touchdown for the Rebels, who lost their third straight game and have won just one conference game. A.J. Brown had 127 yards receiving and DaMarkus Lodge added 122 yards receiving with a touchdown.
"We couldn't get to a rhythm offensively; give those guys credit, they made the plays that we didn't," Ole Miss coach Matt Luke said.
Williams had 31 carries for 228 yards in his second 200-yard game this season to give him 1,159 this season.
Willie Hibbler knocked the ball out of Mond's hands on the first series of the second half and Zedrick Woods scooped it up and rumbled 96 yards for a touchdown to make it 21-14.
Mond was intercepted by Ken Webster on Texas A&M's next drive, but the Rebels couldn't move the ball and punted it back.
The Aggies finally put together a clean drive after that, driving 72 yards in nine plays capped by a 10-yard touchdown reception by Davis to tie it at 21-21.
Texas A&M led 7-0 when Ole Miss tied it on the first play of the second quarter when Ta'amu connected with Lodge on a 44-yard TD pass.
The Rebels took a 14-7 lead when Ta'amu scored on a 1-yard run later in the second
Lodge made a 51-yard reception with less than five minutes left in the second quarter. But Ta'amu fumbled two plays later and the Aggies recovered to get one more possession before halftime.
"We had a big turnover in the red zone and had a chance to put us up 10 right there; that was big in the first half," Luke said.
Texas A&M took advantage of the miscue when Camron Buckley scored on a 21-yard reception that left it tied at 14-all at halftime.
THE TAKEAWAY
Mississippi: With just two games left the Rebels will have to figure out a way to win a conference game if they hope to become bowl eligible.
Texas A&M: The Aggies moved the ball well at times, but Mond will need to take better care of the ball after committing four turnovers in the last two weeks for Texas A&M to finish the season strong.
MILLER RETURNS
Former Texas A&M star and current Denver Bronco Von Miller was honored during a break in the second quarter. Highlights of the outside linebacker's career with the Aggies were played on the Jumbotron before he was introduced and received a loud ovation from the crowd.
Miller, whose Broncos have a bye on Sunday, played at Texas A&M from 2007-10 and was named MVP of the Super Bowl in the 2015 when he helped the Broncos beat the Panthers 24-10.
RECORD-SETTER
Brown became the school's all-time leading receiver with his performance on Saturday. The junior has 1,047 to give him 2,711 in his career to pass Shay Hodge, who had 2,646 yards receiving from 2006-09.
UP NEXT
Mississippi: The Rebels visit Vanderbilt next Saturday.
Texas A&M: The Aggies host UAB next Saturday night in the second of three straight home games to wrap up the regular season.
---
---