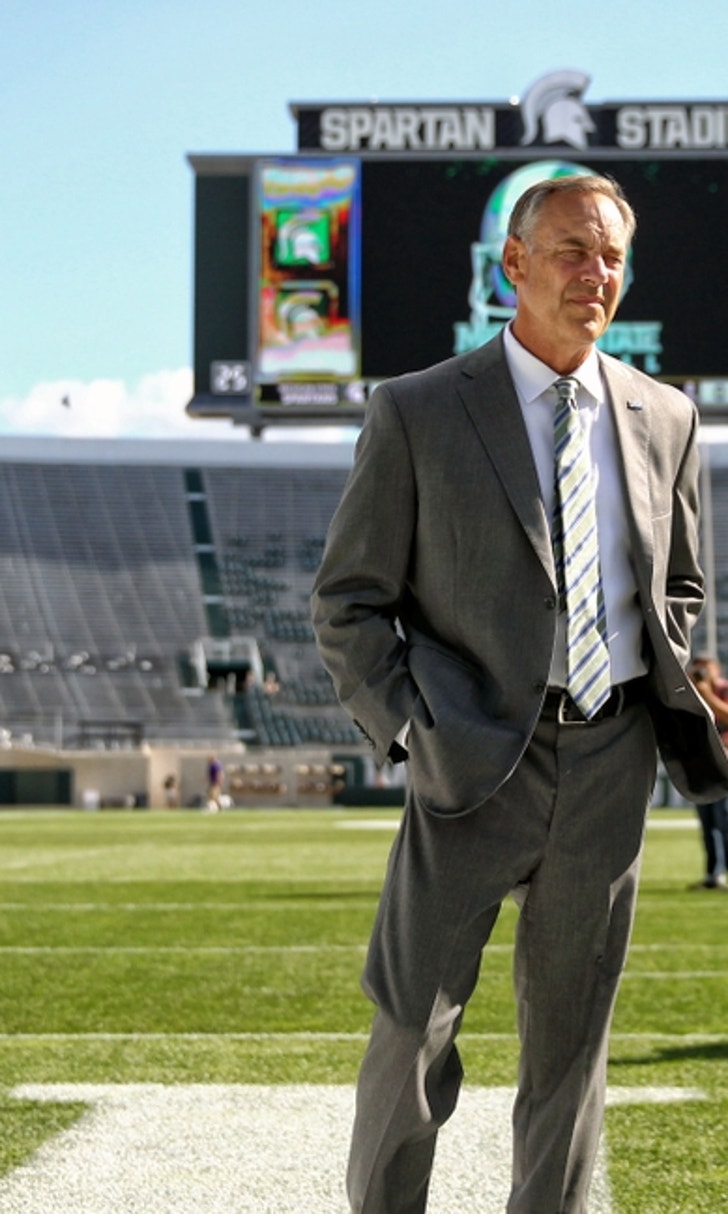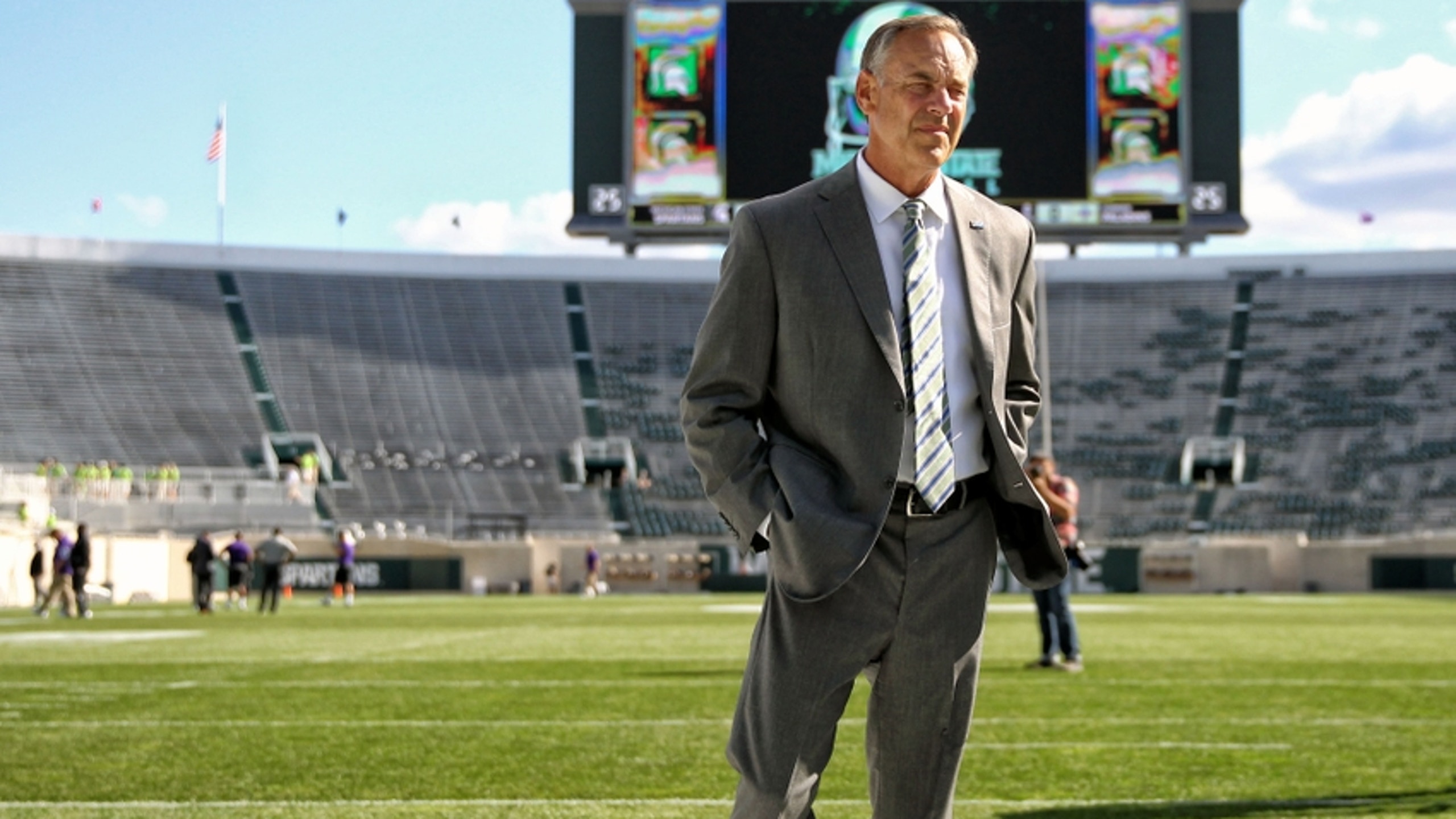 Michigan State Recruiting: 5 football commits who could flip to MSU
BY Fansided and Connor Muldowney/FanSided via Spartan Avenue • December 16, 2016
Sep 2, 2016; East Lansing, MI, USA; Michigan State Spartans head coach Mark Dantonio stands on the field before a game against the Furman Paladins at Spartan Stadium. Mandatory Credit: Mike Carter-USA TODAY Sports
Which five players committed to other schools could flip and pledge to Michigan State recruiting in 2017?
While many fans are in panic mode because of the lack of 'big-time' recruits in the 2017 Michigan State recruiting class, but the conclusion of this cycle is a ways down the line. Mark Dantonio is confident he can fill some positional needs in 2017 and he addressed that on Thursday.
The head coach also said that there are probably 4-7 openings left in the class and he's going to try to hit positions of need line defensive line, offensive line, defensive back, linebacker and running back.
The Spartans are in on a number of guys at each position. On the defensive line, Deron Irving-Bey is the top remaining target, but there are a handful of others in the mix. On the offensive line, there's a guy like Thayer Munford who would be a perfect addition. Ameer Speed, Naytron Culpepper and Yusuf Corker are all defensive backs considering MSU as well.
Linebackers are thin for the class, but expect recent commit Connor Heyward to fill that void with Antjuan Simmons and another, on this list, to potentially join him. A number of committed running backs have also been offered.
Let's take a look at which committed prospects could potentially flip to Michigan State in the coming months.
Note: This is speculative and there's no factual evidence that they will flip.
Jeremiah Owusu-Koramoah
3-star, ATH
Listed as an athlete, Jeremiah Owusu-Koramoah was just offered by Michigan State on Monday and he is already showing reciprocated interest in the Spartans.
According to Luke Srodulski of Landof10.com, Owusu-Koramoah may just play safety or outside linebacker and be more of an athlete in the middle of the defense.
"I think it's a strong safety/outside linebacker (position)," Beverley said. "I think they have a tweener that actually plays a similar position, like a robber strong safety. I think he's suited to do both."

Owusu-Koramoah told 247Sports' Jamie Oakes that he's "taking a look at some things" and may take an official visit to Michigan State in January.
An official visit would be big for the Hampton, Va., native who is currently committed to the Virginia Cavaliers. Michigan State may provide a better situation although the Spartans are coming off a 3-9 season.
Oct 29, 2016; East Lansing, MI, USA; Michigan State Spartans wide receiver R.J. Shelton (12) runs the ball during the first half of a game against the Michigan Wolverines at Spartan Stadium. Mandatory Credit: Mike Carter-USA TODAY Sports
Maleek Barkley
3-star, RB/WR
Looking to replace a guy like R.J. Shelton at the slot position and even add depth at the running back spot, the Spartans are looking to Arkansas commit Maleek Barkley. He probably translates more as a receiver with his slight frame, but the staff may use his versatility in many ways.
It seems like Lynn Bowden might be headed elsewhere, such as Kentucky, and the Spartans just missed out on KJ Hamler, so this offer makes sense. Bowden may have wanted to play quarterback at the collegiate level but the staff offered him as more of an athlete and offensive playmaker like Shelton was.
Barkley could fill that void in the slot even though Donnie Corley is going to be that go-to weapon on the offensive side of the ball next year. He committed to the Razorbacks last April and it would be interesting to see if Dantonio could swipe one away from former rival Bret Bielema.
Michigan State offered him on Monday after not having shown much interest beforehand. Missing out on Hamler may have led to this and it also could have something to do with three-star running back commit Weston Bridges having ACL surgery.
The three-star athlete is ranked the No. 584 overall prospect and 87th-best receiver in the 2017 class, according to 247Sports.
Oct 29, 2016; East Lansing, MI, USA; Michigan State Spartans running back LJ Scott (3) and Michigan State Spartans running back Gerald Holmes (24) talk on the field prior to a game against the Michigan Wolverines at Spartan Stadium. Mandatory Credit: Mike Carter-USA TODAY Sports
Jalen Holston
3-star, RB
Another offer to a potential running back came on Wednesday when the staff extended a scholarship to three-star Virginia Tech pledge Jalen Holston. The timing was a bit odd since Holston just committed to the Hokies last week, but Dantonio may be feeling a flip.
According to Scout.com's Allen Trieu, the Spartan coaching staff stopped in to see Holston last month and he has yet to set up a visit to East Lansing.
Michigan State is trying to add two running backs to this cycle which would be a wise move given the ACL surgery of Bridges. The staff has assured him he has a spot no matter what, but in the case of a lingering injury, it's always good to have a backup plan and depth no matter what.
Holston is ranked the No. 655 overall player and 38th-best running back in the 2017 class, according to 247Sports. He is from Stockbridge, Ga., and the staff has had plenty of luck in the Peach State in years past.
The Spartans may have just missed their chance on this one with him committing on Dec. 8, but he has taken just two of his five allotted official visits, meaning Michigan State might get one when the dead period is over next month.
Sep 19, 2015; East Lansing, MI, USA; dMichigan State Spartans linebacker Andrew Dowell (5) celebrates fumble recovery during the 2nd half of a game at Spartan Stadium. MSU won 35-21. Mandatory Credit: Mike Carter-USA TODAY Sports
Jaquan Henderson
3-star, LB
A guy who I really considered putting in this spot despite already having de-committed from Ohio State was Antjuan Simmons. He can't really be considered a flip candidate if he's no longer committed to a program. Jaquan Henderson, on the other hand, is still verbally pledged to Tennessee.
According to Scout.com's Allen Trieu, the Spartans are still very much in play for the highly-regarded three-star linebacker from Covington, Ga.
The Spartans have already had in-home visits with two of their top remaining senior targets, Cleveland Heights wide receiver Jaylen Harris and Covington (Ga.) Newton linebacker Jaquan Henderson.

…

Henderson already took his official to MSU, on Oct. 29, and while he maintains his commitment to Tennessee, insiders say the Spartans are still very much in the running.
Henderson committed back in June, but he's keeping his options open, taking official visits to Indiana, Nebraska and Michigan State this fall. He has shown some interest in Michigan State and Trieu is well-connected, so if he knows people saying the Spartans are very much in the running, you have to take him for his word.
The three-star linebacker stands 6-foot-2, 210 pounds and is ranked the No. 386 overall prospect in the 2017 class.
Sep 24, 2016; East Lansing, MI, USA; Michigan State Spartans cornerback Darian Hicks (2) looks to the sidelines during the first quarter of a game at Spartan Stadium. Mandatory Credit: Mike Carter-USA TODAY Sports
Amir Riep
4-star, CB
There was a cryptic tweet by Scout.com recruiting analyst Dave Berk on Thursday night that made it seem as if there was a former football target for MSU who may have 'buyer's remorse' already. Since Berk is an Ohio guy, that made it easier to narrow down who he was speaking of.
Must Read: MSU Recruiting: 5 ideal additions to 2017 class
Two guys stood out in that regard. One was four-star defensive end James Hudson who committed to Michigan after being a Michigan State lean for a short while and the other is four-star cornerback Amir Riep who committed to Ohio State.
Riep, one of the top cornerbacks in the class, was very high on the Spartans when he committed to Ohio State over the summer and it was a surprise to many. There were some who believed he was going to pick Michigan State and there was a rumor that he was a silent commit, but those were put to rest when he tried on the Buckeye hat for the first time.
However, Ohio State keeps adding elite cornerbacks, lowering Riep that much more on the totem pole each time. If he were to commit to Michigan State right now, he'd be the Spartans' top recruit in the 2017 class. At Ohio State, he's the second-best cornerback, soon to be third-best rated if the Buckeyes land five-star Darnay Holmes like they expect to.
There's no concrete evidence that Berk was speaking of Riep with the tweet, but if that's the case, he could be considering the Spartans again in the near future. He's ranked the No. 123 overall prospect and 14th-best cornerback in the 2017 class.
More from Spartan Avenue
This article originally appeared on
---
---