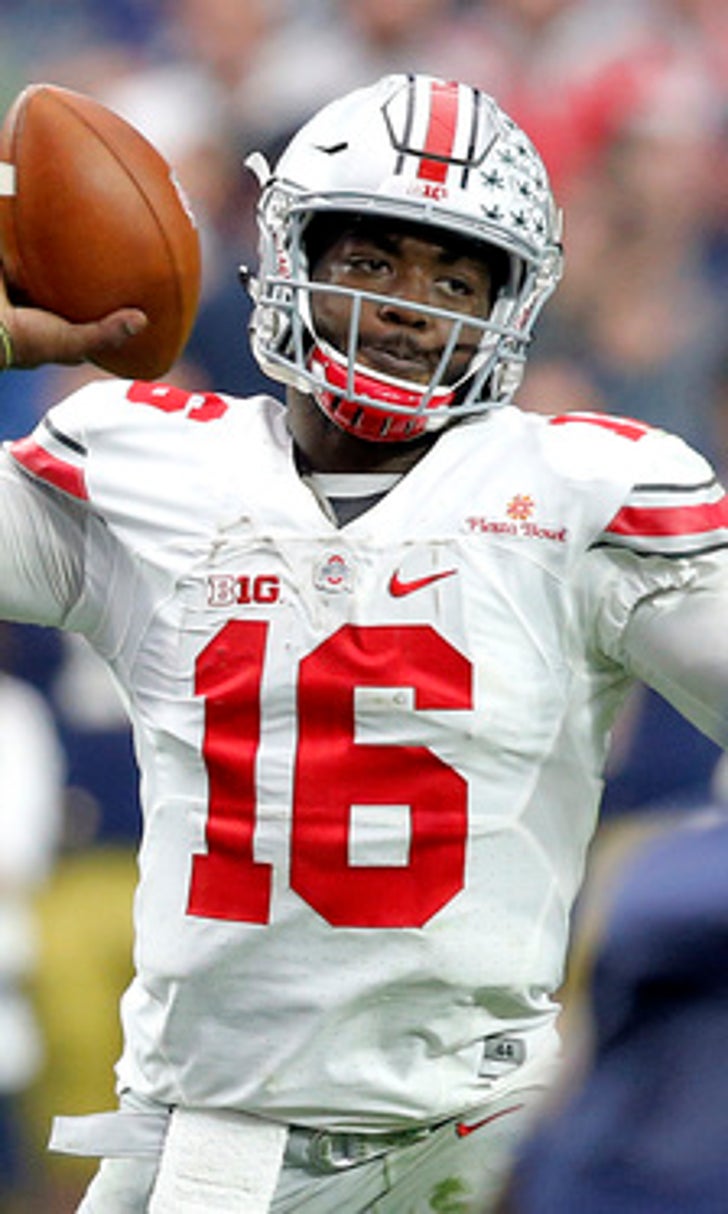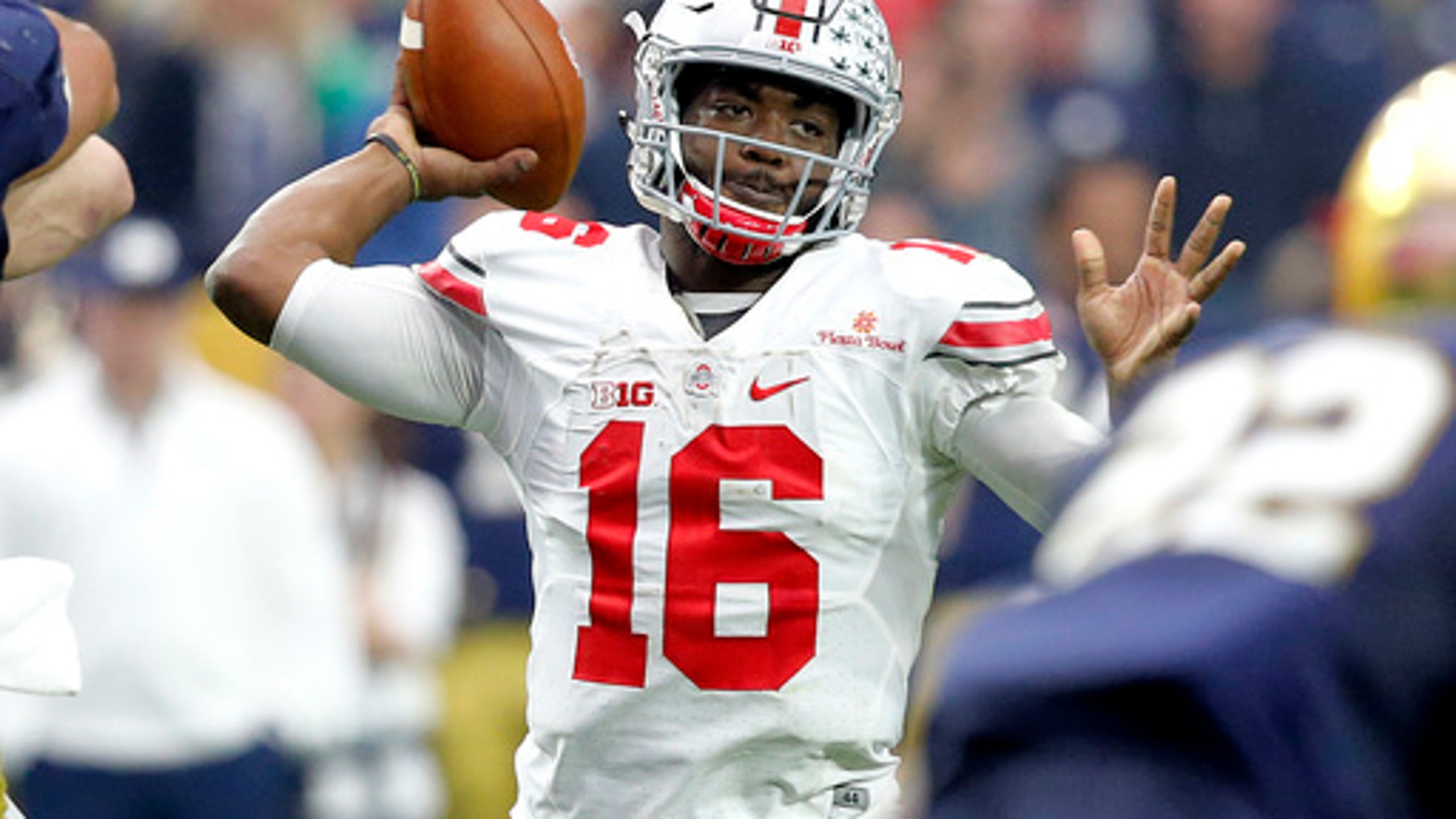 Meyer seeks more balance with Ohio State's offensive attack
BY foxsports • September 1, 2016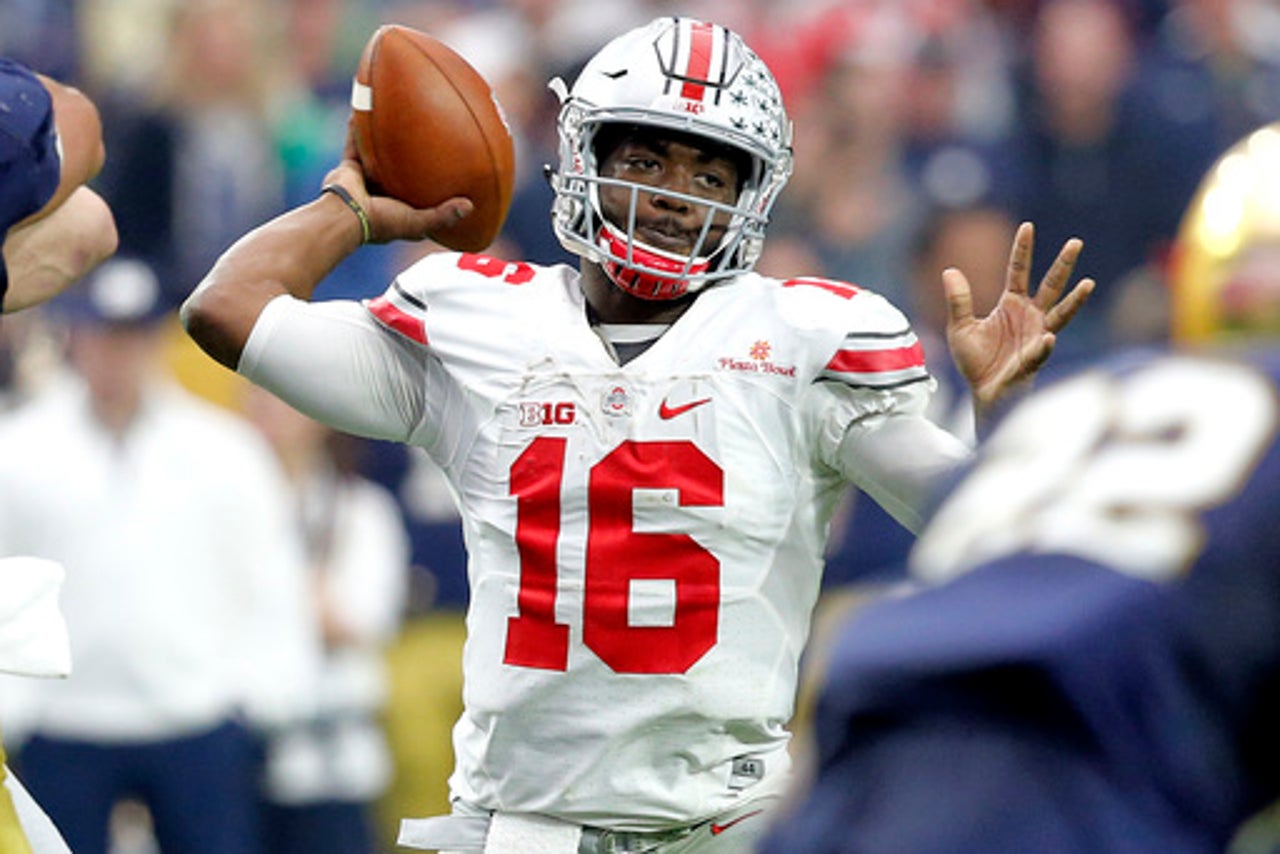 COLUMBUS, Ohio (AP) Last year Ohio State's offensive engine was powered mostly by All-American tailback Ezekiel Elliott, and the passing game took a back seat. Coach Urban Meyer wants that to change.
The Buckeyes ran the ball nearly two-thirds of the time in 2015, leaning mostly on Elliott, who averaged about 140 yards per game, and quarterbacks J.T. Barrett and Cardale Jones. The 188.8-yards-per-game passing average dropped Ohio State's aerial attack to 100th in the nation. It just never got on track.
With Elliott gone to the Dallas Cowboys as a first-round draft pick, Meyer said he's seeking more balance between the rushing and passing games. Ideal, he said, would be a 50-50 split. He thinks that's realistic with the 2016 team, which opens the season Saturday against Bowling Green.
''We'll know more obviously Saturday, but we have depth at receiver,'' Meyer said. ''We have a returning quarterback that understands what we're trying to do.''
The Buckeyes' running game is one of the big questions heading into the season. Redshirt freshman Mike Weber is starting at tailback, and Meyer said H-back Curtis Samuel will also run the ball. Meyer said he wants to see Barrett carry less of the load on the ground after averaging 62 yards rushing per game last season. He said 10 to 12 rushing attempts per game is ideal for the quarterback - Barrett had at least 15 attempts in each of the last four games last season.
''Direct quarterback runs, where we call it, five to seven, eight, maybe, depends on the game,'' Meyer said. ''And then he's a natural scrambler. When things break down, I think that's one of his strengths. He's one of those quarterbacks that very rarely takes a sack. He's always getting that plus yardage.''
Co-offensive coordinator Ed Warinner said Samuel may be a key to that balance and is likely will touch the ball 10 to 15 times per game.
''Curtis is a very skilled athlete, a very elite player with the ball in his hands,'' Warinner said. ''So we're just going to try to find as many ways to use him as possible. I mean he can do great things at wide receiver, he can do great things with the ball in his hands from the running back position.''
None of the other receivers are proven, although everyone in the program is raving about the potential of wide receiver Noah Brown, who was set to be a starter last year before breaking a leg in training camp. Wide receiver Corey Smith and H-back Dontre Wilson have limited experience, but the other receivers who will play Saturday have yet to catch their first pass.
Barrett said ''the pieces are in place'' for a more balanced attack.
The key, he said, is ''just getting it out of my hands as fast as I can and getting it to our playmakers and be able to fly around, kind of like we did back in 2014. I think that's the direction we're headed. We're still getting some kinks out but I'm happy with where it's at.''
BURROWS OUT: Cam Burrows, who was expected to see playing time at safety, is out for the season with a foot injury. Burrows broke the foot and had surgery in October, which led to him being redshirted last season. He saw some playing time in 2013 and '14. He's going to stay with the team and be a weight room assistant this season.
PHENOMENAL FRESHMEN: How young is this Ohio State team? The depth chart released this week includes 17 redshirt and true freshmen, including true freshman Michael Jordan starting at left guard. A freshman hasn't started on the Buckeyes offensive line on opening day since Orlando Pace in 1994. Barrett is eager to see how Jordan responds.
''I remember in the spring game, it was kind of one of those things where there were 100,000 people, and a saw him look up a couple times and I said, `Yeah, they're here. They're not going away,''' Barrett said. ''Relax.''
---
Follow Mitch Stacy at http://twitter.com/mitchstacy
For some of his other recent stories: http://bigstory.ap.org/content/mitch-stacy
---