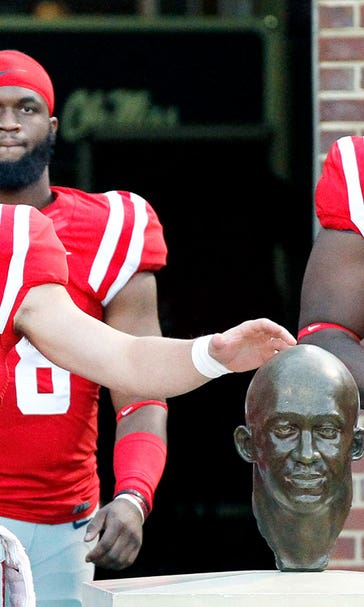 Mark of ex-Ole Miss DB Chucky Mullins shows 25 years later
September 5, 2014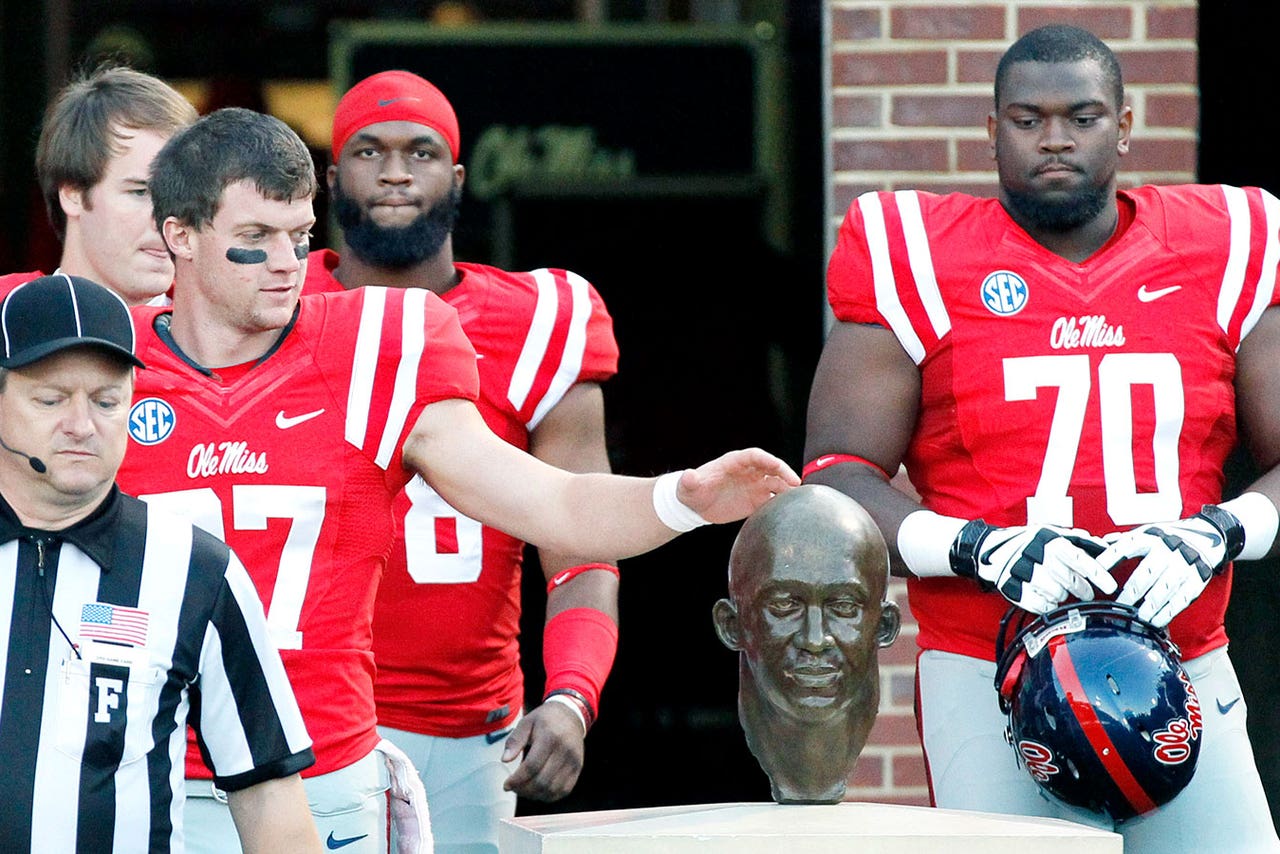 The ritual hasn't changed for more than two decades.
Three times a year, Brad Gaines gets up early and makes the three-hour drive to Russellville, Alabama, to the gravesite of Chucky Mullins. It's there that he reflects on their 18 precious months of friendship following an ill-fated collision on a football field in 1989.
No one else goes with him.
"It's just he and I," Gaines said. "It works for me. That's what I do -- it's therapeutic."
It's been nearly 25 years since Mullins, an Ole Miss defensive back, was paralyzed while making a tackle on Vanderbilt's Gaines during a game on Oct. 28, 1989, in Oxford, Mississippi. His courage after becoming a quadriplegic, including his return to school, continues to be a source of inspiration for those who knew him even after he died in 1991 following complications from a blood clot.
His story left a lasting impression on program and the campus. But perhaps no one was affected more than Gaines.
The Rebels face Vanderbilt on Saturday in Nashville, Tennessee, in a season where remembrances of Mullins are everywhere. During the weekend of the Sept. 27 game against Memphis, the school is renaming a street after Mullins, and the winners of an award named in his memory have been invited back to campus.
Gaines, 47, says the feelings that return when he visits Russellville each year on Christmas Day, the anniversary of Mullins' death and the anniversary of the accident are still as raw as the day the two players' lives intersected on the football field. He was going up to catch a pass when Mullins hit him, and he can still remember the strange sound the hit made.
He thinks about it every day. Sometimes he gets teary-eyed driving to work or doing some other mundane task.
"I know it wasn't my fault and I've had 10 million people tell me that," Gaines said. "I understand that. But it's still the fact that it was me and it was him."
Gaines visited Mullins in the hospital several times in the months following the injury and their friendship grew. He said the first thing Mullins told him was that the accident wasn't Gaines' fault.
"He was just so selfless and genuine," Gaines said. "I'd go into the room wanting to comfort him, but he always was more concerned about me. Wanting to know if I was doing OK."
Mullins' injury touched off an outpouring of support credited by some for improving race relations in Mississippi and the South. Mullins was black, Gaines is white and the accident happened during an era when Ole Miss fans still routinely waved Confederate flags to football games. But the response to Mullins was universal.
Buckets were passed at Ole Miss home football games to raise money and the school said more than $1 million was collected for his trust fund.
"It was such a powerful day on so many fronts on so many levels for so many people," Gaines said. "The injury -- combined that with the type of person he was -- he's going to have an effect on the state."
Today, there are reminders all around campus about the legacy Mullins left. There's a bust of Mullins at the end of the tunnel where the Rebels make their entrance before games -- with the quote "Never Quit" inscribed on the plaque below -- and it's tradition for players and coaches to rub his head as they run onto the field. Defensive players who win an award named for Mullins wear his No. 38 throughout the season and Gaines attends a banquet on campus every year when the award is presented.
Linebacker D.T. Shackelford is the current winner and the only two-time recipient of the award. The most famous alum is current San Francisco 49ers linebacker Patrick Willis.
"It's probably one of the most gratifying things I've won just because of the meaning behind it," Willis said "I'm grateful for all the awards and everything I've ever won, but to be at Ole Miss and hear the story -- I knew about it even when I was growing up -- it's truly a blessing to be given that honor."
Shackelford has endured two serious knee injuries during his college career, and during the endless days of rehabilitation there were times that he wondered if it was worth it. He could always look at the No. 38 for a lift.
Gaines is now the father of four children -- three girls and a boy. His son is 10 years old and in his first year playing football.
When it was time to pick jersey numbers, Brad Jr.'s choice was easy: No. 38.
"He didn't tell me he was going to do that," Gaines said. "So that was pretty special."
---