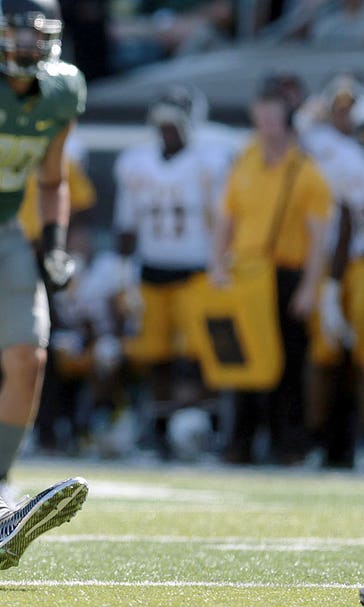 Mark Helfrich not opposed to rotating two quarterbacks
BY foxsports • July 31, 2015
BURBANK, Calif. -- While Mark Helfrich went out of his way to praise Oregon QB Jeff Lockie, he didn't completely rule out the idea of playing both Lockie and incoming graduate transfer Vernon Adams Jr. 
When asked by Pac-12 media about his two quarterback philosophy, Helfrich said that the Ducks have done it before. 
"Yeah, we've played two quarterbacks before in various ways. I think especially if two guys are different, it's better than if they're very similar or you do things one way. That's a little bit harder. That's kind of to the team a show of uncertainty a little bit. But if guys are different, you can use their skills completely differently. We don't have the -- people talk about what about when you're looking them in the eye in the huddle? We don't do that. We need a guy to be a great practice player, great leader and score the football. That's what we need."
When asked about how quickly a player (i.e Vernon Adams Jr.) can pick up Oregon's offense, Helfrich said it was on case-by-case basis.
"100% unique to each individual. Some guys can come in and know kind of the scheme and maneuver of things within days. Some guys it's never."
Helfrich also knew that he would be asked about Oregon's QB competition between Lockie and Adams; however, he avoided the question before it could be asked.
"I know everybody will want to address the quarterback position, and the only thing we're going to talk about are the people that are here and involved in the program."
Adams will be joining the Ducks on Aug. 13, a couple of days after fall camp begins. He will not join the team until he completes he undergraduate degree from Eastern Washington. 
(h/t Pac-12 Media Days)
---
---