Jared Goff's former OC disputes simplicity of Cal offense
BY foxsports • February 25, 2016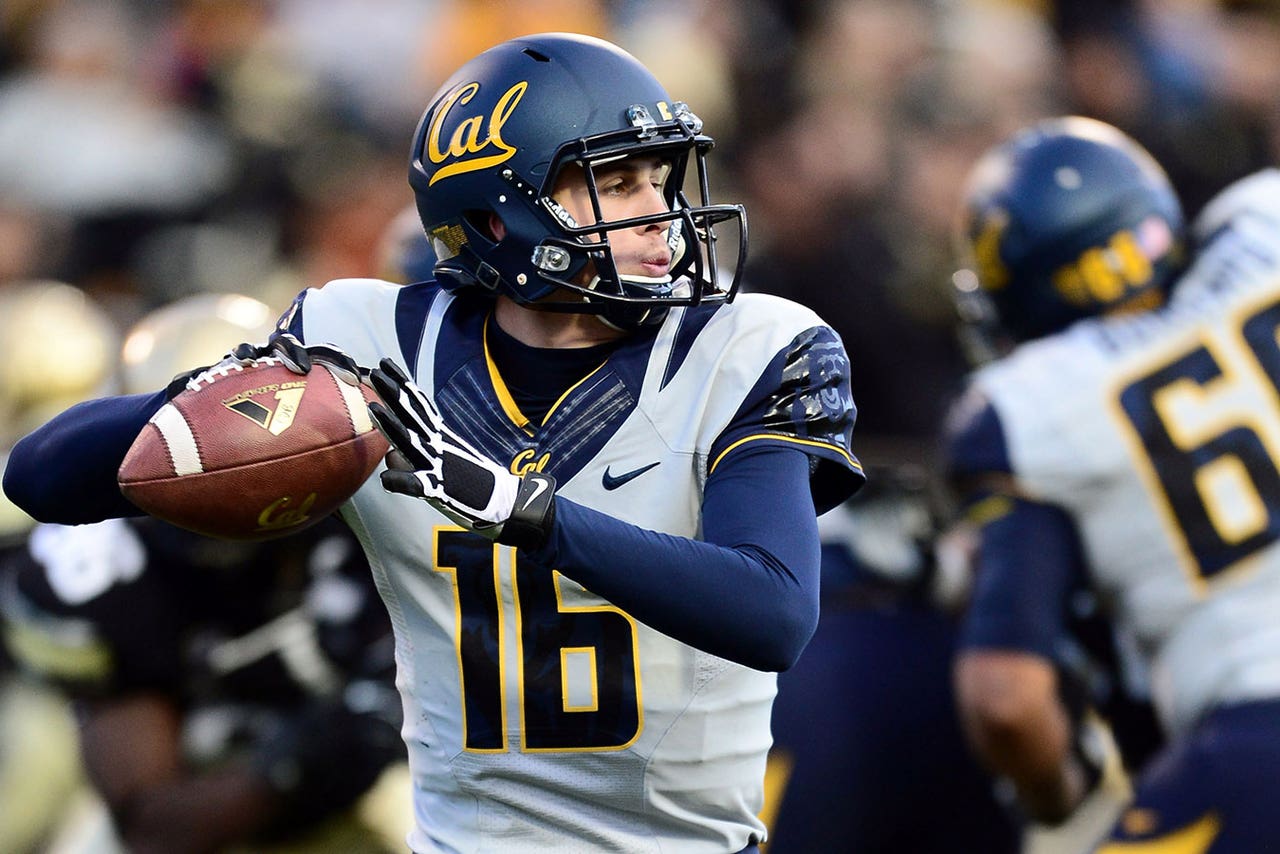 Jared Goff put up huge numbers at California, something many talented quarterbacks do in college football these days. 
With the NFL draft evaluation process in full swing, though, everything Goff has done is being picked apart in hopes of determining if he is worth a high pick and the trust of a franchise. 
In an interview with Bleacher Report, former Cal offensive coordinator Tony Franklin tried to get out in front of a common narrative that spread offenses such as his are too simplistic, in part because some have many predetermined reads made from the sideline. 
We weren't a check-with-me system. There are times in my career where I did that, because it helped us win games. But our offense now is built upon progression reads.
There are many plays when you watch Jared, he gets to his fifth progression. It's a straight dropback system where he goes through his progression and tries to get to that fifth read within three seconds. If he doesn't, he'll be in trouble, because he'll be sacked.
We do a tremendous amount of run-pass stuff where we have a run play called with a two- or three-route combination on it.
He's taking the snap as the coverages take place, fitting the ball into the running back's stomach and needs to make a decision whether he'll hand the ball off or throw to the first or second read in the progression.
It's all based on post-snap reads.
Franklin, who is now the offensive coordinator at Middle Tennessee State also decried some NFL coaches as "elitist" for taking the position colleges coaches don't teach players what they need to know to succeed in the NFL. 
It makes me sick to my stomach when I hear an NFL coach say, "These college coaches don't teach these guys anything anymore. It takes me three years to get all of the bad stuff out of them."
Basically, what they're saying is anything that is wrong or negative can be traced back to college or high school. Anything that is good is because they're such a genius.
I believe in the exact opposite. The best teachers and coaches are high school coaches. The second best are college coaches. And I think the worst are in the NFL.
Goff, a three-year starter at Cal who opted to skip his senior season, measured in at 6-foot-4, 215 pounds at the NFL Scouting Combine on Thursday. 
He will have a chance to talk to coaches about his experiences and demonstrate his knowledge of the game in interviews with pro personnel people before working out for them. 
---