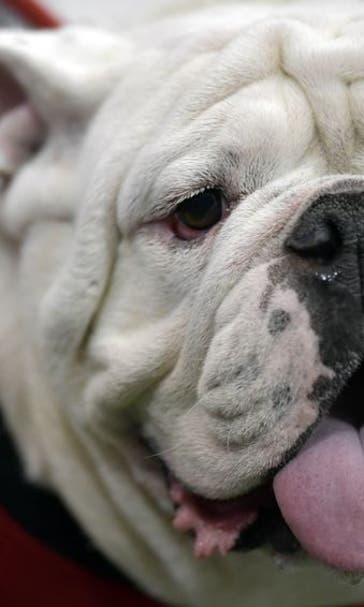 Georgia football offensive line getting bigger and better
BY Fansided and Kyle Funderburk/FanSided via Dawn of the Dawg • December 17, 2016
Sep 3, 2016; Atlanta, GA, USA; Georgia Bulldogs mascot Uga on the sidelines during the second quarter of the 2016 Chick-Fil-A Kickoff game against the North Carolina Tar Heels at Georgia Dome. Mandatory Credit: Dale Zanine-USA TODAY Sports
Five-star offensive tackle Isaiah Wilson became the sixth linemen to commit to Georgia football this year for the 2017 recruiting class yesterday.
Dawn of the Dawg has written about the offensive linemen joining Georgia football through the 2017 recruiting class. And for good reason, the offensive line was the weakness of the 2016 Bulldogs.
Nick Chubb and Sony Michel had a much tougher season than they would have wanted and as a result, neither of them have reached 1,000 yards yet. Chubb should in the Liberty Bowl, but Michel will also have to settle for an 800-yard season.
Jacob Eason was unable to get comfortable in the pocket and was forced to scramble if he wasn't making freshman mistakes. Who knows what kind of season Georgia could have had with a better offensive line? But we do know that the season would have been much better.
Looking Ahead
Before Friday, the Bulldogs already had five linemen committed. And one, junior college transfer D'Marcus Hayes, signed his letter of intent on Wednesday.
We won't go in too much detail on those five players again since we already have. But since those stories were published, Georgia football got its biggest and best offensive lineman commit for 2017 in five-star Isaiah Wilson.
Wilson hails from Poly Prep School in Brooklyn, New York. He is the no. 32 player in America, no. 7 offensive tackle and the no. 1 player in New York according to 247 Sports. At 6'7, 350 pounds he is the largest player in Georgia's recruiting class, which is a good quality for an offensive lineman.
Georgia football is graduating three starting offensive linemen this year so the Bulldogs have spots to fill. Hayes is predicted to fill one spot since he arrives as a junior and one of the best junior college players in the country. Ben Cleveland is expected to fill another spot since he'll be a redshirt freshman and he as one of the best players in the 2016 class.
More from Dawn of the Dawg
That leaves an open race for that final spot. Since Wilson is the no. 1 lineman in Georgia's 2017 class, he will probably be the front-runner. But Andrew Thomas, Netori Johnson, and D'Antne Demery aren't too far behind. Then there's also Chris Barnes from the 2016 class who is also a redshirt freshman.
Regardless of who wins what position on the offensive line in 2017, the line will be bigger and better. The current 2017 class is already pushing two tons and all of them except for Justin Shaffer are in 247 Sports top 125 players for 2017.
---
---