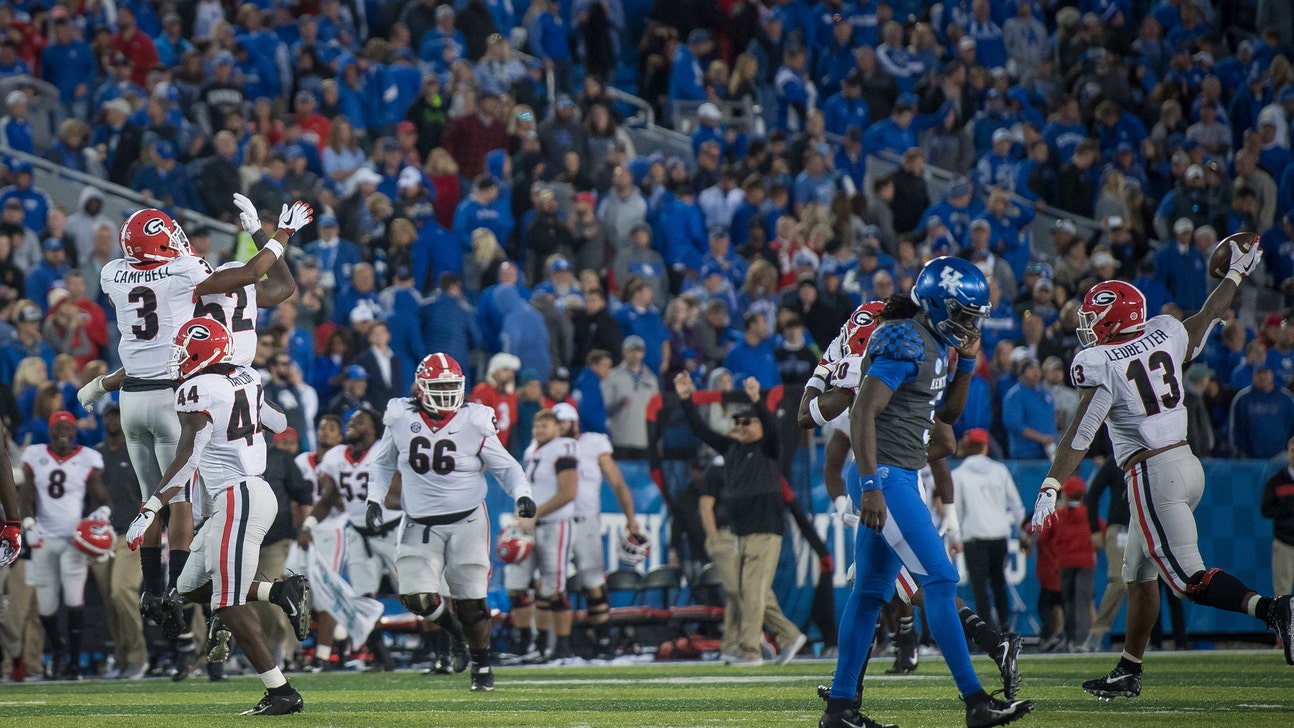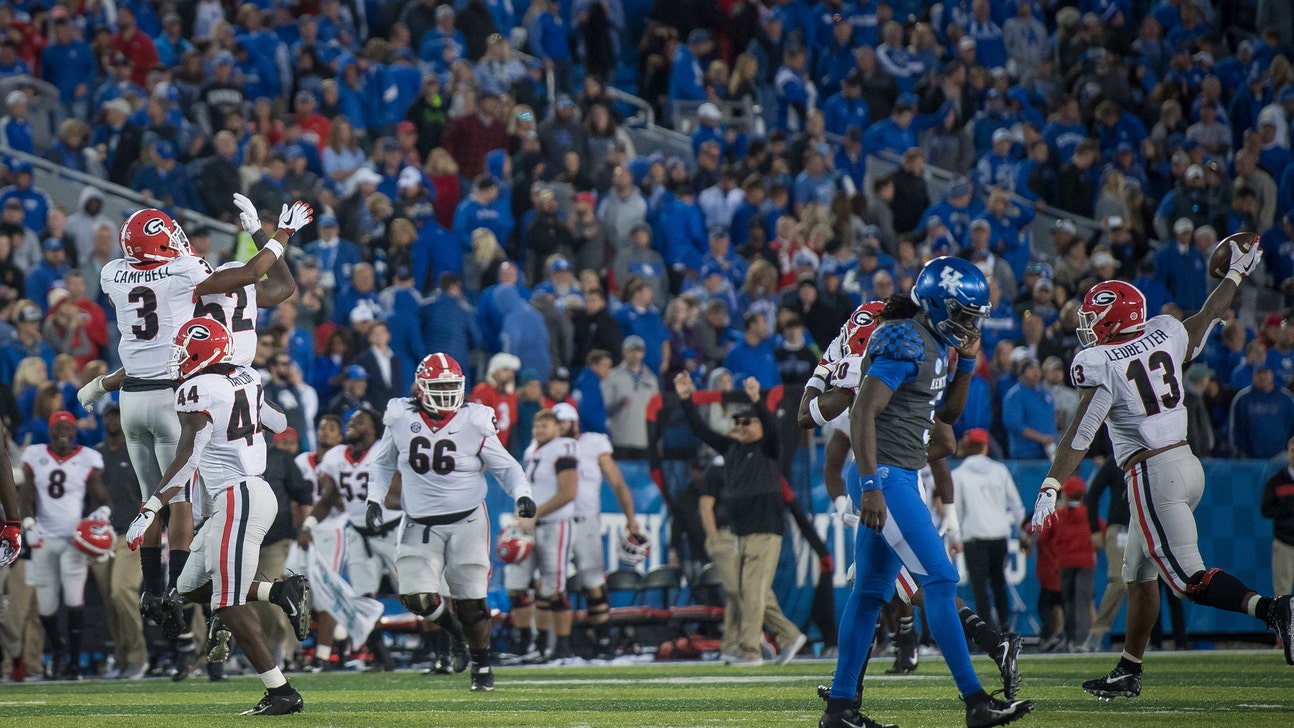 Georgia focused on team from Alabama _ Auburn, that is
Updated
Mar. 4, 2020 2:45 p.m. ET
ATHENS, Ga. (AP) — The No. 5 Georgia Bulldogs are firmly focused on a team from Alabama.
No, not the mighty Crimson Tide.
After locking up a spot in the Southeastern Conference championship game for the second year in a row, Georgia briefly celebrated but quickly turned its attention to Saturday night's game against Auburn, the 122nd meeting in the Deep South's oldest rivalry.
"There's not anybody on our team that's going to be worrying about anything but Auburn," coach Kirby Smart said Monday. "That's the next task at hand. That's what we have to be focused on. Our goal is to play the next team, whoever the next team is, and we try not to have real big highs and no real big lows. We want to stay neutral, right in the middle."
The Bulldogs will get another shot at the team they faced in last year's national championship game. Top-ranked Alabama, which hasn't been seriously challenged this season, locked up the SEC West title with another dominating win, 29-0 over LSU .
Both Alabama (9-0, 7-0 SEC) and Georgia (8-1, 6-1) are heavily favored to win their remaining regular-season games, which would set them up for de facto playoff game with the SEC title on the line Dec. 1 at Mercedes-Benz Stadium in Atlanta — the same spot where they played their classic title game almost 10 months ago.
In that one, the Crimson Tide switched quarterbacks at halftime, overcame a pair of 13-point deficits and pulled out a stunning 26-23 victory in overtime . After Georgia settled for a field goal on its first possession of the extra period, Tua Tagovailoaio threw a 41-yard touchdown pass to DeVonta Smith on second-and-26 to win the game.
While the Bulldogs are certainly eager to get another crack at Alabama, no one wants to talk about that matchup.
Not yet, anyway.
Clearly, the four players made available to the media on Monday had been coached up to talk only about Auburn (6-3, 3-3).
"We clinched the East — that's great. Now it's back to work," defensive end Jonathan Ledbetter said. "We're back to the drawing board getting ready for this week. We're not worried about anything down the line except Auburn."
One reporter pressed defensive back J.R. Reed even more, asking if there was ever a time he "daydreamed" about facing Alabama.
"Do you daydream about Alabama?" Reed joked.
"I don't have to play 'em," the reporter replied.
Reed chuckled.
"No, I don't daydream about Alabama at all," he said. "Yeah, they're on our schedule now. But we're worried about Auburn."
Georgia locked up the East with an impressive 34-17 victory at No. 12 Kentucky , completing another perfect run through the division side of its schedule.
Ho-hum.
That's merely the first of several items on the Bulldogs' checklist.
"There was a little celebration," Reed said, "but we know that winning the East doesn't mean that much."
Georgia opened as a 14-point favorite over Auburn, which is coming off one of the better performances of a disappointing season. The Tigers rallied from a 10-point deficit in the fourth quarter to knock off Texas A&M 28-24 — and an upset of the Bulldogs would really give 2018 a whole new perspective.
These long-time rivals are certainly familiar with each other. This met twice a year ago, with Auburn romping to a 40-17 victory late in the regular season before Georgia bounced back with a dominating 28-7 triumph in the SEC championship game.
"You've got two good football teams playing against each other, competing and playing their hearts out," Ledbetter said. "It's a physical game, always. It's one of my favorite games of the season, so I'm looking forward to it. I'm always looking forward to a challenge."
An even bigger challenge is still to come.
But all that talk about a rematch with Alabama will have to wait.
"Every week we have to come with the same approach," offensive lineman Andrew Thomas said. "We have to win out the rest of the way to be where we want to be."
Notes: Smart gave optimistic updates on a trio of players who left the Kentucky game with injuries. WR Mecole Hardman (ankle) should be able to practice all week and be ready to go against Auburn, while center Lamont Gaillard (hyperextended knee) is also expected to play though he will be limited at the beginning of the week. Freshman offensive lineman Cade Mays (stinger) was restricted to non-contact drills Monday and his status is still to be determined. "He's a tough kid, and we know he'll push through it," Smart said. ... Another ailing offensive lineman, Ben Cleveland, is closing to returning from a broken fibula sustained against Missouri. Cleveland started the first four games of the season.
---
---