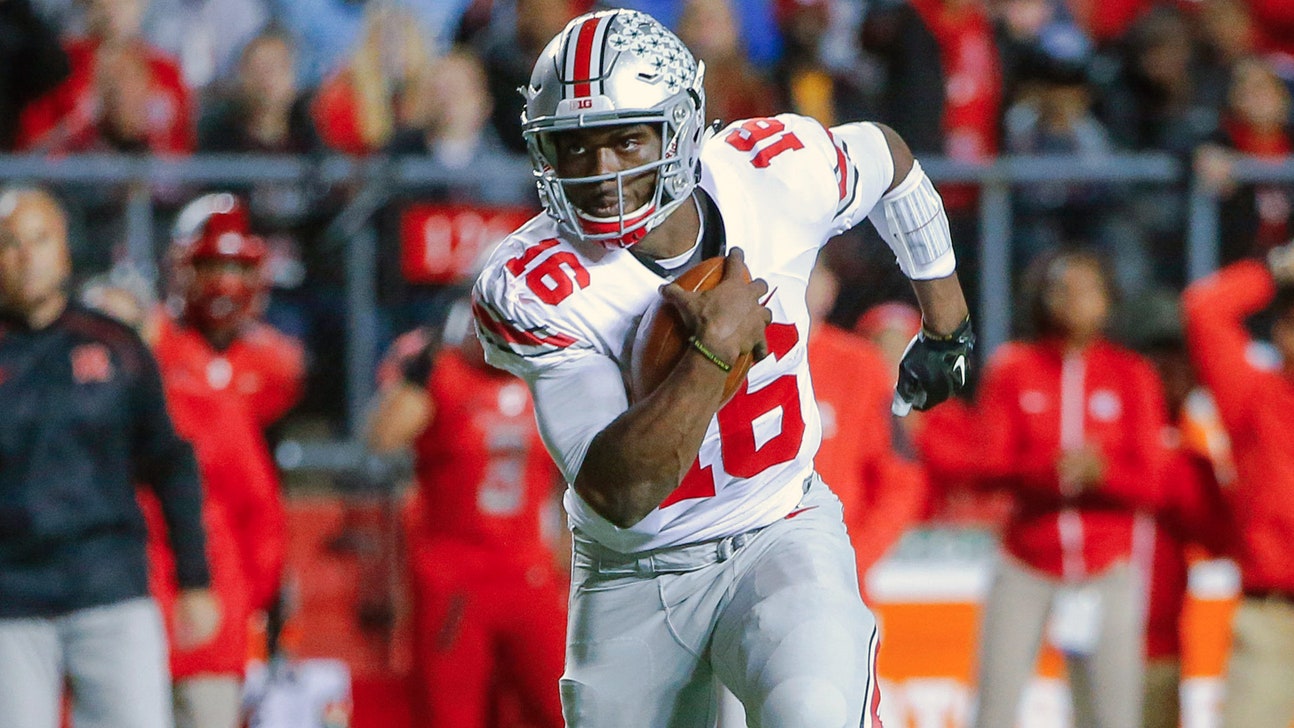 Forward Pass: Time for Ohio State to play like champs or miss playoff
Published
Nov. 16, 2015 9:00 a.m. ET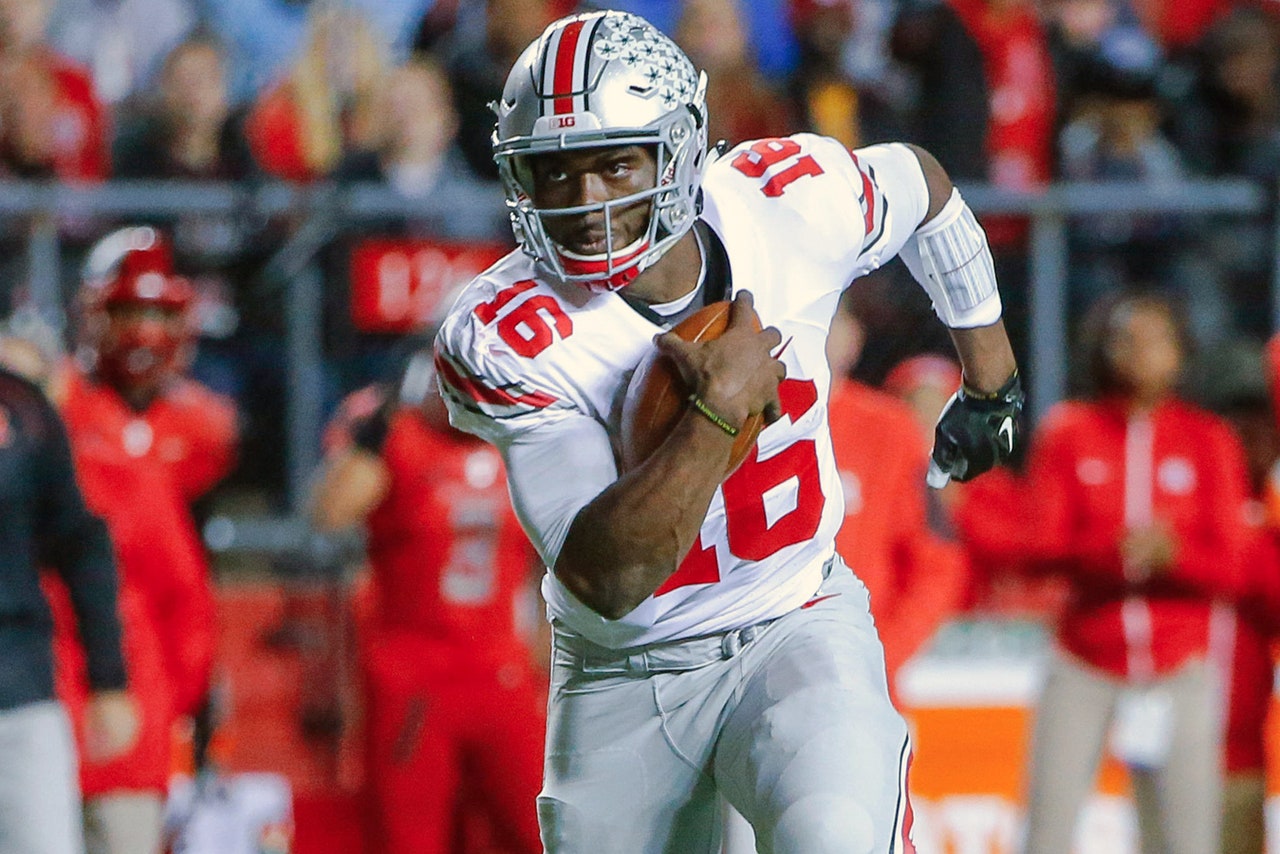 Ohio State won 28-3 at Illinois on Saturday to improve to 10-0. Afterward, Urban Meyer and his players … answered another week of questions about the Buckeyes' lackluster passing game. Meyer lamented poor pass protection. Quarterback J.T. Barrett criticized his own performance.
Such is life when you're the defending national champions. Ohio State's first 10 games have felt like one extra-long preseason — working out the kinks against overmatched opponents, facing scrutiny over every little misstep.
Finally, starting Saturday, style points become irrelevant. AP No. 9 Michigan State (9-1, 5-1 Big Ten) comes to Columbus in what is essentially a Big Ten quarterfinal matchup. Win that and advance to the semifinal where OSU plays at No. 14 Michigan (8-2, 5-1). Win that and advance to the final, most likely against No. 6 Iowa (10-0, 6-0) in the Big Ten championship game.
"You don't have to be your best now, you don't have to be your best when there's two games left in the season," Barrett said Saturday. "You want to be at your best at the end of the year."
Be careful, J.T. If the Buckeyes aren't at their best the next two weeks they'll be somewhere far less glamorous than the playoff at the end of the year.
Ten games in, Ohio State has for the most part developed into the team we expected. Building on his monstrous postseason performances of a year ago, Ezekiel Elliot has rushed for at least 100 yards in every game and is the nation's sixth-leading rusher (142.5 yards per game). He carried 27 times for 181 yards and two touchdowns against the 5-5 Illini.
And the Buckeyes' star-studded defense of Joey Bosa, Darron Lee, Vonn Bell, Adolphus Washington, et al., has been dominant nearly every week, holding four straight opponents to 14 points or less. They rank fifth nationally in yards per play allowed (4.32).
The one concern, crazily enough, is the position where Ohio State is ostensibly loaded — quarterback. In his first start back after a week's suspension for his drunk driving arrest, Barrett was a modest 15 of 23 for 150 yards, a touchdown and an interception against Illinois while also rushing 16 times for 74 yards and a score. Behind Barrett and former starter Cardale Jones, the Buckeyes rank just 34th in the country in pass efficiency — one spot behind option team Navy.
"[Rushing] is our strength, that's where we're most consistent," Meyer said Saturday. "But we also know, to win the big one, you need to be balanced. And we're not quite there yet." 
The Buckeyes themselves seem to share the same sentiment as committee chairman Jeff Long, who said after last week's rankings his group believes Ohio State is "a team that hasn't played their best yet. We think that their best games are in front of them."
Would he say the same about Michigan State?
The Spartans have been a bit of an enigma themselves. After a series of close calls, they finally suffered defeat two weeks ago in controversial fashion at 5-6 Nebraska. A program known for running the ball and playing great defense ranks just 97th and 65th, respectively, in those two departments. Quarterback Connor Cook, who left Saturday's Maryland game with an apparently minor shoulder injury, is carrying the team.
On paper, this looks like yet another mismatch for Ohio State. Yet a Michigan State upset would likely send the Spartans to Indianapolis for the conference title game.
"All year long we sort of pointed to this game, a lot of people pointed to this game, so we got to a point where it's like a playoff situation," MSU coach Mark Dantonio said Saturday. "We knew whether we were 10-0 going into that game or 9-1 that we were going to control our own destiny."
Michigan will, too, if it can win at 7-3 Penn State this week — no small feat given the Wolverines' recent escapes at Minnesota and, in double overtime Saturday, at Indiana — and Ohio State beats Michigan State. Should both those results happen, the buildup for the first Meyer-Jim Harbaugh showdown in Ann Arbor will be off the charts. 
Then there's Iowa, which just keeps winning with little-to-no fanfare. The Hawkeyes, 10-0 for the first time in school history, will clinch their berth to Indy with a win this week over 2-8 Purdue. Their No. 5 committee ranking last week incensed skeptical talk show hosts, but they'd have the ultimate chance to prove themselves were they to face a 12-0 Ohio State team.
The Buckeyes' impending gauntlet is no less daunting than the four-team round robin the Big 12's contenders are currently waging. After going 10 weeks without facing a single Top-25 opponent they may face three straight in the top 15.
If they win all three, they may enter the playoff as favorites. If they lose one, they might not enter the playoff at all.   
NO DEFENSE IN BIG 12? THINK AGAIN
Oklahoma's 44-34 win at Baylor on Saturday catapulted the 9-1 Sooners into playoff contention and quarterback Baker Mayfield into the Heisman race. It also delivered a resounding thud to the common narrative that "nobody in the Big 12 plays defense."
Facing the nation's most prolific offense, OU held the Bears to 416 total yards — 250 below their season average coming in. The Sooners have held their six Big 12 opponents to an average 173.7 fewer yards than they had produced coming in. Against Baylor, the Sooners forced six punts and five three-and-outs; the Bears had been averaging just 2.6 and 1.5, respectively.
"We've been playing like this all year," OU defensive coordinator Mike Stoops told FOX Sports on Sunday. "This isn't anything new."
Stoops played it off, but that performance could be seen as redemptive for him after the way Baylor shredded the Sooners in blowout victories the past two season. Stoops had also taken the blame for OU's inexplicable Oct. 10 loss to Texas, now 4-6, saying his game plan did not account for the 'Horns running the quarterback as much as they did.
OU had been quietly slaying opponents since and in fact ranks sixth nationally in yards per play allowed (4.42). Most impressively Saturday, it held the nation's leading receiver, Corey Coleman, to just three catches for 51 yards on eight targets. Sophomore cornerback Jordan Thomas — with help from rolling safeties and linebackers — so thoroughly contained Coleman on the outside that Baylor eventually moved him into the slot, where he had his one big gain (36 yards).
That in a nutshell summed up why the Sooners are performing more consistently than at any time since Stoops' 2012 return to Norman.
"We failed in the secondary a year ago," said Stoops. "But Jordan Thomas and [sophomore safety] Steven Parker are a year older. We're just much older in the secondary, and that maturity is paying off."
That secondary must now turn around and contend with the nation's No. 2 receiver, TCU star Josh Doctson, on Saturday. Frogs quarterback Trevone Boykin left Saturday's Kansas game with an ankle injury; whether he's available will determine the extent of OU's next challenge. Either way, 10-0 Oklahoma State awaits after that.
Oklahoma is poised to become the center of this season's most heated playoff debate — especially if Notre Dame also finishes 11-1 and common opponent Texas finishes 4-8. But the committee last year recognized that Ohio State was a much better team than it was at the time of its loss to Virginia Tech. The Sooners appear to be trending in much the same direction.
"We're playing our best football right now," said Stoops. "It's a good time to be playing your best football."
DOES PAC-12 HAVE A PLAYOFF PROBLEM?
As the boarding doors closed on his flight home from Beijing on Saturday night (Sunday afternoon there), Pac-12 commissioner Larry Scott had just finished watching Oregon upset Stanford on his phone. Utah-Arizona was heading to halftime. Not until he landed in San Francisco 10 hours later would he learn that the Wildcats knocked off the Utes — possibly ruining his conference's last remaining playoff hopes.
"I was in some suspense waiting to find out the results," Scott — who visited China for Friday night's Washington-Texas basketball game — told FOX Sports on Sunday.
His conference is not lacking for suspense these days. Saturday night alone saw games decided on a missed two-point conversion (Oregon-Stanford), a 25-yard touchdown in double-overtime (Arizona-Utah) and a 21-yard touchdown catch with three seconds left (Washington State-UCLA.)
Unfortunately for the league, though, no matter how exciting its remaining games, only one — Notre Dame at Stanford on Nov. 28 — may hold any national relevance. The Cardinal (8-2, 7-1 Pac-12) dropped from seventh to 15th in the latest AP poll ... and that's the highest of any Pac-12 team.
The Big 12 spent this entire past offseason dealing with an existential crisis after being left out. If the Pac-12 is the odd man out this year, the league's ambitious scheduling model — nine conference games and a championship — will be the inevitable topic du jour. In fact, Oregon coach Mark Helfrich already went down that road last week in anticipation of possibly derailing Stanford, saying the conference "put[s] itself in the worst possible situation" for reaching the playoff.
Scott isn't buying it, and says that a change in the league's scheduling philosophy is not even on the table.
"I don't think it will get revisited based on what happens in one year," he said. "Our philosophy of taking on all comers ... is good for the student-athletes who only have a guaranteed 12 games per year, the schools that want to play each other as much as possible, and what's good for our fans.
"Very, very low on the totem pole is what's best to get a team in the playoff."
Scott points out that Stanford's and Utah's conference losses have come to teams in their own divisions, games they'd be playing no matter the model. The Cardinal's first loss came on a two time-zone road trip to play a Power 5 foe, Northwestern, that's wound up in the top 20.
The upside of that approach is the committee looks upon it favorably. Body clock jokes aside, Long and his colleagues were willing to overlook the Cardinal's early loss. Utah moved back into the top 10 last week thanks in part to a nonconference win over Michigan, the back end of its own home-and-home.
The downside is, there's three weeks of games left, and the Pac-12's only remaining contest certain to have playoff implications will only be so because nonconference foe Notre Dame is in it. 
THIS WEEK'S BOWL FORECAST
Each week, I'll update my predicted lineup for the New Year's Six bowls based on the latest week's games.
Peach: Michigan St. (at-large) vs. Houston (Group of 5)
Fiesta: Notre Dame (at-large) vs. Baylor (at-large)
Sugar: Florida (SEC) vs. Oklahoma St. (Big 12)
Rose: Iowa (Big Ten) vs. Stanford (Pac-12 champ)
Orange (semifinal): No. 1 Clemson vs. No. 4 Oklahoma
Cotton (semifinal): No. 2 Ohio State vs. No. 3 Alabama
First of all, my longstanding Notre Dame-Fiesta Bowl projection has always been predicated on the Irish losing at Stanford and finishing 10-2. That has not changed. So don't read the new Oklahoma playoff projection as a Sooners vs. Irish referendum. Frankly, if this actually played out in real life it'd be a largely controversy-free top 4 … so of course it will never happen.
And say hello to Houston, the third different AAC team to claim my projected Group of 5 berth. This one's going to stick. Tom Herman continues to work his magic, this time leading the 10-0 Cougars back from a 20-point deficit to beat Memphis despite losing star QB Greg Ward Jr. to a first-half ankle injury. Herman won with backup Kyle Postma. Sound familiar?
I'LL BE KEEPING AN EYE ON …
Dalvin Cook. Florida State's star merits more serious Heisman consideration. He's averaging more yards per game (152.1) than all but Leonard Fournette, while his 8.1 yards-per-carry average dwarfs that of any serious contender.
Jordan Howard. Indiana's standout running back sits one spot behind Cook at 149.9 yards per game after notching a career-high 238 against Michigan. Maybe the 4-6 Hoosiers can finally win a Big Ten game this week against 2-8 Maryland.
Keenan Reynolds. Navy's four-year quarterback broke Montee Ball's FBS record with his 78th career rushing touchdown in Saturday's blowout of SMU — and then he added three more. Next up on his path is the NCAA all-divisions record of 84.
Vernon Adams Jr. The former FCS All-American is lighting it up for Oregon now that he's healthy. He was an extremely efficient 10 of 12 for 205 yards and two touchdowns against Stanford. Next up on his path is a visit from 7-3 USC.
Vanderbilt. Second-year coach Derek Mason is quietly making progress in Nashville. The Commodores (4-6) notched their second SEC win Saturday against Kentucky. Most impressively, they rank 20th nationally in total defense.
THIS WEEK'S COACH OF THE YEAR I
Missouri's Gary Pinkel. Few coaches have ever had a week like Pinkel did, from managing a player boycott to announcing his lymphoma battle and pending resignation to upsetting BYU. The man who resurrected Mizzou football "frickin' battled" once more.
THIS WEEK'S COACH OF THE YEAR II
New Mexico's Bob Davie. The Lobos stunned 30-point favorite Boise State on the blue turf Saturday night to get bowl eligible for the first time since 2007. New Mexico, which beat Utah State the week before, controls its Mountain West divisional fate.
THIS WEEK'S COACH ON THE HOT SEAT
Rutgers' Kyle Flood. It's a matter of when, not if, Rutgers pulls the plug on its scandal-tarnished coach, whose team fell to 3-7 with a 31-14 home loss to Nebraska. Rutgers would become the fourth Big Ten school with a coaching change this season.
ON TO NEXT WEEKEND
Three games we're most excited for:
— Michigan State at Ohio State (Saturday, 3:30 ET): Barrett started gaining Heisman traction last season when he led the Buckeyes to a 49-37 win in East Lansing. He'll be the focus of attention yet again.
— Baylor at Oklahoma State (Saturday, 7:30 ET, FOX): After rallying to beat Iowa State on the road, the Cowboys return to Stillwater, where they've been hanging points on people. Theirs is the rare two-QB rotation that works.
— TCU at Oklahoma (Saturday, 8 ET): The Sooners redemption tour continues against a TCU team that's struggling to stay afloat. If Boykin is good to go, though, the Horned Frogs always have a shot.
Four games you shouldn't miss:
— Michigan at Penn State (Saturday, Noon ET): Wolverines QB Jake Rudock has come so far from Week 1, most recently throwing six touchdowns at Indiana. Now he goes against national sack leader Carl Nassib (15.5).
— LSU at Ole Miss (Saturday, 3:30 ET): The winner here could finish second in the division. The loser is going to send its fan base into a collective rage against its coach that lasts the entire offseason.
— Northwestern at Wisconsin (Saturday, 3:30 ET): The winner here is likely heading to a 10-2 finish, which means the oft-mocked Big Ten is likely going to end up producing at least four teams with double-digit victories.
— USC at Oregon (Saturday, 3:30 ET): The Trojans lost LBs Cameron Smith and Lamar Dawson to season-ending injuries at the worst possible time. But the Ducks' fully-healthy defense may not be able to stop USC either.
One under-the-radar gem:
— Toledo at Bowling Green (Tuesday, 6 ET): It's the game of the year in the MAC, as Dino Babers' top-four scoring BG offense (45.4) goes against Matt Campbell's top-20 scoring defense (18.8). Something's got to give.
Stewart Mandel is a senior college sports columnist for FOXSports.com. He covered college football and basketball for 15 years at Sports Illustrated. You can follow him on Twitter @slmandel and Facebook. Send emails and Mailbag questions to Stewart.Mandel@fox.com.
---