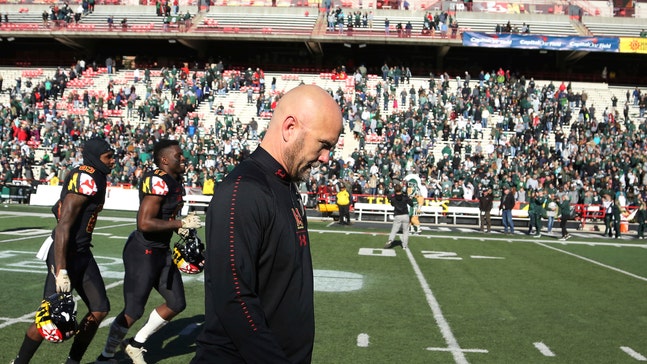 For Maryland's interim coach, the future is 1 day at a time
Updated
Mar. 5, 2020 1:00 a.m. ET
COLLEGE PARK, Md. (AP) — Maryland interim coach Matt Canada faces an uncertain future, despite keeping the football team together and forging a winning record amid the chaos surrounding the program.
When this season ends, Maryland will be looking for a head coach to replace DJ Durkin, who was fired last week. Canada may be asked to apply, given that he's juggled the job of interim coach, offensive coordinator and quarterbacks coach well enough to keep the Terrapins (5-4, 3-3 Big Ten) in the hunt for a bowl bid entering Saturday's game at Indiana (4-5, 1-5).
Or, Canada could end up unemployed if the school hires a coach who wants someone else to run the offense.
If any of this has been weighing on Canada's mind, he's not telling. Asked Tuesday if he's considered what the future might bring, Canada completely dodged the issue.
"Our focus is on today, on each other, on being able to do the best we can against Indiana," he said. "It's probably not the answer you're looking for, but it's a true answer."
The football program has endured a myriad of deflating events since late May, when offensive lineman Jordan McNair collapsed on the field and subsequently died of heatstroke. There have been two internal investigations, one into McNair's death and the other into the culture of the program .
Durkin was placed on administrative leave in mid-August. Canada took over, handed back the reins last Tuesday when Durkin was reinstated and regained control when Durkin was fired the following day .
All this preceded a rather predictable 24-3 loss to Michigan State.
"There were some different events — we're going to be honest about that — but we went through them, our kids processed them," Canada said. "We just didn't play well enough to win the game Saturday."
Canada has never been a head coach. Although he's fulfilling that job description this season, the 46-year-old considers himself to the offensive coordinator with a few other obligations. The biggest change is that he no longer views the game up in the coach's booth.
"I've been presented with a few things that I wasn't expecting. Calling from the field has been a different challenge," he said. "I try to find the good in everything, and there's a lot of good. We've all maintained our jobs, we've all maintained our titles, we've all done what we had to do and we've kept it going."
Throughout the season, Canada has steadfastly stuck to a day-at-a-time philosophy, absorbed the blame for the losses and foisted credit upon others for the victories. Not surprisingly, he downplayed his role in the Terps' 5-4 record.
"The story is these kids," Canada said. "The story is how awesome they are and how special they are, how much they're sticking together."
Facing Indiana this week will bring Canada back to his coaching roots. He started as a graduate assistant for the Hoosiers under the late Bill Mallory in 1994.
"I wasn't a very good player," Canada said. "I met with coach Mallory, and it changed my life. I always wanted to be a coach. There was no doubt about that. I wasn't sure how it was going to work out."
Now, 24 years later, Canada is the acting head of the Maryland football team. Upon accepting the job as interim coach, he called Oklahoma coach Lincoln Riley to ask how shift between calling the plays and directing the team.
"I got some great advice. He told me, 'Just make sure you stick to what you're supposed to be,'" Canada said. "I'm supposed to be the offensive coordinator, so that's what I've done. I've tried to be around the players, make sure they knew I was there, but I've focused on being the quarterbacks coach and offensive coordinator. Some days I've done OK, some games I haven't done very good at all. That's my biggest issue with how this has gone. I just want us to play better, and to win more."
---
---