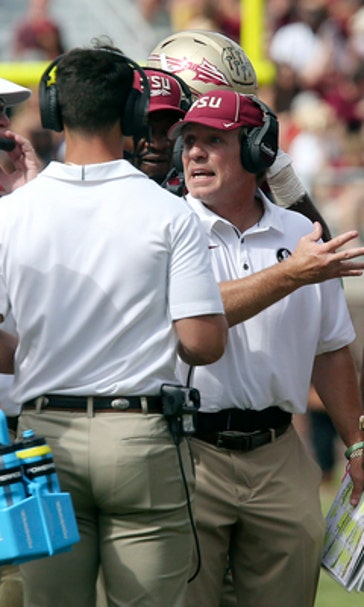 Florida State coach Fisher has verbal altercation after loss
October 21, 2017

TALLAHASSEE, Fla. (AP) Florida State coach Jimbo Fisher said he regretted getting into a verbal altercation with a fan after the Seminoles' 31-28 loss to Louisville on Saturday.
Fisher was angry after a fan kept yelling that the program needs to hire new coaches. Fisher looked up at the stands and yelled that the fan should come down and deliver the message to him personally.
While Fisher second-guessed himself, he did say he was trying to stick up for his program.
''There's no reason to be nasty. But at the same time defending players and people you're with, I'm in charge of them,'' Fisher said. ''I love them like a father. When they say something to your family, you take up for them.''
Seminoles' fans have reason to be frustrated. The loss drops Florida State to 2-4 for its worst start since Bobby Bowden's final season in 2009. It also marks the first time the program has dropped its first three games at home since 1974.
Florida State is 3-5 at home since having a 22-game home winning streak snapped last year by North Carolina. The loss to Louisville was the third to happen in the final 10 seconds as Blanton Creque made a 34-yard field goal with five seconds remaining.
''We're going to keep fighting, scratching, coaching, playing, and you see the heart and desire of those kids,'' Fisher said. ''And understand something: What if that's your kid? If that was one of your kids or your nephew or your cousin or your friend, keep supporting them, you know what I mean. Just keep supporting because it ain't that.
''And us coaches, we're trying to do the same thing. I understand you're going to get on us, same thing. That's part of the business. That's part of life. I understand that. When success happens, they put you too high and once failures happen, they put you too low. That goes with the territory.''
The loss also drops the Seminoles to 9-8 in their last 17 Atlantic Coast Conference games. They are 2-3 this season going into Friday night's game at Boston College.
---
More AP college football: http://collegefootball.ap.org and https://twitter.com/AP-Top25
---
Follow Joe Reedy on Twitter at https://twitter.com/joereedy
---
---