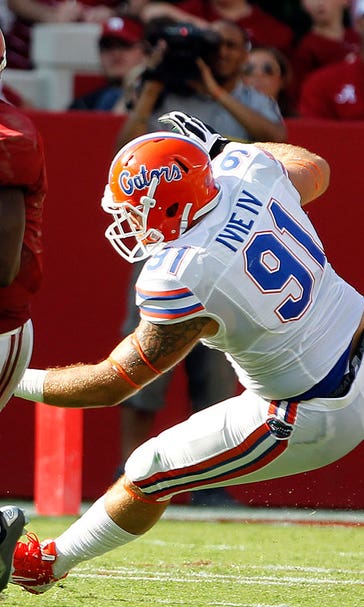 Florida DL Ivie finds common ground with grieving family
October 28, 2015

Knowing what it's like to feel the loss of a loved one, Florida defensive lineman Joey Ivie can empathize with the Knapp family. 
12-year old Gavin Knapp tragically passed away in an ATV accident. Although based in Denham Springs, La. (squarely in LSU country), Knapp and his family are avid supporters of the Florida football program. In fact, Knapp one day wanted to play for the Gators. 
Ivie heard about the story, and got in touch with the family. The Florida defensive player also suffered a tragedy earlier in the year, as his sister Jordan passed in a car accident. 
Having come common ground, the player and family have since formed a tight bond. The Knapp's were present for the LSU-Florida game. They met Ivie for the first time, who offered his support. Ivie and head coach Jim McElwain both gave the family signed footballs. 
The encounter is something Ivie puts into perspective. 
"I never realized how inspiring things like that can be. It was a real heartfelt meeting," said Ivie. "As players at a big university like this, we have to remember that so many people look up to us and it's important to be able to help people and inspire them. I let them know I relate to their situation."
(h/t GatorZone.com)
---
---